In Vitro study of Thrombolytic activity from the different parts of Carica papaya plant on COVID-19 patients.
Thrombolytic activity of Carica papaya in COVID-19 patients
Abstract
Carica papaya plant has been used for medicinal purpose throughout the world because it have anti-inflammatory, anti-oxidant, antiviral, anti-cancer and wound healing like properties. Objective: To evaluate the thrombolytic activity of Carica papaya plant in normal healthy individuals and COVID-19 patients to determine either parts of the plant (roots, seeds and leaves) exhibit more activity in normal persons or in COVID-19 patients. Methods: For this study, total 20 blood samples were taken, 10 for normal individuals and 10 for positive COVID-19 patients. We used two different solvents i.e. autoclaved distilled water and concentrated methanol to prepare the 10% root, seed and leaf extracts of Carica papaya plant. For the thrombolytic activity of these plant extracts, samples were arranged as a triplicate for the accuracy of results percentage. Results: Our results evaluated that in normal individuals, distilled water root extract and methanolic seed extract exhibits maximum thrombolytic activity. The mean value with distilled water (root extract) and methanol (seed extract) is 36.9% and 32.9% respectively. While in covid-19 patients, distilled water leaf extract and methanolic leaf extract reveal maximum thrombolytic activity. In patients, the mean value with distilled water and methanol (leaf extract) is 21.8% and 23% respectively. Conclusions: In our study, we have observed that normal persons showed highly significant results as compared to COVID-19 patients. Because in COVID-19 disease, plasminogen activator inhibitor 1 (PAI-1), thrombin activatable fibrinolysis inhibitor and tissue plasminogen activator (tPA) factors elevate which results in hypo-fibrinolysis.
References
Wemambu, II, Ajose DJ, Eni CC. Antibacterial effect of Carica papaya root extract on some selected pathogens from clinical isolates. Acta Sci Microbiol. 2018;1(7):6-10.
Singh SP, Kumar S, Mathan SV, Tomar MS, Singh RK, Verma PK, Kumar A, Kumar S, Singh RP, Acharya A.Therapeutic application of Carica papaya leaf extract in the management of human diseases. DARU J Pharma Sci. 2020;28(2):735-744.
https://doi.org/10.1007/s40199-020-00348-7
Srivastava AK, Singh VK. Carica papaya-a herbal medicine. Inter J Res Stud Biosci (IJRSB). 2016;4(11):19-25.
https://doi.org/10.20431/2349-0365.0411004
Vij T, Prashar Y. A review on medicinal properties of Carica papaya Linn. Asian Pac J Trop Dis. 2015;5(1):1-6.
https://doi.org/10.1016/S2222-1808(14)60617-4
L K, sultana DM. Invitro Study of Thrombolytic Activity by Using Aqueous Preparation of Different Parts of Carica papaya Plant Extract. IOSR J Pharm Biol Sci. 2014;9 (3):34-9.
https://doi.org/10.9790/3008-09323439
Tabassum F, Chandi SH, Mou KN, Hasif KI, Ahamed T, Akter M. Invitro thrombolytic activity and phytochemical evaluation of leaf extracts of four medicinal plants of Asteraceae family. J Pharmacogn Phytochem. 2017;6(4):1166-9.
Subenthiran S, Choon TC, Cheong KC, Thayan R, Teck MB, Muniandy PK, Afzan A, Abdullah NR, Ismail Z. Carica papaya leaves juice significantly accelerates the rate of increase in platelet count among patients with dengue fever and dengue haemorrhagic fever. Evid Based Complement and Alternat Med. 2013;10 (7):61-67.
https://doi.org/10.1155/2013/616737
Liu H, Hu M, Wang Q, Cheng L, Zhang Z. Role of Papain-like Cysteine Proteases in plant development. Front plant sci. 2018;9 (17):1-10.
https://doi.org/10.3389/fpls.2018.01717
Baig MU, Bodle J. Thrombolytic Therapy. StatPearls. Treasure Island (FL): StatPearls Publishing. 2021;PMID: 32491343.
Ciotti M, Ciccozzi M, Terrinoni A, Jiang WC, Wang CB, Bernardini S. The COVID-19 pandemic. Crit Rev Clin Lab Sci. 2020;57(6):365-88.
https://doi.org/10.1080/10408363.2020.1783198
Morens DM, Breman JG, Calisher CH, Doherty PC, Hahn BH, Keusch GT, Kramer LD, LeDuc JW, Monath TP. The origin of COVID-19 and why it matters. Am J Trop Med Hyg. 2020;103(3):955-9.
https://doi.org/10.4269/ajtmh.20-0849
Alanagreh La, Alzoughool F, Atoum M. The human coronavirus disease COVID-19: its origin, characteristics, and insights into potential drugs and its mechanisms. Pathogens. 2020;9(5):331.
https://doi.org/10.3390/pathogens9050331
Lemke G, Silverman GJ. Blood clots and TAM receptor signalling in COVID-19 pathogenesis. Nat Rev Immunol. 2020;20(7):395-6.
https://doi.org/10.1038/s41577-020-0354-x
Biswas S, Thakur V, Kaur P, Khan A, Kulshrestha S, Kumar P. Blood clots in COVID-19 patients: Simplifying the curious mystery. Med Hypotheses. 2021;146(110371): 1-4.
https://doi.org/10.1016/j.mehy.2020.110371
Ullah N. Medicinal plants of Pakistan: challenges and opportunities. Inter J Complement & Altern Medi. 2017;6(4): 1-3.
https://doi.org/10.15406/ijcam.2017.06.00193
Rasool HB. Medicinal plants (importance and uses). Pharmaceut Anal Acta. 2012;3(10):2153-435.
https://doi.org/10.4172/2153-2435.1000e139
Boddupally SR, Sushma K. Evaluation Of Thrombolytic Activity In Various Parts Of Papaya Plant. World J Pharm Res. 2018;7(15):663-667.
Rahman A. Health benefits, chemistry and mechanism of Carica papaya a crowning glory. Adv Nat Sci. 2013;6(3):26-37.
Jain S, Dangi CBS, Kaur M, Singh H, Peter J, Kosta S. Plant as anticogulant/antithrombotic agent. World J Pharm Res. 2014;3(3):4573-83.
Sarker MMR, Khan F, Mohamed IN. Dengue Fever: Therapeutic Potential of Carica papaya L. Leaves. Front Pharma. 2021;12(33):1-18.
https://doi.org/10.3389/fphar.2021.610912
Singh V, Goyal I, Saini A, Chandra R. Studying the Effect of Carica papaya Leaf Extract on the Shelf Life of Platelets. Inter J Sci Res. 2017;6(5):2138-2146.
Yusha'u M, Onuorah FC, Murtala Y. In vitro sensitivity pattern of some urinary tract isolates to Carica papaya extracts. Bayero J Pure Appl Sci. 2009;2(2):75-8.
https://doi.org/10.4314/bajopas.v2i2.63786
Nougier C, Benoit R, Simon M, Desmurs‐Clavel H, Marcotte G, Argaud L, David JS, Bonnet A, Negrier C, Dargaud Y. Hypofibrinolytic state and high thrombin generation may play a major role in SARS‐COV2 associated thrombosis. J Thromb Haemost. 2020;18(9):2215-9.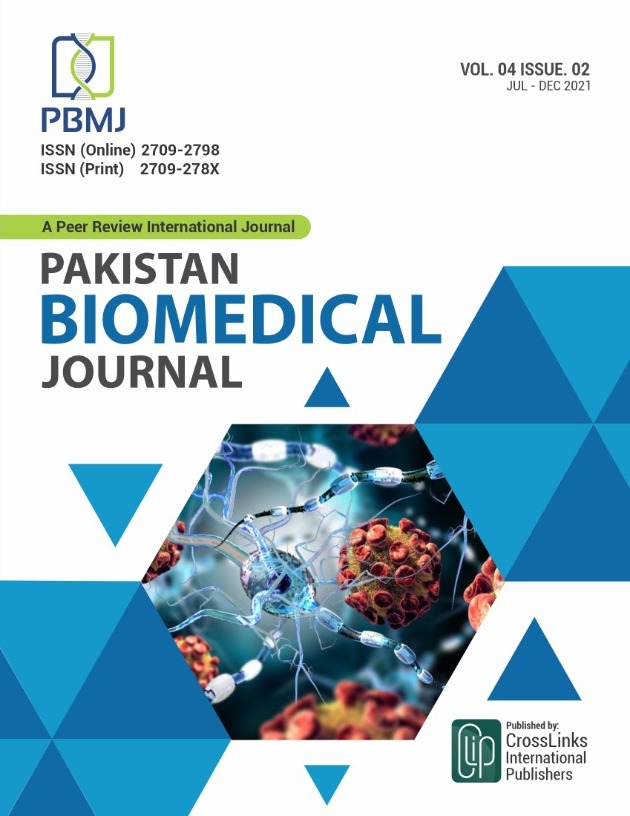 Downloads
How to Cite
Afzal, A. ., Zahid, A. ., Akbar, A. ., Jamal, Z. ., Habib, H. ., Awais, H., & Javaid, S. (2021). In Vitro study of Thrombolytic activity from the different parts of Carica papaya plant on COVID-19 patients.: Thrombolytic activity of Carica papaya in COVID-19 patients. Pakistan BioMedical Journal, 4(2), 134–138. https://doi.org/10.54393/pbmj.v4i2.107
License
Copyright (c) 2021 Pakistan BioMedical Journal
This work is licensed under a Creative Commons Attribution 4.0 International License.
This is an open-access journal and all the published articles / items are distributed under the terms of the Creative Commons Attribution License, which permits unrestricted use, distribution, and reproduction in any medium, provided the original author and source are credited. For comments editor@pakistanbmj.com