Association of learning styles with academic performance of final year MBBS students
Association of learning styles with academic performance of final year MBBS students
Keywords:
learning style, learning style questionnaire, activist, reflector, theorist and pragmatist.
Abstract
The research paradigm of this enquiry is post positivism. It reflects a deterministic philosophy in which causes probably determine effects or outcome. The knowledge that develops through a post positivist lens is based on careful observation and measurement of objective reality that exist "out there" in the world. Thus, developing numeric measures of observations and studying the behavior of individual become paramount for a post positivist, close ended question are used in research. This method of inquiry may be carried out in, test or verifies theories or explanation, identifies variable to study, relates variable in question, observe and measures information in numbers. Setting and duration of study: This observational study was conducted at Bolan Medical College, Quetta, Balochistan, from 1st March 2017 to 30 March 2018. Result: The results were concluded from a total of 200 candidates from different medical universities that became part of the study. In the earlier section of the results, descriptive statistics were presented. The three main determinants of the study were activist, reflector, the rest where the mean values were illustrated as 6.82, 8.04, and 7.47 respectively the highest number of candidates were 35 in total with percentage as 17.5%. This was followed by 33 individuals that accounted for 16.5%.
References
Creswell J. A frame work for design; research design quantitative, qualitative and mixed methods approaches. Sage publication, Clafornia 91320, 2003; 1-26.
Irfan Shukr, Roop Zainab, Mowadat H.Rana.Learning style of postgraduate and undergraduate medical students.JCPSP, 2013. Vol 23 (1): 25-30.
Al Kindy, S., Al Kindy, F. and Al Kindy, A., 2018. The Advantages and Disadvantages of Self Directed Learning: A Survey Study of Saudi Medical Students. Med Ed Publish.
Amin, A., 2019. Effect of Learning Style and Intelligence type on Academic Performance of Nursing Students.
Azevedo, R., Taub, M. and Mudrick, N.V., 2017. Understanding and reasoning about real-time cognitive, affective, and metacognitive processes to foster self-regulation with advanced learning technologies. In Handbook of self-regulation of learning and performance (pp. 254-270). Routledge.
Bhandari, B., Chopra, D., Agarwal, P., Panwar, A., Kaur, D. and Sidhu, T.K., 2021. Approbation of Self-directed Learning by first year medical students: a mixed method study. medRxiv.
Bokhari, N.M. and Zafar, M., 2019. Learning styles and approaches among medical education participants. Journal of education and health promotion, 8.
Hernández-Torrano, D., Ali, S. and Chan, C.K., 2017. First year medical students' learning style preferences and their correlation with performance in different subjects within the medical course. BMC Medical Education, 17(1), pp.1-7.
Kamal, I., Karim, M.K.A., Awang Kechik, M.M., Ni, X. and Razak, H.R.A., 2021. Evaluation of Healthcare Science Student Learning Styles Based VARK Analysis Technique. International Journal of Evaluation and Research in Education, 10(1), pp.255-261.
Karim, M.R., Asaduzzaman, A.K.M., Talukder, M.H.K., Alam, K.K., Haque, F. and Khan, S.J., 2019. Learning Style Preferences Among Undergraduate Medical Students: An Experience from Different Medical Colleges of Bangladesh. Bangladesh Journal of Medical Education, 10(2), pp.26-30.
Khiat, H., 2017. Academic performance and the practice of self-directed learning: The adult student perspective. Journal of further and Higher Education, 41(1), pp.44-59.
Kidane, H.H., Roebertsen, H. and Van der Vleuten, C.P., 2020. Students' perceptions towards self-directed learning in Ethiopian medical schools with new innovative curriculum: a mixed-method study. BMC medical education, 20(1), pp.1-10.
Kidane, H.H., Roebertsen, H. and Van der Vleuten, C.P., 2020. Students' perceptions towards self-directed learning in Ethiopian medical schools with new innovative curriculum: a mixed-method study. BMC medical education, 20(1), pp.1-10.
Mohoaduba, P.L., 2018. Self-directed learning readiness of nursing students in their fourth year of study in a public nursing college in Johannesburg, Gauteng Province, South Africa (Doctoral dissertation, Stellenbosch: Stellenbosch University).
Nash, C., 2021. Medical Professionals Require Curricula Support to Overcome Their Reluctance to Embrace Self-Directed Learning in Response to COVID-19. In Medical Sciences Forum (Vol. 4, No. 1, p. 20). Multidisciplinary Digital Publishing Institute.
Nayak, M.K. and Belle, V.S., 2020. VARIOUS METHODS OF SELF-DIRECTED LEARNING IN MEDICAL EDUCATION. MediSys Journal of Medical Sciences, 1, pp.15-22.
Oyserman, D., 2017. Culture three ways: Culture and subcultures within countries. Annual review of psychology, 68, pp.435-463.
Premkumar, K., Vinod, E., Sathishkumar, S., Pulimood, A.B., Umaefulam, V., Samuel, P.P. and John, T.A., 2018. Self-directed learning readiness of Indian medical students: a mixed method study. BMC medical education, 18(1), pp.1-10.
Rezigalla, A.A. and Ahmed, O.Y., 2019. Learning style preferences among medical students in the College of Medicine, University of Bisha, Saudi Arabia (2018). Advances in medical education and practice, 10, p.795.
Ryu, G. and Moon, S.G., 2019. The effect of actual workplace learning on job satisfaction and organizational commitment: the moderating role of intrinsic learning motive. Journal of Workplace Learning.
Tovar, L.A. and Misischia, C., 2018. Experiential Learning: Transformation and Discovery through Travel Study Programs. Research in Higher Education Journal, 35.
Van Deur, P. ed., 2017. Managing Self-Directed Learning in Primary School Education: Emerging Research and Opportunities: Emerging Research and Opportunities. IGI Global.
Viberg, O., Hatakka, M., Bälter, O. and Mavroudi, A., 2018. The current landscape of learning analytics in higher education. Computers in Human Behavior, 89, pp.98-110.
Williamson, S.N., 2007. Development of a self-rating scale of self-directed learning. Nurse researcher, 14(2).
Wilson, D. and Conyers, M., 2020. Developing growth mindsets: Principles and practices for maximizing students' potential. ASCD.
Wong, R.S., Siow, H.L., Kumarasamy, V. and Suhaimi, N.S.F., 2017. Interdisciplinary and inter-institutional differences in learning preferences among Malaysian medical and health sciences students. Journal of Advances in Medical Education & Professionalism, 5(4), p.164.
Yang, C., Zhu, Y., Jiang, H. and Qu, B., 2021. Influencing factors of self-directed learning abilities of medical students of mainland China: a cross-sectional study. BMJ open, 11(10), p.e051590.
Yasmin, M., Naseem, F. and Masso, I.C., 2019. Teacher-directed learning to self-directed learning transition barriers in Pakistan. Studies in Educational Evaluation, 61, pp.34-40.
Zeb, S., Yusuf, S., Mahmood, R.A. and Zeb, R., 2018. Gender based differences in self-directed learning readiness amongst medical students of Pakistan. Rawal Medical Journal, 43(4), pp.754-7564.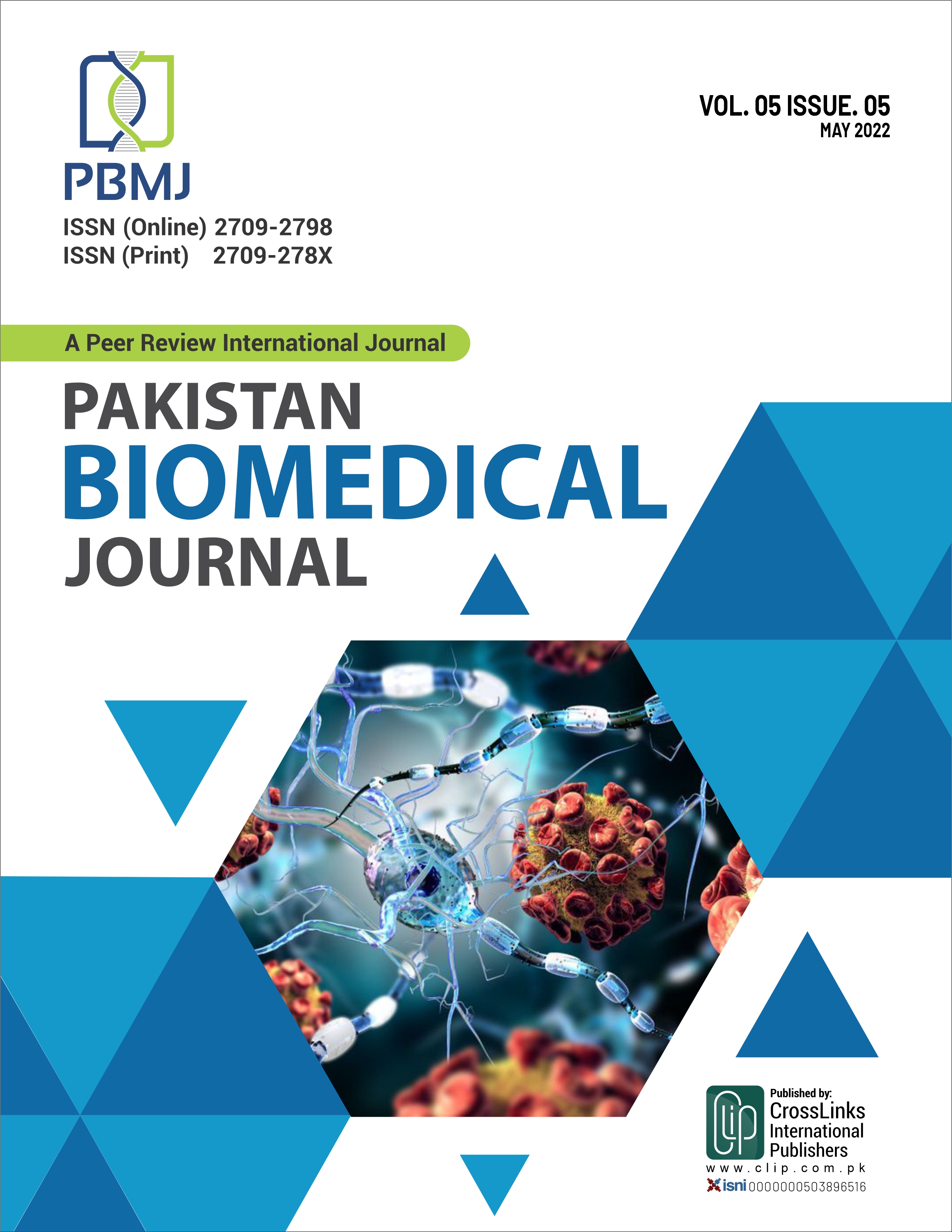 Downloads
How to Cite
Dad, F. ., & Shaikh, S. H. . (2022). Association of learning styles with academic performance of final year MBBS students: Association of learning styles with academic performance of final year MBBS students. Pakistan BioMedical Journal, 5(5), 241–247. https://doi.org/10.54393/pbmj.v5i5.309
License
Copyright (c) 2022 Pakistan BioMedical Journal
This work is licensed under a Creative Commons Attribution 4.0 International License.
This is an open-access journal and all the published articles / items are distributed under the terms of the Creative Commons Attribution License, which permits unrestricted use, distribution, and reproduction in any medium, provided the original author and source are credited. For comments editor@pakistanbmj.com