Frequency of Urinary Tract Abnormalities on Ultrasound with Benign Prostatic Hyperplasia
Urinary Tract Abnormalities on Ultrasound
Keywords:
Benign prostatic Hyperplasia, Urinary Tract Abnormalities. Ultrasound,
Abstract
Benign Prostatic Hyperplasia is a common problem effecting the men with increasing age which can cause many complications. Objective: To find out the frequency of Urinary Tract Abnormalities on Ultrasound associated with BPH. Methods: Descriptive study with sample size of 230 patients, conducted at Gilani Ultrasound Centre Lahore and Sanabil Health Services From July to November 2021.All patients coming with BPH were included in this study and their KUB scan done to diagnosed any urinary tract abnormalities. A convex transducer with a frequency of 3.5 to 5MHz was used for transabdominal scanning. Results: There were total of 230 patients who were presented with Benign prostate hyperplasia on Ultrasound scan, the minimum age ranged was 26 and  maximum age was 90. In this study, Normal patients was 77 with 33.3%, Bilateral Hydronephrosis was in 3 patients 1.3%, Bilateral hydronephrosis with right sided Hydro ureter was in 1 patient 0.4%, Bilateral renal stones was in 3 patients 1.3%,Cystitis was in 50 patients 21.6%, Left renal cyst was in 9 patients 3.9%. Conclusion: Our study concluded that the patients coming with BPH presented with different urinary tract abnormalities on Ultrasound. Vesicoureteral reflux may concur the extravasation of urine may rarely occur due to bladder outlet obstruction in patients with BPH. BPH is a risk factor to develop UTI, cystitis, hydronephrosis and hydroureter
References
Kemei WK. Prostate disorders and prostate specific antigen (PSA) levels among patients above 50 years of age at Moi Teaching and Referral Hospital Eldoret (Doctoral dissertation, Moi University). 2014.
Sotgia F, Martinez-Outschoorn UE, Pavlides S, Howell A, Pestell RG and Lisanti MP. Understanding the Warburg effect and the prognostic value of stromal caveolin-1 as a marker of a lethal tumor microenvironment. Breast Cancer Res. 2011;13(4):213. doi: 10.1186/bcr2892.
Verze P, Cai T and Lorenzetti S. The role of the prostate in male fertility, health and disease. Nat Rev Urol. 2016;13(7):379-86. doi: 10.1038/nrurol.2016.89.
Motrich RD, Salazar FC, Breser ML, Mackern‐Oberti JP, Godoy GJ and Olivera C et al. Implications of prostate inflammation on male fertility. Andrologia. 2018;50(11):e13093. doi.org/10.1111/and.13093.
Phillips E, Carpenter C and Oates RD. Ejaculatory dysfunction. Urol Clin North Am. 2014;41(1):115-28. doi: 10.1016/j.ucl.2013.08.018.
Garg G and Juneja M. A survey of prostate segmentation techniques in different imaging modalities. Current Medical Imaging. 2018;14(1):19-46. doi.org/10.2174/1573405613666170504145842.
Kirby RS, Patel MI and Poon DM. Fast Facts: Prostate Cancer: If, when and how to intervene. Karger Medical and Scientific Publishers. 2020.
Pagana KD, Pagana TJ and Pike-MacDonald SA. Mosby's Canadian Manual of Diagnostic and Laboratory Tests-E-Book. Elsevier Health Sciences. 2012.
Tam AL, Lim HJ, Wistuba II, Tamrazi A, Kuo MD and Ziv E et al. Image-Guided Biopsy in the Era of Personalized Cancer Care: Proceedings from the Society of Interventional Radiology Research Consensus Panel. J Vasc Interv Radiol. 2016;27(1):8-19. doi: 10.1016/j.jvir.2015.10.019.
Pisco J, Campos Pinheiro L, Bilhim T, Duarte M, Rio Tinto H and Fernandes L et al. Prostatic arterial embolization for benign prostatic hyperplasia: short- and intermediate-term results. Radiology. 2013;266(2):668-77. doi: 10.1148/radiol.12111601.
Choi JB and Min SK. Complicated urinary tract infection in patients with benign prostatic hyperplasia. J Infect Chemother. 2021;27(9):1284-1287. doi: 10.1016/j.jiac.2021.06.006.
Langan RC. Men's Health: Benign Prostatic Hyperplasia. FP Essent. 2021;503:18-22.
Gheonea DI, Săftoiu A, Ciurea T, Gorunescu F, Iordache S and Popescu GL et al. Real-time sono-elastography in the diagnosis of diffuse liver diseases. World J Gastroenterol. 2010;16(14):1720-6. doi: 10.3748/wjg.v16.i14.1720.
Gregori A, Romanò AL, Scieri F, Pietrantuono F, Incarbone GP and Salvaggio A et al. Transrectal ultrasound-guided implantation of Adjustable Continence Therapy (ProACT): surgical technique and clinical results after a mean follow-up of 2 years. Eur Urol. 2010;57(3):430-6. doi: 10.1016/j.eururo.2009.11.031.
Leroy C, Conchou F, Layssol-Lamour C, Deviers A, Sautet J and Concordet D et al. Normal canine prostate gland: repeatability, reproducibility, observer-dependent variability of ultrasonographic measurements of the prostate in healthy intact beagles. Anat Histol Embryol. 2013;42(5):355-61. doi: 10.1111/ahe.12022.
Swyer GI. Post-natal growth changes in the human prostate. J Anat. 1944;78(Pt 4):130-45.
Berry SJ, Coffey DS, Walsh PC and Ewing LL. The development of human benign prostatic hyperplasia with age. J Urol. 1984;132(3):474-9. doi: 10.1016/s0022-5347(17)49698-4.
Welliver C, Feinstein L, Ward JB, Kirkali Z, Martinez-Miller EE and Matlaga BR et al. Poor clinical guideline adherence and inappropriate testing for incident lower urinary tract symptoms associated with benign prostatic hyperplasia. Prostate Cancer Prostatic Dis. 2021:10.1038/s41391-021-00435-z. doi: 10.1038/s41391-021-00435-z.
Jung JH, Park J, Kim WT, Kim HW, Kim HJ and Hong S et al. The association of benign prostatic hyperplasia with lower urinary tract stones in adult men: A retrospective multicenter study. Asian J Urol. 2018;5(2):118-121. doi: 10.1016/j.ajur.2017.06.008.
Kim EH, Larson JA and Andriole GL. Management of Benign Prostatic Hyperplasia. Annu Rev Med. 2016;67:137-51. doi: 10.1146/annurev-med-063014-123902.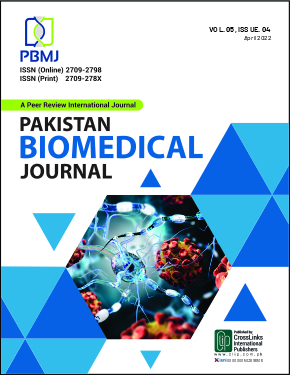 Downloads
How to Cite
Iqbal, U. ., Uzair, M. ., Khadija, S. ., Nadeem , N., Ali, I., Arif, K., Hassan, A., Ahmad, W., & Rasheed, S. (2022). Frequency of Urinary Tract Abnormalities on Ultrasound with Benign Prostatic Hyperplasia: Urinary Tract Abnormalities on Ultrasound . Pakistan BioMedical Journal, 5(4), 82–85. https://doi.org/10.54393/pbmj.v5i4.359
License
Copyright (c) 2022 Pakistan BioMedical Journal
This work is licensed under a Creative Commons Attribution 4.0 International License.
This is an open-access journal and all the published articles / items are distributed under the terms of the Creative Commons Attribution License, which permits unrestricted use, distribution, and reproduction in any medium, provided the original author and source are credited. For comments editor@pakistanbmj.com