Management of Type II Diabetes Mellitus using Adult Autologous Adipose derived stem cells with Platelets Rich Plasma (PRP)
Management of T2DM using stem cells with PRP
Abstract
Type II diabetes mellitus (T2DM) is known as non-insulin dependent diabetes mellitus. Insulin impairment and insulin resistance are the major causes of type II diabetes mellitus.  People with T2DM are more prone to macro-vascular and micro vascular impediments. Adult Autologous Adipose derived stem cells (ADSC) hold potential to develop into multilineages and they can secrete numerous growth factors that can regenerate the damaged neighboring cells. The chronic wound healing processes and diabetes-associated complications are reported to be treated by using stem cells by revascularization and by promoting the micro vascular remodeling.  Objective: To evaluate the safety and efficacy of Adipose derived autologous stem cells and PRP in patients suffering from Type 2 Diabetes Mellitus (T2DM). Methods: We reported three cases aged 50, 69 and 72 years suffering from T2DM since 20, 10 and 20 years respectively. They were treated with adult autologous ADSC and Platelets Rich Plasma (PRP). Results: Over a follow up of twelve months significant control in glycemia as well as stable glycosylated hemoglobin with decrease in pain on Visual Analogous scale (VAS) score has been observed
References
Bajada, S., Mazakova, I., Richardson, J. B., & Ashammakhi, N. (2008). Updates on stem cells and their applications in regenerative medicine. Journal of tissue engineering and regenerative medicine, 2(4), 169-183.
Biswas, S. (2022). A review on the progress of stem cell therapy as a treatment for Diabetes mellitus (Doctoral dissertation, Brac University).
Chatterjee, S., K. Khunti, et al. (2017). "Type 2 diabetes." The Lancet 389(10085): 2239-2251.
DeFronzo, R. A., E. Ferrannini, et al. (2015). "Type 2 diabetes mellitus." Nature reviews Disease primers 1: 15019.
Del Pino‐Sedeño, T., Trujillo‐Martín, M. M., Andia, I., Aragón‐Sánchez, J., Herrera‐Ramos, E., Iruzubieta Barragán, F. J., & Serrano‐Aguilar, P. (2019). Platelet‐rich plasma for the treatment of diabetic foot ulcers: a meta‐analysis. Wound Repair and Regeneration, 27(2), 170-182.
Dhillon, R. S., E. M. Schwarz, et al. (2012). "Platelet-rich plasma therapy-future or trend?" Arthritis research & therapy 14(4): 219.
El-Tahawy, N. F., R. A. Rifaai, et al. (2017). "Effect of Platelet Rich Plasma (PRP) Injection on the Endocrine Pancreas of the Experimentally Induced Diabetes in Male Albino Rats: A Histological and Immunohistochemical Study." J Diabetes Metab 8(730): 2.
Galicia-Garcia, U., Benito-Vicente, A., Jebari, S., Larrea-Sebal, A., Siddiqi, H., Uribe, K. B. & Martín, C. (2020). Pathophysiology of type 2 diabetes mellitus. International journal of molecular sciences, 21(17), 6275.
Gimble, J. and F. Guilak (2003). "Adipose-derived adult stem cells: isolation, characterization, and differentiation potential." Cytotherapy 5(5): 362-369.
Hassan, W. U., Greiser, U., & Wang, W. (2014). Role of adipose‐derived stem cells in wound healing. Wound repair and regeneration, 22(3), 313-325.
Lin, G., G. Wang, et al. (2009). "Treatment of type 1 diabetes with adipose tissue–derived stem cells expressing pancreatic duodenal Homeobox 1." Stem cells and development 18(10): 1399-1406.
Liu, M., Liu, S. W., Wang, L. J., Bai, Y. M., Zeng, X. Y., Guo, H. B., ... & Yu, S. C. (2019). Burden of diabetes, hyperglycaemia in China from to 2016: findings from the 1990 to 2016, global burden of disease study. Diabetes & metabolism, 45(3), 286-293.
Monnier, L., E. Mas, et al. (2006). "Activation of oxidative stress by acute glucose fluctuations compared with sustained chronic hyperglycemia in patients with type 2 diabetes." Jama 295(14): 1681-1687.
Moshtagh, P. R., S. H. Emami, et al. (2013). "Differentiation of human adipose-derived mesenchymal stem cell into insulin-producing cells: an in vitro study." Journal of physiology and biochemistry 69(3): 451-458.
Mulder, G., Tenenhaus, M., & D'Souza, G. F. (2014). Reduction of diabetic foot ulcer healing times through use of advanced treatment modalities. The international journal of lower extremity wounds, 13(4), 335-346.
Sena, C. M., Bento, C. F., Pereira, P., Marques, F., & Seiça, R. (2013). Diabetes mellitus: new challenges and innovative therapies. In New Strategies to Advance Pre/Diabetes Care: Integrative Approach by PPPM (pp. 29-87). Springer, Dordrecht.
Songthung, P., & Sripanidkulchai, K. (2016, July). Improving type 2 diabetes mellitus risk prediction using classification. In 2016 13th International Joint Conference on Computer Science and Software Engineering (JCSSE) (pp. 1-6). IEEE.
Utsunomiya, T., M. Shimada, et al. (2011). "Human adipose-derived stem cells: potential clinical applications in surgery." Surgery today 41(1): 18-23.
Wei, S., Xu, P., Yao, Z., Cui, X., Lei, X., Li, L., & Cheng, B. (2021). A composite hydrogel with co-delivery of antimicrobial peptides and platelet-rich plasma to enhance healing of infected wounds in diabetes. Acta Biomaterialia, 124, 205-218.
Wright Jr, E., J. Scism‐Bacon, et al. (2006). "Oxidative stress in type 2 diabetes: the role of fasting and postprandial glycaemia." International journal of clinical practice 60(3): 308-314.
Wu, B., Niu, Z., & Hu, F. (2021). Study on Risk Factors of Peripheral Neuropathy in Type 2 Diabetes Mellitus and Establishment of Prediction Model. Diabetes & metabolism journal, 45(4), 526-538.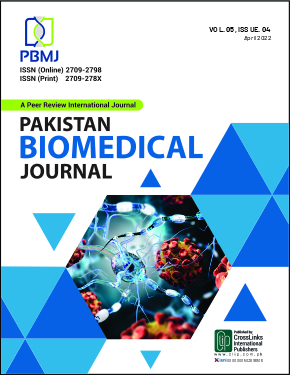 Downloads
How to Cite
Anwar, S. ., Nawaz, A. ., & Abbas, Z. . (2022). Management of Type II Diabetes Mellitus using Adult Autologous Adipose derived stem cells with Platelets Rich Plasma (PRP): Management of T2DM using stem cells with PRP. Pakistan BioMedical Journal, 5(4), 270–273. https://doi.org/10.54393/pbmj.v5i4.364
License
Copyright (c) 2022 Pakistan BioMedical Journal
This work is licensed under a Creative Commons Attribution 4.0 International License.
This is an open-access journal and all the published articles / items are distributed under the terms of the Creative Commons Attribution License, which permits unrestricted use, distribution, and reproduction in any medium, provided the original author and source are credited. For comments editor@pakistanbmj.com