Sonographic evaluation, prevalence and differential diagnosis of renal cyst
Sonographic evaluation, prevalence and differential diagnosis of renal cyst
Keywords:
renal cyst, prevalence, ultrasound, autosomal dominant polycystic kidney, simple cyst, complex cyst
Abstract
Renal cysts are a common finding on routine ultrasound scans. Renal cysts are easily detected with ultrasound, with its low cost, non-invasiveness and no exposure to radiation, ultrasound is an exceptional method for primary evaluation of patients with cystic lesions. Most cysts detected by chance and are benign, but they can become complex if infection, bleeding, or ischemia occur. Objective: To assess the prevalence of renal cysts and find relationship with age and sex in the study group and to outline the differential diagnosis of renal cyst by ultrasonography. Methods: This was a cross-sectional descriptive study. An ultrasound examination was performed on 109 patients who were diagnosed with renal cysts. Cystic wall thickness, form, number of cysts, and acoustic enhancement were employed as sonographic criteria for evaluating renal cysts. Results: The incidence of renal cysts were more in females than in male s(52.3% vs. 47.7%). The majority of the cysts were solitary than multiple (69.7% vs. 30.3%). Most of the cysts were at lower pole cortical cysts (22.9%). Simple cyst was the most common type (90.8%), autosomal-dominant polycystic kidney disease (ADPKD) was 6.4%. 59 patients were asymptomatic and 50 patients were symptomatic with flank pain as the most common symptom. Conclusions: Simple cysts are the most frequently found kidney cysts on ultrasound. Aging and hypertension were common risk factors related with renal cysts. End-stage renal failure is caused by ADPKD, which is the most prevalent genetic cause. Diagnosis and early detection of renal cyst is important, routine ultrasound scans for adults is advisable prior to getting any serious complication.
References
Withey SJ, Verma H, Prezzi D. Multimodality Assessment of Cystic Renal Masses. Paper presented at: Seminars in Ultrasound, CT and MRI2020. doi.org/10.1053/j.sult.2020.05.001
Niyyar VD, O'Neill WC. Point-of-care ultrasound in the practice of nephrology. Kidney International. 2018;93(5):1052-1059.doi.org/10.1016/j.kint.2017.11.032
Sigmon DF, Shikhman R, Jl N. Renal cyst. 2017.
Garfield K, Leslie SW. Simple renal cyst. StatPearls [Internet]. 2020.
Burgan CM, Sanyal R, Lockhart ME. Ultrasound of renal masses. Radiologic Clinics. 2019;57(3):585-600.doi.org/10.1016/j.rcl.2019.01.009
Ugwuanyi D, Chiegwu H, Anakwue A-M, Eze E. Ultrasonography Evaluation of Renal Cyst Disease in Nnewi Urban, South East Nigeria. Asian Journal of Science and Technology. 2017;08:5417-5421.
Gameraddin MB, Babiker MS. Renal cysts: Sonographic evaluation and classification in Sudanese adults. Journal of Health Research and Reviews. 2016;3(3):111. doi.org/10.4103/2394-2010.193181
Shiza ST, Guttikonda J. Exceptionally Large Kidneys in Autosomal Dominant Polycystic Disease in India. Cureus. 2021;13(3).doi.org/10.7759/cureus.13905
Harris PC, Torres VE. Polycystic kidney disease, autosomal dominant. GeneReviews®[Internet] 2018.
Chapman AB, Rahbari-Oskoui FF, Bennett W. Acquired cystic disease of the kidney in adults. UpToDate version. 2011;15.
Chang C-C, Kuo J-Y, Chan W-L, Chen K-K, Chang LS. Prevalence and clinical characteristics of simple renal cyst. Journal of the Chinese Medical Association. 2007;70(11):486-491.doi.org/10.1016/S1726-4901(08)70046-7
Ozveren B, Onganer E, Türkeri LN. Simple renal cysts: prevalence, associated risk factors and follow-up in a health screening cohort. Urology journal. 2016;13(1):2569-2575.
Chin HJ, Ro H, Lee HJ, Na KY, Chae D-W. The clinical significances of simple renal cyst: Is it related to hypertension or renal dysfunction? Kidney international. 2006;70(8):1468-1473.doi.org/10.1038/sj.ki.5001784
Hong S, Lim J, Jeong I, Choe J, Kim C, Hong J. What association exists between hypertension and simple renal cyst in a screened population? Journal of human hypertension. 2013;27(9):539-544.doi.org/10.1038/jhh.2013.12
Kong X, Ma X, Zhang C, Su H, Gong X, Xu D. Increased risk of kidney damage among Chinese adults with simple renal cyst. International urology and nephrology. 2018;50(9):1687-1694.doi.org/10.1007/s11255-018-1880-3
Terada N, Ichioka K, Matsuta Y, Okubo K, Yoshimura K, Arai Y. The natural history of simple renal cysts. The Journal of urology. 2002;167(1):21-23. doi.org/10.1016/S0022-5347(05)65373-6
Tellman MW, Bahler CD, Shumate AM, Bacallao RL, Sundaram CP. Management of pain in autosomal dominant polycystic kidney disease and anatomy of renal innervation. The Journal of urology. 2015;193(5):1470-1478. doi.org/10.1016/j.juro.2014.10.124
Chapman AB, Stepniakowski K, Rahbari-Oskoui F. Hypertension in autosomal dominant polycystic kidney disease. Advances in chronic kidney disease. 2010;17(2):153-163.doi.org/10.1053/j.ackd.2010.01.001
Miskulin DC, Abebe KZ, Chapman AB, et al. Health-related quality of life in patients with autosomal dominant polycystic kidney disease and CKD stages 1-4: a cross-sectional study. American journal of kidney diseases. 2014;63(2):214-226. doi.org/10.1053/j.ajkd.2013.08.017
Ziganshin BA, Theodoropoulos P, Salloum MN, et al. Simple renal cysts as markers of thoracic aortic disease. Journal of the American Heart Association. 2016;5(1):e002248.doi.org/10.1161/JAHA.115.002248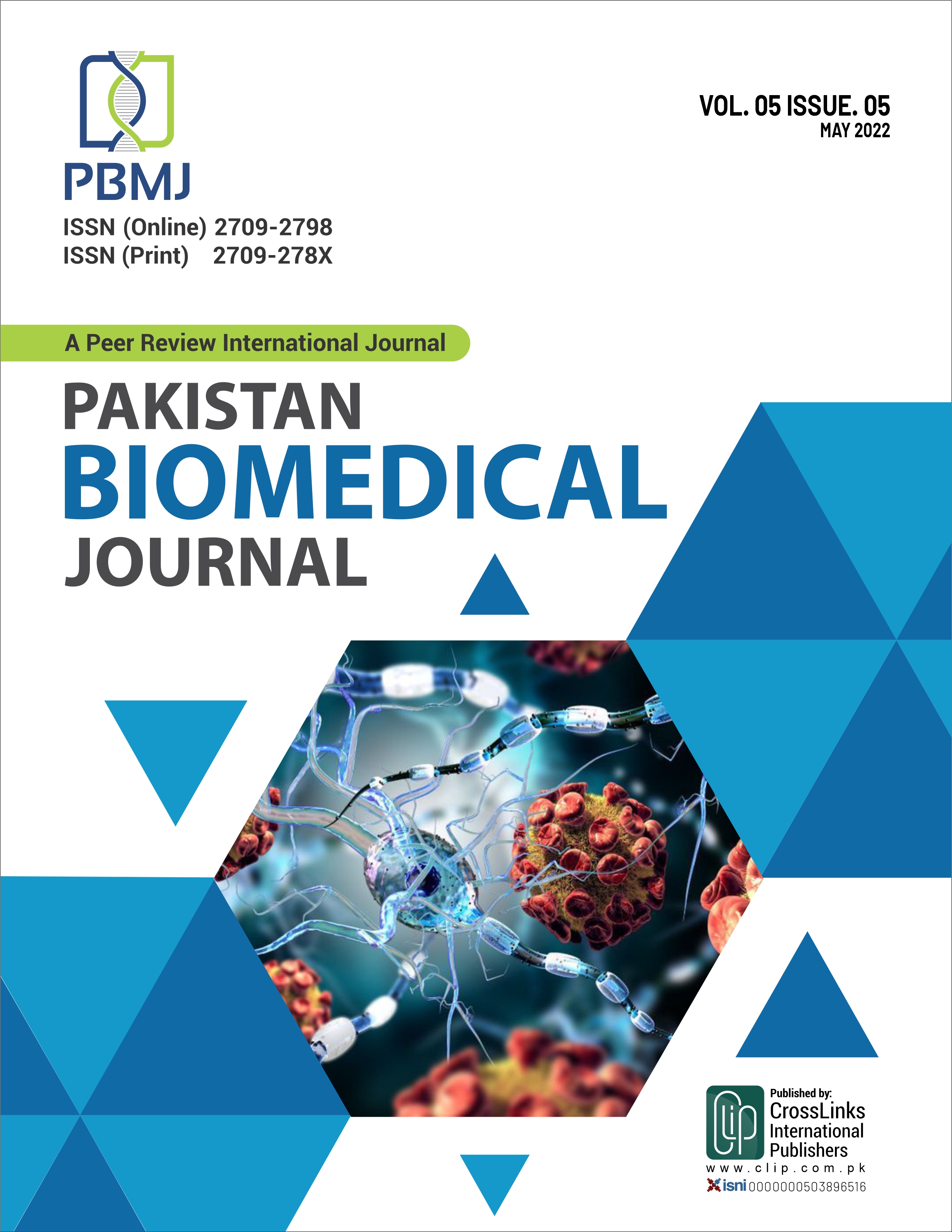 Downloads
How to Cite
Sunaina Ali, Maniha Nauman, Minahil Saleem, Ms. Iqra Manzoor, Dr. Iqra Ramzan, & Dr. Mehreen Fatima. (2022). Sonographic evaluation, prevalence and differential diagnosis of renal cyst : Sonographic evaluation, prevalence and differential diagnosis of renal cyst. Pakistan BioMedical Journal, 5(5), 186–189. https://doi.org/10.54393/pbmj.v5i5.426
License
Copyright (c) 2022 Pakistan BioMedical Journal
This work is licensed under a Creative Commons Attribution 4.0 International License.
This is an open-access journal and all the published articles / items are distributed under the terms of the Creative Commons Attribution License, which permits unrestricted use, distribution, and reproduction in any medium, provided the original author and source are credited. For comments editor@pakistanbmj.com