Pattern and Outcomes of Traumatic Brain Injury (TBI) In Pediatric Patients
TBI In Pediatric Patients
Keywords:
Traumatic Brain Injury, Pediatric, Treatment, Intensive Care, Intracranial Pressure
Abstract
Traumatic brain injury (TBI) is the leading cause of mortality and permanent impairment in children. Objective: To investigate the pattern and outcomes of TBI in pediatric patients. Methods: A descriptive cross-sectional study was conducted at Holy family Hospital Rawalpindi from June 2021 to February 2022 in the Department of Emergency. We included 141 children with no prior history of neurological deficits, who had a CT scan immediately following their presentation. All children were monitored throughout their hospital stay to determine the in-hospital mortality and any neurological deficits. SPSS Version 24 was used for data analysis. Results: Male patients were 86 (61%). The majority of patients were between the ages of 5 and 10 years. There were 35 male patients and four female patients who were involved in a road traffic accident. Only 20 of the patients who had hypotension on admission showed recovery. The p-value was significant in 46 hypotensive patients out of which 23 died. The hospital had to treat 11 patients who had been hospitalized for more than a month. Only 31 of the 96 patients with depressed mentation had surgery, compared to other patients with no neurological deficit. Conclusions: TBI in pediatric patients was affected by gender, age, time of arrival after injury, and presenting conditions in our study. More needs to be done in the area of public health. The hospital and perhaps the country would benefit from a trauma registry system.
References
Chen C, Shi J, Stanley RM, Sribnick EA, Groner JI, Xiang H. U.S. Trends of ED visits for pediatric traumatic brain injuries: implications for clinical trials. Int J Environ Res Public Health. 2017;14(4):414.
GBD 2015 Mortality and Causes of Death Collaborators. Global, regional, and national life expectancy, all-cause mortality, and cause-specific mortality for 249 causes of death, 1980-2015: a systematic analysis for the Global Burden of Disease Study 2015. Lancet. 2016;388(10053):1459-1544.
Dewan MC, Rattani A, Gupta S, Baticulon RE, Hung YC, Punchak M, et al. Estimating the global incidence of traumatic brain injury. J Neurosurg. 2019;130(4):1080-97.
Nguyen R, Fiest KM, McChesney J, Kwon CS, Jette N, Frolkis AD, et al. The international incidence of traumatic brain injury: a systematic review and meta-analysis. Can J Neurol Sci. 2016;43(6):774-85.
Khatri N, Thakur M, Pareek V, Kumar S, Sharma S, Datusalia AK. Oxidative stress: major threat in traumatic brain injury. CNS Neurol Disord Drug Targets. 2018;17(9):689-695.
Kumar Sahel D, Kaira M, Raj K, Sharma S, Singh S. Mitochondrial dysfunctioning and neuroinflammation: Recent highlights on the possible mechanisms involved in Traumatic Brain Injury. Neurosci Lett. 2019;710:134347.
Kochar A, Borland ML, Phillips N, Dalton S, Cheek JA, Furyk J, et al. Association of clinically important traumatic brain injury and Glasgow Coma Scale scores in children with head injury. Emerg Med J. 2020;37(3):127-34.
Fink EL, von Saint Andre-von Arnim A, Kumar R, Wilson PT, Bacha T, Aklilu AT, et al. Traumatic brain injury and infectious encephalopathy in children from four resource-limited settings in Africa. Pediatr Crit Care Med. 2018;19(7):649-657.
Madaan P, Agrawal D, Gupta D, Kumar A, Jauhari P, Chakrabarty B, et al. Clinicoepidemiologic profile of pediatric traumatic brain injury: experience of a tertiary care hospital from northern India. J Child Neurol. 2020;35(14):970-74.
Bedry T, Tadele H. Pattern and outcome of pediatric traumatic brain injury at hawassa university comprehensive specialized hospital, southern ethiopia: observational cross-sectional study. Emerg Med Int. 2020;2020:1965231.
Chikani MC, Aniaku I, Mesi M, Mezue WC, Chikani UN. Characteristics and outcome of paediatric traumatic brain injuries: An analysis of 163 patients in Enugu. Niger J Med 2021;30:446-51
Dewan MC, Mummareddy N, Wellons III JC, Bonfield CM. Epidemiology of global pediatric traumatic brain injury: qualitative review. World neurosurgery. 2016 Jul 1;91:497-509.
Gupta S, Khajanchi M, Kumar V, Raykar NP, Alkire BC, Roy N, Park KB. Third delay in traumatic brain injury: time to management as a predictor of mortality. Journal of neurosurgery. 2019 Jan 18;132(1):289-95.
Durish CL, Pereverseff RS, Yeates KO. Depression and depressive symptoms in pediatric traumatic brain injury: a scoping review. The Journal of head trauma rehabilitation. 2018 May;33(3):E18.
Karibe H, Hayashi T, Narisawa A, Kameyama M, Nakagawa A, Tominaga T. Clinical characteristics and outcome in elderly patients with traumatic brain injury: for establishment of management strategy. Neurologia medico-chirurgica. 2017;57(8):418-25.
Ndoumbe, A. , Motah, M. , Dah, A. and Moumi, M. (2019) Pediatric Traumatic Brain Injury Pattern at the General Hospital, Douala, Cameroon. Open Journal of Modern Neurosurgery, 9, 49-60. doi: 10.4236/ojmn.2019.91007.
Serpa Rebecka, Ferguson Lindsay, Larson Cooper, et al. Pathophysiology of Pediatric Traumatic Brain Injury. Frontiers in Neurology. VOL 12, 2021. DOI=10.3389/fneur.2021.696510
Anthony Ndung'u, Jared Sun, Joan Musau, Eunice Ndirangu. Patterns and outcomes of paediatric trauma at a tertiary teaching hospital in Kenya. African Journal of Emergency Medicine. Vol 9, Supplement, 2019, Pages S47-S51. doi.org/10.1016/j.afjem.2018.12.004.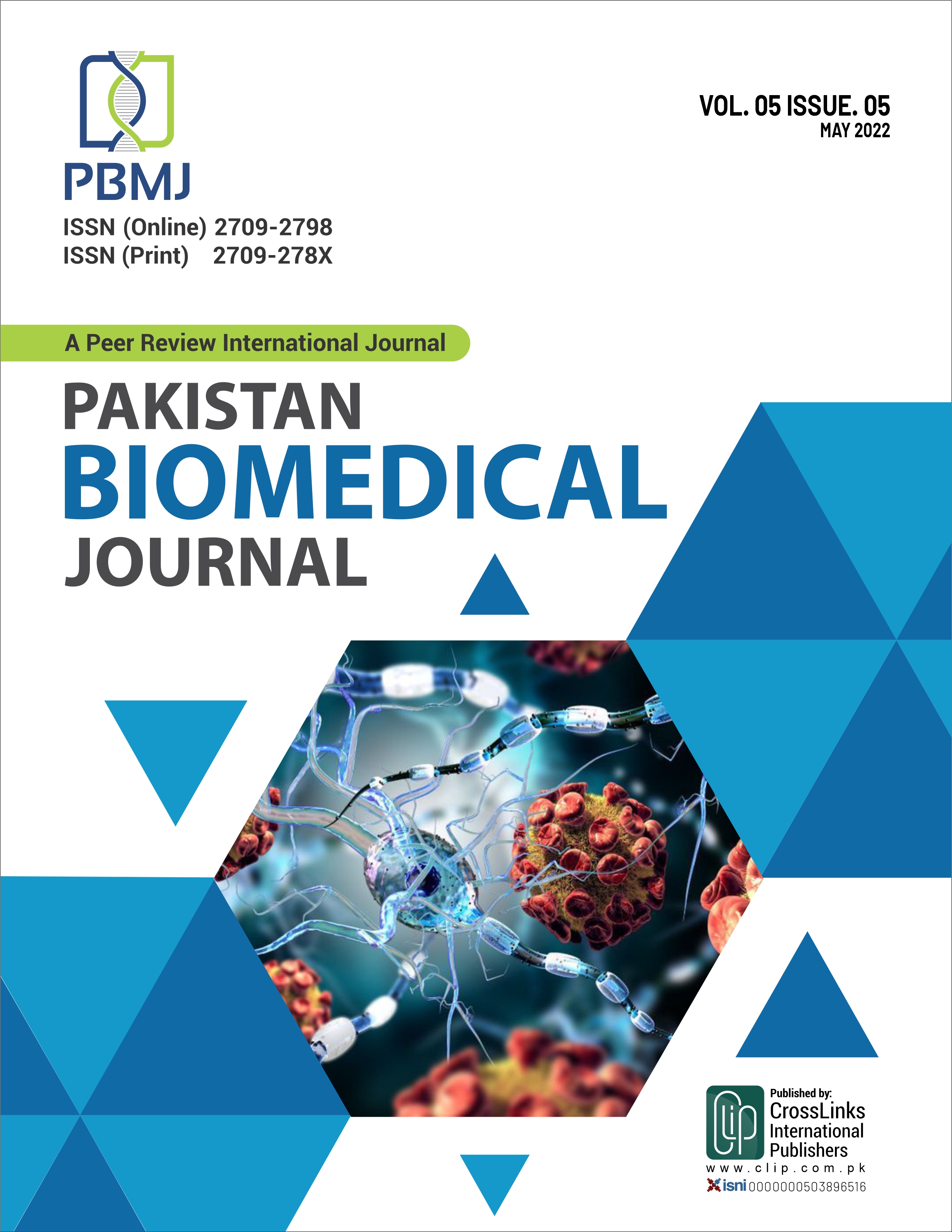 Downloads
How to Cite
Saghir, I. ., Hussain, I. ., Jahangir, B., Raza, S. Z. ., Hasan, M. ., Bukhari, U. F. ., & Amin, H. (2022). Pattern and Outcomes of Traumatic Brain Injury (TBI) In Pediatric Patients: TBI In Pediatric Patients. Pakistan BioMedical Journal, 5(5), 122–126. https://doi.org/10.54393/pbmj.v5i5.429
License
Copyright (c) 2022 Pakistan BioMedical Journal
This work is licensed under a Creative Commons Attribution 4.0 International License.
This is an open-access journal and all the published articles / items are distributed under the terms of the Creative Commons Attribution License, which permits unrestricted use, distribution, and reproduction in any medium, provided the original author and source are credited. For comments editor@pakistanbmj.com