The Morbidity Patterns of Children with Severe Malnutrition
Morbidity Patterns of Children with Severe Malnutrition
Keywords:
Morbidity, Weight Loss, Malnutrition, Metabolic Disorders, Infections
Abstract
Malnutrition is a widespread problem worldwide Objective: To identify the morbidity patterns of children with severe acute malnutrition Methods: A cross-sectional study was conducted in the Pediatric Unit-II of Abbasi Shaheed Hospital for a six-month duration from July 2021 to December 2021. Children aged 1 to 60 months with severe acute malnutrition (WHZ score <-3 SD) were selected. All patients were assessed for clinical symptoms, various disease states such as metabolic abnormalities, infections, congenital/hereditary anomalies, and outcomes such as left against medical advice (LAMA), stabilization, or death on discharge. Data was analyzed and collected using descriptive statistics in SPSS version 17. Results: A total of 150 children were admitted according to the admission criteria. The number of males was 85 (56.7%) and females 65 (43.3%), and the male to female ratio was 1.4: 1. 120 (80%) had severe wasting without edema and 30 (20%) had malnutrition with edema. The average length of stay was 10 + 3.6 days. The main incidence in children with MAS are diarrhea (46.7%), pneumonia (18.7%), sepsis (15.3%), and other diseases such as meningitis 5(3.3 %), severe skin infections, 7(4.7%), urinary tract infections 9(6%), and eye lesions due to vitamin A deficiency 2(1.3%). 13 (8.7%) patients had measles with diarrhea and pneumonia. Acute watery diarrhea was observed in 68(45.3%) of diarrhea cases. 21 (14%) children had congenital or hereditary defects. 9 (6%) had central nervous system disorders. Conclusions: The spectrum of incidence in hospitalized children with severe malnutrition includes both congenital or hereditary defects and infections. The sepsis and diarrhea with metabolic disturbances mainly contributed to the mortality.
References
Grellety E, Golden MH. Severely malnourished children with a low weight-for-height have a higher mortality than those with a low mid-upper-arm-circumference: I. Empirical data demonstrates Simpson's paradox. Nutr J. 2018 Sep 15;17(1):79. doi: 10.1186/s12937-018-0384-4.
Yohannes T, Laelago T, Ayele M, Tamrat T. Mortality and morbidity trends and predictors of mortality in under-five children with severe acute malnutrition in Hadiya zone, South Ethiopia: a four-year retrospective review of hospital-based records (2012-2015). BMC Nutr. 2017 Feb 27;3:18. doi: 10.1186/s40795-017-0135-5.
Girum T, Kote M, Tariku B, Bekele H. Survival status and predictors of mortality among severely acute malnourished children <5 years of age admitted to stabilization centers in Gedeo Zone: a retrospective cohort study. Ther Clin Risk Manag. 2017 Jan 23;13:101-110. doi: 10.2147/TCRM.S119826.
Awasthi S, Verma T, Sanghvi T, Frongillo EA. Path to severe acute malnutrition in children below 2 years of age: Findings of qualitative research in Uttar Pradesh, North India. Clinical Epidemiology and Global Health. 2019 Jun 1;7(2):246-52. doi.org/10.1016/j.cegh.2018.11.001.
Gavhi F, Kuonza L, Musekiwa A, Motaze NV. Factors associated with mortality in children under five years old hospitalized for Severe Acute Malnutrition in Limpopo province, South Africa, 2014-2018: A cross-sectional analytic study. PLoS One. 2020 May 8;15(5):e0232838. doi: 10.1371/journal.pone.0232838.
Kazi U, Tariq S, Saleem S, Fareeduddin M. Clinical Spectrum of admitted Severely Acute Malnourished Children at The Indus Hospital Karachi: An Evaluation of One year's experience. Annals of Jinnah Sindh Medical University. 2018;4(2):70-4.
Ali W, Khuhro AA, Rajper SB, Rehman FU. Morbidity patterns and outcome in children with severe acute malnutrition at a Tertiary Care Hospital. The Professional Medical Journal. 2020 Sep 10;27(09):1799-803. doi.org/10.29309/TPMJ/2020.27.09.3528.
Gokhale CN, Borgaonkar CA, Shanbhag SS, Solanki MJ, Rasal MM. Morbidity pattern among primary school children in a tribal area of Maharashtra. Int J Community Med Public Health. 2018 Jan;5(1):165-9. DOI: 10.18203/2394-6040.ijcmph20175776.
Uwaezuoke SN, Ndu IK, Eze IC. The prevalence and risk of urinary tract infection in malnourished children: a systematic review and meta-analysis. BMC Pediatr. 2019 Jul 27;19(1):261. doi: 10.1186/s12887-019-1628-y.
Debnath SC, Riaz BK, Islam Z, Samin S. Malnutrition and morbidity profile of under five children: a cross-sectional scenario in a rural area of Bangladesh. MOJ Public Health. 2017;5(6):00151.
Kurrey VK, Lokesh S, Rakesh N, Sharja P. Study of health status and morbidity pattern in 5-18 years Birhor children: A primitive tribe of Chhattisgarh. Indian Journal of Child Health. 2017 Jun 25;4(2):180-3. doi.org/10.32677/IJCH.2017.v04.i02.016.
Martin-Canavate R, Custodio E, Yusuf A, Molla D, Fasbender D, Kayitakire F. Malnutrition and morbidity trends in Somalia between 2007 and 2016: results from 291 cross-sectional surveys. BMJ Open. 2020 Feb 17;10(2):e033148. doi: 10.1136/bmjopen-2019-033148.
Acevedo P, Esteban MT, Lopez-Ejeda N, Gómez A, Marrodán MD. Influence of malnutrition upon all-cause mortality among children in Swaziland. Endocrinologia, diabetes y nutricion. 2017 Apr 1;64(4):204-10. doi.org/10.1016/j.endinu.2017.01.008.s
Namaganda LH, Almeida R, Kajungu D, Wabwire-Mangen F, Peterson S, Andrews C et al. Excessive premature mortality among children with cerebral palsy in rural Uganda: A longitudinal, population-based study. PLoS One. 2020 Dec 29;15(12):e0243948. doi: 10.1371/journal.pone.0243948.
John C, Adedeji IA, Adah R, Diala UM, Lar L, Envuladu EA et al. Nutritional and morbidity outcomes of children managed for severe acute malnutrition in Jigawa State, Nigeria. Nigerian Journal of Medicine. 2019 Nov 7;28(3):210-4. DOI: 10.4103/1115-2613.278587.
Debnath SC, Haque ME, Hasan DMM, Samin S, Rouf MA, Rabby MF. Undernutrition and Morbidity Profile of Exclusively Breastfeeding Children: A Cross-sectional Study. Int J Prev Med. 2018 Jun 26;9:55. doi: 10.4103/ijpvm.IJPVM_201_17.
Striessnig E, Bora JK. Under-five child growth and nutrition status: spatial clustering of Indian districts. Spatial Demography. 2020 Apr;8(1):63-84. doi.org/10.1007/s40980-020-00058-3.
Raza M, Kumar S, Ejaz M, Azim D, Azizullah S, Hussain A. Electrolyte Imbalance in Children With Severe Acute Malnutrition at a Tertiary Care Hospital in Pakistan: A Cross-Sectional Study. Cureus. 2020 Sep 19;12(9):e10541. doi: 10.7759/cureus.10541.
De Onis M. Child growth and development. Nutrition and health in a developing world. 2017:119-41.
Vonasek BJ, Chiume M, Crouse HL, Mhango S, Kondwani A, Ciccone EJ et al. Risk factors for mortality and management of children with complicated severe acute malnutrition at a tertiary referral hospital in Malawi. Paediatr Int Child Health. 2020 Aug;40(3):148-157. doi: 10.1080/20469047.2020.1747003.
Ibrahim UA, Aikhionbare HA, Aliyu I. Urinary tract infection in children with protein-energy malnutrition in Aminu Kano Teaching Hospital Kano, Northwest Nigeria. Nigerian Journal of Basic and Clinical Sciences. 2019 Jan 1;16(1):64. DOI: 10.4103/njbcs.njbcs_5_18.
Muzigaba M, Kigozi G, Puoane T. Short-term and sustained effects of a health system strengthening intervention to improve mortality trends for paediatric severe malnutrition in rural South African hospitals. South African Journal of Child Health. 2017 Apr 6;11(1):38-45.
Gathara D, Malla L, Ayieko P, Karuri S, Nyamai R, Irimu G et al. Variation in and risk factors for paediatric inpatient all-cause mortality in a low income setting: data from an emerging clinical information network. BMC Pediatr. 2017 Apr 5;17(1):99. doi: 10.1186/s12887-017-0850-8.
Isingoma BE, Mbugua SK, Karuri EG. Nutritional status of children 7-36 months old from millet consuming communities of Masindi District, Western Uganda. BMC Nutr. 2019 Feb 11;5:11. doi: 10.1186/s40795-019-0273-z.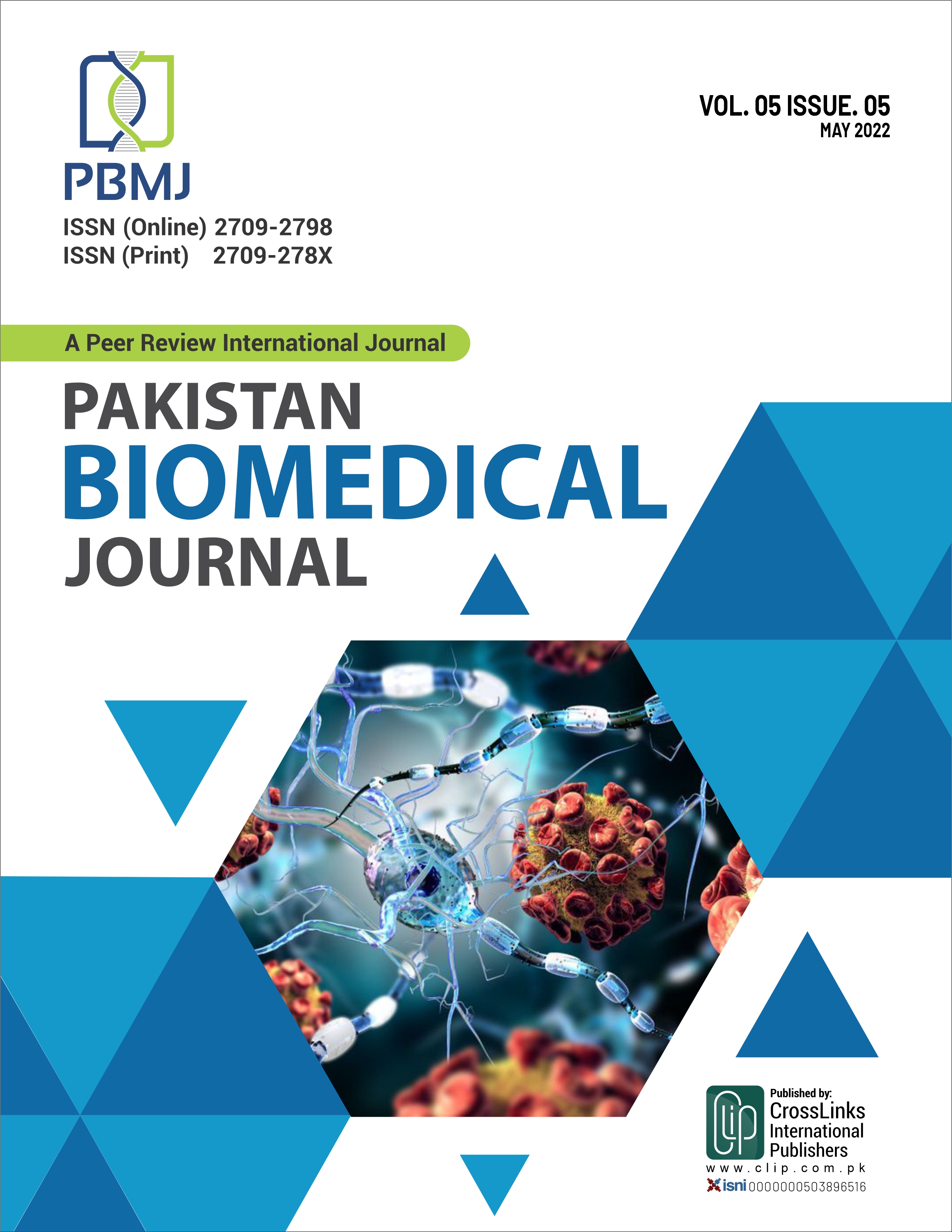 Downloads
How to Cite
Farrukh , R., Masood, S. ., Rizvi, Q. ., Shakoor , I. ., Sultana, S. ., & Mustafa , S. . (2022). The Morbidity Patterns of Children with Severe Malnutrition: Morbidity Patterns of Children with Severe Malnutrition. Pakistan BioMedical Journal, 5(5), 148–152. https://doi.org/10.54393/pbmj.v5i5.433
License
Copyright (c) 2022 Pakistan BioMedical Journal
This work is licensed under a Creative Commons Attribution 4.0 International License.
This is an open-access journal and all the published articles / items are distributed under the terms of the Creative Commons Attribution License, which permits unrestricted use, distribution, and reproduction in any medium, provided the original author and source are credited. For comments editor@pakistanbmj.com