Frequency Of Abnormal Pap's Smears in Patients with Vaginal Discharge
Abnormal Pap's Smears in Patients with Vaginal Discharge
Keywords:
Cervix Malignancy, Pap's Smears, Vaginal Discharge, Patients, Abnormal
Abstract
Cervix malignancy is one of the common types of cancer all across the globe. Among all the types of cancers in females, cervical cancers are the major cause of mortality. The detection and management of these types of cancers are necessary. One of the easiest tests is Pap's smear which is a rapid and painless screening test for detection of cervical dysplasia or cervical malignancy. Objective: To calculate the current magnitude and most frequent abnormal Pap's smear in the female population of Sindh, Pakistan, and to determine the frequency of abnormal Pap's smears in patients with vaginal discharge. Methods: It was descriptive cross-sectional research conducted for six months in department of Obstetrics & Gynecology Unit, Civil Hospital Karachi from November, 2017 to May, 2018. A total of 214 women with vaginal discharge were included in this study. Demographic variables and history of previous pelvic or abdominal surgery was recorded. All enrolled women underwent examination of cervix and cell sample was obtained with Ayr's spatula for pap's smear and evaluated Results: The average age of the women was 34.86 years, frequency of abnormal pap's smears in patients with the vaginal discharge was observed in 4.67% (10/214) cases. Out of 10 cases, infection was observed in 8 women and 2 patients exhibited dysplasia. The frequency of abnormal Pap's smears in patients with vaginal discharge was found to be low but the complaint of vaginal discharge was very common. Conclusions: It was concluded that factor such as increasing age, low socioeconomic status and high parity were the contributory factors for the vaginal discharge. So, there must be raised awareness among females about their reproductive system and self-concern for their own health
References
Bukhari MH, Saba K, Qamar S, Majeed MM, Niazi S, Naeem S. Clinicopathological importance of Papanicolaou smears for the diagnosis of premalignant and malignant lesions of the cervix. J Cytol. 2012 Jan;29(1):20-5. doi: 10.4103/0970-9371.93213.
McGuire S. World Cancer Report 2014. Geneva, Switzerland: World Health Organization, International Agency for Research on Cancer, WHO Press, 2015. Adv Nutr. 2016 Mar 15;7(2):418-9. doi: 10.3945/an.116.012211.
Bal MS, Goyal R, Suri AK, Mohi MK. Detection of abnormal cervical cytology in Papanicolaou smears. J Cytol. 2012 Jan;29(1):45-7. doi: 10.4103/0970-9371.93222
Milenković V, Sparić R, Dotlić J, Tulić L, Mirković L, Milenković S et al. Reliability and relationship of colposcopical, cytological and histopathological findings in the diagnostic process. Vojnosanit Pregl. 2012 Oct;69(10):869-73.
Asotic A, Taric S, Asotic J. Correlation of cervical smear and pathohistological findings. Med Arch. 2014;68(2):106-9. doi: 10.5455/medarh.2014.68.106-109.
Peto J, Gilham C, Fletcher O, Matthews FE. The cervical cancer epidemic that screening has prevented in the UK. Lancet. 2004 Jul 17-23;364(9430):249-56. doi: 10.1016/S0140-6736(04)16674-9.
McGraw SL, Ferrante JM. Update on prevention and screening of cervical cancer. World J Clin Oncol. 2014 Oct 10;5(4):744-52. doi: 10.5306/wjco.v5.i4.744.
Priebe AM. 2012 cervical cancer screening guidelines and the future role of HPV testing. Clin Obstet Gynecol. 2013 Mar;56(1):44-50. doi: 10.1097/GRF.0b013e3182836b6a.
Saslow D, Solomon D, Lawson HW, Killackey M, Kulasingam SL, Cain J et al. American Cancer Society, American Society for Colposcopy and Cervical Pathology, and American Society for Clinical Pathology screening guidelines for the prevention and early detection of cervical cancer. CA Cancer J Clin. 2012 May-Jun;62(3):147-72. doi: 10.3322/caac.21139.
Schiffman M, Wentzensen N, Wacholder S, Kinney W, Gage JC, Castle PE. Human papillomavirus testing in the prevention of cervical cancer. J Natl Cancer Inst. 2011 Mar 2;103(5):368-83. doi: 10.1093/jnci/djq562.
Zaigham A, Shaheen A, Awan AS, Rauf R. Colposcopy: A Valuable Screening Tool for the Diagnosis of Premalignant and Malignant Cervical Pathologies. Journal of Islamic International Medical College (JIIMC). 2013;8(1):15-22.
Noreen R, Qudussi H. 'Pap smear' for screening of precancerous conditions of cervix. J Ayub Med Coll Abbottabad. 2011 Apr-Jun;23(2):41-4.
Mitchell H. Vaginal discharge--causes, diagnosis, and treatment. BMJ. 2004 May 29;328(7451):1306-8. doi: 10.1136/bmj.328.7451.1306.
Haworth RJ, Margalit R, Ross C, Nepal T, Soliman AS. Knowledge, attitudes, and practices for cervical cancer screening among the Bhutanese refugee community in Omaha, Nebraska. J Community Health. 2014 Oct;39(5):872-8. doi: 10.1007/s10900-014-9906-y.
Marconi C, Duarte MT, Silva DC, Silva MG. Prevalence of and risk factors for bacterial vaginosis among women of reproductive age attending cervical screening in southeastern Brazil. Int J Gynaecol Obstet. 2015 Nov;131(2):137-41. doi: 10.1016/j.ijgo.2015.05.016.
Jahic M, Mulavdic M, Hadzimehmedovic A, Jahic E. Association between aerobic vaginitis, bacterial vaginosis and squamous intraepithelial lesion of low grade. Medical archives. 2013 Mar 1;67(2):94. DOI: 10.5455/medarh.2013.67.94-96.
Sivaranjini R, Jaisankar T, Thappa DM, Kumari R, Chandrasekhar L, Malathi M et al. Spectrum of vaginal discharge in a tertiary care setting. Trop Parasitol. 2013 Jul;3(2):135-9. doi: 10.4103/2229-5070.122140.
Kafi SK, Mohamed AO, Musa HA. Prevalence of sexually transmitted diseases (STD) among women in a suburban Sudanese community. Ups J Med Sci. 2000;105(3):249-53. doi: 10.3109/2000-1967-179.
Lojindarat S, Luengmettakul J, Puangsa-Art S. Clinical significance of atypical glandular cells in cervical Papanicolaou smears. J Med Assoc Thai. 2012 Aug;95(8):975-82.
Kulkarni RN, Durge PM. A study of leucorrhoea in reproductive age group women of Nagpur City. Indian J Public Health. 2005 Oct-Dec;49(4):238-9.
Patel V, Pednekar S, Weiss H, Rodrigues M, Barros P, Nayak B et al. Why do women complain of vaginal discharge? A population survey of infectious and pyschosocial risk factors in a South Asian community. Int J Epidemiol. 2005 Aug;34(4):853-62. doi: 10.1093/ije/dyi072.
Rice PA, Schachter J. Pathogenesis of pelvic inflammatory disease. What are the questions? JAMA. 1991 Nov 13;266(18):2587-93.
Tewiri PV, Neelam, Kulkiro MK. A study of lukol in leucorrhoea, pelvic inflammatory diseases and dysfunctional uterine bleeding. Anc Sci Life. 2001 Oct;21(2):139-49.
Nausheen A, Karim SA. The screening for cervical cancer by Pap smear in hospital based population. Ann Abbasi Shaheed Hosp Karachi Med Dent Coll. 2004;9:544-7.
Kos M, Sarkanj-Golub R, Cupić H, Balicević D. Povezanost upale i promjena epitela na uzorku citoloskih razmaza vrata maternice [The correlation of inflammation and epithelial changes in the Pap smears of cervix uteri]. Acta Med Croatica. 2005;59(4):297-302.
Khattak ST, Naheed T, Akhtar S, Jamal T. Detection of abnormal cervical cytology by pap smears. Gomal Journal of Medical Sciences. 2006;4(2).
Rani S. Frequency of Abnormal Cervical Smear in Women Presenting With Vaginal Discharge. Interdiscipline Research. 2016.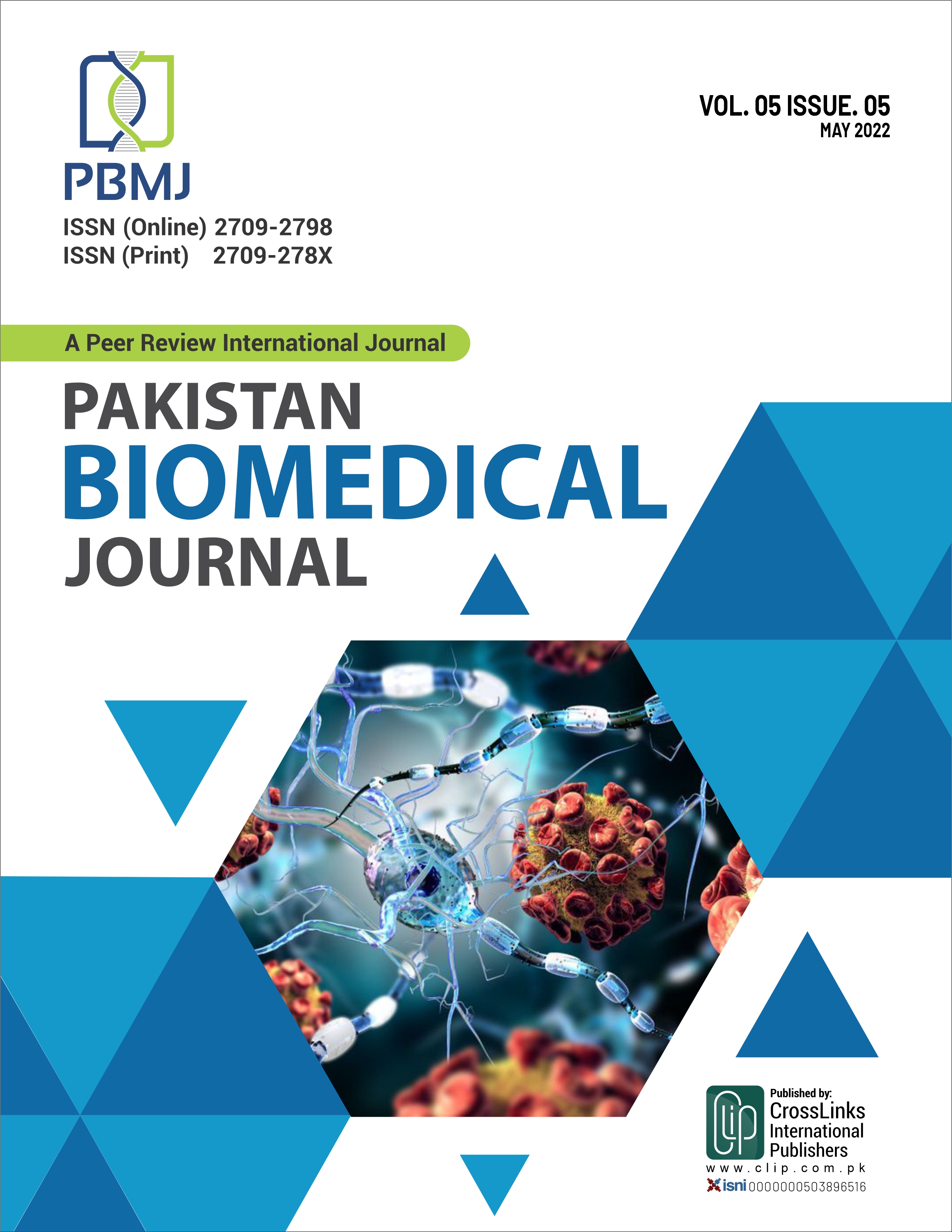 Downloads
CITATION
DOI: 10.54393/pbmj.v5i5.448
How to Cite
Sehar, N. U. ., khan, S. ., Mehreen Rajput, A., Farwa, U. ., Shah, N. ., & Naz, S. . (2022). Frequency Of Abnormal Pap's Smears in Patients with Vaginal Discharge: Abnormal Pap's Smears in Patients with Vaginal Discharge. Pakistan BioMedical Journal, 5(5), 157–161. https://doi.org/10.54393/pbmj.v5i5.448
License
Copyright (c) 2022 Pakistan BioMedical Journal
This work is licensed under a Creative Commons Attribution 4.0 International License.
This is an open-access journal and all the published articles / items are distributed under the terms of the Creative Commons Attribution License, which permits unrestricted use, distribution, and reproduction in any medium, provided the original author and source are credited. For comments editor@pakistanbmj.com