Efficacy And Surgical Outcome of Trabeculectomy with Mitomycin-C In Congenital Glaucoma with Hazy Cornea
Outcome of Trabeculectomy with Mitomycon-C in Congenital Glaucoma
Keywords:
congenital glaucoma, outcome, trabeculectomy, mitomycin C
Abstract
Glaucoma is characterized by an optic neuropathy associated with raised intraocular pressure (IOP)  and visual field defect Objective: To determine the efficacy and outcome of trabeculectomy augmented with anti-metabolite mitomycin-C in children with childhood glaucoma. Methods: A total of 40 eyes of 22 diagnosed cases of congenital glaucoma were studied. All these children underwent mitomycin-C augmented trabeculectomy from July 2017 to August 2020. The primary outcome was control of postoperative intraocular pressure (IOP) at the end of one year. A target pressure of <15mmHg was set as target pressure to label a successful surgical outcome. Results: The mean age of the patients enrolled in the study was 26.8± 12.2 years (range: 8 – 32 months) with a male to female ratio of 7:4. The mean ± SD IOP before trabeculectomy surgery was (31.5± 8.6) (range: 21 – 53) mmHg. At the one-year follow-up, the mean postoperative IOP was (19.4± 7.9) (range: 9 – 48) mmHg. Target IOP < 15 mmHg was successfully achieved in 27 (67.5%), 24 (60.0%) and 22 (55.0%) eyes at postoperative 1, 6 and 12 months respectively. Repeat trabeculectomy was required in 5 (12.5%) eyes, while 5 (12.5%) eyes developed corneal perforations and 3 (7.5%) eyes developed phthisis bulbi. Conclusion: Trabeculectomy with mitomycin C can be a primary surgical intervention in congenital glaucoma. However, repeat surgery may be required and other related surgical complications can occur after this surgery in patients with uncontrolled IOP.
References
Beck AD, Chang TCP, Freedman SF. "Definition, Classification, Differential Diagnosis." Childhood Glaucoma: Consensus Series 9. Weinreb RN et al. Amsterdam: Kugler, 2013.
Chang Ta C, Cavuoto KM. Surgical management in primary congenital glaucoma: Four Debates. J Ophthalmol. 2013; 612708.
Qayyum A, Baloch RA. Trabeculectomy in Primary Congenital Glaucoma: Pak J Ophthalmol 2014; Vol. 30 No.3.
Mahar PS, Memom AS, Bukhari S, Bhutto IA. Outcome of mitomycin-c augmented trabeculectomy in primary congenital glaucoma: Pak J Ophthalmol 2012, Vol. 28 No. 3.
Worst IG. Goniotomy: An improved method for chamber angle surgery and congenital glaucoma. Am J Ophthalmol. 1964; 57: 185-200.
Hoskins HD, Sheffer RN, Hethrington J. Goniotomy versus trabeculotomy. J Paed Ophthalmol & Strabismus. 1984; 21: 1538
Beauchamp GR, Parks MM. filtering surgery in children. Barriers to success. Ophthalmology. 1979; 86: 170-80.
Cadera W, Pachtman M et al. filtering surgery in childhood glaucoma. Ophthalmic Surg. 1984; 15: 319-22.
Skuta GL, Parish RK. Wound healing in glaucoma filtering surgery. Surv Ophthalmol. 1987; 32: 149-70.
Burke JP, Bowell R. Primary trabeculectomy in congenital glaucoma. Br j Ophthalmol. 1989; 73: 186-90.
Pechuho MA, Siddiqui SJ, Shah SIA, et al. Trabeculectomy with mitomycin C as primary surgery in congenital glaucoma. Medical Channel. 2009; 15: 77-9.
Mandal AK, Walton DS, John T, et al. Mitomycin C-augmented trabeculectomy in refractory congenital glaucoma. Ophthalmology 1997;104:996–1001.
Susana R, Oltrogge EW, Carani JCE, et al. Mitomycin as adjunct chemotherapy in congenital and developmental glaucoma. J Glaucoma. 1995; 4: 151-7.
Al-Hazmi A, Zwaan J et al. Effectiveness and complications of mitomycin-C use during pediatric glaucoma surgery. Ophthalmology. 1998; 105: 1915-20.
Sidoti PA, Belmonte SJ, Liebmann JM, et al. Trabeculectomy with mitomycin-C in the treatment of pediatric glaucoma. Ophthalmology. 2000; 107: 422-9.
Beck AD, Wilson WR et al. Trabeculectomy with adjunctive mitomycin-C in pediatric glaucoma. Am J Ophthalmol. 1998; 126: 648-57.
Zhang X, Du S et al. Long term surgical outcomes of primary congenital glaucoma in China. Clinics 2009; 64: 543-51.
Dietlein TS, Jacobi PC, Krieglstein GK. Prognosis of primary abexterno surgery for primary congenital glaucoma. Br J Ophthalmol. 1999; 83: 317-22.
Bindish R, Condon GP et al. Efficacy and safety of mitomycinC in primary trabeculectomy: Five year follow up. Ophthalmology. 2002; 109: 1336-42.
Fontana H, Nouri-madhavi K et al. Trabeculectomy with mitomycin-C, outcomes and risk factors for failure in phakic open angle glaucoma. Ophthalmology. 2006; 113: 930-6.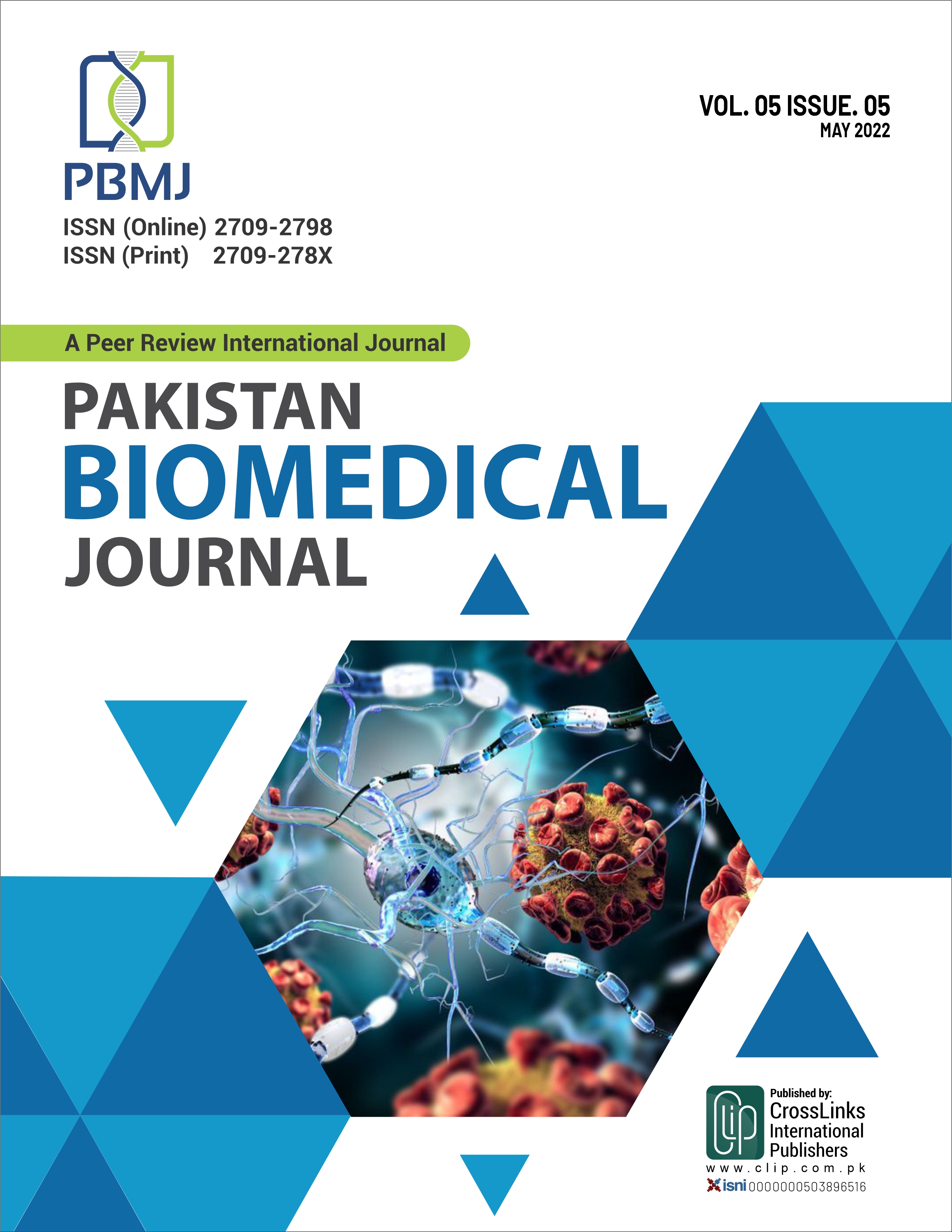 Downloads
How to Cite
Ali, M. H., Shah, S. R. A., Butt, A. N., Jamal, S., Hamza, U., & Butt, N. H. (2022). Efficacy And Surgical Outcome of Trabeculectomy with Mitomycin-C In Congenital Glaucoma with Hazy Cornea: Outcome of Trabeculectomy with Mitomycon-C in Congenital Glaucoma. Pakistan BioMedical Journal, 5(5), 272–275. https://doi.org/10.54393/pbmj.v5i5.458
License
Copyright (c) 2022 Pakistan BioMedical Journal
This work is licensed under a Creative Commons Attribution 4.0 International License.
This is an open-access journal and all the published articles / items are distributed under the terms of the Creative Commons Attribution License, which permits unrestricted use, distribution, and reproduction in any medium, provided the original author and source are credited. For comments editor@pakistanbmj.com