Assessment of Microbiological Quality of Raw Milk and Identification of Pathogenic Bacteria
Microbiological Quality of Raw Milk
Keywords:
Microbial Quality, Milk, Mastitis, Animal Diseases, Contamination
Abstract
Milk contains important nutrients such as minerals, vitamins, proteins and lipids and are consumed by all age group of humans around the world. It is impossible to avoid contamination of milk with micro-organisms because presence of nutrients therefore quality of milk can be determined by the microbial content in milk. Objective: To investigate the microbiological quality of raw milk. Methods: In the present study, there were 30 cow milk samples collected from different dairy farms of Lahore. Firstly, a surf field mastitis test was performed for detection of clinical and sub-clinical mastitis. The microbial isolation was performed by microbial culturing and biochemical tests and antibiotic sensitivity test was performed for isolated bacteria. These isolated bacterial DNA was extracted and amplified by 16S rRNA PCR. The precipitated amplicon was sequenced by 16S rRNA sequencing. The results were evaluated statistically to check the level of significance among them. Results: The Chi-square values of catalase test, oxidase test, indole test, methyl red test, Voges Proskauer test and triple sugar iron were 12.42, 13.77, 8.77, 9.02, 10.67 and 4.29 respectively and the p-values were 0.034, 0.031, 0.042, 0.039, 0.044 and 0.056 respectively on MacConkey Agar. The Chi-square values of catalase test, oxidase test, indole test, methyl red test, Voges Proskauer test and triple sugar iron were 12.44, 11.98, 9.38, 7.02, 14.22 and 10.43 respectively and p-values were 0.034, 0.045, 0.039, 0.012, 0.022 and 0.053 receptively on Mannitol salt Agar. The Chi-square and p-values of gram staining bacteria were 13.99 and 0.034 respectively and showed the significant relationship among them. Mastitis test were presented the value of Chi-square 17.86 and p-value 0.029. The ANOVA table on DNA isolation method were exposed the highly significant relationship among the variables. Conclusions: There was a significant association between different treatments. Different pathogens can grow in milk and milk products and produce toxic metabolites. Products that are contaminated by these toxic metabolites when consumed may results in food poisoning
References
Dehkordi FS, Borujeni MR, Rahimi E, Abdizadeh R. Detection of Toxoplasma gondii in raw caprine, ovine, buffalo, bovine, and camel milk using cell cultivation, cat bioassay, capture ELISA, and PCR methods in Iran. Foodborne Pathog Dis. 2013 Feb;10(2):120-5. doi: 10.1089/fpd.2012.1311.
Rozenberg S, Body JJ, Bruyère O, Bergmann P, Brandi ML, Cooper C et al. Effects of Dairy Products Consumption on Health: Benefits and Beliefs--A Commentary from the Belgian Bone Club and the European Society for Clinical and Economic Aspects of Osteoporosis, Osteoarthritis and Musculoskeletal Diseases. Calcif Tissue Int. 2016 Jan;98(1):1-17. doi: 10.1007/s00223-015-0062-x.
Torkar KG, Teger SG. The microbiological quality of raw milk after introducing the two day's milk collecting system. Acta Agriculturae Slovenica. 2008 Nov;92(1):61-74.
Teshome T, Ketema B. Microbiological quality and safety of raw milk collected from Kersa District, Jimma Zone, South west Ethiopia. Journal of Biological and Chemical Research. 2014;31:546-61.
Abera Y, Angaw M. Handling practice and microbial quality of raw cow's milk produced and marketed in Adigrat Town, North Eastern Tigray. Journal of Biology, Agriculture and Healthcare. 2015;5:15.
Mabrook MF, Petty MC. Effect of composition on the electrical conductance of milk. Journal of food engineering. 2003 Dec 1;60(3):321-5. doi.org/10.1016/S0260-8774(03)00054-2.
Leslie KE, Dingwell RT. Mastitis control: where are we and where are we going. InKeynote lectures of world buiatrics congres 2002 Aug 18.
Wielgosz-Groth Z, Groth I. Effect of the udder health on the composition and quality of quarter milk from black-and white cows. Electron. J. Pol. Agr. U. Anim. husbandry. 2003;6.
Nirwal S, Pant R, Rai N. Analysis of milk quality, adulteration and mastitis in milk samples collected from different regions of Dehradun. International Journal of PharmTech Research. 2013;5(2):359-64.
Mosalagae D, Pfukenyi DM, Matope G. Milk producers' awareness of milk-borne zoonoses in selected smallholder and commercial dairy farms of Zimbabwe. Tropical animal health and production. 2011 Mar;43(3):733-9. doi.org/10.1007/s11250-010-9761-5.
Omore AO, Lore TA, Staal SJ, Kutwa J, Ouma R, Arimi SM et al. Addressing the public health and quality concerns towards marketed milk in Kenya.
Karimuribo ED, Kusiluka LJ, Mdegela RH, Kapaga AM, Sindato C, Kambarage DM. Studies on mastitis, milk quality and health risks associated with consumption of milk from pastoral herds in Dodoma and Morogoro regions, Tanzania. J Vet Sci. 2005 Sep;6(3):213-21.
Sharma D, Sharma PK, Malik A. Prevalence and antimicrobial susceptibility of drug resistant Staphylococcus aureus in raw milk of dairy cattle. Int. Res. J. Microbiol. 2011;2(11):466-70.
Quinn PJ, Markey BK, Leonard FC, Hartigan P, Fanning S, Fitzpatrick E. Veterinary microbiology and microbial disease. John Wiley & Sons; 2011 Oct 7.
Muhammad G, Naureen A, Asi MN, Saqib M. Evaluation of a 3% surf solution (surf field mastitis test) for the diagnosis of subclinical bovine and bubaline mastitis. Tropical animal health and production. 2010 Mar;42(3):457-64. doi.org/10.1007/s11250-009-9443-3.
Harrigan WF, McCance ME. Laboratory methods in microbiology. Academic press; 2014 Jun 28.
Mohamed FS, Farah AA. Bacteriological quality assessment of milk in College of Veterinary Medicine (Cvm) dairy farm and Kalamino dairy farm in Mekelle, Tigray, Ethiopia. Dairy and Vet. Sci. J.. 2018;8(2):1-8.
Tola A, Ofodile LN, Beyene F. Microbial quality and chemical composition of raw whole milk from Horro cattle in East Wollega, Ethiopia. Ethiopian Journal of Education and Sciences. 2007;3(1):1-0. DOI: 10.4314/ejesc.v3i1.41995.
Palii АP, Ulko YS, Bogomolov OO, Kis-Korkishchenko LV, Kambur MD, Zamaziy AA et al. Species composition of microbiota of cows udder and raw milk quality at mastitis. Ukrainian Journal of Ecology. 2020;10(4):78-85.
Kakati S, Talukdar A, Hazarika RA, Raquib M, Laskar SK, Saikia GK et al. Bacteriological quality of raw milk marketed in and around Guwahati city, Assam, India. Veterinary World. 2021 Mar;14(3):656. doi: 10.14202/vetworld.2021.656-660.
Malissiova E, Papadopoulos T, Kyriazi A, Mparda M, Sakorafa C, Katsioulis A et al. Differences in sheep and goats milk microbiological profile between conventional and organic farming systems in Greece. J Dairy Res. 2017 May;84(2):206-213. doi: 10.1017/S0022029917000103.
Sarkar S. Microbiological safety concerns of raw milk. Safety. 2016;24:1-7. DOI: 10.19104/jfnd.2016.105.
Devi NP, Sowmya D. Microbial count of raw cow's milk in Chennai. International Journal of Research in Pharmaceutical and Biomedical Sciences. 2012;3(2):856-60.
Aglawe PP, Wadatkar CM. Microbial examination of milk sample from Nagpur region with reference to coliform. Food Science and Technology Letters. 2012 Jan 1;3(1):24.
Mubarack HM, Doss A, Dhanabalan R, Balachander S. Microbial quality of raw milk samples collected from different villages of Coimbatore District, Tamilnadu, South India. Indian Journal of Science and Technology. 2010 Jan 1;3(1):61-3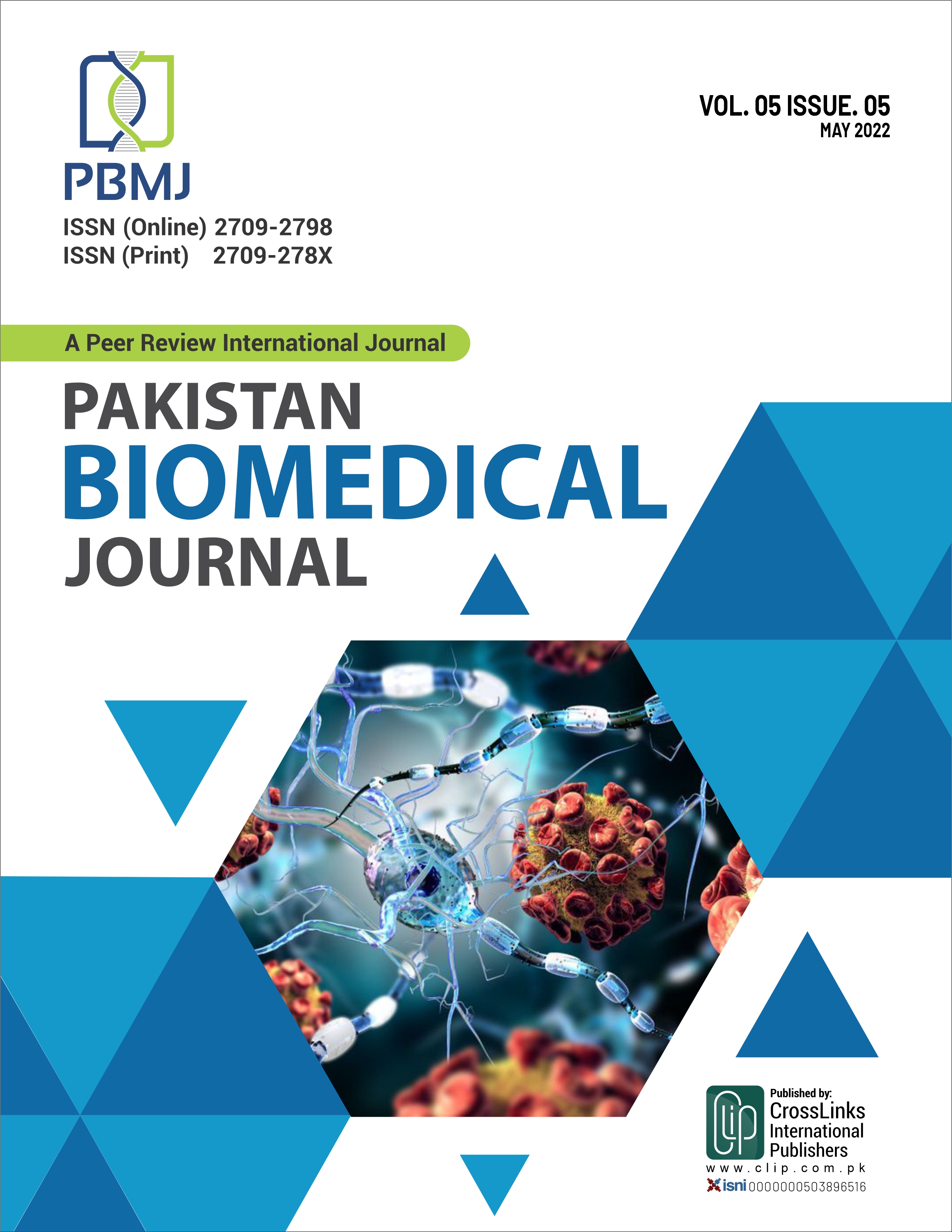 Downloads
How to Cite
Afreen, A., Ashraf, A. ., & Chaudhry, A. (2022). Assessment of Microbiological Quality of Raw Milk and Identification of Pathogenic Bacteria: Microbiological Quality of Raw Milk. Pakistan BioMedical Journal, 5(5), 88–93. https://doi.org/10.54393/pbmj.v5i5.469
License
Copyright (c) 2022 Pakistan BioMedical Journal
This work is licensed under a Creative Commons Attribution 4.0 International License.
This is an open-access journal and all the published articles / items are distributed under the terms of the Creative Commons Attribution License, which permits unrestricted use, distribution, and reproduction in any medium, provided the original author and source are credited. For comments editor@pakistanbmj.com