Evaluation of Tumor Markers Among Patients with Hepatitis C Infection
Tumor Markers Among Patients with Hepatitis C Infection
Keywords:
Hepatitis C, Tumor Marker, Liver Cancer, Biomarker, CA19-9, CA125, CA15-3 and AFP
Abstract
Tumor markers are biomolecules found in blood, urine and tissue of individuals and, with particularly high concentration in most cancers, therefore, their concentration has diagnostic value. These markers may be used for screening, identification (type and stage), monitoring, and predicting prognosis. Increases in tumor markers are sometimes seen in patients with chronic liver disease without hepatocellular carcinoma (HCC). Objective: To determine the tumor markers, present among patients with Hepatitis C infection. Methods: From April 2021 to March 2022, serum samples from 700 HCV patients who presented to the Department of Pathology at the Pir Syed Abdul Qadir Shah Jeelani Institute of Medical Sciences, Gambat Khairpur Mirs, were used in this descriptive, cross-sectional study. Using the ACCESS-2 system, serum samples were analyzed for the presence of the specified tumor markers. Results: There was a significant increase in CA125 (P = 0.03) and AFP levels (P = 0.03). CA19-9, CEA, and CA15-3 levels in the blood were unremarkable (P > 0.05). It is too early to say if the increase in CA125 or AFP will lead to eventual carcinoma based on this study, but it deserves further exploration using a longitudinal research methodology. Conclusion: CA125 and AF (P were the most common tumor markers found in HCV patients. Given the association of the aforementioned indicators with hepatic cancer, HCV patients with CA125 and AFP levels over normal should be considered high-risk.
References
Dennis LK, Eugene Stephen H, Dan L, J Larry J, Anthony SF. Harrison's principles of internal medicine. 16 th ed Mc Graw-Hill,New York ,2004;1855 –60.
Cohan N, Zandieh T, Samiei SH, Ataie Z, Kavari M. The prevalence and clinical significance Hepatitis B and C co-infection. Iran J Sci,2006; 31(3):156–159.
Lok As, McMahon BJ. Chronic hepatitis B. Hepatology, 2001;34(6): 1225–1241. doi.org/10.1053/jhep.2001.29401
Massarat MS, Tahaghoghi mehrizi S.Iranian national health survey: a brief report. Arch Iran Med, 2002;5(2): 73–79.
Alavian SM, Fallahian F, Bagheri lankarani K. The changing epidemiology of viral Hepatitis Bin Iran 2007;16(4): 403–6.
Pour shams A, Nasiri J, Mohammad khani A, Nasrollahzadeh D.Hepatitis B in Gonbad-kavvos: prevalence, risk factors and interfamilial spreading. Govaresh, Iran Hepatol,2004; 4(9): 222–5.
Hosseini ASl, Avijgan M, Mohammad nejhad M. High prevalence of HBV, HCV, HIV infection gypsy population residing in Shahr-e-kord. Aerch Iran Med, 2004;7(1): 20–22.
Zali MR, Mohammad K, farhadi Ad, Masjedi MR, zargar A, Nawroozi A. Epidemiology of hepatitis B in the Islamic Republic of Iran. East Mediterr Health J,1996; 2(2): 290–
Johnson RJ, Couser WG. Hepatitis B infection and renal diseases: clinical, immunopathogenetic and therapeutic considerations. Kidney Int, 1990;37: 663. doi.org/10.1038/ki.1990.32
Daniel WC, Stewart S. Tumour markers. In: Burtis CA, Ashwood ER, editors. Teitz textbook of clinical chemistry 3rd edn. Philadelphia: Saunders Elsevier; 1999;733–737.
Shitrit D, Zingerman B, Shitrit AB, Shlomi D, Kramer MR. Diagnostic value of CYFRA 21-1, CEA, CA 19-9, CA 15-3, and CA 125 assays in pleural effusions: analysis of 116 cases and review of the literature. Oncologist. 2005; 10:501–507. doi.org/10.1634/theoncologist.10-7-501
Pasaoglu G, Zamani A, Can G, Imecik O. Diagnostic value of CEA, CA-19-9, CA 125 and CA 15-3 levels in malignant pleural fluids. Eur J Gen Med. 2007;4(4):165–171. doi.org/10.29333/ejgm/82523
Ghosh I, Bhattacharjee D, Das AK, Chakrabarti G, Dasgupta A, Dey SK. Diagnostic role of tumour markers CEA, CA15-3, CA19-9 and CA125 in lung cancer. Indian J Clin Biochem. 2013 Jan;28(1):24-9.doi.org/10.1007/s12291-012-0257-0
Yang X, Wang D, Yang Z, Qing Y, Zhang Z, Wang G, et al. CEA is an independent prognostic indicator that is associated with reduced survival and liver metastases in SCLC. Cell Biochem Biophys. 2011;59(2):113–119.doi.org/10.1007/s12013-010-9121-0
Jihadi AA, Avijgan M, Hafizi M. Prevalence of HBV and HCV infections and associated risk factors in addict prisoners. Iran J Public Health, 2006;35: 33–6.
Shi J, Su Q, Zhang G, Huang G, Zhu Y. An intelligent decision support algoritm for diagnosis of colorectal cancer through serum tumor markers. Comput Methods Prog Biomed,2010;100: 97 –107.doi.org/10.1016/j.cmpb.2010.03.001
Gadducci A, tana R, Cosio S, Genazzani AR. The serum assay of tumor markers in the prognostic evaluation, treatment monitoring and follow-up of patients with cervical cancer. Crit Rev Oncol Hematol,2008;66: 10–20. doi.org/10.1016/j.critrevonc.2007.09.002
Motoo Y, Satomura Y, Mouri I. Serum levels of pancreatitis-associated protein in digestive diseases with special reference to gastrointestinal cancers. Dig Dis Sci,1999; 44: 1142–47.doi.org/10.1023/A:1026620006078
Maestranzi S, Przemioslo R, Mitchel H. The effect of benign and malignant liver disease on the tumor markers CA19-9 and CEA. Ann Clin Biochem,1998; 35: 99–103. doi.org/10.1177/000456329803500113
Derarbhavi H, Kaese D, William AW. Cancer antigen 125 in patients with chronic liver diseases. Mayo Clin Proc, 2002;77: 538–41.doi.org/10.4065/77.6.538
Canney PA, Moore M, Wilkinson PM.Ovarian cancer antigen CA125: A prospective clinical assessment of its role as a tumor marker. Br J Cancer, 1984;50: 765–9. doi.org/10.1023/A:1026620006078
Molina R, Filella X, Bruix J. Cancer antigen 125 in serum and ascetic fluid of patients with liver diseases. Clin Chem, 1991;37: 1379–83.doi.org/10.1093/clinchem/37.8.1379
George PK, Lowenstein MS, Brien MJ.Circulating CEA levels in patients with fulminant hepatitis. Dig Dis Sci, 27 1982; 139 –142.doi.org/10.1007/BF01311707
Maestranzi S, Przemioslo R, Mitchel H.The effect of benign and malignant liver disease on the tumor markers CA19-9 and CEA. Ann Clin Biochem,1998; 35: 99–103. doi.org/10.1177/000456329803500113
Assmar M, Yeganeh S, Mansourghanaei F, Amirmozafari N. Combined evaluation of AFP, CA15-3, CA125, CA19-9, and CEA tumor markers in patients with hepatitis B and C. Iranian journal of public health. 2016 Dec;45(12):1645.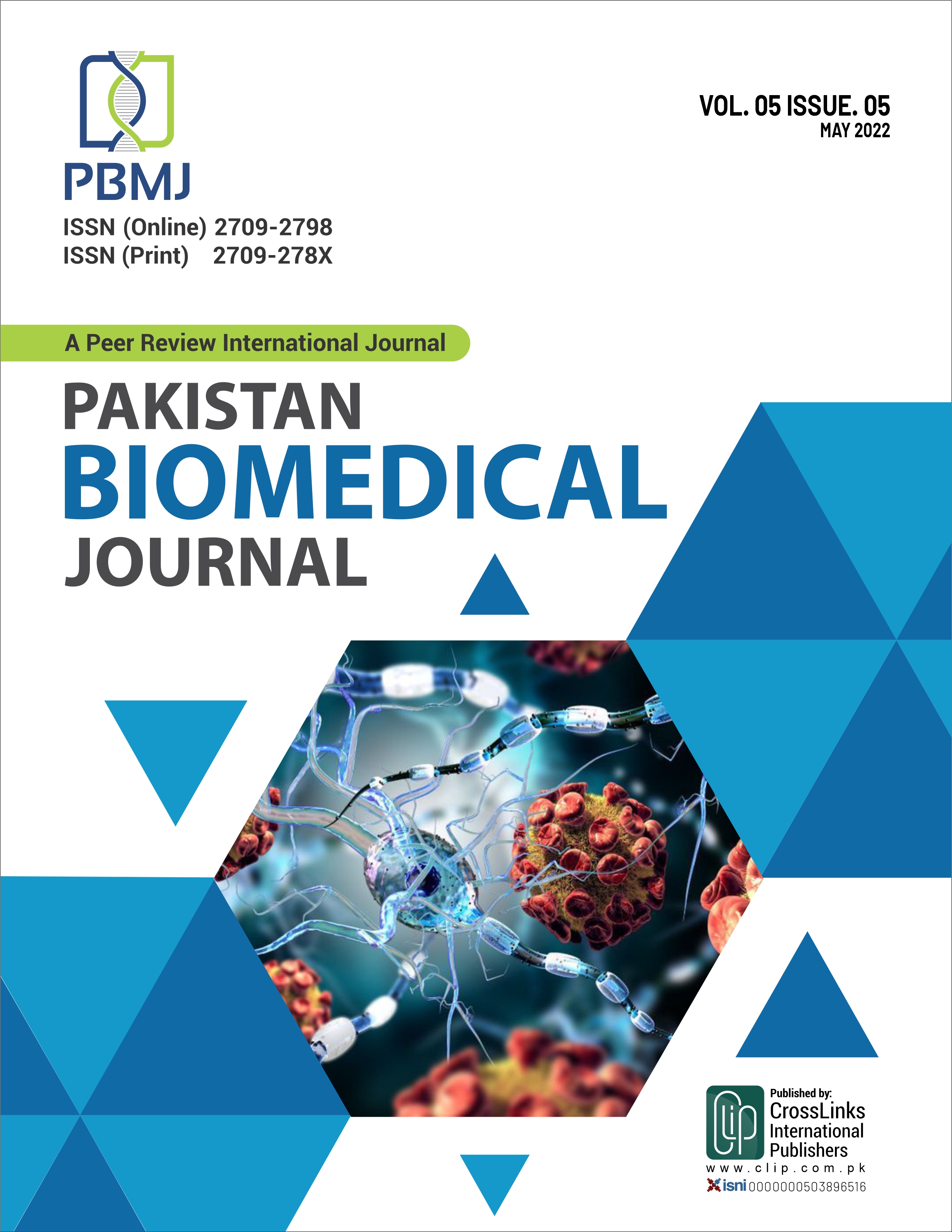 Downloads
How to Cite
Bhatti, S. ., Saeed, A. ., Ahuja, K., Memon, K. . ., Khatoon Bhatti, N. ., & Qasim Ujjan, G. . (2022). Evaluation of Tumor Markers Among Patients with Hepatitis C Infection: Tumor Markers Among Patients with Hepatitis C Infection. Pakistan BioMedical Journal, 5(5), 84–87. https://doi.org/10.54393/pbmj.v5i5.475
License
Copyright (c) 2022 Pakistan BioMedical Journal
This work is licensed under a Creative Commons Attribution 4.0 International License.
This is an open-access journal and all the published articles / items are distributed under the terms of the Creative Commons Attribution License, which permits unrestricted use, distribution, and reproduction in any medium, provided the original author and source are credited. For comments editor@pakistanbmj.com