Emerging trends in Diagnosis and Treatment of Brain Tumor
Emerging Trends in Brain Tumor
Keywords:
MRI, PET, Imaging Biomarker, Nanoparticles, Response Assessment, Brain Tumors
Abstract
Brain tumors are rare but have high mortality rate among children and young adults. The purpose of this report is to portray the situation of imaging strategies and advancements for distinguishing reaction of cerebrum tumors to remedy within the placing of multicenter medical trials. Inside as of now utilized advances, usage of institutionalized image procurement and the usage of volumetric appraisals and subtraction maps are likely going to decorate tumor notion, depiction, and dimension. Throughout the subsequent couple of years, new innovations, for instance, 23Na MRI and CEST imaging improvements may be investigated for their usage in growing the ability to quantitatively photo tumor response in order to provide remedies in a scientific trial placing. The combination of poor visualization and absence of remedial choices urge the need to enhance clinical results for patients experiencing CNS malignancies
References
Lauko A, Lo A, Ahluwalia MS, Lathia JD. Cancer cell heterogeneity & plasticity in glioblastoma and brain tumors. Semin Cancer Biol. 2022 Jul;82:162-175. doi: 10.1016/j.semcancer.2021.02.014.
Yu Y, Hong H, Wang Y, Fu T, Chen Y, Zhao J et al. Clinical Evidence for Locoregional Surgery of the Primary Tumor in Patients with De Novo Stage IV Breast Cancer. Ann Surg Oncol. 2021 Sep;28(9):5059-5070. doi: 10.1245/s10434-021-09650-3.
Dasari A, Shen C, Devabhaktuni A, Nighot R, Sorbye H. Survival According to Primary Tumor Location, Stage, and Treatment Patterns in Locoregional Gastroenteropancreatic High-grade Neuroendocrine Carcinomas. Oncologist. 2022 Apr 5;27(4):299-306. doi: 10.1093/oncolo/oyab039.
Brandner S, McAleenan A, Jones HE, Kernohan A, Robinson T, Schmidt L et al. Diagnostic accuracy of 1p/19q codeletion tests in oligodendroglioma: A comprehensive meta-analysis based on a Cochrane systematic review. Neuropathol Appl Neurobiol. 2022 Jun;48(4):e12790. doi: 10.1111/nan.12790.
Buerki RA, Horbinski CM, Kruser T, Horowitz PM, James CD, Lukas RV. An overview of meningiomas. Future Oncol. 2018 Sep;14(21):2161-2177. doi: 10.2217/fon-2018-0006.
Brastianos PK, Galanis E, Butowski N, Chan JW, Dunn IF, Goldbrunner R et al. Advances in multidisciplinary therapy for meningiomas. Neuro Oncol. 2019 Jan 14;21(Suppl 1):i18-i31. doi: 10.1093/neuonc/noy136.
Tubiana M, Feinendegen LE, Yang C, Kaminski JM. The linear no-threshold relationship is inconsistent with radiation biologic and experimental data. Radiology. 2009 Apr;251(1):13-22. doi: 10.1148/radiol.2511080671.
Mustafa M, JamalulAzizi AR, IIIzam EL, Nazirah A, Sharifa AM, Abbas SA. Lung cancer: risk factors, management, and prognosis. IOSR Journal of Dental and Medical Sciences. 2016;15(10):94-101.
Prakash J, de Jong E, Post E, Gouw AS, Beljaars L, Poelstra K. A novel approach to deliver anticancer drugs to key cell types in tumors using a PDGF receptor-binding cyclic peptide containing carrier. J Control Release. 2010 Jul 14;145(2):91-101. doi: 10.1016/j.jconrel.2010.03.018.
Frolkis M, Fischer MB, Wang Z, Lebkowski JS, Chiu CP, Majumdar AS. Dendritic cells reconstituted with human telomerase gene induce potent cytotoxic T-cell response against different types of tumors. Cancer Gene Therapy. 2003 Mar;10(3):239-49. doi.org/10.1038/sj.cgt.7700563.
Mallidi S, Luke GP, Emelianov S. Photoacoustic imaging in cancer detection, diagnosis, and treatment guidance. Trends Biotechnol. 2011 May;29(5):213-21. doi: 10.1016/j.tibtech.2011.01.006.
Madhusoodanan S, Ting MB, Farah T, Ugur U. Psychiatric aspects of brain tumors: A review. World J Psychiatry. 2015 Sep 22;5(3):273-85. doi: 10.5498/wjp.v5.i3.273.
Reulecke BC, Erker CG, Fiedler BJ, Niederstadt TU, Kurlemann G. Brain tumors in children: initial symptoms and their influence on the time span between symptom onset and diagnosis. J Child Neurol. 2008 Feb;23(2):178-83. doi: 10.1177/0883073807308692.
Schroeder SR, Salomon MM, Galanter WL, Schiff GD, Vaida AJ, Gaunt MJ et al. Cognitive tests predict real-world errors: the relationship between drug name confusion rates in laboratory-based memory and perception tests and corresponding error rates in large pharmacy chains. BMJ Qual Saf. 2017 May;26(5):395-407. doi: 10.1136/bmjqs-2015-005099.
Van den Berg PJ, Daoudi K, Steenbergen W. Review of photoacoustic flow imaging: its current state and its promises. Photoacoustics. 2015 Sep 1;3(3):89-99. doi.org/10.1016/j.pacs.2015.08.001.
Brenner DJ, Hall EJ. Cancer risks from CT scans: now we have data, what next? Radiology. 2012 Nov;265(2):330-1. doi: 10.1148/radiol.12121248.
Lee KW, Lo CP. Acute Cerebral Infarction Masked by a Brain Tumor. Case Reports in Neurology. 2011;3(2):179-84. doi.org/10.1159/000330302.
De Mattos-Arruda L, Bottai G, Nuciforo PG, Di Tommaso L, Giovannetti E, Peg V et al. MicroRNA-21 links epithelial-to-mesenchymal transition and inflammatory signals to confer resistance to neoadjuvant trastuzumab and chemotherapy in HER2-positive breast cancer patients. Oncotarget. 2015 Nov 10;6(35):37269-80. doi: 10.18632/oncotarget.5495.
Vaidyanathan R, Soon RH, Zhang P, Jiang K, Lim CT. Cancer diagnosis: from tumor to liquid biopsy and beyond. Lab on a Chip. 2019;19(1):11-34. doi: 10.1039/C8LC00684A.
Simmons C, Miller N, Geddie W, Gianfelice D, Oldfield M, Dranitsaris G et al. Does confirmatory tumor biopsy alter the management of breast cancer patients with distant metastases? Ann Oncol. 2009 Sep;20(9):1499-1504. doi: 10.1093/annonc/mdp028.
Noreen N, Palaniappan S, Qayyum A, Ahmad I, Imran M, Shoaib M. A deep learning model based on concatenation approach for the diagnosis of brain tumor. IEEE Access. 2020 Mar 5;8:55135-44. doi: 10.1109/access.2020.2978629.
Dong H, Yang G, Liu F, Mo Y, Guo Y. Automatic brain tumor detection and segmentation using U-Net based fully convolutional networks. Inannual conference on medical image understanding and analysis 2017 Jul 11: 506-517. Springer, Cham. doi.org/10.1007/978-3-319-60964-5_44.
Cao S, Strong MJ, Wang X, Moss WN, Concha M, Lin Z et al. High-throughput RNA sequencing-based virome analysis of 50 lymphoma cell lines from the Cancer Cell Line Encyclopedia project. J Virol. 2015 Jan;89(1):713-29. doi: 10.1128/JVI.02570-14.
Yang W. Biomedical Applications of Stimulated Raman Scattering Microscopy (Doctoral dissertation).2017.
Ji M, Orringer DA, Freudiger CW, Ramkissoon S, Liu X, Lau D et al. Rapid, label-free detection of brain tumors with stimulated Raman scattering microscopy. Sci Transl Med. 2013 Sep 4;5(201):201ra119. doi: 10.1126/scitranslmed.3005954.
Petersen KD, Landsfeldt U, Cold GE, Petersen CB, Mau S, Hauerberg J et al. Intracranial pressure and cerebral hemodynamic in patients with cerebral tumors: a randomized prospective study of patients subjected to craniotomy in propofol-fentanyl, isoflurane-fentanyl, or sevoflurane-fentanyl anesthesia. Anesthesiology. 2003 Feb;98(2):329-36. doi: 10.1097/00000542-200302000-00010.
Duffau H. The huge plastic potential of adult brain and the role of connectomics: new insights provided by serial mappings in glioma surgery. Cortex. 2014 Sep 1;58:325-37. doi.org/10.1016/j.cortex.2013.08.005.
Liu HL, Hua MY, Yang HW, Huang CY, Chu PC, Wu JS et al. Magnetic resonance monitoring of focused ultrasound/magnetic nanoparticle targeting delivery of therapeutic agents to the brain. Proc Natl Acad Sci U S A. 2010 Aug 24;107(34):15205-10. doi: 10.1073/pnas.1003388107.
Daneman R, Prat A. The blood-brain barrier. Cold Spring Harb Perspect Biol. 2015 Jan 5;7(1):a020412. doi: 10.1101/cshperspect.a020412.
Wankhede M, Bouras A, Kaluzova M, Hadjipanayis CG. Magnetic nanoparticles: an emerging technology for malignant brain tumor imaging and therapy. Expert Rev Clin Pharmacol. 2012 Mar;5(2):173-86. doi: 10.1586/ecp.12.1.
Kirschbaum K, Sonner JK, Zeller MW, Deumelandt K, Bode J, Sharma R et al. In vivo nanoparticle imaging of innate immune cells can serve as a marker of disease severity in a model of multiple sclerosis. Proc Natl Acad Sci U S A. 2016 Nov 15;113(46):13227-13232. doi: 10.1073/pnas.1609397113.
Breckwoldt MO, Bode J, Kurz FT, Hoffmann A, Ochs K, Ott M et al. Correlated magnetic resonance imaging and ultramicroscopy (MR-UM) is a tool kit to assess the dynamics of glioma angiogenesis. Elife. 2016 Feb 2;5:e11712. doi: 10.7554/eLife.11712.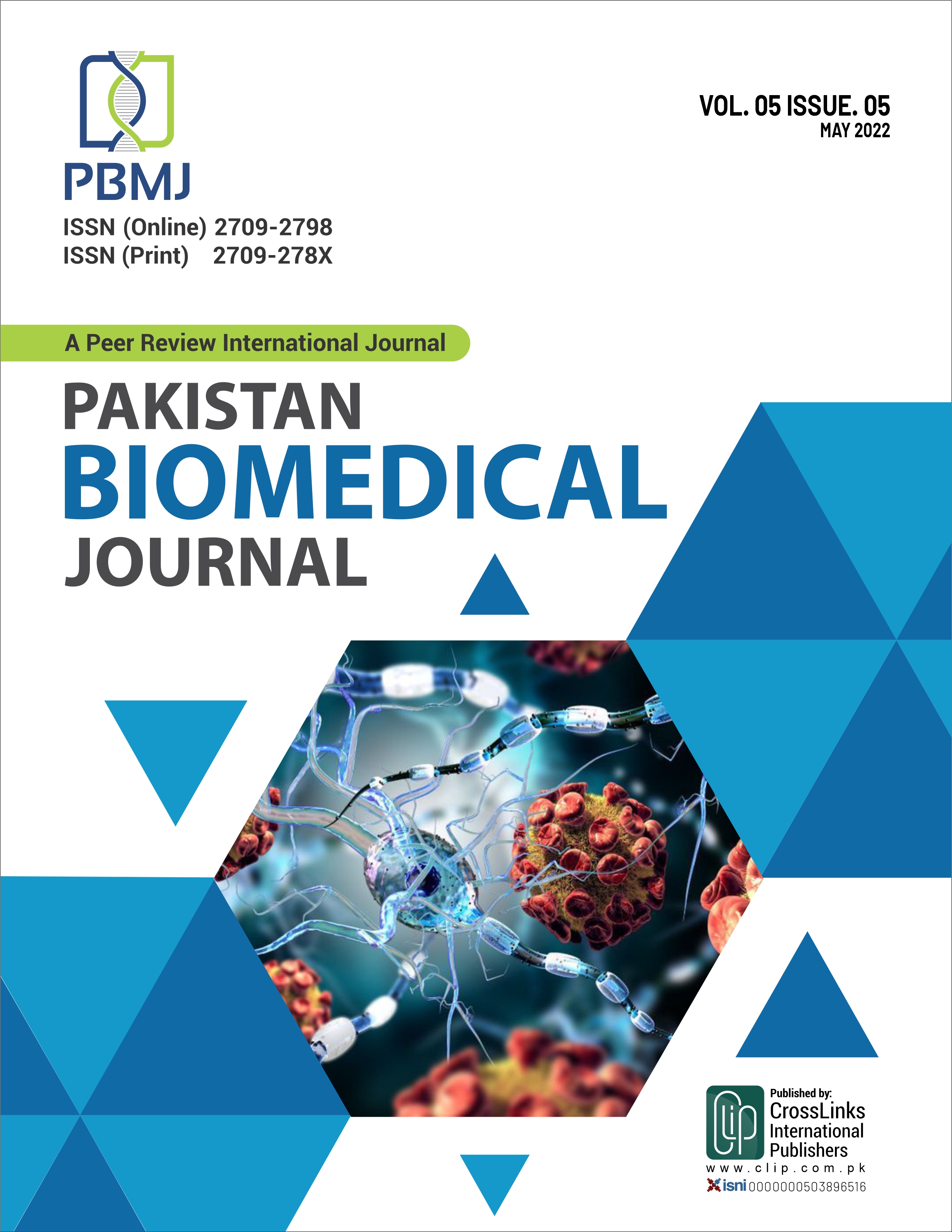 Downloads
How to Cite
Perveen, R., Naveed Babur, M. ., Shah, N. U. A. ., Hafeez, A. ., Sabir, S. ., Fatima , T. ., Shahzad Ali, R., & Faizan, A. . (2022). Emerging trends in Diagnosis and Treatment of Brain Tumor: Emerging Trends in Brain Tumor. Pakistan BioMedical Journal, 5(5), 33–37. https://doi.org/10.54393/pbmj.v5i5.478
License
Copyright (c) 2022 Pakistan BioMedical Journal
This work is licensed under a Creative Commons Attribution 4.0 International License.
This is an open-access journal and all the published articles / items are distributed under the terms of the Creative Commons Attribution License, which permits unrestricted use, distribution, and reproduction in any medium, provided the original author and source are credited. For comments editor@pakistanbmj.com