Hepatoprotective and Anti-inflammatory Potential of Crude methanolic extract of Euphorbia pilulifera via NF-KB/Nrf2/Akt/TGF-β1 pathway
Crude Methanolic Extract of Euphorbia pilulifera
Keywords:
Liver Fibrosis, Cirrhosis, Hepatocellular Carcinoma, Hepatoprotective, Anti-inflammatory, Anti-oxidant
Abstract
Liver fibrosis is a natural process that initiates after liver injury to repair the damaged tissue. The liver has a significant capacity for self-repair of the damaged tissue. To a great extent, the miscellaneous interactions of immune cell subtypes manage these repair procedures like fibrosis and wound healing. Objectives: To assess the hepatoprotective and anti-inflammatory potential of Euphorbia pilulifera through modulating the NF-KB/Nrf2/AKT/TGF-β1 pathway. Methods: Euphorbia pilulifera methanolic extract was primarily assessed for its cytotoxic potential against HepG2 cells. Methanolic extract of E. pilulifera showed 90% hepatoprotective activity against CCl4- induced toxicity in HepG2 cells. The methanolic extract downregulated the NF-κB gene by 90%; the AKT, gene by 14%, and the TGF-β1 gene expression by 69% at the concentration of 50µg/ml at the mRNA level. On the other hand, methanolic extract of E. pilulifera increased the expression of the Nrf2 gene by 44% at 50µg/ml concentration. Furthermore, the antioxidant activity of leaves extract through DPPH radical scavenging assay was estimated. Results: Methanolic extract showed 50.83± 0.39% inhibition against DPPH radicals at 200µg/ml concentration. In addition, the anti-inflammatory potential of the crude extract was assessed. The methanolic extract at 25µg/ml concentration revealed the maximum percentage of hemolysis protection. The methanolic extract was found highly effective against inflammation and hepatotoxicity. Conclusions: Euphorbia pilulifera leaf extract has the potential to ameliorate hepatic injury and inflammation in HepG2 cells.
References
Pellicoro A, Ramachandran P, Iredale JP, Fallowfield JA. Liver fibrosis and repair: immune regulation of wound healing in a solid organ. Nat Rev Immunol. 2014 Mar;14(3):181-94. doi: 10.1038/nri3623.
Iqubal A, Iqubal MK, Haque SE. Experimental hepatotoxicity inducing agents: a Review. Int J Clin Pharmacol Res. 2016 Jan 1;6(11):325-5.
Baecker A, Liu X, La Vecchia C, Zhang ZF. Worldwide incidence of hepatocellular carcinoma cases attributable to major risk factors. Eur J Cancer Prev. 2018 May;27(3):205-212. doi: 10.1097/CEJ.0000000000000428.
Shakya AK. Medicinal plants: Future source of new drugs. International Journal of Herbal Medicine. 2016;4(4):59-64. DOI: 10.13140/RG.2.1.1395.6085.
Velu G, Palanichamy V, Rajan AP. Phytochemical and pharmacological importance of plant secondary metabolites in modern medicine. InBioorganic phase in natural food: an overview 2018 (pp. 135-156). Springer, Cham. doi.org/10.1007/978-3-319-74210-6_8.
Jamshidi-Kia F, Lorigooini Z, Amini-Khoei H. Medicinal plants: Past history and future perspective. Journal of herbmed pharmacology. 2018;7(1).
Shahid F, Shahid R, Waseem T, Hussain S. Flora of Pakistan: An ethnopharmacological perspective. Journal of Shifa Tameer-e-Millat University. 2020 Aug 9;3(1):42-8. doi.org/10.32593/jstmu/Vol3.Iss1.79.
Dash RP, Kala M, Nivsarkar M, Babu RJ. Implication of Formulation Strategies on the Bioavailability of Selected Plant-Derived Hepatoprotectants. Crit Rev Ther Drug Carrier Syst. 2017;34(6):489-526. doi: 10.1615/CritRevTherDrugCarrierSyst.2017019623.
Wan C, Jin F, Du Y, Yang K, Yao L, Mei Z et al. Genistein improves schistosomiasis liver granuloma and fibrosis via dampening NF-kB signaling in mice. Parasitol Res. 2017 Apr;116(4):1165-1174. doi: 10.1007/s00436-017-5392-3.
Merchant M, Morkotinis V, Hale A, White M, Moran C. Crocodylian nuclear factor kappa B. Comp Biochem Physiol B Biochem Mol Biol. 2017 Nov;213:28-34. doi: 10.1016/j.cbpb.2017.07.009.
Dai Y, Zhang H, Zhang J, Yan M. Isoquercetin attenuates oxidative stress and neuronal apoptosis after ischemia/reperfusion injury via Nrf2-mediated inhibition of the NOX4/ROS/NF-κB pathway. Chem Biol Interact. 2018 Mar 25;284:32-40. doi: 10.1016/j.cbi.2018.02.017.
Wang F, Liu S, DU T, Chen H, Li Z, Yan J. NF-κB inhibition alleviates carbon tetrachloride-induced liver fibrosis via suppression of activated hepatic stellate cells. Exp Ther Med. 2014 Jul;8(1):95-99. doi: 10.3892/etm.2014.1682.
Mahmoud AM, Mohammed HM, Khadrawy SM, Galaly SR. Hesperidin protects against chemically induced hepatocarcinogenesis via modulation of Nrf2/ARE/HO-1, PPARγ and TGF-β1/Smad3 signaling, and amelioration of oxidative stress and inflammation. Chem Biol Interact. 2017 Nov 1;277:146-158. doi: 10.1016/j.cbi.2017.09.015.
Landry KB, Azam S, Rehman S, Tariq S, Iqbal B, Abbas M et al. Phytochemical analysis of Berberis lyceum methanolic extract and its antiviral activity through the restoration of MAPK signaling pathway modulated by HCV NS5A. Asian Pacific Journal of Tropical Biomedicine. 2021 Mar 1;11(3):132. DOI: 10.4103/2221-1691.306133.
Tariq S, Koloko BL, Malik A, Rehman S, Ijaz B, Shahid AA. Tectona grandis leaf extract ameliorates hepatic fibrosis: Modulation of TGF- β /Smad signaling pathway and upregulating MMP3/TIMP1 ratio. J Ethnopharmacol. 2021 May 23;272:113938. doi: 10.1016/j.jep.2021.113938.
Dubey S, Mehta S. Hepatoprotective activity of Euphorbia hirta Linn. Plant against carbon tetrachloride-induced hepatic injury in rats. InInternational Conference on Food, Biological and Medical Sciences, FBMS 2014 Jan 28:108-111.
Perumal S, Pillai S, Cai LW, Mahmud R, Ramanathan S. Determination of minimum inhibitory concentration of Euphorbia hirta (L.) extracts by tetrazolium microplate assay. J Nat Prod. 2012;5(2):68-76.
Malash BN, Ibrahim SM, Ibrahim AR, Kabbash A, El-Aasr M. In vitro and in vivo hepatoprotective study of Inula crithmoides L., Pluchea dioscoridis (L.) Desf. and Phyllanthus reticulates Poir. Journal of Pharmaceutical Sciences and Research. 2015 Nov 1;7(11):987.
Takao LK, Imatomi M, Gualtieri SC. Antioxidant activity and phenolic content of leaf infusions of Myrtaceae species from Cerrado (Brazilian Savanna). Brazilian Journal of Biology. 2015 Nov 10;75:948-52. doi.org/10.1590/1519-6984.03314.
Banothu V, Neelagiri C, Adepally U, Lingam J, Bommareddy K. Phytochemical screening and evaluation of in vitro antioxidant and antimicrobial activities of the indigenous medicinal plant Albizia odoratissima. Pharm Biol. 2017 Dec;55(1):1155-1161. doi: 10.1080/13880209.2017.1291694.
Rehman S, Shah S, Mehmood Butt A, Masood Shah S, Jabeen Z, Nadeem A. Biochemical Profiling and Elucidation of Biological Activities of Beta vulgaris L. Leaves and Roots Extracts. Saudi J Biol Sci. 2021 Jan;28(1):592-602. doi: 10.1016/j.sjbs.2020.10.048.
Khatun M, Ray RB. Mechanisms Underlying Hepatitis C Virus-Associated Hepatic Fibrosis. Cells. 2019 Oct 14;8(10):1249. doi: 10.3390/cells8101249.
Dooley S, ten Dijke P. TGF-β in progression of liver disease. Cell Tissue Res. 2012 Jan;347(1):245-56. doi: 10.1007/s00441-011-1246-y.
Ilagan E, Manning BD. Emerging role of mTOR in the response to cancer therapeutics. Trends Cancer. 2016 May;2(5):241-251. doi: 10.1016/j.trecan.2016.03.008.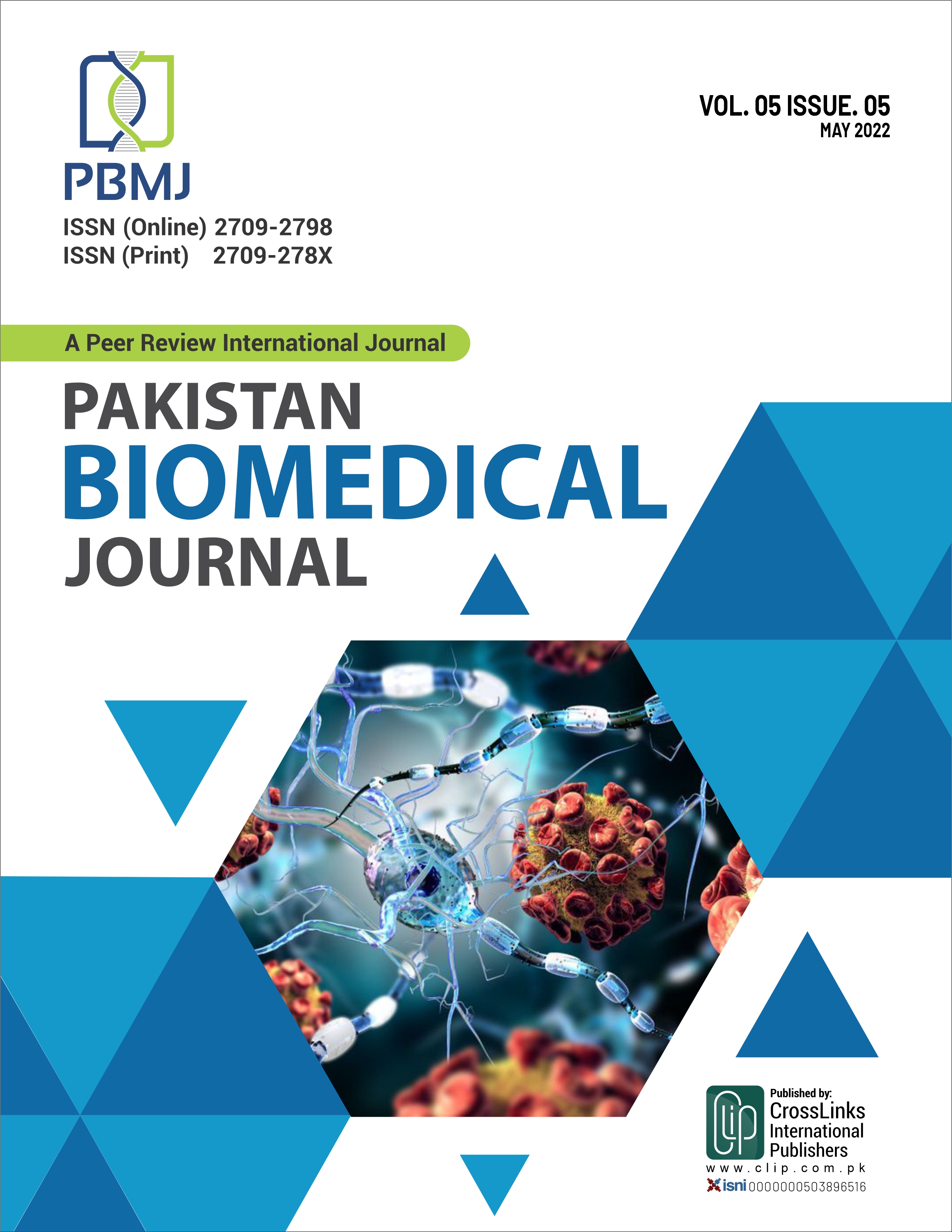 Downloads
How to Cite
Shams, A. ., Brice Landry, K. ., Shams, F. ., Tariq, S. ., Azeem, A. ., Anjum, H. ., Latief, N. ., Malik, K. ., & Ijaz, B. (2022). Hepatoprotective and Anti-inflammatory Potential of Crude methanolic extract of Euphorbia pilulifera via NF-KB/Nrf2/Akt/TGF-β1 pathway: Crude Methanolic Extract of Euphorbia pilulifera. Pakistan BioMedical Journal, 5(5), 162–167. https://doi.org/10.54393/pbmj.v5i5.487
License
Copyright (c) 2022 Pakistan BioMedical Journal
This work is licensed under a Creative Commons Attribution 4.0 International License.
This is an open-access journal and all the published articles / items are distributed under the terms of the Creative Commons Attribution License, which permits unrestricted use, distribution, and reproduction in any medium, provided the original author and source are credited. For comments editor@pakistanbmj.com