Comparison between Static Stretching Exercises and Eccentric Muscle Energy Techniques in Upper Cross Syndrome: Randomized control trial
Static Stretching Exercises and Eccentric Muscle Energy
Keywords:
MET, stretching, NDI
Abstract
Neck pain is the most common complaint and Cervical pain is more common in middle-aged women than in males. The most prevalent reason for patients to seek medical attention is neck pain. Objective: To identify the effectiveness of stretching and muscle energy techniques along with mobilization of cervical segment in the management of upper cross syndrome.Methods: The randomized controlled experiment took place from August 2018 to January 2019 at Benazir Bhutto Orthopedic and Rehabilitation Centre in Pakistan (Rawalpindi) and included patients with upper cross syndrome that were randomly consigned to two equal groups using a lottery system. The Group-A patients management is eccentric muscular energy therapy with cervical segmental mobilization, although Group-B patients treatment protocol is static stretching exercises accompanied by  segmental mobilization of cervical spine . Each patient received two sessions each week for three weeks, during which their visual analogue scale, and neck disability index were measured. An inclinometer was used to measure the cervical passive range of motion. Data was collected at the commencement of the study and again after three weeks of treatment. SPSS 21 was used to analyze the data. Results: Twenty (20%) of the 40 individuals were in each of the two groups. The average age in Group-A was 42.7511.13 years. It remained 40.509.14 years in Group-B. On all metrics, the eccentric muscular energy technique and static stretching approach equally demonstrated substantial results that is P Value is less than 0.05.Conclusion: Both approaches were shown to be equally successful in lowering neck impairment, enhancing cervical range of motion, and decreasing pain
References
Ylinen J, Takala EP, Nykänen M, Häkkinen A, Mälkiä E, Pohjolainen T, et al. Active neck muscle training in the treatment of chronic neck pain in women: a randomized controlled trial. JAMA 2003;289:250916.doi.org/10.1001/jama.289.19.2509
Muscolino J. Upper crossed syndrome. J Aust Tradit-Med So 2015;21:80.
Silva AG, Punt TD, Sharples P, Vilas-Boas JP, Johnson MI. Head posture and neck pain of chronic nontraumatic origin: a comparison between patients and pain-free persons. Arch Phys Med Rehabil 2009;90:66974.doi.org/10.1016/j.apmr.2008.10.018
Morris CE, Bonnefin D, Darville C. The Torsional Upper Crossed Syndrome: A multi-planar update to Janda's model, with a case series introduction of the mid-pectoral fascial lesion as an associated etiological factor. J Bodyw Mov Ther 2015;19:681-9.doi.org/10.1016/j.jbmt.2015.08.008
Phadke A, Bedekar N, Shyam A, Sancheti P. Effect of muscle energy technique and static stretching on pain and functional disability in patients with mechanical neck pain: A randomized controlled trial. Hong Kong Physiother J 2016;35:5-11.doi.org/10.1016/j.hkpj.2015.12.002
Schenk R, Adelman K, Rousselle J. The effects of muscle energy technique on cervical range of motion. J Man Manip Ther 1994;2:14955.doi.org/10.1179/jmt.1994.2.4.149
Andrews JR, Harrelson GL, Wilk KE. Physical Rehabilitation of the Injured Athlete, 4th ed. Philadelphia, PA: Saunders, Elsevier Inc; 2012.
Treff M. An Investigation of Musculoskeletal Imbalances in the Thoracic and Cervical Regions, with Respect to an Improved Diagnostic Approach for Upper Crossed Syndrome.
Szulc P, Wendt M, Waszak M, Tomczak M, Cie?lik K, Trzaska T. Impact of McKenzie method therapy enriched by muscular energy techniques on subjective and objective parameters related to spine function in patients with chronic low back pain. Med Sci Monit 2015;21:2918-doi.org/10.12659/MSM.89426132.
Cunha AC, Burke TN, França FJ, Marques AP. Effect of global posture reeducation and of static stretching on pain, range of motion, and quality of life in women with chronic neck pain: a randomized clinical trial. Clinics (Sao Paulo) 2008;63:763-70.doi.org/10.1590/S1807-59322008000600010
Farooq MN, Mohseni-Bandpei MA, Gilani SA, Ashfaq M, Mahmood Q. The effects of neck mobilization in patients with chronic neck pain: A randomized controlled trial. J Bodyw Mov Ther 2018;22:2431.doi.org/10.1016/j.jbmt.2017.03.007
Dean AG, Sullivan KM, Soe MM. OpenEpi: Open Source Epidemiologic Statistics for Public Health, Version 3.01. [Online] 2013 [Cited 2017 May 15]. Available from URL: https://www.openepi.com/ Menu/OE_Menu.htm
Kumari C, Sarkar B, Banerjee D, Alam S, Sharma R, Biswas A. Efficacy of muscle energy technique as compared to proprioceptive neuromuscular facilitation technique in chronic mechanical neck pain: a randomized controlled trial. Int J Health Sci Res 2016;6:15261.
Johnson M. Transcutaneous electrical nerve stimulation: mechanisms, clinical application and evidence. Rev Pain 2007;1:7-11.
Diab AA, Moustafa IM. The efficacy of forward head correction on nerve root function and pain in cervical spondylotic radiculopathy: a randomized trial. Clin Rehabil 2012;26:351-61.doi.org/10.1177/0269215511419536
Burns DK, Wells MR. Gross range of motion in the cervical spine: the effects of osteopathic muscle energy technique in asymptomatic subjects. J Am Osteopath Assoc 2006;106:137-42.
Kaltenborn FM. Orthopedic manual therapy for physical therapists Nordic system: OMT Kaltenborn-Evjenth concept. J Man Manip Ther 1993;1:47-51.doi.org/10.1179/jmt.1993.1.2.47
Daneshmandi H, Atri AE, Ghasemi A, Rahmani P. The effects of PNF & static stretching on knee ROM of amputee athletes. Braz J Biomotricity 2011;5:255-62.
Page P. Current concepts in muscle stretching for exercise and rehabilitation. Int J Sports Phys Ther 2012;7:109-19.
Roddey TS, Olson SL, Grant SE. The effect of pectoralis muscle stretching on the resting position of the scapula in persons with varying degrees of forward head/rounded shoulder posture. J Man Manip Ther 2002;10:124-8.doi.org/10.1179/106698102790819247
Mahajan R, Kataria C, Bansal K. Comparative effectiveness of muscle energy technique and static stretching for treatment of subacute mechanical neck pain. Int J Health Rehabil Sci 2012;1:16-21.doi.org/10.5455/ijhrs.00000004
Chaitow L. Integrated neuromuscular inhibition technique (INIT) and myofascial pain: Muscle Energy Techniques, 4th ed. London, UK: Elsevier Ltd, 2013; pp 303.
Micheo W, Esquenazi A. Orthoses in the prevention and rehabilitation of injuries. In: Frontera WR, eds. Rehabilitation of sports injuries: scientific basis. Massachusetts, USA: Blackwell Science Inc, 2003; pp 301.doi.org/10.1002/9780470757178.ch15
Häkkinen A, Salo P, Tarvainen U, Wiren K, Ylinen J. Effect of manual therapy and stretching on neck muscle strength and mobility in chronic neck pain. J Rehabil Med 2007;39:575-9.doi.org/10.2340/16501977-0094
Ellythy MA. Efficacy of muscle energy technique versus strain counter strain on low back dysfunction. Bull Fac Ph Th Cairo Univ 2012;17:2935 Vol. 70, No. 3, March 2020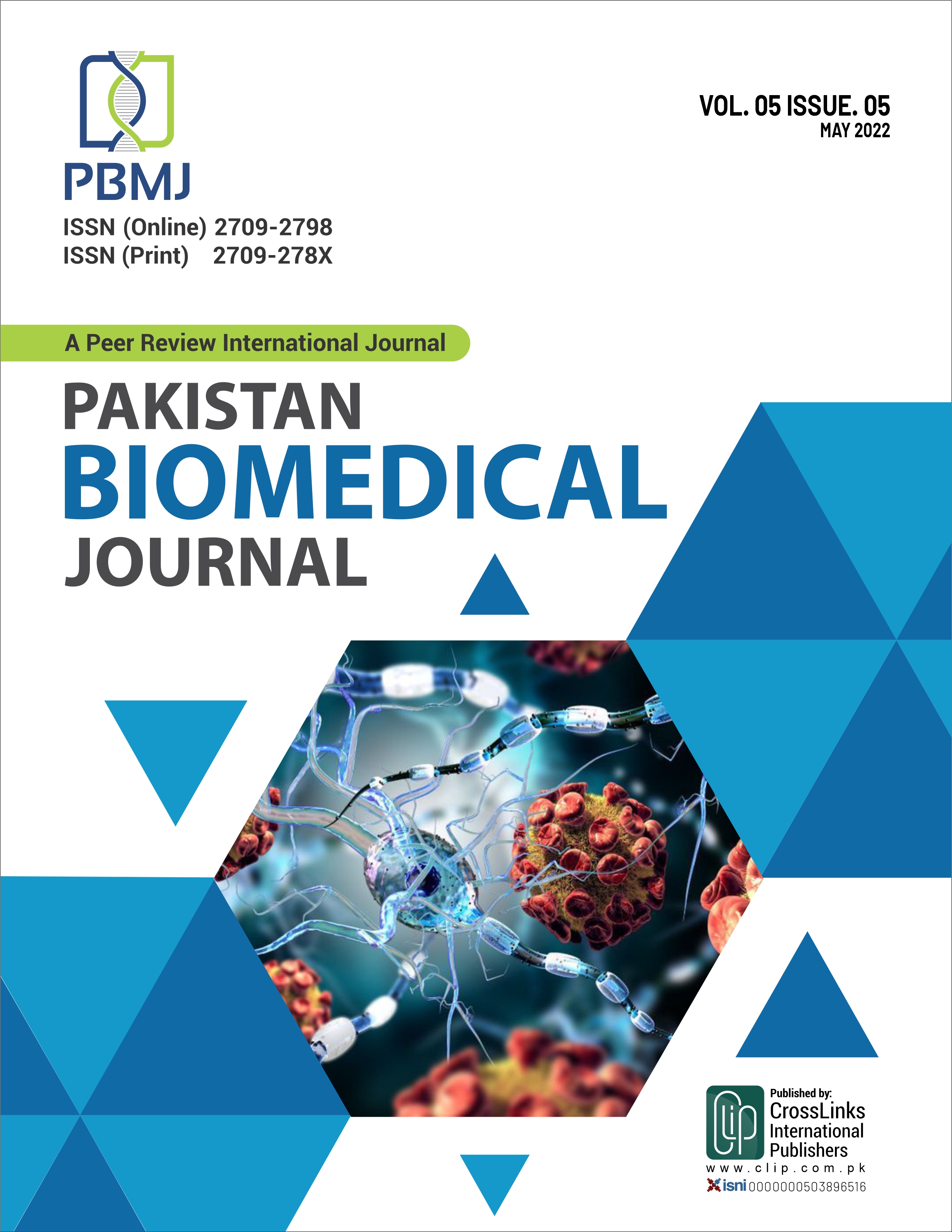 Downloads
How to Cite
Irshad , A., Fahad Khan , M. ., Khan, M. ., Rabia, K. . ., Aslam, J. . ., Zafar, I. ., Masood, R. ., Naz , I. ., Aslam, M., & Nazir, A. . (2022). Comparison between Static Stretching Exercises and Eccentric Muscle Energy Techniques in Upper Cross Syndrome: Randomized control trial: Static Stretching Exercises and Eccentric Muscle Energy. Pakistan BioMedical Journal, 5(5), 190–194. https://doi.org/10.54393/pbmj.v5i5.490
License
Copyright (c) 2022 Pakistan BioMedical Journal
This work is licensed under a Creative Commons Attribution 4.0 International License.
This is an open-access journal and all the published articles / items are distributed under the terms of the Creative Commons Attribution License, which permits unrestricted use, distribution, and reproduction in any medium, provided the original author and source are credited. For comments editor@pakistanbmj.com