Prevalence Of Psychosocial Issues Among Internally Displaced Children by Military Wars in District Khyber
Psychosocial Issues among Internally Displaced Children by Military Wars
Keywords:
Psychosocial Impacts, Military Operation, Internally Displaced, Children, Gender
Abstract
Internally Displaced Persons (IDPs) are those who have been forced to leave their homes to avoid the impacts of armed war, violence, and other forms of violence. Human rights violations or natural or man-made calamities have occurred, but they have not passed an internationally recognized state border. Objective: To identify the psychosocial effects created by military wars on the internally displaced children of District Khyber, Khyber Pakhtunkhwa, Pakistan Methods: For this purpose, 300 children were selected randomly, out of which 150 were males and 150 were females. These 300 children belonged to the middle and the secondary school of the same District and were internally displaced because of military wars. Data was collected using PTSD Checklist-Civilian Version (PCL-C) questionnaire and demographic information sheet and responses were recorded and analyzed using a SPSS version 24 software. Results: The p-value of less than 0.001 indicated that children belonging to year 2002 were victimized of war the most and had severe psychosocial effects. The factors such as loss of housing, family, finances, employment and the lack of accessibility to health care services had direct correlation with the increase in psychosocial impacts. Conclusion: It is concluded that females and children of middle and secondary schools were most affected
References
Kazmi SS, Arshad A. Impacts of Post Traumatic Stress Disorder on the Performance of Pakistan Army Veterans Deployed for War on Terror. American Journal of Psychology and Cognitive Science. 2015;1(2):37-43.
Sogomonyan F, Cooper JL. Trauma faced by children of military families: What every policymaker should know. 2010. doi.org/10.7916/D8HX1NDM.
Raphael Mg. The Psychosocial Effects of War on Children in Eastern Congo. 2019.
Eiroa-Orosa FJ. Understanding Psychosocial Wellbeing in the Context of Complex and Multidimensional Problems. Int J Environ Res Public Health. 2020 Aug 15;17(16):5937. doi: 10.3390/ijerph17165937.
Smith D. Children in the heat of war. Monitor on Psychology. 2001 Sep;32(8).
Betancourt TS, Keegan K, Farrar J, Brennan RT. The intergenerational impact of war on mental health and psychosocial wellbeing: lessons from the longitudinal study of war-affected youth in Sierra Leone. Confl Health. 2020 Sep 1;14:62. doi: 10.1186/s13031-020-00308-7.
Flake EM, Davis BE, Johnson PL, Middleton LS. The psychosocial effects of deployment on military children. J Dev Behav Pediatr. 2009 Aug;30(4):271-8. doi: 10.1097/DBP.0b013e3181aac6e4.
Bierman A, Kelty R. The threat of war and psychological distress among civilians working in Iraq and Afghanistan. Social Psychology Quarterly. 2014 Mar;77(1):27-53. doi.org/10.1177/0190272513513962.
Çelik N, Özpınar S. Children and health effects of war Being a war child... Cumhuriyet Medical Journal. 2017 Dec 1;39(4):639-43. doi.org/10.7197/223.v39i32356.368921.
Santa Barbara J. Impact of war on children and imperative to end war. Croat Med J. 2006 Dec;47(6):891-4.
Kadir A, Shenoda S, Goldhagen J, Pitterman S; Section on International Child Health. The Effects of Armed Conflict on Children. Pediatrics. 2018 Dec;142(6):e20182586. doi: 10.1542/peds.2018-2586.
Betancourt TS, Meyers-Ohki SE, Charrow AP, Tol WA. Interventions for children affected by war: an ecological perspective on psychosocial support and mental health care. Harv Rev Psychiatry. 2013 Mar-Apr;21(2):70-91. doi: 10.1097/HRP.0b013e318283bf8f.
Holdcroft A. Gender bias in research: how does it affect evidence based medicine? J R Soc Med. 2007 Jan;100(1):2-3. doi: 10.1177/014107680710000102.
Shah QA, Nawab B, Mehmood T. The Role of Stakeholders in Post Conflict Peacebuilding in Swat, Pakistan. Lex Localis-Journal of Local Self-Government. 2020 Jan 1;18(1). DOI: 10.4335/18.1.211-229(2020).
Kastrup MC. Mental health consequences of war: gender specific issues. World Psychiatry. 2006 Feb;5(1):33-4.
McGinn T. Reproductive health of war-affected populations: what do we know?. International Family Planning Perspectives. 2000 Dec 1;26(4):174-80. doi.org/10.2307/2648255.
McKay S. The effects of armed conflict on girls and women. Peace and Conflict. 1998 Dec 1;4(4):381-92. doi.org/10.1207/s15327949pac0404_6.
Freh FM. Psychological effects of war and violence on children. J Psychol Abnorm Child. 2015;4:e106. DOI: 10.4172/2329-9525.1000e106.
Pearn J. The effect of war and conflict on child health. Journal of Pediatric Gastroenterology and Nutrition. 1998 Aug 1;27(2):245.
Levinthal DA. A behavioral approach to strategy—what's the alternative?. Strategic Management Journal. 2011 Dec;32(13):1517-23. doi.org/10.1002/smj.963.
Gérain P, Zech E. Informal Caregiver Burnout? Development of a Theoretical Framework to Understand the Impact of Caregiving. Front Psychol. 2019 Jul 31;10:1748. doi: 10.3389/fpsyg.2019.01748.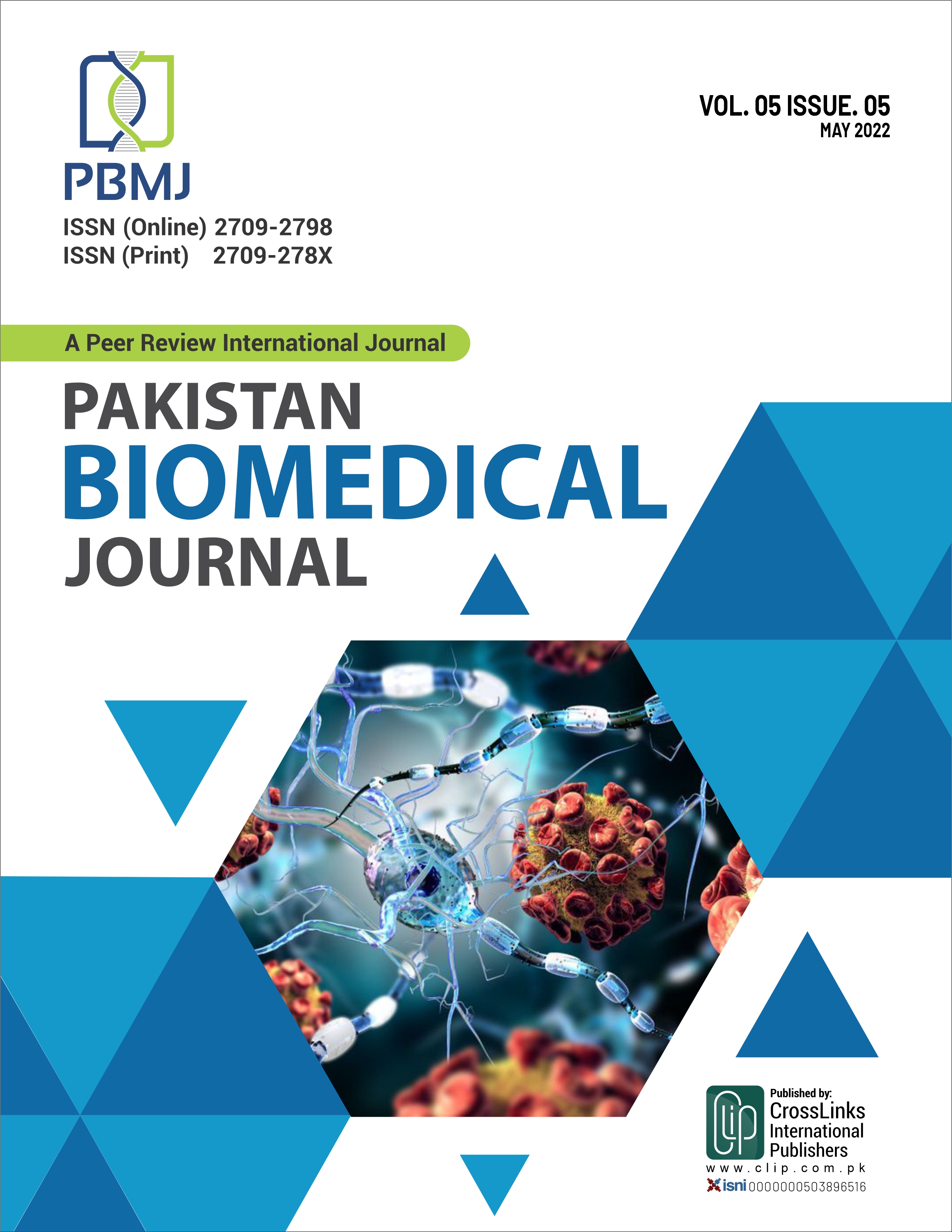 Downloads
How to Cite
Zeb, A. ., Rehman, M. . ., & Rafique, M. . (2022). Prevalence Of Psychosocial Issues Among Internally Displaced Children by Military Wars in District Khyber: Psychosocial Issues among Internally Displaced Children by Military Wars. Pakistan BioMedical Journal, 5(5), 309–313. https://doi.org/10.54393/pbmj.v5i5.512
License
Copyright (c) 2022 Pakistan BioMedical Journal
This work is licensed under a Creative Commons Attribution 4.0 International License.
This is an open-access journal and all the published articles / items are distributed under the terms of the Creative Commons Attribution License, which permits unrestricted use, distribution, and reproduction in any medium, provided the original author and source are credited. For comments editor@pakistanbmj.com