The PREVALENCE OF DE QUERVAIN'S TENOSYNOVITIS AND ITS ASSOCIATION WITH MOBILE TEXTING AMONG THE UNIVERSITY STUDENTS
Prevalence of De Quervain's Tenosynovitis and its Association with Mobile Texting
Keywords:
De Quervain tenosynovitis, Abductor pollicis longus, Extensor pollicis brevis, Finkelstein Test
Abstract
De Quervain tenosynovitis of the wrist is a tightening or compression along with the inflammation of the 1st dorsal compartment. Objectives: To determine the magnitude of De Quervain's Tenosynovitis, functional disability and pain association with Mobile Texting among the students of The University of Lahore. Methods: A non-probability convenience sampling strategy was used to conduct a cross-sectional research among 191 individuals from the University of Lahore. The data was obtained using the Standardized Michigan Hand Outcomes Questionnaire after informed written agreement. The Numeric Pain Rating Scale (NPRS) was used and Finkelstein's test was performed. The data was analyzed using the SPSS. For categorical data, frequency and percent-ages were used, and the chi-square test to find the relation between the variables. P-value of <0.05 was considered significant. Both male and female patients who matched the inclusion criterion of being between the ages of 22 and 32 were taken in study. Results: Out of 191 university students, 100 (52.4%) were male and 91(47.6%) were female, the age was 27 ± 0.32, dominant hand of 177 (92.67%) was right and 14 (7.33%) were left-handed. There was a positive association among Finkelstein's test and Michigan hand questionnaire (MHQ) as p < 0.001 as well as Numeric Pain Rating Scale (NPRS) and Michigan hand questionnaire (MHQ) as p<0.001. Conclusions: The study discovered that nearly significant proportion of the student's text on their phones, and that as a consequence of their mobile phones usage and extreme texting speed and they experience De Quervain's. There is an affirmative correlation between frequent text messaging and thumb pain.
References
Ilyas AM, Ast M, Schaffer AA, Thoder J. De quervain tenosynovitis of the wrist. Journal of the American Academy of Orthopaedic Surgeons. 2007 Dec; 15(12):757-64. doi: 10.5435/00124635-200712000-00009
Awais L, Subazwari SA, Azam S, Anwar I. Incidence of De Quervain's Tenosynovitis in Computer Operators. Health Science Journal. 2020; 14(2):0-.
Goel R and Abzug JM. de Quervain's tenosynovitis: a review of the rehabilitative options. Hand. 2015 Mar; 10(1):1-5. doi: 10.1007/s11552-014-9649-3
Lee ZH, Stranix JT, Anzai L, Sharma S. Surgical anatomy of the first extensor compartment: A systematic review and comparison of normal cadavers vs. De Quervain syndrome patients. Journal of Plastic, Reconstructive and Aesthetic Surgery. 2017 Jan; 70(1):127-131. doi: 10.1016/j.bjps.2016.08.020
Chaya B, Bakhach E, Bakhach J. The De-Quervain Tenosynovitis: Literature Review. Biomedical Journal. 2018; 1:3. doi: 10.26717/BJSTR.2018.08.001691
Benites-Zapata VA, Jiménez-Torres VE, Ayala-Roldán MP. Problematic smartphone use is associated with de Quervain's tenosynovitis symptomatology among young adults. Musculoskeletal Science and Practice. 2021 Jun; 53:102356. doi: 10.1016/j.msksp.2021.102356
Nemati Z, Javanshir MA, Saeedi H, Farmani F, Aghajani Fesharaki S. The effect of new dynamic splint in pinch strength in De Quervain syndrome: a comparative study. Disability and Rehabilitation: Assistive Technology. 2017 Jul; 12(5):457-461. doi: 10.3109/17483107.2016.1139635
Morgan SD, Sivakumar BS, An VG, Sevao J, Graham DJ. A Review of De Quervain's Stenosing Tenovaginitis in the Context of Smartphone Use. Journal of Hand Surgery Asian Pacific Volume. 2020 Jun; 25(2):133-136. doi: 10.1142/S2424835520300029
Walker-Bone K, Palmer KT, Reading I, Coggon D, Cooper C. Prevalence and impact of musculoskeletal disorders of the upper limb in the general population. Arthritis and Rheumatology. 2004 Aug; 51(4):642-51. doi: 10.1002/art.20535
Adams JE and Habbu R. Tendinopathies of the Hand and Wrist. Journal of the American Academy of Orthopaedic Surgeons. 2015 Dec; 23(12):741-50. doi: 10.5435/JAAOS-D-14-00216
Taufiq F, Batool T, Bashir S. Prevalence of De-Quervain's Tenosynovitis among Medical Students of Allama Iqbal Medical College: JRCRS-2015, 3 (2): 95-98. Journal Riphah College of Rehabilitation Sciences. 2015 Dec; 3(2):95-8.
Eapen C, Kumar B, Bhat AK, Venugopal A. Extensor Pollicis Longus Injury in Addition to De Quervain's with Text Messaging on Mobile Phones. Journal of Clinical and Diagnostic Research. 2014 Nov; 8(11):LC01-4. doi: 10.7860/JCDR/2014/8304.5094
İnal EE, Demİrcİ k, Çetİntürk A, Akgönül M, Savaş S. Effects of smartphone overuse on hand function, pinch strength, and the median nerve. Muscle Nerve. 2015 Aug; 52(2):183-8. doi: 10.1002/mus.24695
Ashurst JV, Turco DA, Lieb BE. Tenosynovitis caused by texting: an emerging disease. Journal of the American Osteopathic Association. 2010 May; 110(5):294-6
Ma T, Song L, Ning S, Wang H, Zhang G, Wu Z. Relationship between the incidence of de Quervain's disease among teenagers and mobile gaming. International Orthopaedics. 2019 Nov; 43(11):2587-2592. doi: 10.1007/s00264-019-04389-9
Ali M, Asim M, Danish SH, Ahmad F, Iqbal A, Hasan SD. Frequency of De Quervain's tenosynovitis and its association with SMS texting. Muscles Ligaments and Tendons Journal. 2014 May; 4(1):74-8
Wolf JM, Sturdivant RX, Owens BD. Incidence of de Quervain's tenosynovitis in a young, active population. Journal of Hand Surgery. 2009 Jan; 34(1):112-5. doi: 10.1016/j.jhsa.2008.08.020
Kaçmaz İE, Koca A, Basa CD, Zhamilov V, Reisoğlu A. Efficacy of Kinesiologic Taping in de Quervain's Tenosynovitis: Case Series and Review of Literature. Medical Journal of Bakirkoy. 2019 Sep; 15(3). doi: 10.4274/BTDMJB.galenos.2019.20180815084330
Walker-Bone K, Palmer K, Reading I, Linaker C, Byng T, Coggon D, et al. The prevalence and impact of soft tissue musculoskeletal disorders of the neck and upper limb in the general population. Rheumatology. 2002 Apr; 41.
Tahir M and Ahmad A. Frequency of De Quervains Syndrome among Smartphone Users in Different Universities of Lahore, Pakistan. Pakistan Journal of Physical Therapy (PJPT). 2018; 10-4.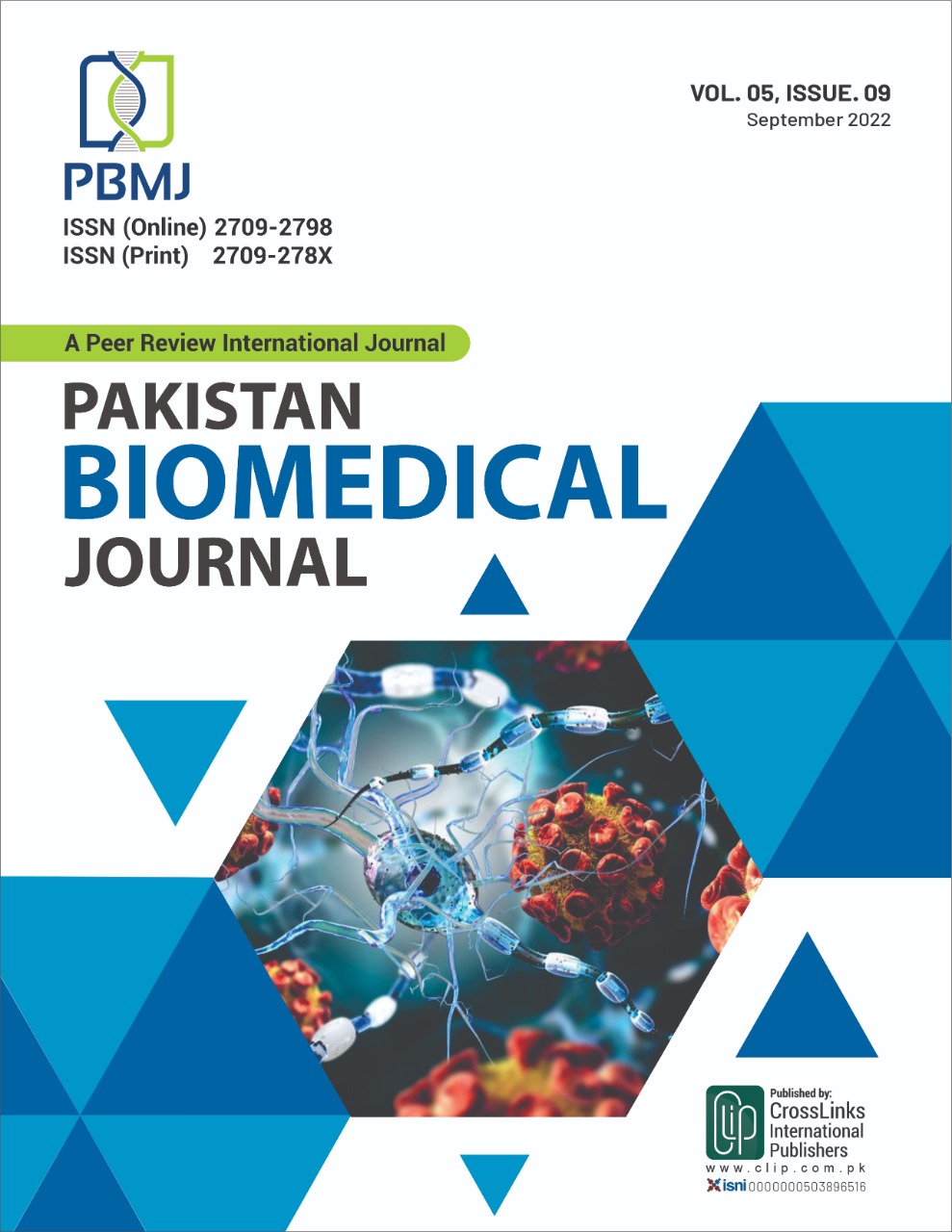 Downloads
How to Cite
Sarfraz, H., Waseem, I. ., Arslan, S. A. ., Ahmed, A. ., Adeel, B., & Rashid, I. (2022). The PREVALENCE OF DE QUERVAIN'S TENOSYNOVITIS AND ITS ASSOCIATION WITH MOBILE TEXTING AMONG THE UNIVERSITY STUDENTS: Prevalence of De Quervain's Tenosynovitis and its Association with Mobile Texting. Pakistan BioMedical Journal, 5(9), 41–45. https://doi.org/10.54393/pbmj.v5i9.682
License
Copyright (c) 2022 Pakistan BioMedical Journal
This work is licensed under a Creative Commons Attribution 4.0 International License.
This is an open-access journal and all the published articles / items are distributed under the terms of the Creative Commons Attribution License, which permits unrestricted use, distribution, and reproduction in any medium, provided the original author and source are credited. For comments editor@pakistanbmj.com