Know-how and preferences of prosthesis among general dental patients after tooth extraction
Know-How and Preferences of Prosthesis
Keywords:
Missing teeth, Replacement, Extraction, Prosthesis.
Abstract
Tooth loss is physically and emotionally a traumatizing event as it gives a feeling of being handicapped just as any other part of the body. Objective: To assess the level of knowledge among dental patients regarding options and benefits of dental prosthesis. Moreover, it was also focused to analyze the level of awareness among patients regarding the consequences of non-replacement of missing teeth. Methods: A cross sectional qualitative descriptive study was conducted among general dental patients visiting University Dental Hospital (UDH), University of Lahore, who have undergone extraction and willing for rehabilitation. The sampling was done with non-probability purposive sampling technique. A self-structured questionnaire with 24 close ended questions was used. Questionnaire was divided into two sections; Section A consists of 9 questions regarding patient's demographic data and section B comprised of 15 close ended questions regarding patient's chief presenting complaint leading to dental extraction and prosthesis preference. Results: Majority of the patients (43%) revealed that pain was the main reason for extraction. A major bulk of the patients (37%) opted rehabilitation of missing teeth to attain masticatory efficiency. Patients who were aware of the consequences of non-restoration of missing teeth (60%) outnumbered those who were not having this awareness. Majority of the respondents (37%) preferred fixed prosthesis as a replacement option. Conclusion: Dentists play a very vital role in oral-dental rehabilitation of the patients therefore restoring a healthy mind within a healthy body. The majority of the patients are keen on getting missing teeth replaced mainly for comfortable mastication.
References
Das PJ, Dkhar W, Pradhan A. An Evaluation of Dental Crowding in Relation to the Mesiodistal Crown Widths and Arch Dimensions in Southern Indian Population. Journal of Clinical and Diagnostic Research. 2017 Sep; 11(9):TC10-TC13. doi: 10.7860/JCDR/2017/29642.10554
Alshehri MD, Alqahtani WM, Asiri EM, Asiri MN. Awareness to consequences of teeth missing and prosthodontics treatment options among people of Aseer region, Saudi Arabia. Journal of Family Medicine and Primary Care. 2021 Jan; 10(1):307-311. doi: 10.4103/jfmpc.jfmpc_1621_20
Anjum MS, Monica M, Rao KY, Reddy PP, Hameed IA, Jyothi M. Does tooth loss have an emotional effect? A cross-sectional and comparative study on nondenture wearers and complete denture wearers. Journal of Indian Association of Public Health Dentistry. 2017 Jul; 15(3):247. doi: 10.4103/jiaphd.jiaphd_46_17
Silva-Junior MF, Batista MJ, de Sousa MDLR. Incidence of Tooth Loss in Adults: A 4-Year Population-Based Prospective Cohort Study. International Journal of Dentistry. 2017; 2017:6074703. doi: 10.1155/2017/6074703
Mills T, Marks E, Reynolds T, Cieza A. Rehabilitation: Essential along the Continuum of Care. Disease Control Priorities: Improving Health and Reducing Poverty. 3rd ed. 2017 Nov. Chapter 15.
Vieira RA, Melo AC, Budel LA, Gama JC, de Mattias Sartori IA, Thomé G. Benefits of rehabilitation with implants in masticatory function: is patient perception of change in accordance with the real improvement? Journal of Oral Implantology. 2014 Jun; 40(3):263-9. doi: 10.1563/AAID-JOI-D-11-00208s
Hakam FA, Ghani F, Khalil A, Khan AU. Awareness to consequences of missing teeth and prosthodontic treatment modalities in partially dentate patients reporting for dental extraction. Pakistan Oral and Dental Journal. 2019 May; 39(1):102-5.
Rodrigues A, Dhanania S, Rodrigues R. "If I have teeth, I can smile." Experiences with tooth loss and the use of a removable dental prosthesis among people who are partially and completely edentulous in Karnataka, India. BDJ Open. 2021 Sep; 7(1):34. doi: 10.1038/s41405-021-00088-z
Amjad F and Aziz S. Trends, awareness, and attitudes of patients towards replacement of missing teeth at university College of dentistry. Pakistan Oral & Dental Journal. 2014 Jan; 34(1).
Preethanath RS. Reasons for tooth extraction in urban and rural populations of Saudi Arabia. Pakistan Oral and Dental Journal. 2010 Jun; 30(1).
Mansour Al Qudah BD, Haider Al Waeli BD, Board J, Hatem Al Rashdan BD. The Reasons for Dental Extraction of Permanent Teeth in a Jordanian Population, Including Considerations for the Influence of Social Factors.
Passarelli PC, Pagnoni S, Piccirillo GB, Desantis V, Benegiamo M, Liguori A, et al. Reasons for Tooth Extractions and Related Risk Factors in Adult Patients: A Cohort Study. International Journal of Environmental Research and Public Health. 2020 Apr; 17(7):2575. doi: 10.3390/ijerph17072575
Aljafar A, Alibrahim H, Alahmed A, AbuAli A, Nazir M, Alakel A, et al. Reasons for Permanent Teeth Extractions and Related Factors among Adult Patients in the Eastern Province of Saudi Arabia. Scientific World Journal. 2021 Feb; 2021:5534455. doi: 10.1155/2021/5534455
Sahibzada HA. Pattern and causes of tooth extraction in patients reporting to a teaching dental hospital. Journal of Islamabad Medical and Dental College. 2016 Oct; 5(4):172-6.
Dosumu OO, Ogunrinde JT, Bamigboye SA. Knowledge of consequences of missing teeth in patients attending prosthetic clinic in u.C.h. Ibadan. Annals of Ibadan Postgraduate Medicine. 2014 Jun; 12(1):42-8
Jayasinghe RM, Perera J, Jayasinghe V, Thilakumara IP, Rasnayaka S, Shiraz MHM, et al. Awareness, attitudes, need and demand on replacement of missing teeth among a group of partially dentate patients attending a University Dental Hospital. BMC Research Notes. 2017 Jul; 10(1):334. doi: 10.1186/s13104-017-2655-0
Benetti GS, Dotto L, Maroli A, Barbon F, Sanchez-Ayala A, Bacchi A. Patients' perception about the outcomes of prosthetic treatment in Southern Brazil: a cross sectional study. Brazilian Journal of Oral Sciences. 2020 Oct; 19:e209398. doi: 10.20396/bjos.v19i0.8659398
Hussain M, Rehman A, Memon MS, Tanveer W, Khan M. Awareness of different treatment options for missing teeth in patient visited at Hamdard university dental hospital. Pakistan Oral and Dental Journal. 2015 Jun; 35(2).
Hakam FA, Ghani F, Khalil A, Khan AU. Awareness to consequences of missing teeth and prosthodontic treatment modalities in partially dentate patients reporting for dental extraction. Pakistan Oral and Dental Journal. 2019 May; 39(1):102-5.
Al-Quran FA, Al-Ghalayini RF, Al-Zu'bi BN. Single-tooth replacement: factors affecting different prosthetic treatment modalities. BMC Oral Health. 2011 Dec; 11:34. doi: 10.1186/1472-6831-11-34
Ozçakır Tomruk C, Ozkurt-Kayahan Z, Sençift K. Patients' knowledge and awareness of dental implants in a Turkish subpopulation. The Journal of Advanced Prosthodontics. 2014 Apr; 6(2):133-7. doi: 10.4047/jap.2014.6.2.133
Kumar A, Gupta R, Nagpal A, Samra RK, Kaur J, Babbar A. Evaluation of awareness toward various treatment modalities for replacement of teeth in local population of Sundar Nagar, District Mandi, Himachal Pradesh: A survey report. Indian Journal of Dental Sciences. 2019 Apr; 11(2):77. doi: 10.4103/IJDS.IJDS_88_18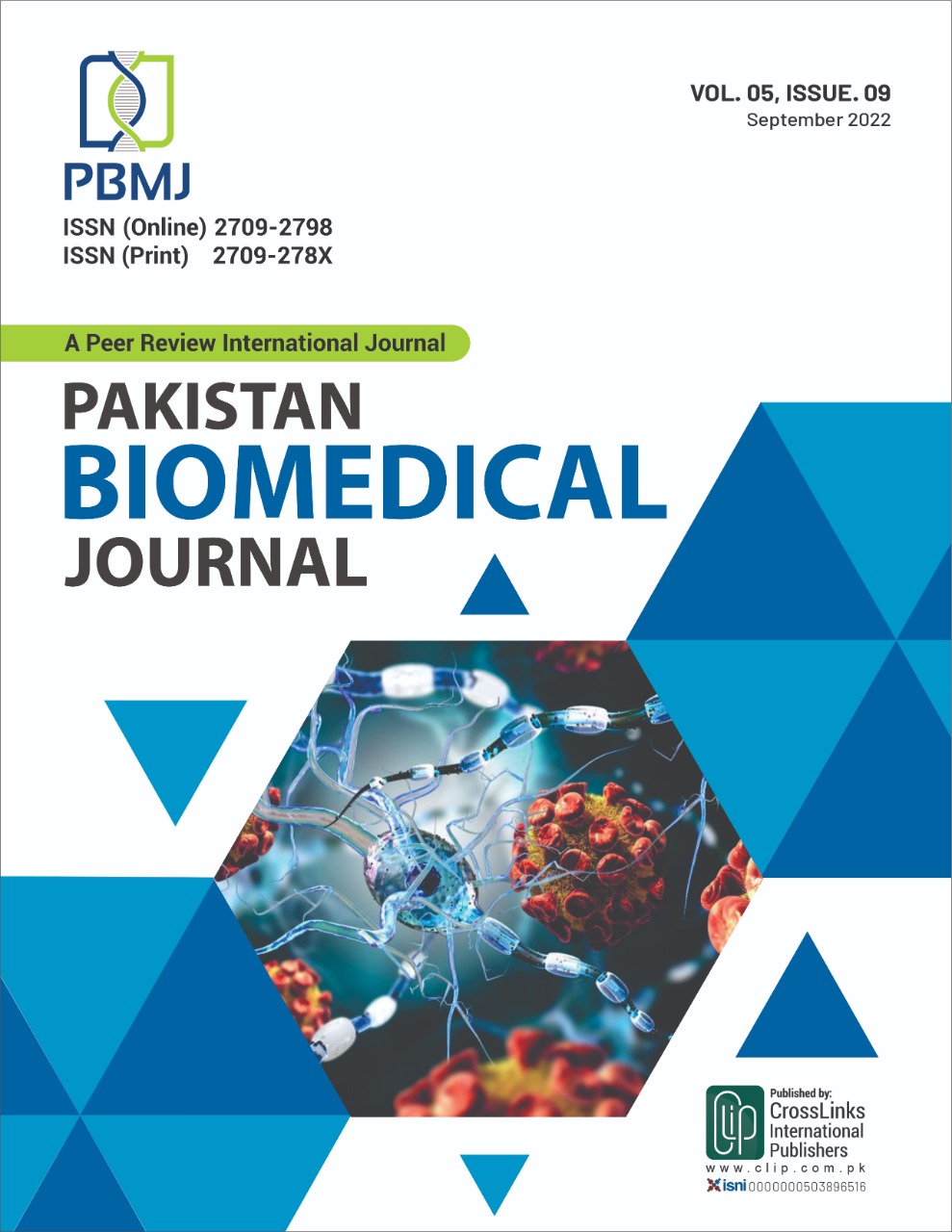 Downloads
How to Cite
Wajiha Alamgir, Khan, U. J., Adeel Haider, Shanzay Tariq, Rabbia Amjad, & Kainat Jehangir. (2022). Know-how and preferences of prosthesis among general dental patients after tooth extraction: Know-How and Preferences of Prosthesis. Pakistan BioMedical Journal, 5(9), 26–30. https://doi.org/10.54393/pbmj.v5i9.789
License
Copyright (c) 2022 Pakistan BioMedical Journal
This work is licensed under a Creative Commons Attribution 4.0 International License.
This is an open-access journal and all the published articles / items are distributed under the terms of the Creative Commons Attribution License, which permits unrestricted use, distribution, and reproduction in any medium, provided the original author and source are credited. For comments editor@pakistanbmj.com