Particulate Matter Concentration and Microbial Load in Heavy Traffic Areas of District Lahore, Pakistan
PM and Microbial Concentration in Heavy Traffic Areas
Keywords:
Particulate Matter(PM), Traffic Areas, Microbial Fauna, Air Pollution
Abstract
A major threat to the environment and public health is air pollution. Previous research has looked at the harmful health impacts of both short- and long-term particulate matter exposure. In addition, PM (particulate matter) of fine or coarse size (PM 2.5 and PM 10) was linearly related with mortality, with PM 2.5 being associated with long-term mortality and PM10 being connected with short-term mortality. Traffic congestion is one of the foremost problems. Objective: To characterize gram positive and gram negative airborne bacteria from air samples of heavy traffic areas. Methods: These were assessed using direct as well as indirect sampling technique. A total of 40 samples 10 from each traffic areas (i.e., Bhatti Gate, Bohr wala chowk, Chauburji and Railway Station) were collected. These were collected with the help of Mini Vol portable air sampler. Filter papers containing particulate matter 2.5 and 10 were placed on prepared petri dishes. The petri dishes were then kept in an incubator for 24 hours at 37 °C, the appearances of colonies were characterized and proceeded for morphological and biochemical identification. Results: The results showed the presence of different bacteria including Bacillus spp., Micrococcus spp. Streptococcus and Staphylococcus aureus, Pseudomonas aeroginosa. Conclusion: It was found that air was heavily polluted with PM 10 and micrococcus aureus.
References
Mancinelli RL and Shulls WA. Airborne bacteria in an urban environment. Applied and Environmental Microbiology. 1978 Jun; 35(6):1095-101. doi: 10.1128/aem.35.6.1095-1101.1978
Recer GM, Browne ML, Horn EG, Hill KM, Boehler WF. Ambient air levels of Aspergillus fumigatus and thermophilic actinomycetes in a residential neighborhood near a yard-waste composting facility. Aerobiologia. 2001 Jun; 17(2):99-108. doi:10.1023/a:1010816114787.
Gillum SJ and Levetin E. The air spora close to a compost facility in Northeast Oklahoma: Part I—spore trap sampling. Aerobiologia. 2008 Mar; 24(1):3-12. doi: 0.1007/s10453-007-9074-y
Adhikari A, Reponen T, Lee SA, Grinshpun SA. Assessment of Human Exposure To Airborne Fungi In Agricultural Confinements: Personal Inhalable Sampling Versus Stationary Sampling. Annals of Agricultural and Environmental Medicine. 2004 Jan; 11(2):269-77. doi: 10.1080/15459620500524607
Graham LM. All I need is the air that I breath: outdoor air quality and asthma. Paediatric respiratory reviews. 2004 Jan; 5:S59-64. doi: 10.1016/s1526-0542(04)90012-7
Feychting M, Svensson D, Ahlbom A. Exposure To Motor Vehicle Exhaust And Childhood Cancer. Scandinavian journal of work, environment & health. 1998 Feb; 24(1):8-11. doi: 10.5271/sjweh.272
Raaschou-Nielsen O, Hertel O, Thomsen BL, Olsen JH. Air pollution from traffic at the residence of children with cancer. American journal of epidemiology. 2001 Mar; 153(5):433-43. doi: 10.1093/aje/153.5.433
Lee CC, Chen MR, Shih TS, Tsai PJ, Lai CH, Liou SH. Exposure assessment on volatile organic compounds (VOCs) for tollway station workers via direct and indirect approaches. Journal of Occupational Health. 2002 Sep; 44(5):294-300. doi:10.1539/joh.44.294
Kodama AM and McGee RI. Airborne microbial contaminants in indoor environments. Naturally ventilated and air-conditioned homes. Archives of Environmental Health: An International Journal. 1986 Oct; 41(5):306-11. doi: 10.1080/00039896.1986.9936702
Luo J, Wang H, Chen L. Advances in research of airborne microbes in subway systems. Chinese Journal of Applied and Environmental Biology. 2018; 24(4):934-40.
Zweers T, Preller L, Brunekreef B, Boleij JS. Health and indoor climate complaints of 7043 office workers in 61 buildings in the Netherlands. Indoor Air. 1992 Sep; 2(3):127-36. doi: 10.1111/j.1600-0668.1992.00001.
Samet JM, Zeger SL, Dominici F, Curriero F, Coursac I, Dockery DW et al., The national morbidity, mortality, and air pollution study. Part II: morbidity and mortality from air pollution in the United States Res Rep Health Eff Inst. 2000 May; 94(pt 2):5-79. doi: 10.1097/00001648-200611001-00004
World Health Organization. Air quality guidelines for Europe. World Health Organization. Regional Office for Europe; 2000. doi: 10.1111/j.1365-2923.1990.tb00001.
Parte A, Whitman WB, Goodfellow M, Kämpfer P, Busse HJ, Trujillo ME, et al., Bergey's manual of systematic bacteriology: the Actinobacteria. Springer Science & Business Media. 2012 Jun; 5 doi: 10.1007/978-0-387-68233-4
Hwang SH, Yoon CS, Ryu KN, Paik SY, Cho JH. Assessment of airborne environmental bacteria and related factors in 25 underground railway stations in Seoul, Korea. Atmospheric Environment. 2010 Apr; 44(13):1658-62. doi: 10.1016/j.atmosenv.2010.01.047
Kim KY, Kim YS, Kim D, Kim HT. Exposure level and distribution characteristics of airborne bacteria and fungi in Seoul metropolitan subway stations. Industrial health. 2011; 49(2):242-8. doi: 10.2486/indhealth.MS1199
Hwang SH, Park WM, Ahn JK, Lee KJ, Min KB, Park JB. Relationship between culturable airborne bacteria concentrations and ventilation systems in underground subway stations in Seoul, South Korea. Air Quality, Atmosphere & Health. 2016 Mar; 9(2):173-8. doi: 10.1007/s11869-015-0316-9
Abbas M, Tahira A, Jamil S. Air quality monitoring of particulate matter (PM2. 5 & PM 10) At Niazi and Daewoo Bus Station, Lahore. Fuuast Journal of Biology. 2017; 7(1):13-8. doi: 10.1007/s10661-020-08508-7
Lee RE, Harris K, Akland G. Relationship between viable bacteria and air pollutants in an urban atmosphere. American Industrial Hygiene Association Journal. 1973 Apr; 34(4):164-70. doi: 10.1080/0002889738506826
Andleeb S, Ali Z, Afzal F, Razzaq AA, Mehmood T, Noor N, et al., Exposure to NO 2 in occupationalbuilt environmnets in urban centre in Lahore. Journal of Animal and Plant Sciences. 2015 Jan; 25(3):656-9.
Pope III CA, Dockery DW, Spengler JD, Raizenne ME. Respiratory health and PM10 pollution: a daily time series analysis. American Review of Respiratory Disease. 1991 Sep; 144(3_pt_1):668-74. doi: 10.1164/ajrccm/144.3_Pt_1.668
Pathak AK and Verma KS. Aero-bacteriological study of vegetables market at Jabalpur.
Verhoeff AP, Hoek G, Schwartz J, van Wijnen JH. Air pollution and daily mortality in Amsterdam. Epidemiology. 1996 May; 7(3):225-30. doi: 10.1097/00001648-199605000-00002
Adar SD, Gold DR, Coull BA, Schwartz J, Stone PH, Suh H. Focused exposures to airborne traffic particles and heart rate variability in the elderly. Epidemiology. 2007 Jan 18(1):95-103. doi:10.1097/01.ede.0000249409.81050.46
Anderson JO, Thundiyil JG, Stolbach A. Clearing the air: a review of the effects of particulate matter air pollution on human health. Journal of medical toxicology. 2012 Jun; 8(2):166-75. doi: 10.1007/s13181-011-0203-1
Dybwad M, Granum PE, Bruheim P, Blatny JM. Characterization of airborne bacteria at an underground subway station. Applied and environmental microbiology. 2012 Mar ; 78(6):1917-29. doi:10.1128/AEM.07212-11
Luksamijarulkul P and Kongtip P. Microbial counts and particulate matter levels in roadside air samples under skytrain stations, Bangkok, Thailand. doi:10.15761/npc.1000206
Fang Z, Ouyang Z, Zheng H, Wang X, Hu L. Culturable Airborne Bacteria In Outdoor Environments In Beijing, China. Microbial Ecology. 2007 Oct; 54(3):487-96. doi: 0.1007/s00248-007-9216-3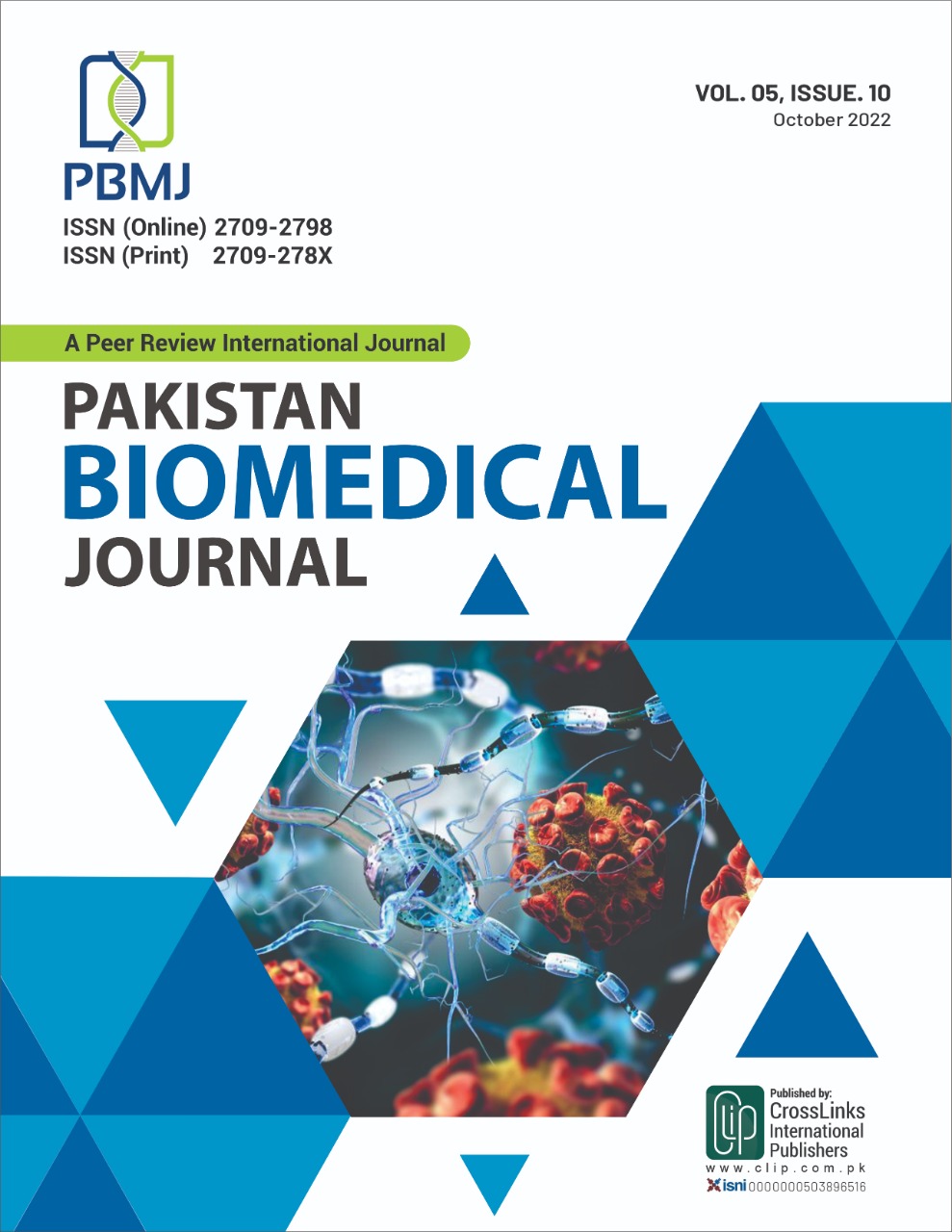 Downloads
How to Cite
Rashid, F., Sarwar, S. ., Habib, S. ., Tahir, H. ., Noshair Ali , I. ., & Ahmad Abbas, T. . (2022). Particulate Matter Concentration and Microbial Load in Heavy Traffic Areas of District Lahore, Pakistan: PM and Microbial Concentration in Heavy Traffic Areas . Pakistan BioMedical Journal, 5(10), 34–39. https://doi.org/10.54393/pbmj.v5i10.812
License
Copyright (c) 2022 Pakistan BioMedical Journal
This work is licensed under a Creative Commons Attribution 4.0 International License.
This is an open-access journal and all the published articles / items are distributed under the terms of the Creative Commons Attribution License, which permits unrestricted use, distribution, and reproduction in any medium, provided the original author and source are credited. For comments editor@pakistanbmj.com