Liver Function Tests in Hepatitis C Patients of Local Population of Lahore
LFTs in HEP-C Patients
Keywords:
Liver function test, Hepatitis C, LFTs, ALT, AST, ALP
Abstract
Hepatic fibrosis is a chronic disease that results from hepatitis C infection. The tests used to screen for chronic liver disease are known as serum biochemical liver tests (LTs) (alanine aminotransferase, aspartate aminotransferase, and gamma glutamyl transferase). Objectives: To determine the prevalence and etiologies of abnormal LTs in the population of Lahore, Pakistan. To determine whether there is any correlation of HCV infection and viral load to the clinical parameters such as ALT, AST, ALP, bilirubin, patient's age and gender. Methods: Liver function tests (ALT, AST, and Bilirubin) were carried out using standard kits and a regular chemical analyzer in a photometric manner. Results: In our research, we gathered information from 80 patients, out of whom 27 women and 53 men. HCV was more common in the adult population aged 30 years or older and in men than in women. These individuals had elevated levels of several biochemical markers as ALT, AST, and ALP. Conclusions: Based on the results of this research and our investigation, we saw instances of viral hepatitis being diagnosed in asymptomatic patients with abnormal LFTs. The findings of the present investigation showed that men and patients under the age of 30 in Lahore had a significant frequency of abnormal LTs. Test results reveal biochemical markers at particularly elevated levels. Implementing initiatives to lessen the potential burden of chronic liver disease may benefit from knowing the estimated prevalence and etiologies of aberrant LTs (CLD).
References
Gasiorowicz M, Hurie M, Russell A, Hoxie N, Vergeront J. Epidemiologic trends in infection, mortality, and transplants related to hepatitis C in Wisconsin. Wisconsin Medical Journal-MADISON. 2006 Jan; 105(1): 34-39.
Alter HJ and Seeff LB. Recovery, persistence, and sequelae in hepatitis C virus infection: a perspective on long-term outcome. Seminars in liver disease. 2000; 20(01): 0017-0036. doi: 10.1055/s-2000-9505.
Sy T and Jamal MM. Epidemiology of hepatitis C virus (HCV) infection. International Journal of Medical Sciences. 2006 Apr; 3(2): 41-6. doi: 10.7150/ijms.3.41.
Lok ASF and McMahon BJ. Chronic hepatitis B. Hepatology. 2007 Feb; 45(2):507–39. doi: 10.1002/hep.21513.
Maheshwari A, Ray S, Thuluvath PJ. Acute hepatitis C. The Lancet. 2008 Jul; 372(9635): 321-32. doi: 10.1016/S0140-6736(08)61116-2.
Wilkins T, Malcolm JK, Raina D, Schade RR. Hepatitis C: diagnosis and treatment. American Family Physician. 2010 Jun; 81(11): 1351-7.
Sterling R and Lim J. Chronic Hepatitis C Virus: Advances in Treatment, Promise for the Future. Gastroenterology. 2012 Dec; 143(6): 1688. doi: 10.1053/j.gastro.2012.10.013.
Nelson PK, Mathers BM, Cowie B, Hagan H, Des Jarlais D, Horyniak D, et al. Global epidemiology of hepatitis B and hepatitis C in people who inject drugs: results of systematic reviews. The Lancet. 2011 Aug; 378(9791): 571-83. doi: 10.1016/S0140-6736(11)61097-0.
Bartenschlager R, Lohmann V, Penin F. The molecular and structural basis of advanced antiviral therapy for hepatitis C virus infection. Nature Reviews Microbiology. 2013 Jul; 11(7): 482-96. doi: 10.1038/nrmicro3046.
Rosen HR. Chronic hepatitis C infection. New England Journal of Medicine. 2011 Jun; 364(25): 2429-38. doi: 10.1056/NEJMcp1006613.
Lee M, editor. Basic skills in interpreting laboratory data. ASHP; 2009 Feb.
Harriet S, Meyer MD, David H, Morse MS, Robert Hogan MD. Clinical Laboratory Medicine. JAMA. 2002 Jul; 288(4): 516. doi: 10.1001/jama.288.4.516-jbk0724-4-1.
Mengel MB and Schwiebert LP. Family medicine: ambulatory care and prevention. McGraw-Hill Professional. 2005.
Rosen HR. Chronic hepatitis C infection. New England Journal of Medicine. 2011 Jun; 364(25): 2429-38. doi: 10.1056/NEJMcp1006613.
Maheshwari A and Thuluvath PJ. Management of acute hepatitis C. Clinics in Liver Disease. 2010 Feb; 14(1): 169-76. doi: 10.1016/j.cld.2009.11.007.
Kato N. Genome of human hepatitis C virus (HCV): gene organization, sequence diversity, and variation. Microbial & Comparative Genomics. 2009 Jun; 5(3):129-51. doi: 10.1089/omi.1.2000.5.129.
Kumar D, Farrell GC, Fung C, George J. Hepatitis C virus genotype 3 is cytopathic to hepatocytes: reversal of hepatic steatosis after sustained therapeutic response. Hepatology. 2002 Nov; 36(5): 1266-72. doi: 10.1053/jhep.2002.36370.
Manns MP, McHutchison JG, Gordon SC, Rustgi VK, Shiffman M, Reindollar R, et al. Peginterferon alfa-2b plus ribavirin compared with interferon alfa-2b plus ribavirin for initial treatment of chronic hepatitis C: a randomised trial. The Lancet. 2001 Sep; 358(9286): 958-65. doi: 10.1016/S0140-6736(01)06102-5.
Hamid S, Umar M, Alam A, Siddiqui A, Qureshi H, Butt J. PSG consensus statement on management of hepatitis C virus infection--2003. JPMA. The Journal of the Pakistan Medical Association. 2004 Mar; 54(3): 146-50.
Kandeel A, Genedy M, El‐Refai S, Funk AL, Fontanet A, Talaat M. The prevalence of hepatitis C virus infection in Egypt 2015: implications for future policy on prevention and treatment. Liver International. 2017 Jan; 37(1): 45-53. doi: 10.1111/liv.13186.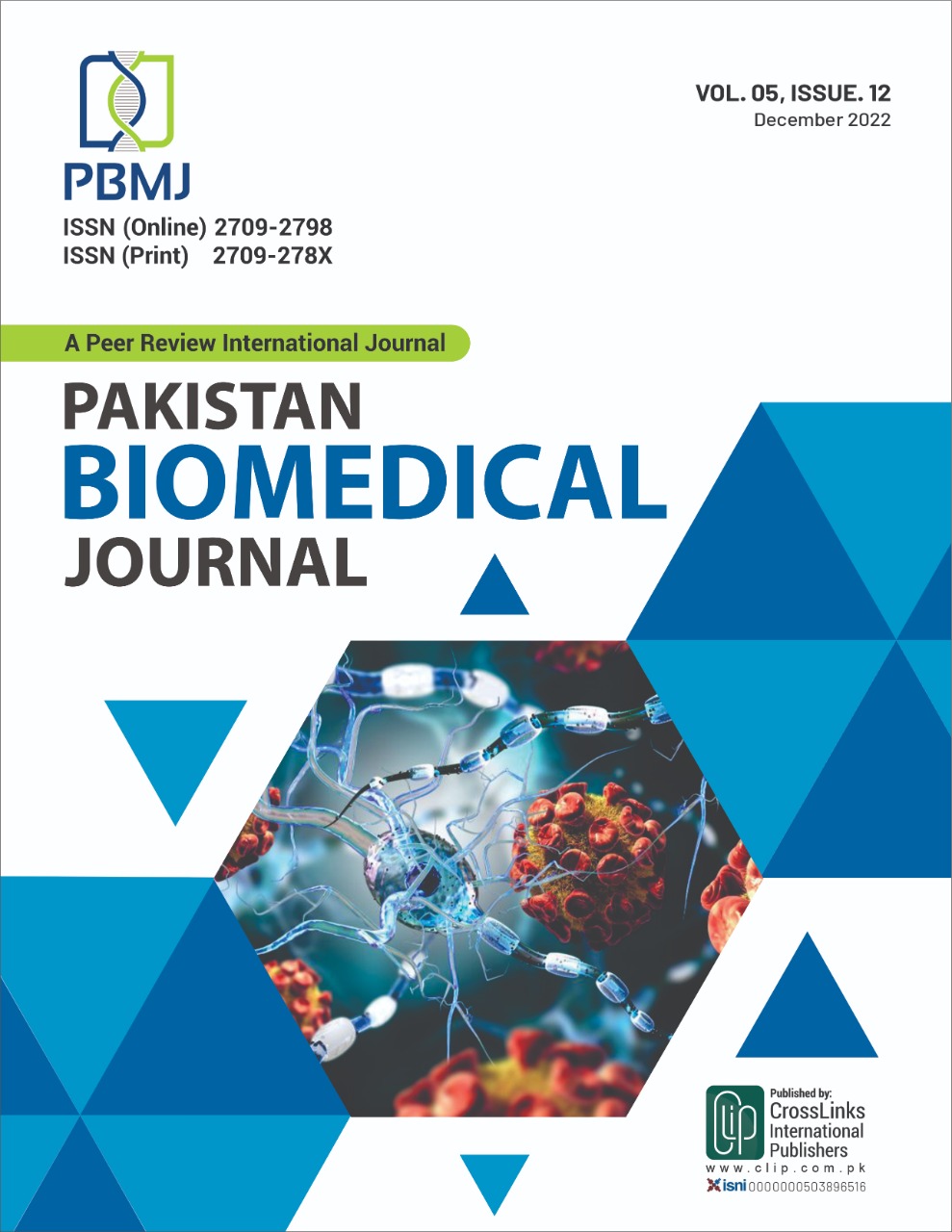 Downloads
How to Cite
Hafeez Khan, A. . (2022). Liver Function Tests in Hepatitis C Patients of Local Population of Lahore: LFTs in HEP-C Patients . Pakistan BioMedical Journal, 5(12), 12–16. https://doi.org/10.54393/pbmj.v5i12.831
License
Copyright (c) 2023 Pakistan BioMedical Journal
This work is licensed under a Creative Commons Attribution 4.0 International License.
This is an open-access journal and all the published articles / items are distributed under the terms of the Creative Commons Attribution License, which permits unrestricted use, distribution, and reproduction in any medium, provided the original author and source are credited. For comments editor@pakistanbmj.com