Dengue Infected Patients in Local Population of Lahore
Dengue Patients in Lahore
Keywords:
LFTs, Dengue, Liver Function Test, Mosquito-Borne, Virus, Aedes aegypti
Abstract
Over the past 20 years, dengue fever's demographic characteristics have significantly altered in Pakistan. Different facets of particular epidemics have been covered in small-scale research from around the nation during this time. However, there is a dearth of information on the country's general trend of dengue virus infection. Objectives: To examine liver function test of dengue infected patients, age and gender wise distribution of dengue virus infected patients. Methods: During August-November 2011, patients with clinical presentation of DF, who came to Emergency department of Mayo Hospital Lahore, were included in this study. Total 64 patients were included in this study and LFTs  were performed photometrically to see the effect of dengue virus infection on liver of affected patients during early days of infection from 2-7 days. Results: Out of 64 patients, 47 were males and 17 were females. Dengue fever was more common among the age group of 16-25 years and less common among children and older age group. All the patients had low platelet level with 29 patients had complaint of bleeding. Serum raised level of ALT and ALP was observed in some patients. Conclusions: Presently widespread throughout the year with a high frequency in the post-monsoon season, dengue fever is currently endemic in Pakistan. The median patient age for dengue has dropped, and younger patients, particularly men, may be more vulnerable. Total and differential leukocyte counts can assist identify individuals who are at risk for bleeding, and LFTs can show whether dengue virus infection has an impact on the liver.
References
Shepherd SM and Shoff WH. Immunization in travel medicine. Primary Care: Clinics in Office Practice. 2011 Dec; 38(4): 643-79. doi: 10.1016/j.pop.2011.07.005.
Engelthaler DM, Fink TM, Levy CE, Leslie MJ. The reemergence of Aedes aegypti in Arizona. Emerging infectious diseases. 1997 Apr; 3(2): 241. doi: 10.3201/eid0302.970223.
Chye JK, Lim CT, Ng KB, Lim JM, George R, Lam SK. Vertical transmission of dengue. Clinical Infectious Diseases. 1997 Dec; 25(6): 1374-7. doi: 10.1086/516126.
Wagner D, de With K, Huzly D, Hufert F, Weidmann M, Breisinger S, et al. Nosocomial acquisition of dengue. Emerging infectious diseases. 2004 Oct; 10(10): 1872. doi: 10.3201/eid1010.031037.
Dejnirattisai W, Duangchinda T, Lin CL, Vasanawathana S, Jones M, Jacobs M, et al. A complex interplay among virus, dendritic cells, T cells, and cytokines in dengue virus infections. The Journal of Immunology. 2008 Nov; 181(9): 5865-74. doi: 10.4049/jimmunol.181.9.5865.
Mousson L, Dauga C, Garrigues T, Schaffner F, Vazeille M, Failloux AB. Phylogeography of Aedes (Stegomyia) aegypti (L.) and Aedes (Stegomyia) albopictus (Skuse) (Diptera: Culicidae) based on mitochondrial DNA variations. Genetics Research. 2005 Aug; 86(1): 1-1. doi: 10.1017/S0016672305007627.
Womack M. The yellow fever mosquito, Aedes aegypti. Wing Beats. 1993; 5(4): 4.
Hung NT, Lei HY, Lan NT, Lin YS, Huang KJ, Lien LB, et al. Dengue hemorrhagic fever in infants: a study of clinical and cytokine profiles. The Journal of Infectious Diseases. 2004 Jan; 189(2): 221-32. doi: 10.1086/380762.
Kyle JL and Harris E. Global spread and persistence of dengue. Annual Review of Microbiology. 2008 Jan; 62(1): 71-92. doi: 10.1146/annurev.micro.62.081307.163005.
Lima EQ and Nogueira ML. Viral hemorrhagic fever–induced acute kidney injury. Seminars in Nephrology. 2008 Jul; 28(4): 409-415. doi: 10.1016/j.semnephrol.2008.04.009.
Lombardi R, Yu L, Younes-Ibrahim M, Schor N, Burdmann EA. Epidemiology of acute kidney injury in Latin America. Seminars in Nephrology. 2008 Jul; 28(4): 320-329. doi: 10.1016/j.semnephrol.2008.04.001.
Wichmann O, Stark K, Shu PY, Niedrig M, Frank C, Huang JH, et al. Clinical features and pitfalls in the laboratory diagnosis of dengue in travellers. BMC Infectious Diseases. 2006 Dec; 6(1): 1-8. doi: 10.1186/1471-2334-6-120.
Domingo C, de Ory F, Sanz JC, Reyes N, Gascón J, Wichmann O, et al. Molecular and serologic markers of acute dengue infection in naive and flavivirus-vaccinated travelers. Diagnostic Microbiology and Infectious Disease. 2009 Sep; 65(1): 42-8. doi: 10.1016/j.diagmicrobio.2009.05.004.
Tassniyom S, Vasanawathana S, Chirawatkul A, Rojanasuphot S. Failure of high-dose methylprednisolone in established dengue shock syndrome: a placebo-controlled, double-blind study. Pediatrics. 1993 Jul; 92(1): 111-5.
Billingsley PF, Foy B, Rasgon JL. Mosquitocidal vaccines: a neglected addition to malaria and dengue control strategies. Trends in Parasitology. 2008 Sep; 24(9): 396-400. doi: 10.1016/j.pt.2008.06.003.
Erlanger TE, Keiser J, Utzinger J. Effect of dengue vector control interventions on entomological parameters in developing countries: a systematic review and meta‐analysis. Medical and Veterinary Entomology. 2008 Sep; 22(3): 203-21. doi: 10.1111/j.1365-2915.2008.00740.x.
Gibbons RV and Vaughn DW. Dengue: an escalating problem. BMJ. 2002 Jun; 324(7353): 1563-6. doi: 10.1136/bmj.324.7353.1563.
Thomas SJ, Strickman D, Vaughn DW. Dengue epidemiology: virus epidemiology, ecology, and emergence. Advances in Virus Research. 2003; 61: 235-89. doi: 10.1016/s0065-3527(03)61006-7.
Gubler DJ. Dengue and dengue hemorrhagic fever. Clinical Microbiology Reviews. 1998 Jul; 11(3): 480-96. doi: 10.1128/CMR.11.3.480.
Petersen LR and Marfin AA. Shifting epidemiology of Flaviviridae. Journal of Travel Medicine. 2005 Apr; 12(suppl_1): 3-11. doi: 10.2310/7060.2005.12052.
Guzmán MG, Kouri GP, Bravo J, Soler M, Vazquez S, Morier L. Dengue hemorrhagic fever in Cuba, 1981: a retrospective seroepidemiologic study. American Journal of Tropical Medicine and Hygiene. 1990 Feb; 42(2): 179-84. doi: 10.4269/ajtmh.1990.42.179.
Endy TP, Chunsuttiwat S, Nisalak A, Libraty DH, Green S, Rothman AL, et al. Epidemiology of inapparent and symptomatic acute dengue virus infection: a prospective study of primary school children in Kamphaeng Phet, Thailand. American Journal of Epidemiology. 2002 Jul; 156(1): 40-51. doi: 10.1093/aje/kwf005.
Souza LJ, Nogueira RM, Soares LC, Soares CE, Ribas BF, Alves FP, et al. The impact of dengue on liver function as evaluated by aminotransferase levels. Brazilian Journal of Infectious Diseases. 2007 Aug; 11: 407-10. doi: 10.1590/S1413-86702007000400007.
Murgue B, Deparis X, Chungue E, Cassar O, Roche C. Dengue: an evaluation of dengue severity in French Polynesia based on an analysis of 403 laboratory‐confirmed cases. Tropical Medicine & International Health. 1999 Nov; 4(11): 765-73. doi: 10.1046/j.1365-3156.1999.00478.x.
Potts JA and Rothman AL. Clinical and laboratory features that distinguish dengue from other febrile illnesses in endemic populations. Tropical Medicine & International Health. 2008 Nov; 13(11): 1328-40. doi: 10.1111/j.1365-3156.2008.02151.x.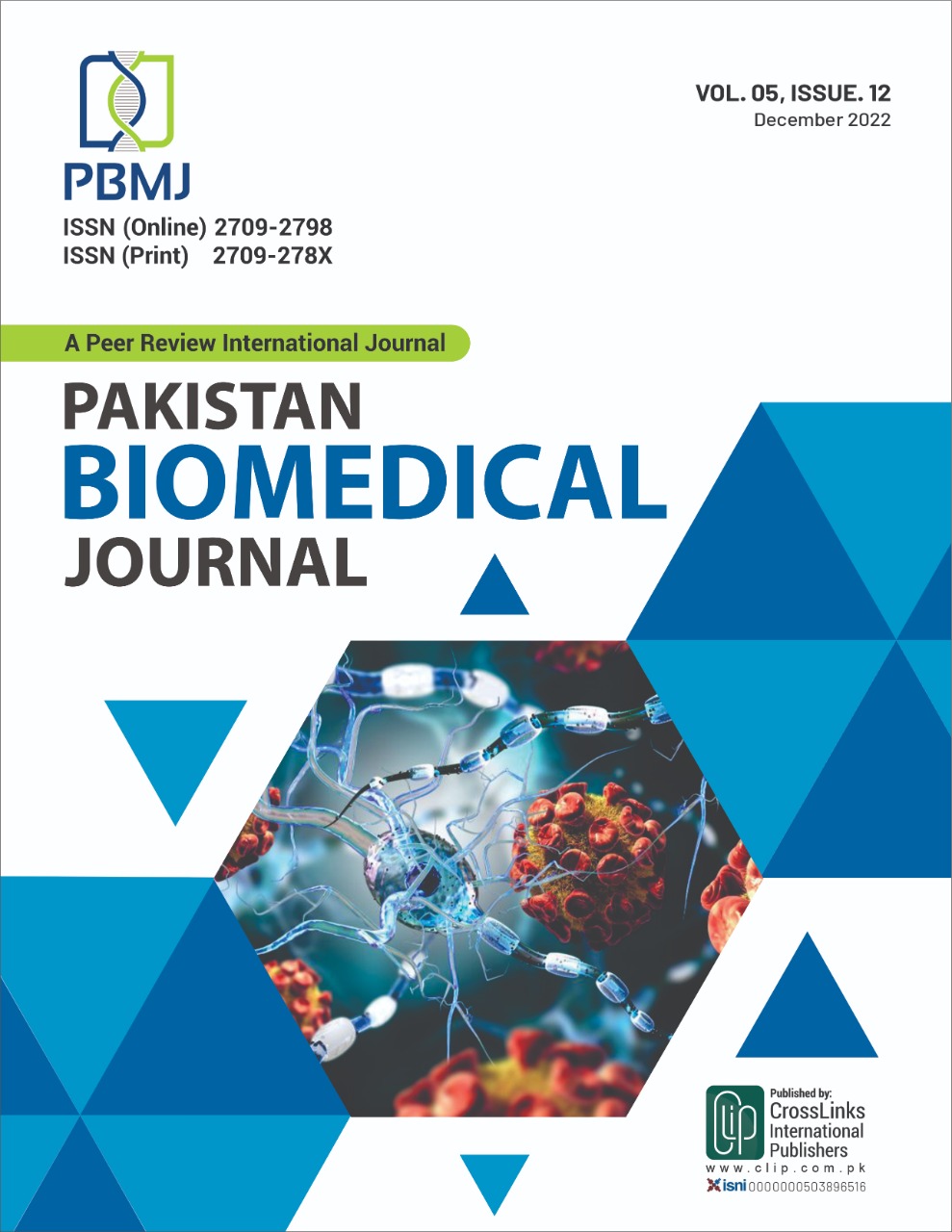 Downloads
How to Cite
Akhtar, K. . (2022). Dengue Infected Patients in Local Population of Lahore: Dengue Patients in Lahore. Pakistan BioMedical Journal, 5(12), 02–06. https://doi.org/10.54393/pbmj.v5i12.833
License
Copyright (c) 2023 Pakistan BioMedical Journal
This work is licensed under a Creative Commons Attribution 4.0 International License.
This is an open-access journal and all the published articles / items are distributed under the terms of the Creative Commons Attribution License, which permits unrestricted use, distribution, and reproduction in any medium, provided the original author and source are credited. For comments editor@pakistanbmj.com