Knowledge of Nurses Regarding Kidney Donation in Tertiary Care Hospital Lahore
Knowledge of Nurses Regarding Kidney Donation
Keywords:
Kidney donation, Kidney transplantation, Nurses, Knowledge, Attitude, Awareness
Abstract
Globally, the majority of demographic groups are experiencing an increase in mortality rates owing to renal illness and failure. Those who agree to donate a kidney undergo the transplantation procedure. In order to lengthen life and improve quality of life, a healthy organ is transplanted into a recipient with a damaged, failing, or dysfunctional organ. Objective: To assess knowledge of nurses regarding kidney donation in tertiary care hospital. Methods: The study was a descriptive cross-sectional study. For collecting data, convenient sampling technique was used. A questionnaire was used to test nurses' knowledge about kidney donation and data were analyzed using SPSS software. Results: Most of the people who took the survey, 55%, said they knew little or nothing about kidney donation. 53 % of the patients had negative feelings about kidney organ donation, and there was no link between their knowledge and their feelings in this area. 36.9% of the people who took part in the research said that the fact that the recipient was a family member was the most important thing, and 68.6% said they would rather give their organ to a family member if they needed one. Conclusions: This study showed that nurses aren't aware of kidney donation enough and have a negative view of it. Urgent steps must be taken to change the current situation.
References
Shroff S. Legal and ethical aspects of organ donation and transplantation. Indian journal of urology: IJU: journal of the Urological Society of India. 2009 Jul; 25(3): 348. doi: 10.4103/0970-1591.56203
Vaidya SR and Aeddula NR. Chronic renal failure. InStatPearls [Internet] 2021 Oct 29. StatPearls Publishing.
Mehrotra R, Devuyst O, Davies SJ, Johnson DW. The current state of peritoneal dialysis. Journal of the American Society of Nephrology. 2016 Nov; 27(11): 3238-52. doi: 10.1681/ASN.2016010112
Schick-Makaroff K, Hays RE, Hunt J, Taylor LA, Rudow DL. Education priorities and what matters to those considering living kidney donation. Progress in Transplantation. 2021 Mar; 31(1): 32-9. doi: 10.1177/1526924820978599
Gross T, Martinoli S, Spagnoli G, Badia F, Malacrida R. Attitudes and behavior of young European adults towards the donation of organs–a call for better information. American Journal of Transplantation. 2001 May; 1(1): 74-81. doi: 10.1034/j.1600-6143.2001.010114.x
Conesa C, Zambudio AR, Ramırez P, Canteras M, Rodrıguez MM, Parrilla P. Influence of different sources of information on attitude toward organ donation: a factor analysis. InTransplantation Proceedings 2004 Jun 1 (Vol. 36, No. 5, pp. 1245-1248). Elsevier. doi: 10.1016/j.transproceed.2004.05.056
DuBois JM and Anderson EE. Attitudes toward death criteria and organ donation among healthcare personnel and the general public. Progress in Transplantation. 2006 Mar; 16(1): 65-73. doi: 10.7182/prtr.16.1.dv876743k7877rk6
Irving MJ, Tong A, Jan S, Cass A, Rose J, Chadban S, et al. Factors that influence the decision to be an organ donor: a systematic review of the qualitative literature. Nephrology dialysis transplantation. 2012 Jun; 27(6): 2526-33. doi: 10.1093/ndt/gfr683
Roth AE, Sönmez T, Ünver MU. A kidney exchange clearinghouse in New England. American Economic Review. 2005 May; 95(2): 376-80. doi: 10.1257/000282805774669989
Kaur A, Devgun P, Gill KP. A cross-sectional study to assess the knowledge, attitude and practices about organ donation among the medical students of Punjab. Annals of Community Health. 2021 Jan; 8(4): 2-8.
Reese PP, Boudville N, Garg AX. Living kidney donation: outcomes, ethics, and uncertainty. The Lancet. 2015 May; 385(9981): 2003-13. doi: 10.1016/S0140-6736(14)62484-3
Schaeffner ES, Windisch W, Freidel K, Breitenfeldt K, Winkelmayer WC. Knowledge and attitude regarding organ donation among medical students and physicians. Transplantation. 2004 Jun; 77(11): 1714-8. doi: 10.1097/00007890-200406150-00015
Uwingabiye ML, Baziga V, Chironda G, Rajeswaran L. Assessment of knowledge, attitude and perceptions regarding kidney donation among nursing students at the University of Rwanda. International Journal of Africa Nursing Sciences. 2021 Jan; 15: 100317. doi: 10.1016/j.ijans.2021.100317
Hamed H, Awad ME, Youssef KN, Fouda B, Nakeeb AE, Wahab MA. Knowledge and attitudes about organ donation among medical students in Egypt: A questionnaire. Journal of Transplantation Technologies and Research. 2016; 6(1): 1-4.
Lipford KJ, McPherson L, Hamoda R, Browne T, Gander JC, Pastan SO, et al. Dialysis facility staff perceptions of racial, gender, and age disparities in access to renal transplantation. BMC nephrology. 2018 Dec; 19: 1-1. doi: 10.1186/s12882-017-0800-6
Vlaisavljevic Z, Jankovic S, Maksimovic N, Culafic M, Stulic M, Milovanovic T, et al. Attitudes of nurses toward organ donation in Serbia. InTransplantation Proceedings 2020 Apr 1 (Vol. 52, No. 3, pp. 673-679). Elsevier. doi: 10.1016/j.transproceed.2020.01.031
Alghanim SA. Knowledge and attitudes toward organ donation: a community-based study comparing rural and urban populations. Saudi Journal of Kidney Diseases and Transplantation. 2010 Jan; 21(1): 23-30.
Ali A, Kamal Y, Abd El Aal A. Quality of life after Renal Transplantation. Sohag Medical Journal. 2018 Oct; 22(3): 41-50. doi: 10.21608/smj.2018.31209
Burra P and De Bona M. Quality of life following organ transplantation. Transplant International. 2007 May; 20(5): 397-409. doi: 10.1111/j.1432-2277.2006.00440.x
Mekahli D, Liutkus A, Fargue S, Ranchin B, Cochat P. Survey of first-year medical students to assess their knowledge and attitudes toward organ transplantation and donation. InTransplantation proceedings 2009 Mar 1 (Vol. 41, No. 2, pp. 634-638). Elsevier. doi: 10.1016/j.transproceed.2008.12.011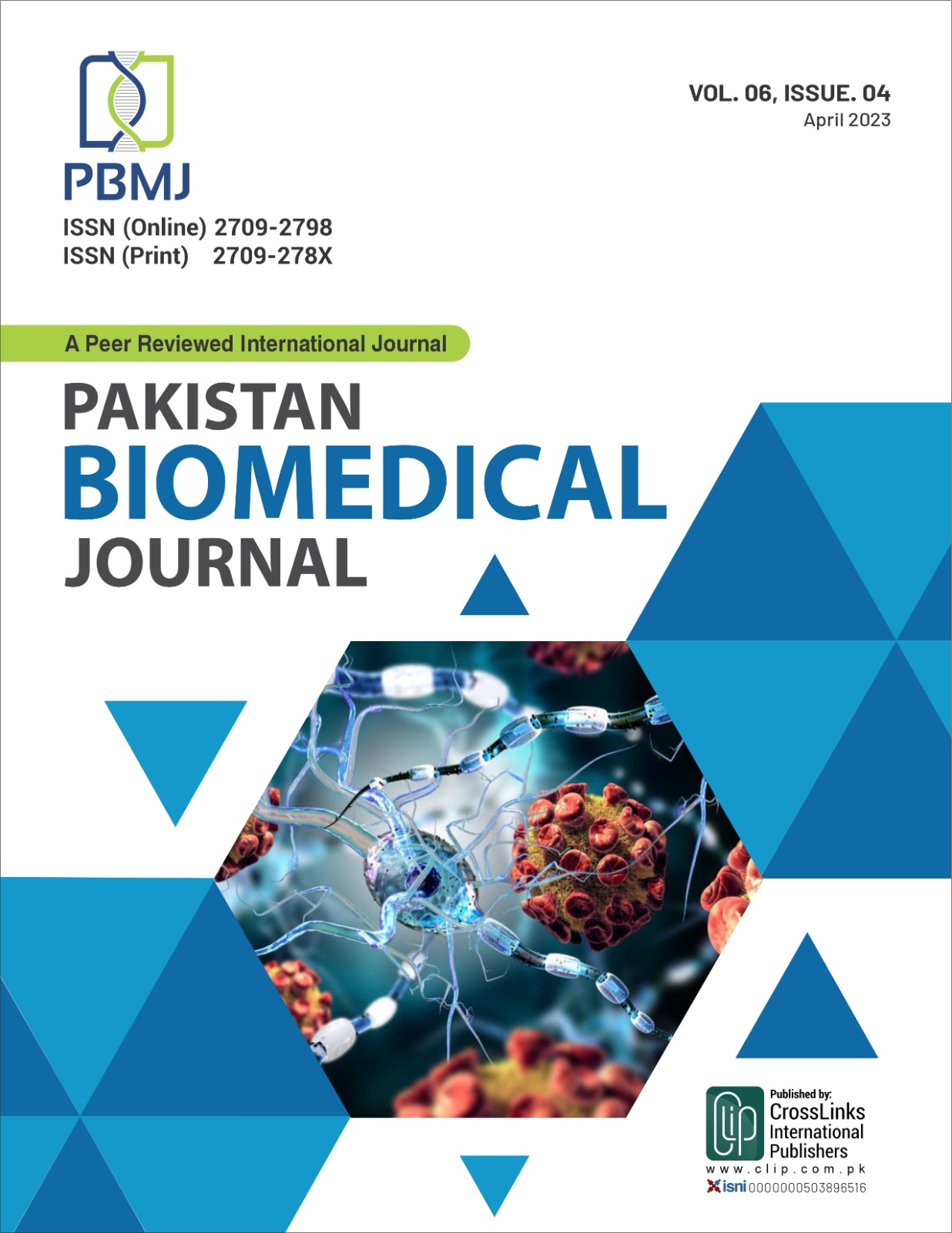 Downloads
How to Cite
Tariq, S. A. ., Amin, M. A., Ali, A. ., Abdullai, K. O. ., & Afzal, M. . (2023). Knowledge of Nurses Regarding Kidney Donation in Tertiary Care Hospital Lahore: Knowledge of Nurses Regarding Kidney Donation. Pakistan BioMedical Journal, 6(04), 16–20. https://doi.org/10.54393/pbmj.v6i04.860
License
Copyright (c) 2023 Pakistan BioMedical Journal
This work is licensed under a Creative Commons Attribution 4.0 International License.
This is an open-access journal and all the published articles / items are distributed under the terms of the Creative Commons Attribution License, which permits unrestricted use, distribution, and reproduction in any medium, provided the original author and source are credited. For comments editor@pakistanbmj.com