Determine the Curing Effects of Silybum marianum (milk thistle) Administered Orally to Non-Alcoholic Fatty Liver Disease (NAFLD) Patients for Six Months
Curing Effects of Silybum marianum
Keywords:
NAFLD Patients, S. marianum (Milk Thistle), Ultrasound Technology, Hepatitis, Herbal Therapy
Abstract
Silybum marianum is the scientific name of milk thistle. For centuries, it is used to treat hepatitis, cirrhosis, jaundice, diabetes, and indigestion. The bioactive agents of milk thistle contain Apigenin, silybin, betaine, free fatty acids, silybin, silychristin, and silidianin. Objective: To determine the potential of Silybum marianum (milk thistle) in non-alcoholic fatty liver disease patients. Methods: It was a cross-sectional and experimental based study with NAFLD patients. A significant age range of 30 to 60 years was chosen for the 40 patients (20 men and 20 women). Screening period after liver biopsies (before and after the use of one capsule of S. marianum (Silymarin Standardize milk Thistle 300mg/day metabolic maintenance). Ultrasound technology assessed the liver condition at the start of the study and after the herbal 6-months therapy. Results: Out of 40 patients, 10 (25%) had hyperlipidemia and 5 (12.5%) were diabetics. The results of the 6-month therapy research study showed that the blood AST and ALT levels of NAFLD patients had significantly decreased. The average ALT and AST baseline concentrations were 85 and 65.9IU/ml, respectively. AST value (before and after therapy) showed a statistically significant difference in 80% of the NAFLD patients treated with S. marianum (32 out of 40; p=0.007). With a p-value of 0.05, alanine transaminase (ALT) normalization of disease severity was accomplished in 65% of patients (26 out of 40 patients). Conclusions: The therapy of NAFLD via S. marianum is successful in terms of biochemical improvement, especially when other medications have failed or when used in conjunction with other therapeutic techniques
References
Flora K, Hahn M, Rosen H, Benner K. Milk thistle (Silybum marianum) for the therapy of liver disease. The American Journal of Gastroenterology. 1998 Feb; 93(2): 139-43. doi: 10.1111/j.1572-0241.1998.00139.x.
Azimi S, Baraie B, Vakilian R, Hakimi S. Effect of Milk Thistle Plant on Breast Milk Volume: A Systematic Review. Complementary Medicine Journal. 2022 Jun; 12(1): 2-13. doi: 10.32598/cmja.12.1.1144.1.
Ross SM. Milk thistle (Silybum marianum): an ancient botanical medicine for modern times. Holistic Nursing Practice. 2008 Sep; 22(5): 299-300. doi: 10.1097/01.HNP.0000334924.77174.6d.
Abenavoli L, Izzo AA, Milić N, Cicala C, Santini A, Capasso R. Milk thistle (Silybum marianum): A concise overview on its chemistry, pharmacological, and nutraceutical uses in liver diseases. Phytotherapy Research. 2018 Nov; 32(11): 2202-13. doi: 10.1002/ptr.6171.
Mulrow C, Lawrence V, Jacobs B, Dennehy C, Sapp J, Ramirez G, et al. Milk thistle: effects on liver disease and cirrhosis and clinical adverse effects: summary. InAHRQ Evidence Report Summaries 2000. Agency for Healthcare Research and Quality (US). Available at: http://www.ahrq.gov/clinic/epcix.htm.
Kaur AK, Wahi AK, Brijesh K, Bhandari A, Prasad N. Milk thistle (Silybum marianum): A review. International Journal of Pharma Research and Development. 2011 Apr; 3(2): 1-10.
Tamayo C and Diamond S. Review of clinical trials evaluating safety and efficacy of milk thistle (Silybum marianum [L.] Gaertn.). Integrative cancer therapies. 2007 Jun; 6(2): 146-57. doi: 10.1177/1534735407301942.
Chen CH, Huang MH, Yang JC, Nien CK, Yang CC, Yeh YH, et al. Prevalence and risk factors of nonalcoholic fatty liver disease in an adult population of taiwan: metabolic significance of nonalcoholic fatty liver disease in nonobese adults. Journal Of Clinical Gastroenterology. 2006 Sep; 40(8): 745-52. doi: 10.1097/00004836-200609000-00016.
Abenavoli L and Bellentani S. Milk thistle to treat non-alcoholic fatty liver disease: dream or reality? Expert Review of Gastroenterology & Hepatology. 2013 Nov; 7(8): 677-9. doi: 10.1586/17474124.2013.842893.
Bhattacharya S. Phytotherapeutic properties of milk thistle seeds: An overview. Journal of Advanced Pharmacy Education and Research. 2011; 1: 69-79.
Kroll DJ, Shaw HS, Oberlies NH. Milk thistle nomenclature: why it matters in cancer research and pharmacokinetic studies. Integrative Cancer Therapies. 2007 Jun; 6(2): 110-9. doi: 10.1177/1534735407301825.
Dimitriadis G, Mitrou P, Lambadiari V, Maratou E, Raptis SA. Insulin effects in muscle and adipose tissue. Diabetes Research and Clinical Practice. 2011 Aug; 93: S52-9. doi: 10.1016/S0168-8227(11)70014-6.
Donnelly KL, Smith CI, Schwarzenberg SJ, Jessurun J, Boldt MD, Parks EJ. Sources of fatty acids stored in liver and secreted via lipoproteins in patients with nonalcoholic fatty liver disease. The Journal of Clinical Investigation. 2005 May; 115(5): 1343-51. doi: 10.1172/JCI23621.
Shen HH, Alex R, Bellner L, Raffaele M, Licari M, Vanella L, et al. Milk thistle seed cold press oil attenuates markers of the metabolic syndrome in a mouse model of dietary‐induced obesity. Journal of Food Biochemistry. 2020 Dec; 44(12): e13522. doi: 10.1111/jfbc.13522.
Federico A, Dallio M, Loguercio C. Silymarin/silybin and chronic liver disease: a marriage of many years. Molecules. 2017 Jan; 22(2): 191. doi: 10.3390/molecules22020191.
Abenavoli L, Milic N, Di Renzo L, Preveden T, Medić-Stojanoska M, De Lorenzo A. Metabolic aspects of adult patients with nonalcoholic fatty liver disease. World Journal of Gastroenterology. 2016 Aug; 22(31): 7006. doi: 10.3748/wjg.v22.i31.7006.
Polimeni L, Del Ben M, Baratta F, Perri L, Albanese F, Pastori D, et al. Oxidative stress: new insights on the association of non-alcoholic fatty liver disease and atherosclerosis. World Journal of Hepatology. 2015 Jun; 7(10): 1325. doi: 10.4254/wjh.v7.i10.1325
Negi CK, Babica P, Bajard L, Bienertova-Vasku J, Tarantino G. Insights into the molecular targets and emerging pharmacotherapeutic interventions for nonalcoholic fatty liver disease. Metabolism. 2022 Jan; 126: 154925. doi: 10.1016/j.metabol.2021.154925.
Tacke F. Cenicriviroc for the treatment of non-alcoholic steatohepatitis and liver fibrosis. Expert Opinion on Investigational Drugs. 2018 Mar; 27(3): 301-11. doi: 10.1080/13543784.2018.1442436.
Maciejewska D, Marlicz W, Ryterska K, Banaszczak M, Jamioł-Milc D, Stachowska E. Changes of the fatty acid profile in erythrocyte membranes of patients following 6-month dietary intervention aimed at the regression of nonalcoholic fatty liver disease (NAFLD). Canadian Journal of Gastroenterology and Hepatology. 2018 Dec; 2018: 1-8. doi: 10.1155/2018/5856201.
Soleimani V, Delghandi PS, Moallem SA, Karimi G. Safety and toxicity of silymarin, the major constituent of milk thistle extract: An updated review. Phytotherapy Research. 2019 Jun; 33(6): 1627-38. doi: 10.1002/ptr.6361.
Varzi HN, Esmailzadeh S, Morovvati H, Avizeh R, Shahriari A, Givi ME. Effect of silymarin and vitamin E on gentamicin‐induced nephrotoxicity in dogs. Journal of Veterinary Pharmacology and Therapeutics. 2007 Oct; 30(5): 477-81. doi: 10.1111/j.1365-2885.2007.00901.x.
Aziz M, Saeed F, Ahmad N, Ahmad A, Afzaal M, Hussain S, et al. Biochemical profile of milk thistle (Silybum Marianum L.) with special reference to silymarin content. Food Science & Nutrition. 2021 Jan; 9(1): 244-50. doi: 10.1002/fsn3.1990.
Del Ben M, Polimeni L, Baratta F, Pastori D, Loffredo L, Angelico F. Modern approach to the clinical management of non-alcoholic fatty liver disease. World Journal of Gastroenterology: WJG. 2014 Jul; 20(26): 8341. doi: 10.3748/wjg.v20.i26.8341.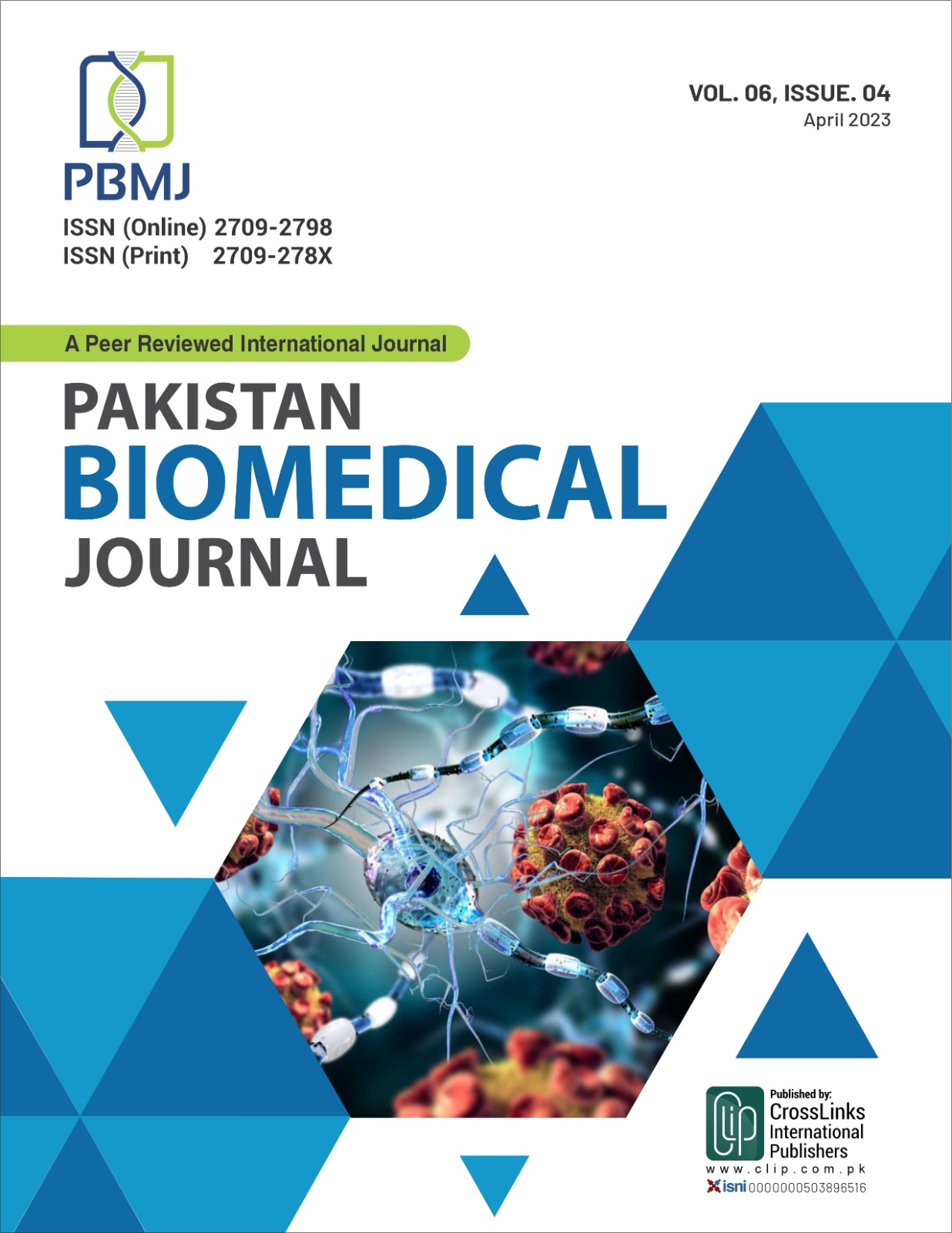 Downloads
CITATION
DOI: 10.54393/pbmj.v6i04.869
How to Cite
Qurban, A. ., Khan, H. ., Ali, F. ., Abbas, S. ., Hameed, S. A. ., & Hussain, N. . (2023). Determine the Curing Effects of Silybum marianum (milk thistle) Administered Orally to Non-Alcoholic Fatty Liver Disease (NAFLD) Patients for Six Months: Curing Effects of Silybum marianum. Pakistan BioMedical Journal, 6(04), 27–30. https://doi.org/10.54393/pbmj.v6i04.869
License
Copyright (c) 2023 Pakistan BioMedical Journal
This work is licensed under a Creative Commons Attribution 4.0 International License.
This is an open-access journal and all the published articles / items are distributed under the terms of the Creative Commons Attribution License, which permits unrestricted use, distribution, and reproduction in any medium, provided the original author and source are credited. For comments editor@pakistanbmj.com