Prevalence and Identification of Binge Eating Pattern Among University Students: A Cross Sectional Study
Binge eating pattern among university students
Keywords:
Prevalence, binge eating, stress, eating disorder, junk food
Abstract
Binge Eating Disorder (BED) is defined as a condition in which there is consumption of food in larger amounts in a very short time period than normal. Every week over 3 months the episodes of BED occur. BED is a diagnosis which differs from bulimia nervosa which is also an eating disorder. Objective: To find out the prevalence and identification of binge eating patterns among university students Methods: A cross sectional study was done at The University of Lahore, Lahore Campus for duration of 4 months, using convenient sampling technique. Data was collected from100 university students by a self-governing questionnaire. Different statistical tools were used in SPSS to analyze the data which included inferential statistics and cross tabulation. Results: The results revealed that students in this study included 32% males and 68% females from middle and upper middle socioeconomic class. The results revealed that 13% of students had fixed meal time while 87% did not, 84% were influenced by factors such as advertisements and stress etc., 83% could not stop eating, 54% were hostelites, 89% consumed instant food, 54% avoided hostel food and ate fast food, 80% had their habits changed due to being away from parents, 65% were stressed by eating in public, 76% of them had an influence of friends on their food habits and 61% were depressed after over-eating. According to the P-values which were<0.05 BED and stress (other factors) had a strong association with each other Conclusions: This study concludes that young generation needs guidance and help to cope up the stress and negative factors around them causing BED, promoting fast food and having bad eating habits. So, government as well as private sectors needs to do work on it by promoting activities and inducing strategies which promote healthy eating and coping up stress strategies.
References
Walsh BT, Sysko R. Broad categories for the diagnosis of eating disorders (BCD‐ED): An alternative system for classification. International Journal of Eating Disorders. 2009 Dec;42(8):754-64.
https://doi.org/10.1002/eat.20722
Wilfley DE, Citrome L, Herman BK. Characteristics of binge eating disorder in relation to diagnostic criteria. Neuropsychiatric Disease and Treatment. 2016 Aug 29.
https://doi.org/10.2147/NDT.S107777
Sheehan DV, Herman BK. The psychological and medical factors associated with untreated binge eating disorder. The primary care companion for CNS disorders. 2015;17(2).
https://doi.org/10.4088/PCC.14r01732
Kornstein SG, Kunovac JL, Herman BK, Culpepper L. Recognizing binge eating disorder in the clinical setting. Prim Care Companion CNS Disord. 2016;18(3).
https://doi.org/10.4088/PCC.15r01905
Kessler RC, Berglund PA, Chiu WT, Deitz AC, Hudson JI, Shahly V, Aguilar-Gaxiola S, Alonso J, Angermeyer MC, Benjet C, Bruffaerts R. The prevalence and correlates of binge eating disorder in the World Health Organization World Mental Health Surveys. Biological psychiatry. 2013 May 1;73(9):904-14.
https://doi.org/10.1016/j.biopsych.2012.11.020
Hudson JI, Hiripi E, Pope Jr HG, Kessler RC. The prevalence and correlates of eating disorders in the National Comorbidity Survey Replication. Biological psychiatry. 2007 Feb 1;61(3):348-58.
https://doi.org/10.1016/j.biopsych.2006.03.040
Schreiber LR, Odlaug BL, Grant JE. The overlap between binge eating disorder and substance use disorders: Diagnosis and neurobiology. Journal of Behavioral Addictions. 2013 Dec 1;2(4):191-8.
https://doi.org/10.1556/JBA.2.2013.015
Badrasawi MM, Zidan SJ. Binge eating symptoms prevalence and relationship with psychosocial factors among female undergraduate students at Palestine Polytechnic University: a cross-sectional study. Journal of eating disorders. 2019 Dec;7(1):1-8.
https://doi.org/10.1186/s40337-019-0263-1
Rice EL, Klein WM. Interactions among perceived norms and attitudes about health-related behaviors in US adolescents. Health Psychology. 2019 Mar;38(3):268.
https://doi.org/10.1037/hea0000722
Gaspar de Matos M, Palmeira AL, Gaspar T, De Wit JB, Luszczynska A. Social support influences on eating awareness in children and adolescents: the mediating effect of self-regulatory strategies. Global public health. 2016 Apr 20;11(4):437-48.
https://doi.org/10.1080/17441692.2015.1094106
Ogden CL, Carroll MD, Kit BK, Flegal KM. Prevalence of obesity among adults: United States. NCHS data brief. 2012;2013(131):1-8.
Committee on Adolescence. Identifying and treating eating disorders. Pediatrics. 2003 Jan;111(1):204-11.
https://doi.org/10.1542/peds.111.1.204
American Psychiatric Association. Diagnostic and statistical manual of mental disorders; revised (DSM-III-R). Washington DG. 1987.
Sharps M, Robinson E. Perceived eating norms and children's eating behaviour: An informational social influence account. Appetite. 2017 Jun 1;113:41-50.
https://doi.org/10.1016/j.appet.2017.02.015
Jastreboff AM, Sinha R, Lacadie C, Small DM, Sherwin RS, Potenza MN. Neural correlates of stress-and food cue-induced food craving in obesity: association with insulin levels. Diabetes care. 2013 Feb 1;36(2):394-402.
https://doi.org/10.2337/dc12-1112
Al-Sheyab NA, Gharaibeh T, Kheirallah K. Relationship between peer pressure and risk of eating disorders among adolescents in Jordan. Journal of obesity. 2018 Sep 19;2018.
https://doi.org/10.1155/2018/7309878
Rosenbaum DL, White KS. The relation of anxiety, depression, and stress to binge eating behavior. Journal of Health Psychology. 2015 Jun;20(6):887-98.
https://doi.org/10.1177/1359105315580212
Almogbel E, Aladhadh AM, Almotyri BH, Alhumaid AF, Rasheed N. Stress associated alterations in dietary behaviours of undergraduate students of Qassim university, Saudi Arabia. Open access Macedonian journal of medical sciences. 2019 Jul 15;7(13):2182.
https://doi.org/10.3889/oamjms.2019.571
Hill DC, Moss RH, Sykes-Muskett B, Conner M, O'Connor DB. Stress and eating behaviors in children and adolescents: Systematic review and meta-analysis. Appetite. 2018 Apr 1;123:14-22.
https://doi.org/10.1016/j.appet.2017.11.109
Rasmusson G, Lydecker JA, Coffino JA, White MA, Grilo CM. Household food insecurity is associated with binge‐eating disorder and obesity. International Journal of Eating Disorders. 2019 Jan;52(1):28-35.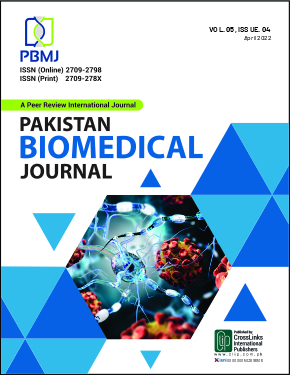 Downloads
How to Cite
Aslam, M., Shahid, M. ., Sohail, A. ., Fatima, R., Tayyaba, A. ., Ijaz, K. ., Mughal, M. ., Tahir, M. ., Fatima, N. ., Shafi, I. ., & Irfan, M. U. . (2022). Prevalence and Identification of Binge Eating Pattern Among University Students: A Cross Sectional Study: Binge eating pattern among university students. Pakistan BioMedical Journal, 5(4), 20–24. https://doi.org/10.54393/pbmj.v5i4.191
License
Copyright (c) 2022 Pakistan BioMedical Journal
This work is licensed under a Creative Commons Attribution 4.0 International License.
This is an open-access journal and all the published articles / items are distributed under the terms of the Creative Commons Attribution License, which permits unrestricted use, distribution, and reproduction in any medium, provided the original author and source are credited. For comments editor@pakistanbmj.com