Impact of Maternal Nutrition Education on Dietary Practices of School Going Children (3-6 years of age)
Maternal Nutrition Education on Children's Dietary Practices
Keywords:
Maternal, Nutrition, Dietary Practices, Children, Education
Abstract
Nutrition (Nutritional) education is a kind of education that is important to improve the health status of people. School children are undergoing rapid mental and physical development. Therefore, an appropriate diet is critical throughout this stage of life to ensure normal and healthy growth. As a result, nutrition education should begin at a young age for children Objective: To evaluate the impact of nutrition education of mothers on the dietary habits of school-going children aged 3-6 years Methods: A Quasi-Experimental study was executed on 77 children of class playgroup to class 1 studying in the Government girl's school of Garhi Shahu, Lahore. Firstly, anthropometric data were collected through the children and secondly socio-demographic and dietary knowledge of mothers of selected children were noted through pre-designed questionnaires and interview method. The mothers were then given 45 minutes of nutrition education and a dietary change course, and some informative dietary guidelines leaflets and a weekly healthy kid's school lunch planner were given to the mothers which they were requested to implement in the daily routine of children. After three months again the anthropometrics and questionnaires were assessed and compared with the initial findings Results: After nutrition education, the percentage of children who followed the servings of healthy food groups and avoided consumption of harmful meals (fast, fried, processed foods), unhealthy beverages (carbonated drinks), and intake of fruits and vegetables increased dramatically. After the intervention, the percentage of children who followed recommended nutritional, lifestyle, and physical activity guidelines, as well as healthy school lunch practices, improved statistically significantly (P<0.005). The percentage of children who skipped meals on daily basis was 20% decreased to 8%. Before the intervention, 63% of mothers say that their children consumed breakfast regularly and after the intervention, it increases to 75%. The children's anthropometric status improved significantly, with a P<0.005 significance level Conclusions: In this study, nutrition education had a significant impact on the school-going children in their anthropometry measurements, healthy school lunch boxes, and awareness of their mothers about healthy eating practices. Seminars and camps should be arranged in schools to educate the mothers and the students at a young age regarding their health and healthy eating to reduce the nutritional deficiencies and diseases
References
Franciscato SJ, Janson G, Machado R, Lauris JR, Andrade SM, Fisberg M. Impact of the nutrition education Program Nutriamigos® on levels of awareness on healthy eating habits in school-aged children. Journal of Human Growth and Development. 2019 Dec;29(3):390-402. doi.org/10.7322/jhgd.v29.9538.
Kong K, Liu J, Tao Y. Limitations of studies on school-based nutrition education interventions for obesity in China: a systematic review and meta-analysis. Asia Pacific Journal of clinical nutrition. 2016 Jan;25(3):589-601.
Contento I. Nutrition education: Linking research, theory, and practice. Asia Pacific Journal of Clinical Nutrition. 2008;17 Suppl 1:176-179.
Ruzita AT, Mab WA, Ismail MN. The effectiveness of nutrition education programme for primary school children. Malaysian Journal of nutrition. 2007;13(1):45-54. doi.org/10.26226/morressier.60c259aa0bb2c9002fbe9316.
Haldar D, Chatterjee T, Sarkar AP, Bisoi S, Biswas AK, Sardar JC. A study on impact of school-based health and nutrition education in control of nutritional anemia among primary school children in rural West Bengal. Indian J Community Med. 2012;37(4):259-262. doi.org/10.4103/0970-0218.103476.
World Health O. Nutrition in adolescence: issues and challenges for the health sector: issues in adolescent health and development. Geneva: World Health Organization; 2005. 187-192. doi.org/10.1515/9783110847659-002.
Kigaru DMD, Loechl C, Moleah T, Macharia-Mutie CW, Ndungu ZW. Nutrition knowledge, attitude, and practices among urban primary school children in Nairobi City, Kenya: a KAP study. BMC Nutrition. 2015;1(1):44. doi.org/10.1186/s40795-015-0040-8.
Norton K, Whittingham N, Carter L, Kerr D, Gore C, Marfell-Jones M. Measurement techniques in anthropometry. Anthropometrica. 1996;1:25-75.
Harris CV, Neal WA. Assessing BMI in West Virginia schools: parent perspectives and the influence of context. Pediatrics. 2009 Sep 1;124(Supplement_1):S63-72. doi.org/10.1542/peds.2008-3586I.
Bhutta ZA, Soofi SB, Zaidi SS, Habib A, Hussain I. Pakistan national nutrition survey, 2011.
Kuchenbecker J, Reinbott A, Mtimuni B, Krawinkel MB, Jordan I. Nutrition education improves dietary diversity of children 6-23 months at community-level: Results from a cluster randomized controlled trial in Malawi. PLoS One. 2017;12(4):e0175216-e. doi.org/10.1371/journal.pone.0175216.
Kigaru DMD, Loechl C, Moleah T, Macharia-Mutie CW, Ndungu ZW. Nutrition knowledge, attitude, and practices among urban primary school children in Nairobi City, Kenya: a KAP study. BMC Nutrition. 2015;1(1):44. doi.org/10.1186/s40795-015-0040-8.
Antwi J, Ohemeng A, Boateng L, Quaidoo E, Bannerman B. Primary school-based nutrition education intervention on nutrition knowledge, attitude, and practices among school-age children in Ghana. Glob Health Promot. 2020 Dec;27(4):114-122. doi: 10.1177/1757975920945241.
Tilley F, Weaver RG, Beets M, Turner-McGrievy G. Healthy Eating in Summer Day Camps: The Healthy Lunchbox Challenge. Journal of the Academy of Nutrition and Dietetics. 2013;9(113):A78. doi.org/10.1016/j.jand.2013.06.272.
Salem GM, Said RM. Effect of health belief model based nutrition education on dietary habits of secondary school adolescent girls in Sharkia governorate. Egypt J Commun Med. 2018 Jul;36(3):35-47. doi.org/10.1016/j.injury.2009.11.020.
Abdel-Hady D, El-Gilany AH, Sarraf B. Dietary habits of adolescent students in Mansoura, Egypt. International Journal of Collaborative Research on Internal Medicine & Public Health. 2014 Jun 1;6(6):132. doi.org/10.1155/2014/258470.
Ostachowska-Gasior A, Piwowar M, Kwiatkowski J, Kasperczyk J, Skop-Lewandowska A. Breakfast and other meal consumption in adolescents from Southern Poland. International journal of environmental research and public health. 2016 May;13(5):453. doi.org/10.3390/ijerph13050453.
Wang M, Zhong JM, Wang H, Zhao M, Gong WW, Pan J et al. Breakfast consumption and its associations with health-related behaviors among school-aged adolescents: a cross-sectional study in Zhejiang Province, China. International Journal of Environmental Research and Public Health. 2016 Aug;13(8):761. doi.org/10.3390/ijerph13080761.
Pendergast FJ, Livingstone KM, Worsley A, McNaughton SA. Correlates of meal skipping in young adults: a systematic review. International Journal of Behavioral Nutrition and Physical Activity. 2016 Dec;13(1):1-5. doi.org/10.1186/s12966-016-0451-1.
Kelishadi R, Mozafarian N, Qorbani M, Motlagh ME, Safiri S, Ardalan G et al. Is snack consumption associated with meal skipping in children and adolescents? The CASPIAN-IV study. Eating and Weight Disorders-Studies on Anorexia, Bulimia and Obesity. 2017 Jun;22(2):321-8. doi.org/10.1007/s40519-017-0370-4.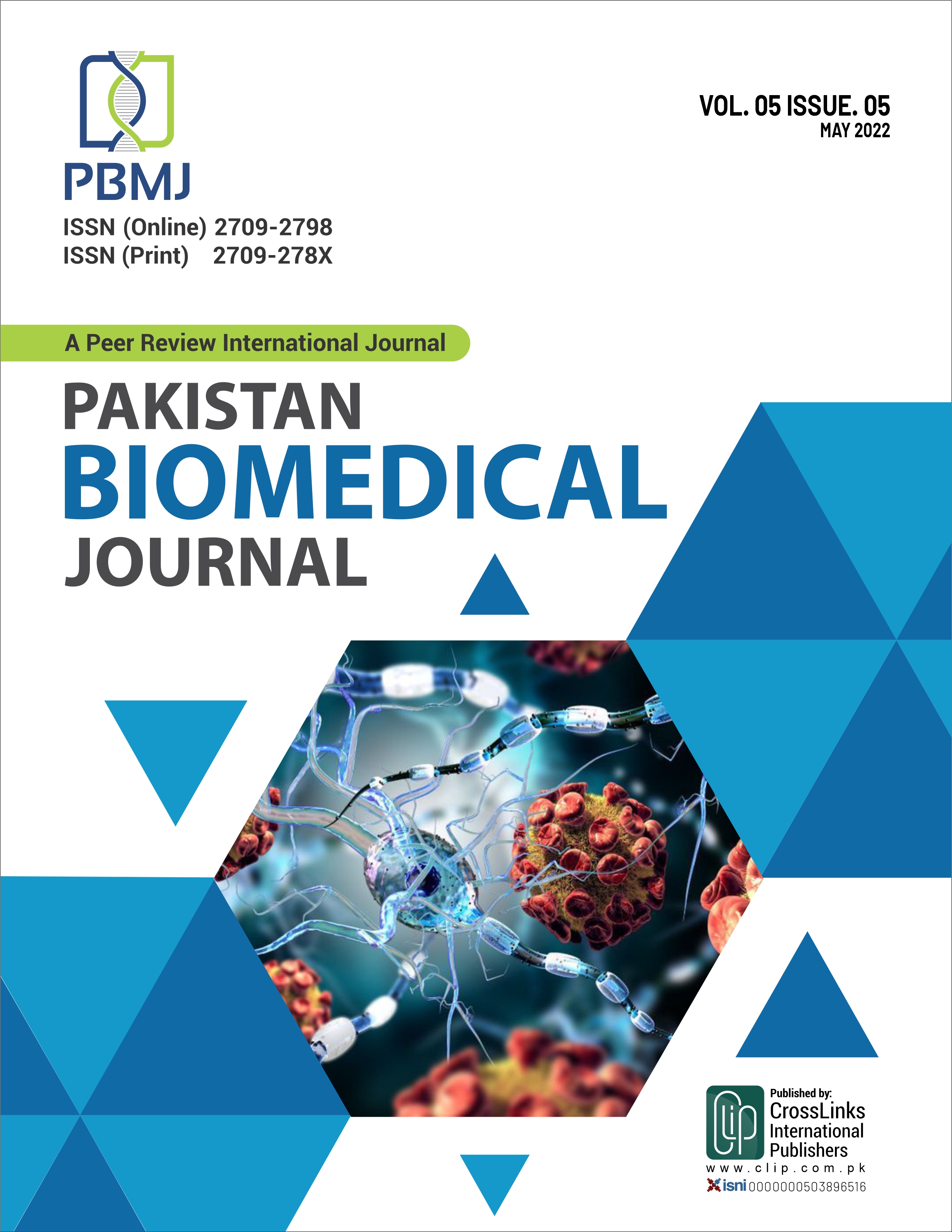 Downloads
How to Cite
Zahid, M. ., Jabeen, S., Khalid, S. ., Rehman, H.- ur-., & Aslam, M. . (2022). Impact of Maternal Nutrition Education on Dietary Practices of School Going Children (3-6 years of age) : Maternal Nutrition Education on Children's Dietary Practices. Pakistan BioMedical Journal, 5(5), 99–103. https://doi.org/10.54393/pbmj.v5i5.290
License
Copyright (c) 2022 Pakistan BioMedical Journal
This work is licensed under a Creative Commons Attribution 4.0 International License.
This is an open-access journal and all the published articles / items are distributed under the terms of the Creative Commons Attribution License, which permits unrestricted use, distribution, and reproduction in any medium, provided the original author and source are credited. For comments editor@pakistanbmj.com