Impact of Premenstrual syndrome on quality of life of working women
Impact of Premenstrual syndrome on quality of life
Keywords:
Premenstrual Symptoms, Severity, Working Women
Abstract
The premenstrual disorder is a typical psychosomatic disorder for women of reproductive age. It is an array of emotional, behavioral, and physical signs that happen all through the late luteal phase of the menstrual cycle and vanishes by it's beginning Objective: To investigate the effect of premenstrual syndrome on the life of working women and their experience of tiredness and insight about the causes, effect and controlling of symptoms. Methods: This cross-sectional study included 170 working females and was completed in 6 months from July 2021-December 2021. Inclusion Criteria included the age of 20 to 40years. Exclusion Criteria included housewives and females having a systematic illness and autoimmune disorders. Premenstrual Syndrome (PMS) Scale and SF-36 were used. All patients were chosen using the purposive sampling technique. Results: Working women with PMS have decreased levels of work-related quality of life in their professional lives.  The PMS score in working women 7.82% mild symptoms, 22.32% moderate, 16.13% severe symptoms, 3.17% very severe symptoms. Conclusions: PMS significantly influenced daily activities related to professional and personal lives. Valid conclusions were drawn that PMS had a great impact on working women with behavioral and psychological symptoms.
References
Türkçapar AF, Türkçapar H. Diagnosis and treatment of premenstrual syndrome and premenstrual dysphoric disorder: A review. Journal of Clinical Psychiatry. 2011;14(4):241-53.
Miyaoka Y, Akimoto Y, Ueda K, Ujiie Y, Kametani M, Uchiide Y et al. Fulfillment of the premenstrual dysphoric disorder criteria confirmed using a self-rating questionnaire among Japanese women with depressive disorders. Biopsychosoc Med. 2011 May 2;5:5. doi: 10.1186/1751-0759-5-5.
Taşçı KD. Evaluation of nursing students' premenstrual symptoms. TAF Preventive Medicine Bulletin. 2006;5(6):434-43.
Consultation WH. Obesity: preventing and managing the global epidemic. World Health Organization technical report series. 2000;894:1-253.
Polat A, Celik H, Gurates B, Kaya D, Nalbant M, Kavak E et al. Prevalence of primary dysmenorrhea in young adult female university students. Arch Gynecol Obstet. 2009 Apr;279(4):527-32. doi: 10.1007/s00404-008-0750-0.
Derman O, Kanbur NO, Tokur TE, Kutluk T. Premenstrual syndrome and associated symptoms in adolescent girls. Eur J Obstet Gynecol Reprod Biol. 2004 Oct 15;116(2):201-6. doi: 10.1016/j.ejogrb.2004.04.021.
Halbreich U, Backstrom T, Eriksson E, O'brien S, Calil H, Ceskova E et al. Clinical diagnostic criteria for premenstrual syndrome and guidelines for their quantification for research studies. Gynecol Endocrinol. 2007 Mar;23(3):123-30. doi: 10.1080/09513590601167969.
Abbasi S, Tufail A, Kalyar J, Ahsan NA. Premenstrual syndrome in undergraduate medical students: hostellers versus dayscholars. Journal of Surgery Pakistan (International). 2015 Jul;20(3):82-6.
Bhuvaneswari K, Rabindran P, Bharadwaj B. Prevalence of premenstrual syndrome and its impact on quality of life among selected college students in Puducherry. Natl Med J India. 2019 Jan-Feb;32(1):17-19. doi: 10.4103/0970-258X.272109.
Tkachenko LV, Kurushina OV, Atagadzhieva MS. The quality of life in women suffering from premenstrual syndrome. Probl Sotsialnoi Gig Zdravookhranenniiai Istor Med. 2010 Mar-Apr;(2):13-6.
Morino S, Egawa M, Hirata H, Nishimura H, Aoyama T. Association between premenstrual syndrome and daily physical activity levels. J Womens Health Issues Care. 2016;5:2. DOI: 10.4172/2325-9795.1000241.
Chung SH, Kim TH, Lee HH, Lee A, Jeon DS, Park J et al. Premenstrual syndrome and premenstrual dysphoric disorder in perimenopausal women. Journal of Menopausal Medicine. 2014 Aug 1;20(2):69-74. doi.org/10.6118/jmm.2014.20.2.69.
Masoumi SZ, Ataollahi M, Oshvandi K. Effect of Combined Use of Calcium and Vitamin B6 on Premenstrual Syndrome Symptoms: a Randomized Clinical Trial. J Caring Sci. 2016 Mar 1;5(1):67-73. doi: 10.15171/jcs.2016.007.
Hardy C, Hunter MS. Premenstrual Symptoms and Work: Exploring Female Staff Experiences and Recommendations for Workplaces. Int J Environ Res Public Health. 2021 Mar 31;18(7):3647. doi: 10.3390/ijerph18073647.
Ducasse D, Jaussent I, Olié E, Guillaume S, Lopez-Castroman J, Courtet P. Personality Traits of Suicidality Are Associated with Premenstrual Syndrome and Premenstrual Dysphoric Disorder in a Suicidal Women Sample. PLoS One. 2016 Feb 10;11(2):e0148653. doi: 10.1371/journal.pone.0148653.
Pazoki H, Bolouri G, Farokhi F, Azerbayjani MA. Comparing the effects of aerobic exercise and Foeniculum vulgare on pre-menstrual syndrome. Middle East Fertility Society Journal. 2016 Mar 1;21(1):61-4. doi.org/10.1016/j.mefs.2015.08.002.
Purdue-Smithe AC, Manson JE, Hankinson SE, Bertone-Johnson ER. A prospective study of caffeine and coffee intake and premenstrual syndrome. Am J Clin Nutr. 2016 Aug;104(2):499-507. doi: 10.3945/ajcn.115.127027.
Arbabi M, Shirmohammadi M, Taghizadeh Z, Mehran A. The effect of premenstrual syndrome on quality of life in adolescent girls. Iran J Psychiatry. 2008;3(3):105-109.
Tsai SY. Effect of Yoga Exercise on Premenstrual Symptoms among Female Employees in Taiwan. Int J Environ Res Public Health. 2016 Jul 16;13(7):721. doi: 10.3390/ijerph13070721.
Farrokh-Eslamlou H, Oshnouei S, Heshmatian B, Akbari E. Premenstrual syndrome and quality of life in Iranian medical students. Sex Reprod Healthc. 2015 Mar;6(1):23-7. doi: 10.1016/j.srhc.2014.06.009.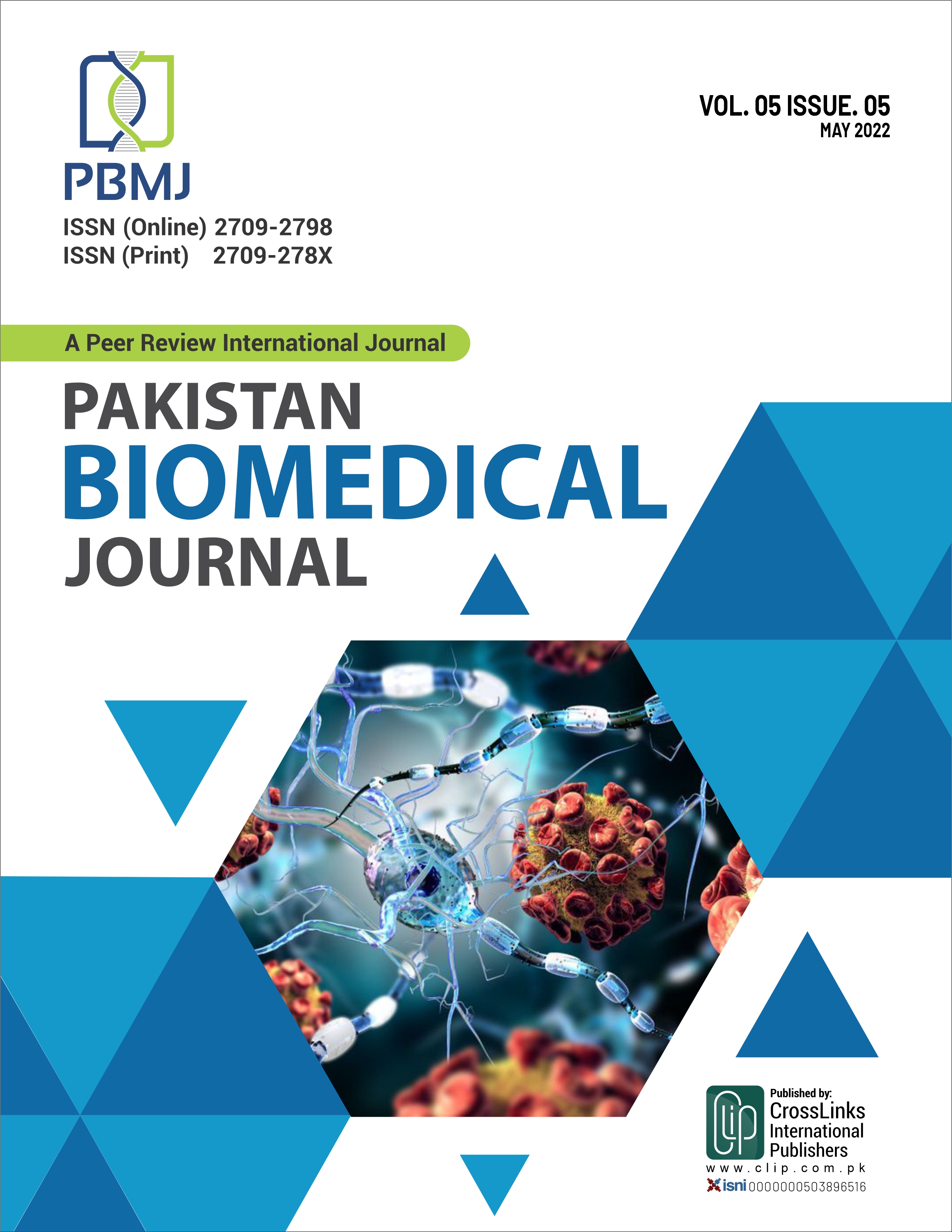 Downloads
How to Cite
Mahmood, A., Fatima, N., Rafaqat , Z., Raza, A., & Shehzadi, A. (2022). Impact of Premenstrual syndrome on quality of life of working women : Impact of Premenstrual syndrome on quality of life. Pakistan BioMedical Journal, 5(5), 104–107. https://doi.org/10.54393/pbmj.v5i5.312
License
Copyright (c) 2022 Pakistan BioMedical Journal
This work is licensed under a Creative Commons Attribution 4.0 International License.
This is an open-access journal and all the published articles / items are distributed under the terms of the Creative Commons Attribution License, which permits unrestricted use, distribution, and reproduction in any medium, provided the original author and source are credited. For comments editor@pakistanbmj.com