Neuroimaging Findings of Brain Computed Tomography And Magnetic Resonance Imaging Of Covid-19 Patients: Systematic Review and Meta-Analysis
Neuroimaging Findings of Brain in Covid-19 Patients
Keywords:
2019-nCoV, COVID-19, neuroimaging, brain CT, brain MRI
Abstract
Novel Corona virus-2019 (SARS-CoV-2) has been spreading in continents around the globe and effective treatment has yet not been developed against this novel infection. The victims of COVID-19 tend to develop abnormal neuroimaging features on brain-CT and MRI Imaging. Objective: To assess the incidences of abnormal neuroimaging features in the sufferers of SARS-CoV-2 infection. Methods: PubMed, Science Direct. Research Gate, Medline and Google Scholar were searched till 28th March 2021 to highlight the incidences of abnormal neuroimaging features in the sufferers of SARS-CoV-2 infection. After screening of literature, only twenty-one (21) articles were included. All data extracted from them was further analysed through meta-analysis. Results: Twenty-one (21) eligible articles with one thousand six hundred and forty-four (1644) verified COVID-19 patients were included. The average age of SARS-CoV-2 patients is 65.20 years with 67.1% males and 32.9% females. Brain CT scan (46.2%), brain MRI (41.3%) and both brain CT and brain MRI (12.5%) were used to detect neuroimaging features. The pooled incidences of acute or sub-acute infarctions were most common (25.88%), followed by cerebral micro-bleed (20.05%), encephalitis/encephalopathy (14.53%), and acute spontaneous non-traumatic intracranial haemorrhages (7.55%). Conclusions: The current systematic review concluded that during the spread of the current COVID-19 pandemic, many SARS-CoV-2 patients manifested neurologic symptoms. Out of these neurological manifestations, acute or sub-acute infarction and cerebral micro-bleed are most common.
References
Qu Y-M, Kang E-M, Cong H-Y. Positive result of Sars-Cov-2 in sputum from a cured patient with COVID-19. Travel medicine and infectious disease. 2020;34:101619.
https://doi.org/10.1016/j.tmaid.2020.101619
MEDICA EM. COVID-19 AND CHILD DISABILITIES: WHOM TO PROTECT AND HOW. European Journal of Physical and Rehabilitation Medicine. 2020.
Ortiz-Prado E, Simbaña-Rivera K, Gómez-Barreno L, Rubio-Neira M, Guaman LP, Kyriakidis NC, et al. Clinical, molecular, and epidemiological characterization of the SARS-CoV-2 virus and the Coronavirus Disease 2019 (COVID-19), a comprehensive literature review. Diagnostic microbiology and infectious disease. 2020;98(1):115094.
https://doi.org/10.1016/j.diagmicrobio.2020.115094
Zhang T, Wu Q, Zhang Z. Probable pangolin origin of SARS-CoV-2 associated with the COVID-19 outbreak. Current biology. 2020;30(7):1346-51. e2.
https://doi.org/10.1016/j.cub.2020.03.022
Brian D, Baric R. Coronavirus genome structure and replication. Coronavirus replication and reverse genetics. 2005:1-30.
https://doi.org/10.1007/3-540-26765-4_1
Azer SA. COVID-19: pathophysiology, diagnosis, complications and investigational therapeutics. New Microbes and New Infections. 2020:100738.
https://doi.org/10.1016/j.nmni.2020.100738
Yuan L, Zhi N, Yu C, Ming G, Yingle L, Kumar GN, et al. Aerodynamic characteristics and RNA concentration of SARS-CoV-2 aerosol in Wuhan hospitals during COVID-19 outbreak. BioRxiv. 2020.
Van Doremalen N, Bushmaker T, Morris DH, Holbrook MG, Gamble A, Williamson BN, et al. Aerosol and surface stability of SARS-CoV-2 as compared with SARS-CoV-1. New England journal of medicine. 2020;382(16):1564-7.
https://doi.org/10.1056/NEJMc2004973
Santarpia JL, Rivera DN, Herrera V, Morwitzer MJ, Creager H, Santarpia GW, et al. Aerosol and surface transmission potential of SARS-CoV-2. MedRxiv. 2020.
Wang B, Li R, Lu Z, Huang Y. Does comorbidity increase the risk of patients with COVID-19: evidence from meta-analysis. Aging (Albany NY). 2020;12(7):6049.
https://doi.org/10.18632/aging.103000
Ladopoulos T, Zand R, Shahjouei S, Chang JJ, Motte J, Charles James J, et al. COVID‐19: Neuroimaging Features of a Pandemic. Journal of Neuroimaging. 2021;31(2):228-43.
https://doi.org/10.1111/jon.12819
Roy-Gash F, Jean-Michel D, Herve V, Raphael B, Nicolas E. COVID-19-associated acute cerebral venous thrombosis: clinical, CT, MRI and EEG features. Critical Care. 2020;24(1):1-3.
https://doi.org/10.1186/s13054-020-03131-x
Zubair AS, McAlpine LS, Gardin T, Farhadian S, Kuruvilla DE, Spudich S. Neuropathogenesis and neurologic manifestations of the coronaviruses in the age of coronavirus disease 2019: a review. JAMA neurology. 2020;77(8):1018-27.
https://doi.org/10.1001/jamaneurol.2020.2065
Li Y, Li M, Wang M, Zhou Y, Chang J, Xian Y, et al. Acute cerebrovascular disease following COVID-19: a single center, retrospective, observational study. Stroke and vascular neurology. 2020;5(3).
https://doi.org/10.1136/svn-2020-000431
Wee N, Fan E, Lee K, Chia Y, Lim T. CT fluid-blood levels in COVID-19 intracranial hemorrhage. American Journal of Neuroradiology. 2020.
https://doi.org/10.3174/ajnr.A6672
Velavan TP, Meyer CG. The COVID‐19 epidemic. Tropical medicine & international health. 2020;25(3):278.
https://doi.org/10.1111/tmi.13383
Rothan HA, Byrareddy SN. The epidemiology and pathogenesis of coronavirus disease (COVID-19) outbreak. Journal of autoimmunity. 2020;109:102433.
https://doi.org/10.1016/j.jaut.2020.102433
Niazkar HR, Zibaee B, Nasimi A, Bahri N. The neurological manifestations of COVID-19: a review article. Neurological Sciences. 2020;41:1667-71.
https://doi.org/10.1007/s10072-020-04486-3
Mao L, Jin H, Wang M, Hu Y, Chen S, He Q, et al. Neurologic manifestations of hospitalized patients with coronavirus disease 2019 in Wuhan, China. JAMA neurology. 2020;77(6):683-90.
https://doi.org/10.1001/jamaneurol.2020.1127
Hu B, Guo H, Zhou P, Shi Z-L. Characteristics of SARS-CoV-2 and COVID-19. Nature Reviews Microbiology. 2021;19(3):141-54.
https://doi.org/10.1038/s41579-020-00459-7
Katal S, Balakrishnan S, Gholamrezanezhad A. Neuroimaging and neurologic findings in COVID-19 and other coronavirus infections: a systematic review in 116 patients. Journal of Neuroradiology. 2021;48(1):43-50.
https://doi.org/10.1016/j.neurad.2020.06.007
Choi Y, Lee MK. Neuroimaging findings of brain MRI and CT in patients with COVID-19: a systematic review and meta-analysis. European journal of radiology. 2020:109393.
https://doi.org/10.1016/j.ejrad.2020.109393
Egbert AR, Cankurtaran S, Karpiak S. Brain abnormalities in COVID-19 acute/subacute phase: a rapid systematic review. Brain, behavior, and immunity. 2020.
https://doi.org/10.1016/j.bbi.2020.07.014
Munhoz RP, Pedroso JL, Nascimento FA, Almeida SMd, Barsottini OGP, Cardoso FEC, et al. Neurological complications in patients with SARS-CoV-2 infection: a systematic review. Arquivos de Neuro-Psiquiatria. 2020;78:290-300.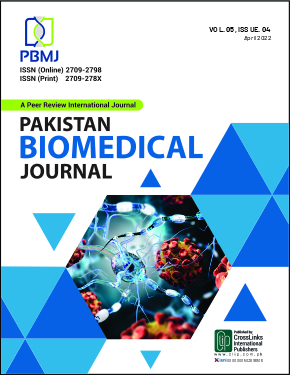 Downloads
How to Cite
Mubeen, M. ., Farooq, S. M. Y. ., Sughra, S. K.-T.-., Ishfaq, A. ., Gilani, S. A. ., Gilani , S. A., & Kiran, A. . (2022). Neuroimaging Findings of Brain Computed Tomography And Magnetic Resonance Imaging Of Covid-19 Patients: Systematic Review and Meta-Analysis: Neuroimaging Findings of Brain in Covid-19 Patients. Pakistan BioMedical Journal, 5(4), 257–263. https://doi.org/10.54393/pbmj.v5i4.371
Section
Systematic Review
License
Copyright (c) 2022 Pakistan BioMedical Journal
This work is licensed under a Creative Commons Attribution 4.0 International License.
This is an open-access journal and all the published articles / items are distributed under the terms of the Creative Commons Attribution License, which permits unrestricted use, distribution, and reproduction in any medium, provided the original author and source are credited. For comments editor@pakistanbmj.com