Frequency of Depression Among Chronic Hepatitis C Patients Visiting Haji Abdul Qayyum Hospital Sahiwal
Frequency of Depression Among Chronic Hepatitis C Patients
Keywords:
Cirrhosis, Hepatitis C, Depression
Abstract
Hepatitis C is prominently a hepatic disease whose infection ranges in severity from a mild illness to serious lifelong complications. Multiple organ systems in the body may get affected. Depression is an important complication in almost 70% of HCV patients. Objectives: To find out the frequency of depression in chronic hepatitis C infected population of District Sahiwal. Methods: Descriptive cross-sectional study was performed at Gastroenterology Clinic, Haji Abdul Qayyum Hospital, Sahiwal during nine months from September 2020 to June 2021.Total 350 patients were selected by non - probability purposive sampling on the basis of preset inclusion and exclusion criteria. Beck's Depression Inventory Scale was utilized to assess the patients for depression and correlate it with level of education and occupation. Results: Out of 350 patients of CHC, 56.6% were male and 43.4% were female.  4.3% patients were suffering from borderline depression; 42.3% were suffering from moderate depression; 46.3% were suffering from severe depression and 2.3 % were suffering from extreme depression. Association of depression with household income (p = 0.044) and duration of disease (p = 0.00) were significant while association of depression with level of education (p = 0.655) and occupation (p = 0.219) were not significant. Conclusion: Level of depression in patients of CHC is dangerously high. Level of depression in patients of CHC is strongly dependent on household income and duration of disease and independent of level of education and occupation.
References
Martínez I, Ryan P, Valencia J, Resino S. The challenging road to hepatitis C virus eradication. Journal of Clinical Medicine. 2021 Jan;10(4):611.doi.org/10.3390/jcm10040611
Qamar Z, Anwar F, Ahmad R, Haq I, Khan AM, Hussain R, et al. Prevalence of Hepatitis C virus and determination of its genotypes in subjects of Tehsil Daggar District Buner, KP, Pakistan. Clinical Epidemiology and Global Health. 2021 Oct 1; 12:100809. doi.org/10.1016/j.cegh.2021.100809
Wang JH, Hung SJ. Lichen planus associated with hepatitis B, hepatitis C, and liver cirrhosis in a nationwide cohort study. J Am Acad Dermatol. 2021 Apr;84(4):1085-1086. doi: 10.1016/j.jaad.2020.07.073.
Roche B, Coilly A, Duclos-Vallee JC, Samuel D. The impact of treatment of hepatitis C with DAAs on the occurrence of HCC. Liver Int. 2018 Feb;38 Suppl 1:139-145. doi: 10.1111/liv.13659.
Chong LW, Hsu CC, Lee CY, Chou RH, Lin CL, Chang KH, et al. Association of viral hepatitis and bipolar disorder: a nationwide population-based study. J Transl Med. 2018 Jun 22;16(1):173. doi: 10.1186/s12967-018-1542-3.
Najaf HN, Kadhim DJ, Alkofee AJ, Al-Mashhadani DA. Depression, Anxiety and Stress Among a Sample of Chronic Hepatitis C Patients in AL-Najaf Province/Iraq. International Journal of Research in Pharmaceutical Sciences. 2019;10(4): 3170-7.doi.org/10.26452/ijrps. v10i4.1616
Siddique S, Aaraj S, Haider I. Frequency of Depressive Disorders in Patients of Hepatitis C. Age (years). 2018 Jan 1;21(35):45.
Janda M, Mergenhagen KA. The Effect of Psychosocial Factors on Success Rates of Hepatitis C Treatment. Psychosomatics. 2017 Nov-Dec;58(6):624-632. doi: 10.1016/j.psym.2017.07.003.
Hoyo-Becerra C, Liu Z, Yao J, Kaltwasser B, Gerken G, Hermann DM, Schlaak JF. Rapid Regulation of Depression-Associated Genes in a New Mouse Model Mimicking Interferon-α-Related Depression in Hepatitis C Virus Infection. Mol Neurobiol. 2015 Aug;52(1):318-29. doi: 10.1007/s12035-014-8861-z.
Sarwar S, Babur W, Mahwish S, Anwar I. Prevalence of depression among Hepatitis-C patients in tertiary care hospital. Pak J Surg. 2018;34(2):140-3.
Rahman AS, et al. Prevalence of depression after treatment with conventional interferon's and ribavirin therapy in patients with hepatitis C using PHQ-9. Am J Res Med Sci, 2019;5(1). doi.org/10.5455/ajrms.20181102081059
Bhutto AR, Jat MI, Rafi S, Amar W. Frequency of Anxiety and Depression in Chronic Hepatitis C Patients Visiting a Tertiary Care Hospi-Tal at Gadap Town, Karachi. Journal of Postgraduate Medical Institute. 2019;33(2):125-9.
Memon SA, Zuberi BF, Ashfaq MN, Kiran Z, Qadeer R, Memon AR, et al. Frequency of depression in chronic Hepatitis C naïve patients. Pak J Med Sci. 2011 Jul 1; 27:780-3.
Adrees M, Athar HM, Riaz MZ, Noor A, Noor M. Frequency of Depression in patients with HCV On Interferon Alfa Therapy. Annals of Punjab Medical College (APMC). 2018;12(4).
Abbas SM, Salama HM, Nour-Eldein H. Depression among adults with chronic hepatitis C on antiviral treatment in Port-Said, Egypt. Journal of Public Health. 2018 Dec;26(6):679-86. doi.org/10.1007/s10389-018-0907-7
Egmond E, Mariño Z, Navines R, Oriolo G, Pla A, Bartres C, et al. Incidence of depression in patients with hepatitis C treated with direct-acting antivirals. Braz J Psychiatry. 2020 Jan-Feb;42(1):72-76. doi: 10.1590/1516-4446-2018-0336.
Waseem T. Prevalence of Depression in patients of Chronic Hepatitis B & C Presenting to Mayo Hospital Lahore. Methods. 2015 Feb.
Aslam MN, Qureshi UF, Nadeem M. Anxiety and Depression: Prevalence in Chronic Hepatitis C Patients. The Professional Medical Journal. 2016 Mar 10;23(03):36-38. doi.org/10.29309/TPMJ/2016.23.03.1484
Fatima K, Ghani MU, Ali M, Bano K, Fatima B, Shahzad A. Frequency and severity of depression in patients with Hepatitis C. Rawal Medical Journal. 2019;44(2):255-8.
Nagi ML, Manan S, Shaheen A, Amjad M, Farooq M, Kazmi ST. Depression; frequency of depression among patients of chronic liver disease attending a tertiary care private hospital of Lahore. Professional Medical Journal. 2018 Nov 10;25(11):1701-6. DOI: 10.29309/TPMJ/18.4824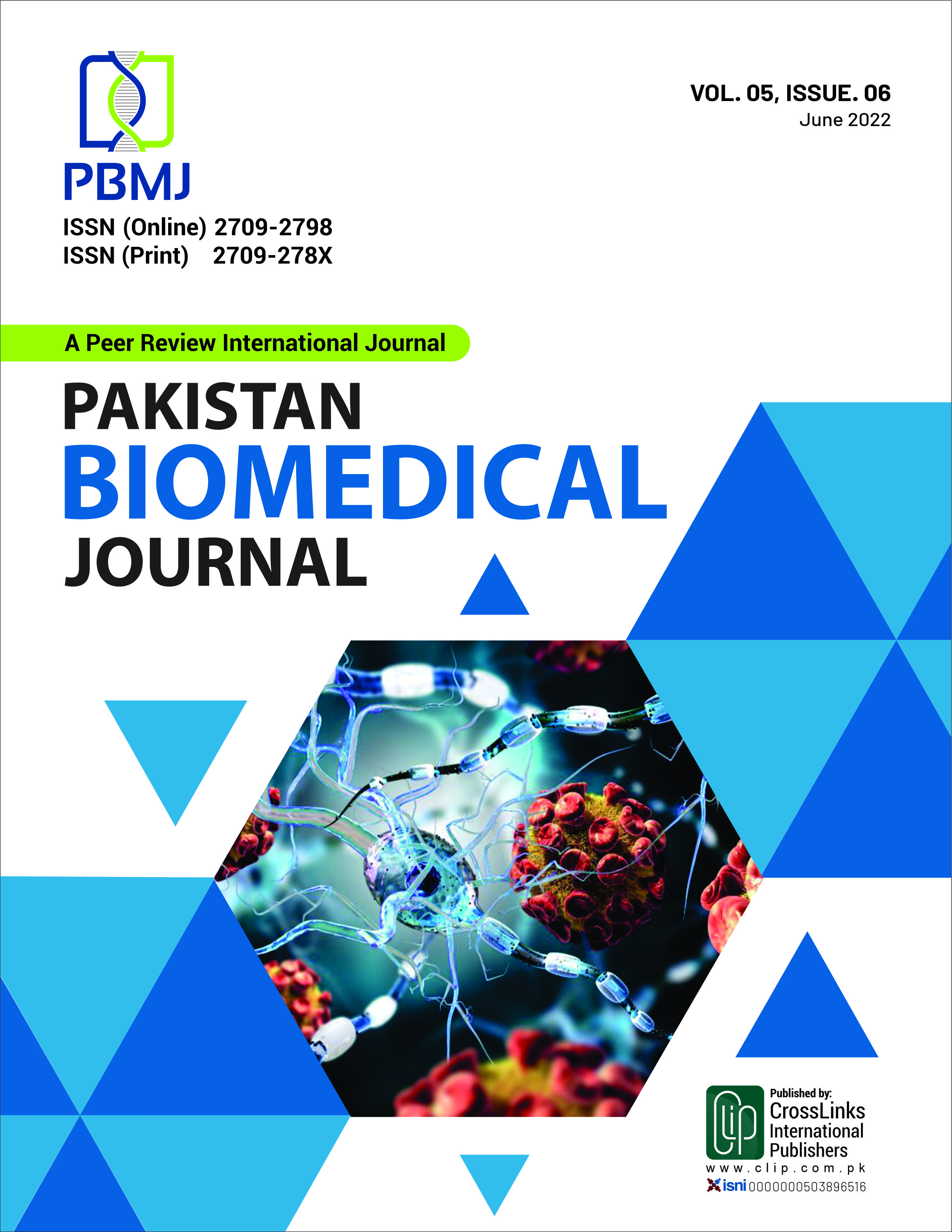 Downloads
CITATION
DOI: 10.54393/pbmj.v5i6.521
How to Cite
Iftikhar, H. ., Iftikhar, Z., Qutab, N. ., Aamir Diwan, R. ., Ayub, T. ., & Anwar Faridi, T. . (2022). Frequency of Depression Among Chronic Hepatitis C Patients Visiting Haji Abdul Qayyum Hospital Sahiwal: Frequency of Depression Among Chronic Hepatitis C Patients. Pakistan BioMedical Journal, 5(6), 75–79. https://doi.org/10.54393/pbmj.v5i6.521
License
Copyright (c) 2022 Pakistan BioMedical Journal
This work is licensed under a Creative Commons Attribution 4.0 International License.
This is an open-access journal and all the published articles / items are distributed under the terms of the Creative Commons Attribution License, which permits unrestricted use, distribution, and reproduction in any medium, provided the original author and source are credited. For comments editor@pakistanbmj.com