Knowledge Attitude and Practices of Healthcare Service Providers About Minimum Service Delivery Standards
Knowledge Attitude and Practices of Healthcare Service
Keywords:
MSDS, Healthcare service providers, KAP, Punjab Healthcare Commission, Healthcare providers
Abstract
Worldwide Health care services are provided and regulated as well as monitored by applying standard regimens. It is pivotal for patient health, safety and efficient treatment and health services provision. Objective: To assess the knowledge, attitude and Practices of healthcare service providers about Minimum Service Delivery Standards. Methods: It is a cross sectional study in which questionnaire was developed to study minimum service delivery provision towards patients by professional health care providers. A complete Performa was filled by interviewing doctors (MBBS), dentists, nurses, dispensers and para medical staff working at BHUs and RHCs. The data was collected after informed consent following ethical considerations and guidelines by University of Lahore. The data was entered and analyzed using SPSS version 22. Results: The results show the good knowledge of HCPs was resounded in lowest parameter of 1.5% while poor knowledge was scored 95.5%. The attitude of HCPs toward was recorded the positive attitude 58.3% neutral 40.2% while negative attitude 1.5%. the Practices of MSDS at health facility was scored good Practices 4.9% Satisfactory Practices was recorded 0.4% while poor Practices of MSDS was recorded 94.7%.
Conclusion: Using MSDS parameter the one can create a better environment of health care to patients. The medical and para medical staff should meet all standards assured in the current study to make a better place for the sake of health and treatment.
References
Shaikh BT. Private sector in health care delivery: a reality and a challenge in Pakistan. Journal of Ayub Medical College Abbottabad. 2015; 27(2):496-8.
Majrooh MA, Hasnain S, Akram J, Siddiqui A, Memon ZA. Coverage and quality of antenatal care provided at primary health care facilities in the 'Punjab'province of 'Pakistan'. Plos one. 2014; 9(11): e113390. doi: 10.1371/journal.pone.0113390.
Hassan A, Mahmood K, Bukhsh HA. Healthcare system of Pakistan. IJARP. 2017; 1(4):170-3.
Hashmi A, Amirah N, Yusof Y. Organizational performance with disruptive factors and inventory control as a mediator in public healthcare of Punjab, Pakistan. Management Science Letters. 2021; 11(1):77-86.
Win EM, Saw YM, Oo KL, Then TM, Cho SM, Kariya T, et al. Healthcare waste management at primary health centres in Mon State, Myanmar: The comparisons between hospital and non-hospital type primary health centres. Nagoya Journal of Medical Science. 2019; 81(1):81.
Kronfol N. Access and barriers to health care delivery in Arab countries: a review. EMHJ-Eastern Mediterranean Health Journal, 2012; 18 (12): 1239-1246. doi: 10.26719/2012.18.12.1239.
Ahmad M. Health care access and barriers for the physically disabled in rural Punjab, Pakistan. International Journal of Sociology and Social Policy. 2013 Apr.
Hashami MF. Healthcare systems & its challenges in Pakistan. International Journal of Social Science. 2020; 9(1):19-23.
Majrooh MA, Hasnain S, Akram J, Siddiqui A. A cross-sectional assessment of primary healthcare facilities for provision of antenatal care: calling for improvements in Basic Health Units in Punjab, Pakistan. Health research policy and systems. 2015 Nov; 13 Suppl 1(Suppl 1):59. doi: 10.1186/s12961-015-0046-3.
Sharif H, Sughra U, Butt Z. Panoramic view of challenges and opportunities for primary healthcare systems in Pakistan. Journal of Ayub Medical College Abbottabad. 2016; 28(3):550-4.
Callen M, Gulzar S, Hasanain A, Khan AR, Khan Y, Mehmood MZ. Improving public health delivery in Punjab, Pakistan: issues and opportunities. The Lahore Journal of Economics. 2013 Sep; 18(special edition):249.
Achakzai BK, Ategbo EA, Kingori JW, Shuja S, Khan WM, Ihtesham Y. Integration of essential nutrition interventions into primary healthcare in Pakistan to prevent and treat wasting: A story of change. Field Exchange 63. 2020 Sep; 13.
Rizvi Jafree S, Mahmood QK, Mujahid S, Asim M, Barlow J. Narrative synthesis systematic review of Pakistani women's health outcomes from primary care interventions. BMJ Open. 2022 Aug; 12(8): e061644. doi: 10.1136/bmjopen-2022-061644.
Momina A, Zakar R. Implementation of the Anti-Quackery Mandate Punjab Healthcare Commission: Challenges and Limitations. Pakistan Journal of Medical and Health Sciences. 2021; 15(9):2150-3.
Khan AJ, Malik MA. Regulation, quality reporting and third-party certification of healthcare providers. 2020.
Jawaid SA. Punjab Healthcare Commission needs to be supported and strengthened. Pulse International. 2014; 15(11).
Amiri M, El-Mowafi IM, Chahien T, Yousef H, Kobeissi LH. An overview of the sexual and reproductive health status and service delivery among Syrian refugees in Jordan, nine years since the crisis: a systematic literature review. Reproductive health. 2020 Oct; 17(1):166. doi: 10.1186/s12978-020-01005-7.
Athiyah U, Setiawan CD, Nugraheni G, Zairina E, Utami W, Hermansyah A. Assessment of pharmacists' knowledge, attitude and practice in chain community pharmacies towards their current function and performance in Indonesia. Pharmacy Practice (Granada). 2019Sep; 17(3):1518. doi: 10.18549/PharmPract.2019.3.1518.
Awan A, Afzal M, Majeed I, Waqas A, Gilani SA. Assessment of knowledge, attitude and practices regarding occupational hazards among Nurses at Nawaz Sharif Social Security Hospital Lahore Pakistan. Saudi Journal of Medical and Pharmaceutical Sciences 2017; 3(6):622-30.
Ashraf M, Vervoort D, Rizvi S, Fatima I, Shoman H, Meara JG, et al. Access to safe, timely and affordable surgical, anaesthesia and obstetric care in Pakistan: a 16-year scoping review. Eastern Mediterranean Health Journal. 2022 Apr; 28(4):302-313. doi: 10.26719/emhj.22.009.
Sarfraz M, Tariq S, Hamid S, Iqbal N. Social and societal barriers in utilization of maternal health care services in rural punjab, Pakistan. Journal of Ayub Medical College Abbottabad. 2015 Oct; 27(4):843-9.
Ranasinghe AWIP, Fernando B, Sumathipala A, Gunathunga W. Medical ethics: knowledge, attitude and practice among doctors in three teaching hospitals in Sri Lanka. BMC Medical Ethics. 2020 Aug; 21(1):69. doi: 10.1186/s12910-020-00511-4.
Anozie OB, Lawani LO, Eze JN, Mamah EJ, Onoh RC, Ogah EO, et al. Knowledge, attitude and practice of healthcare managers to medical waste management and occupational safety practices: Findings from Southeast Nigeria. Journal of clinical and diagnostic research: JCDR. 2017 Mar; 11(3): IC01-IC04. doi: 10.7860/JCDR/2017/24230.9527.
Kumar S, Agarwal AK, Kumar A, Agrawal G, Chaudhary S, Dwivedi V. A study of knowledge, attitude and practice of hospital consultants, resident doctors and private practitioners with regard to pre-hospital and emergency care in Lucknow. Indian Journal of Surgery. 2008 Feb; 70(1):14-8. doi: 10.1007/s12262-008-0003-2.
Suchitra JB, Devi NL. Impact of education on knowledge, attitudes and practices among various categories of health care workers on nosocomial infections. Indian journal of medical microbiology. 2007 Jul; 25(3):181-7. doi: 10.4103/0255-0857.347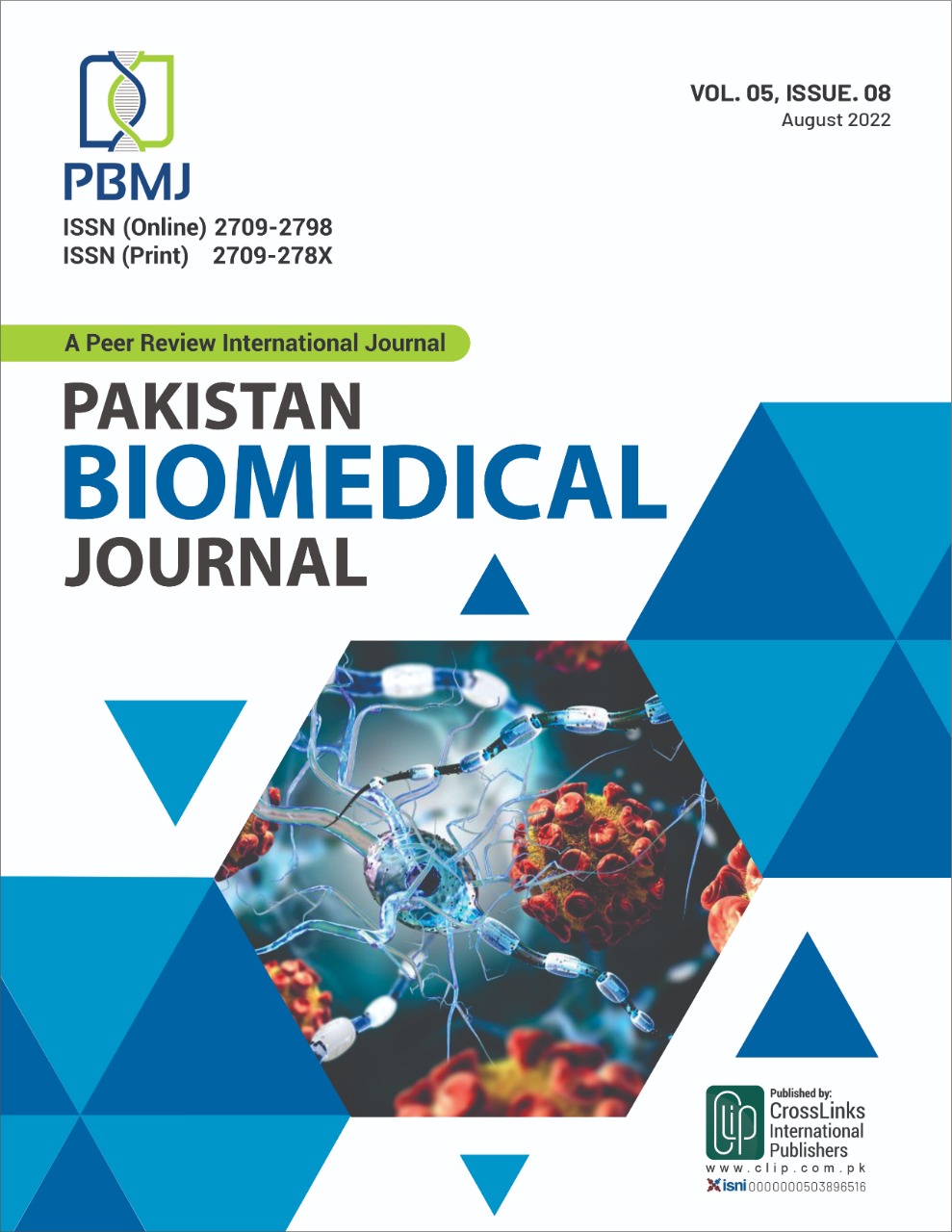 Downloads
How to Cite
Rehman, S. ur ., Anwar Faridi, T. ., Hameed, S. ., Ali Shan, R. ., & Malik, S. . (2022). Knowledge Attitude and Practices of Healthcare Service Providers About Minimum Service Delivery Standards: Knowledge Attitude and Practices of Healthcare Service. Pakistan BioMedical Journal, 5(8), 41–45. https://doi.org/10.54393/pbmj.v5i8.737
License
Copyright (c) 2022 Pakistan BioMedical Journal
This work is licensed under a Creative Commons Attribution 4.0 International License.
This is an open-access journal and all the published articles / items are distributed under the terms of the Creative Commons Attribution License, which permits unrestricted use, distribution, and reproduction in any medium, provided the original author and source are credited. For comments editor@pakistanbmj.com