Comparison Of the Effectiveness of Maitland Manipulation of Thoracic Spine Versus Grade I And II Maitland Mobilization of Cervical Spine on Pain Intensity and Functional Status in Patients of Cervical Radiculopathy
Cervical Spine on Pain Intensity and Functional Status in Patients of Cervical Radiculopathy
Keywords:
Cervical Radiculopathy (CR), Maitland, thoracic spine, manipulation, cervical spine mobilization
Abstract
Cervical radiculopathy (CR) is a most reported pathological problem mainly due to herniated disc material causing nerve compression or the formation of osteophytes. This impingement specifically causes cervical pain radiating to arm, numbness, and sensory deficit. It also affects the motor function of the neck and upper extremities. Objectives: To evaluate the comparative effectiveness of Maitland manipulation of thoracic spine versus grade I and II Maitland mobilization of cervical spine on Pain, intensity, and functional status in patients of cervical radiculopathy. Methods: Total 32 patients suffering from cervical radiculopathy were randomly assigned to receive Maitland manipulation on thoracic spine along with Conventional Physiotherapy (intermittent cervical traction, strengthening exercises) in Group A(n=16) and Maitland mobilization on cervical spines along with Conventional Physiotherapy in Group B (n=16). Total treatment sessions given to each group was 9 (3 sessions per week). To measure outcome numeric pain rating scale (NPRS) and neck disability index (NDI) questionnaire was used. Data collection was done at the beginning and post-treatment. Results: The study revealed that the mean age of patients was 47.59 with a range minimum of 27 years to a maximum of 59 years. Comparison of post-treatment of both groups showed mean NPRS score in group A (Maitland thoracic spine manipulation) was 4.56± 1.031 and group B (Maitland cervical spine mobilization) was 6.12± 0.50, while post-treatment NDI score group A was 22.44± 10.09 and group B was 36.88± 8.437 with p=0.000 that was p<0.05. Conclusion: The study concluded that both Maitland thoracic spine manipulation and Maitland cervical spine mobilization techniques have similar effects in reducing cervical radiculopathy and increasing active range of motion. However, Maitland thoracic spine manipulation showed better results in neck pain reduction and improved functional status on the comparison.
References
Auerbach JD, Weidner ZD, Milby AH, Diab M, Lonner BS. Musculoskeletal disorders among spine surgeons: results of a survey of the Scoliosis Research Society membership. Spine. 2011 Dec; 36(26):E1715-21. doi: 10.1097/BRS.0b013e31821cd140.
Waqas S, Ahmad A, Ahmad S, Shafi T, Shahid HA. Comparison of Maitland Thoracic Spine Manipulation Versus Maitland Cervical Spine Mobilization in Chronic Unilateral C6 –C7 Cervical Radiculopathy. Annals of King Edward Medical University. 2016 May; 22(2). doi.org/10.21649/akemu.v22i2.1285
Radhakrishnan K, Litchy WJ, O'Fallon WM, Kurland LT. Epidemiology of cervical radiculopathy. A population-based study from Rochester, Minnesota, 1976 through 1990. Brain. 1994 Apr; 117 ( Pt 2):325-35. doi: 10.1093/brain/117.2.325.
Rajan Balakrishnan EY, Mahat MFB. Effectiveness of the core stabilisation exercise on floor and Swiss ball on individual with non-Specific low back pain. International Journal of Physical Education Sports and Health. 2016; 3(1):347-56.
Rao RD, Currier BL, Albert TJ, Bono CM, Marawar SV, Poelstra KA, et al. Degenerative cervical spondylosis: clinical syndromes, pathogenesis, and management. Journal of Bone and Joint Surgery. 2007 Jun; 89(6):1360-78. doi: 10.2106/00004623-200706000-00026.
Kuijper B, Tans JT, Schimsheimer RJ, van der Kallen BF, Beelen A, Nollet F, et al. Degenerative cervical radiculopathy: diagnosis and conservative treatment. A review. European Journal of Neurology. 2009 Jan; 16(1):15-20. doi: 10.1111/j.1468-1331.2008.02365.x.
Salemi G, Savettieri G, Meneghini F, Di Benedetto ME, Ragonese P, Morgante L, et al. Prevalence of cervical spondylotic radiculopathy: a door-to-door survey in a Sicilian municipality. Acta Neurologica Scandinavica. 1996 Feb-Mar;93(2-3):184-8. doi: 10.1111/j.1600-0404.1996.tb00196.x.
Clarençon F, Law-Ye B, Bienvenot P, Cormier É, Chiras J. The Degenerative Spine. Magnetic Resonance Imaging Clinics. 2016 Aug;24(3):495-513. doi: 10.1016/j.mric.2016.04.008.
Hari A, Krishna M, Rajagandhi S, Sharma A, Deshpande RV. Minimally invasive lateral foraminotomy with partial lateral facetectomy for lumbar radiculopathy-An evaluation of facet integrity and description of the procedure. Neurology India. 2017 Nov-Dec; 65(6):1358-1365. doi: 10.4103/0028-3886.217932.
Mashal YA, Samir MA, Morsy AA, Salama HH. Comparative Study between Implantation of an Empty Polyethylethylketone Cage versus Cage with Bone Graft in Anterior Cervical Discectomy and Fusion. The Egyptian Journal of Hospital Medicine. 2022 Jul ; 88(1):2520-6. doi.org/10.21608/ejhm.2022.238381
Eubanks JD. Cervical radiculopathy: nonoperative management of neck pain and radicular symptoms. American family physician. 2010; 81(1):33-40.
Ellenberg MR, Honet JC, Treanor WJ. Cervical radiculopathy. Archives of physical medicine and rehabilitation. 1994 Mar;75(3):342-52. doi: 10.1016/0003-9993(94)90040-x.
Olson KA. Manual Physical Therapy of the Spine-E-Book: Elsevier Health Sciences; 2015.
Thoomes EJ, van Geest S, van der Windt DA, Falla D, Verhagen AP, Koes BW, et al. Value of physical tests in diagnosing cervical radiculopathy: a systematic review. The Spine Journal. 2018 Jan; 18(1):179-189. doi: 10.1016/j.spinee.2017.08.241.
Kuijper B, Tans JT, Beelen A, Nollet F, de Visser M. Cervical collar or physiotherapy versus wait and see policy for recent onset cervical radiculopathy: randomised trial. BMJ. 2009 Oct; 339:b3883. doi: 10.1136/bmj.b3883.
Cleland JA, Whitman JM, Fritz JM, Palmer JA. Manual physical therapy, cervical traction, and strengthening exercises in patients with cervical radiculopathy: a case series. Journal of Orthopaedic & Sports Physical Therapy. 2005 Dec; 35(12):802-11. doi: 10.2519/jospt.2005.35.12.802.
Hurwitz EL, Aker PD, Adams AH, Meeker WC, Shekelle PG. Manipulation and mobilization of the cervical spine. A systematic review of the literature. Spine (Phila Pa 1976). 1996 Aug; 21(15):1746-59; discussion 1759-60. doi: 10.1097/00007632-199608010-00007.
Rodine RJ, Vernon H. Cervical radiculopathy: a systematic review on treatment by spinal manipulation and measurement with the Neck Disability Index. The Journal of the Canadian Chiropractic Association. 2012 May;56(1):18.
Inderpreet K, Arunmozhi R, Umer A. Effect of Maitland vs Mulligan Mobilisation Technique on Upper Thoracic Spine in Patients with Non-Specific Neck Pain–A Comparative Study. International Journal of Physiotherpy and Research. 2013;1(5):214-18.
Rubin DI. Epidemiology and risk factors for spine pain. Neurologic Clinics. 2007 May; 25(2):353-71. doi: 10.1016/j.ncl.2007.01.004.
Medicine AAoE. The electrodiagnostic evaluation of patients with suspected cervical radiculopathy: literature review on the usefulness of needle electromyography. Muscle Nerve. 1999;22(8):S213-S21.
Wilson DW, Pezzuti RT, Place JN. Magnetic resonance imaging in the preoperative evaluation of cervical radiculopathy. Neurosurgery. 1991 Feb; 28(2):175-9. doi: 10.1097/00006123-199102000-00001.
Association APT. Guide to Physical Therapist Practice. American Physical Therapy Association. Physical therapy. 2001;81(1):9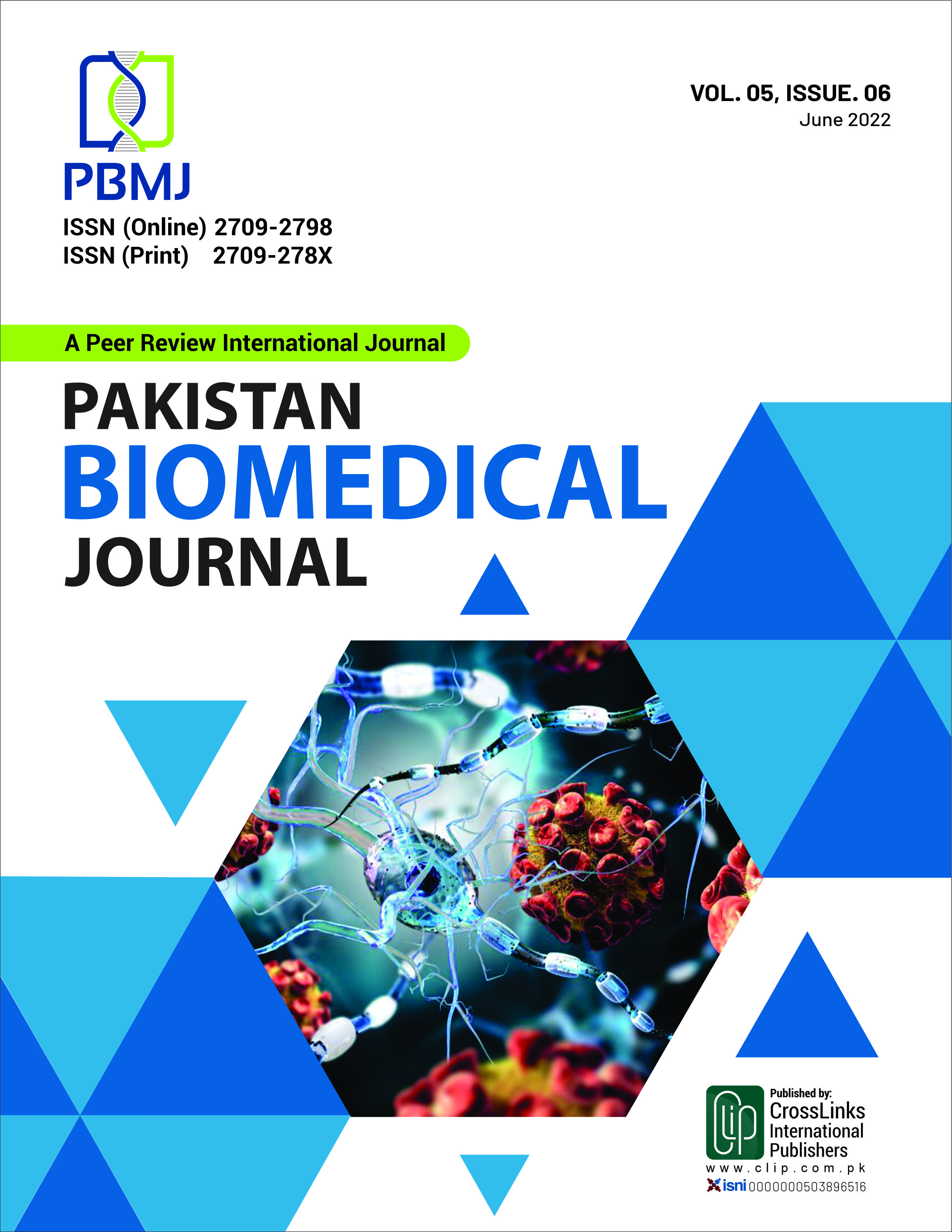 Downloads
CITATION
DOI: 10.54393/pbmj.v5i6.560
How to Cite
Aroob, A., Ahmed Zahoor , I. ., Ghaffar , M. ., Ghaffar , N. ., Ali Rana, A. . ., & Shabbir , S. . (2022). Comparison Of the Effectiveness of Maitland Manipulation of Thoracic Spine Versus Grade I And II Maitland Mobilization of Cervical Spine on Pain Intensity and Functional Status in Patients of Cervical Radiculopathy: Cervical Spine on Pain Intensity and Functional Status in Patients of Cervical Radiculopathy. Pakistan BioMedical Journal, 5(6), 134–138. https://doi.org/10.54393/pbmj.v5i6.560
License
Copyright (c) 2022 Pakistan BioMedical Journal
This work is licensed under a Creative Commons Attribution 4.0 International License.
This is an open-access journal and all the published articles / items are distributed under the terms of the Creative Commons Attribution License, which permits unrestricted use, distribution, and reproduction in any medium, provided the original author and source are credited. For comments editor@pakistanbmj.com