Practices Of Medical Device Usage Among Nurses Working in The Critical Care
Practices of Medical Device Usage Among Nurses
Keywords:
Medical Device, Practices, Intervention, Education
Abstract
Ventilator is widely used medical device in the critical care to deal with multiple life emergencies. So, nurses must be trained regarding usage of ventilator to provide excellent care without any complication. Objective: To analyze the effect of educational training program on nurses' practices regarding the usage of medical devices (Ventilator). Methods: Quasi experimental research design with pre- and post-was used followed by educational intervention. Research was conducted in Critical Care Unit (CCU) of public tertiary care Hospital. Total 36 nurses were selected. Nurses who have attended any training session regarding ventilator care were excluded from the study Results: Paired sample t -test showed a significant difference in the pre and post scores of nurse's practices regarding the usage of the ventilator, with paired sample t test, t (34) =-20.4, p<.05 was significant. Pre-test mean scores (M=10.00, SD= 0.00) compared with post –test scores (M=17.42, SD=2.14) which showed highest differences in mean. The value of Cohen's d was 0.12 showing a lower effect size. Conclusions: Educational interventional program has a positive effect on nurse's practices regarding the usage of ventilator. During Pre-program evaluation of ventilator nurse's practices were unsatisfactory which improved to 95% after the educational intervention
References
Sole ML, Klein DG & Moseley MJ. Introduction to Critical Care Nursing E-Book: Elsevier Health Sciences,2020.
Hesham S. Assessment of nurses' performance regarding management of patients on mechanical ventilator. Port Said Scientific Journal of Nursing, 2016,3(1), 161-177. doi:10.21608/PSSJN.2019.32327
Rafiq MY, Ikram A, Afzal A, Zaman G, Usman B & Ayyub M. Ventilator associated pneumonia among patients on mechanical ventilation at tertiary care centres. PAFMJ, 2018, 68(1), 75-79. doi: 10.1086/502151.
Alsohime F, Temsah MH, Hasan G, Al-Eyadhy A, Gulman S, Issa H, Alsohime O. Reporting adverse events related to medical devices: A single center experience from a tertiary academic hospital. PLoS One. 2019 Oct 24;14(10): e0224233. doi: 10.1371/journal.pone.0224233.
Ghauri SK, Javaeed A, Chaudhry A, Khan AS & Mustafa KJ. Knowledge and attitudes of Pakistani intensive care unit nurses regarding oral care delivery to mechanically ventilated patients. JPMA. The Journal of the Pakistan Medical Association, 2020,70(7), 1203-1208. doi: 10.5455/JPMA.5630.
Ibrahim AM, Al-Rafay SS, Tantawi HR. 1 Application of Care Bundle Approach for Preventing Device Associated Infections: A Training Program for Pediatric and Neonatal Nurses. Medico-legal Update, January-March 2021, 21(1).
KP SV & CS S. Effectiveness of Video Assisted Teaching programme on knowledge regarding first aid management of foreign body aspiration among mothers of under-five children. Asian Journal of Nursing Education and Research, 2021,11(4), 459-465. doi: 10.52711/2349-2996.2021.00111
Mahmoud EA, EL-shafie E-L, E.-G. A-L & Abdel-Aziz MA. Effect of Educational Program forNurses Performance Regarding Infection Control Precautions, toward patient on Mechanical Ventilation. Assiut Scientific Nursing Journal, 2020,8(20), 94-104.
Ozan YD & Duman M. Nurses' Perceptions Regarding the Use of Technological Devices in Nursing Care Practices. International Journal of Caring Sciences, 2020,13(2), 901.
Sowan AK, Vera AG, Fonseca EI, Reed CC, Tarriela AF, Berndt AE. Nurse Competence on Physiologic Monitors Use: Toward Eliminating Alarm Fatigue in Intensive Care Units. Open Med Inform J. 2017 Apr 14;11:1-11. doi: 10.2174/1874431101711010001.
Dipanjali R, Shivananda PM & Yashoda S. Effectiveness of an Educational Intervention on Knowledge and Practice of Staff Nurses on Prevention of Ventilator Associated Pneumonia among Neonates in Neonatal Intensive Care Unit. International Journal of Caring Sciences, 2020,13(2), 1421.
Madhuvu A, Endacott R, Plummer V & Morphet J. Nurses' knowledge, experience and self-reported adherence to evidence-based guidelines for prevention of ventilator-associated events: A national online survey. Intensive and Critical Care Nursing, 2020,59, 102827.
Alnobani O, Zakaria N, Temsah MH, Jamal AA, Alkamel N, Tharkar S. Knowledge, Attitude, and Perception of Health Care Personnel Working in Intensive Care Units of Mass Gatherings Toward the Application of Telemedicine Robotic Remote-Presence Technology: A Cross-Sectional Multicenter Study. Telemed J E Health. 2021 Dec;27(12):1423-1432. doi: 10.1089/tmj.2020.0469.
Rhagnanan-Kramer V. Critical Care Nurses' Perceptions of Safety Related to Using Complex Medical Devices in Daily Nursing Practice. Nova Southeastern University. 2020.
Smith MW, Abarca Rondero D. Predicting electrocardiogram interpretation performance in Advanced Cardiovascular Life Support simulation: comparing knowledge tests and simulation performance among Mexican medical students. PeerJ. 2019 Mar 15;7:e6632. doi: 10.7717/peerj.6632.
Alja'afreh MA, Mosleh SM, Habashneh SS. Nurses' perception and attitudes towards oral care practices for mechanically ventilated patients. Saudi Med J. 2018 Apr;39(4):379-385. doi: 10.15537/smj.2018.4.21749.
Chen T-J, Chung Y-W, Chen P-Y, Hu SH, Chang C-C, Hsieh S-H, Wang B-C, Chiu H-Y. Effects of daily sedation interruption in intensive care unit patients undergoing mechanical ventilation: A meta-analysis of randomized controlled trials. International Journal of Nursing Practicve, 2021. //doi.org/10.1111/ijn.12948
Sujun Chen, Li Hua, Qianqian Jin, Hezhuo Wang. Correlation of ICU Nurses' Cognitive Level with Their Attitude and Behavior toward the Prevention of Ventilator-Associated Pneumonia, Journal of Healthcare Engineering, 2022, Article ID 8229812: 7, 2022. doi.org/10.1155/2022/8229812
Aradhna, Uma D, Amoldeep S. Effectiveness of Nursing Care Bundle in Terms of Knowledge and Practices Regarding Care of Patients on Mechanical Ventilator among Nursing Personnel. 2021, 14(22). International Journal of Nursing Education. doi.org/10.37506/ijone.v14i2.17990
Estrem, Bruce BA, RRT-NPS; Wall, Jill BSN, CRNI; Paitich, Lindsey BSN, RN; Maynard, Roy MD, FAAP The Ventilator-Dependent Child, Home Healthcare Now: March/April 2020 - Volume 38(2): 75-79 doi: 10.1097/NHH.0000000000000852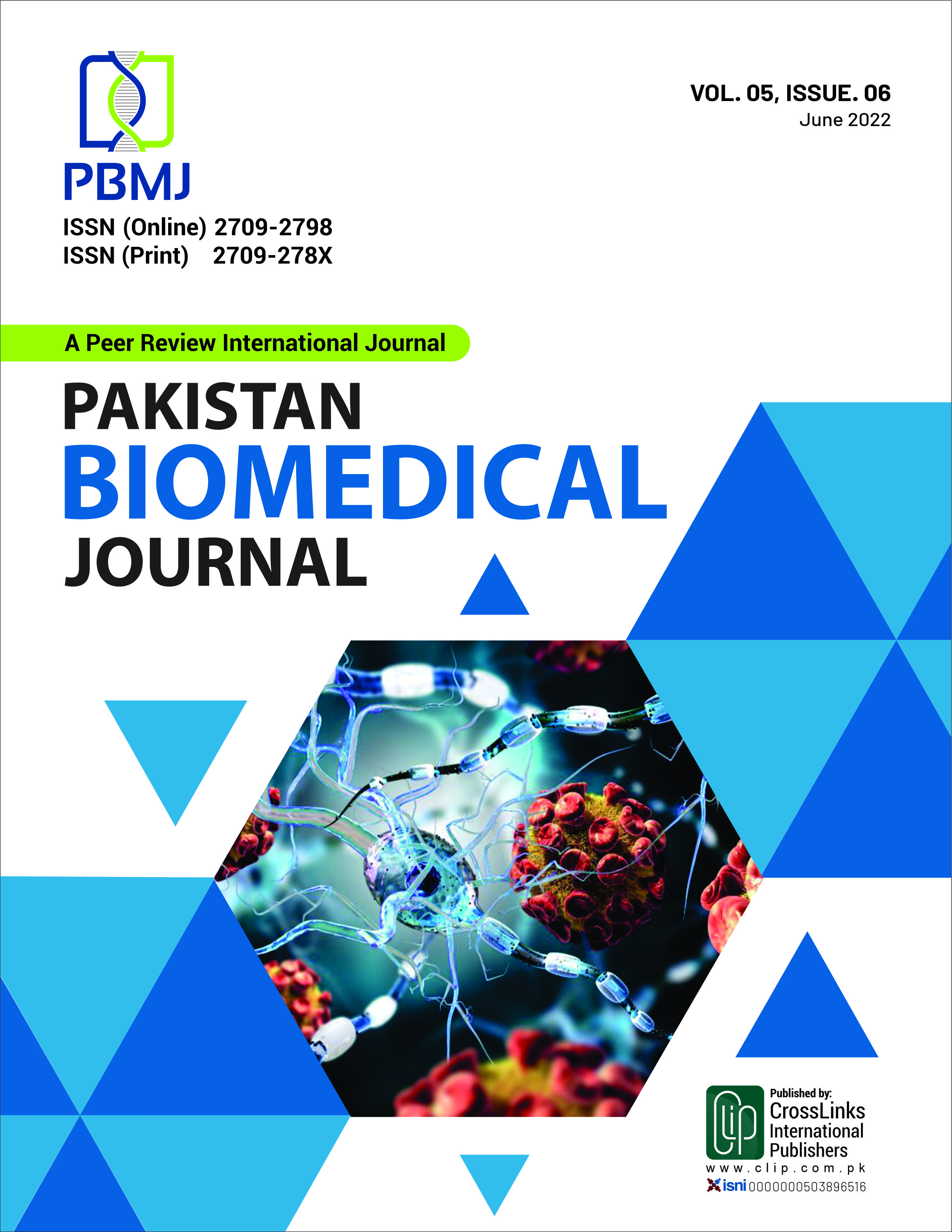 Downloads
CITATION
DOI: 10.54393/pbmj.v5i6.568
How to Cite
Ghafoor , S. ., Sarwar, H., Yaqoob, A., & Khan, S. (2022). Practices Of Medical Device Usage Among Nurses Working in The Critical Care: Practices of Medical Device Usage Among Nurses. Pakistan BioMedical Journal, 5(6), 286–290. https://doi.org/10.54393/pbmj.v5i6.568
License
Copyright (c) 2022 Pakistan BioMedical Journal
This work is licensed under a Creative Commons Attribution 4.0 International License.
This is an open-access journal and all the published articles / items are distributed under the terms of the Creative Commons Attribution License, which permits unrestricted use, distribution, and reproduction in any medium, provided the original author and source are credited. For comments editor@pakistanbmj.com