Factors Contributing to Cervical Cancer Among Women: A Systematic Review and Meta-Analysis
Cervical Cancer Among Women
Keywords:
Cervical Cancer, Prevalence of Cervical Cancer, Risk Factors.
Abstract
Cervical cancer is among the top 10 most common cancers worldwide, and it is the third most common malignancy among women in Pakistan, with a reported incidence rate of 5.98%. Unprotected and early sex, low socioeconomic status, early menstrual cycles, multiparty relationships, HPV infection, co-infections, hormonally changed immune system, smoking, and low education level, among others are all risk factors associated with cervical cancer. Objective: The targeted objective of this review and meta-analysis was to identify how comprehension and attitude may impact on how frequently women utilize services for cervical cancer screening. Methods: The review of the literature was done using a variety of resources, including Google Scholar, PubMed, MEDLINE, and other databases. The keywords "incidence of cervical cancer in Pakistan," "prevalence of cervical cancer," and "risk factors of cervical cancer in Pakistan" were used. Results: From this literature review, following factors has been identified that are affecting cervical cancer development. Sexually Transmitted Infections (STI), multiple sexual partners, marrying before age 18 years, multiple childbirths, Oral Contraceptive Pills (OCPs), smoking, obesity, nutritional and dietary factors, and low socioeconomic status. Conclusions: The burden of cervical carcinoma has increased as a result of the rising prevalence of the condition. Although Pakistan has a lower prevalence of cervix carcinoma than other western nations. Mortality rates are high as a result of inadequate awareness, poor follow-up, and late presentation of cervical malignancies.
References
Sadia H, Shahwani IM, Bana KFM. Risk factors of cervical cancer and role of primary healthcare providers regarding PAP smears counseling: Case control study. Pakistan Journal of Medical Sciences. 2022 Apr; 38(4Part-II):998-1003. doi: 10.12669/pjms.38.4.4969.
Ngoma M, Autier P. Cancer prevention: cervical cancer. Ecancermedicalscience. 2019 Jul; 13:952. doi: 10.3332/ecancer.2019.952.
Bruni LB, Barrionuevo-Rosas L, Albero G, Aldea M, Serrano B, Valencia S, et al. Human papillomavirus and related diseases in the world. Summary Report. 2015 Dec; 20140822.
Batool SA, Sajjad S, Malik H. Cervical cancer in Pakistan: A review. Journal of Pakistan Medical Association. 2017 Jul; 67(7):1074-1077.
Castle PE, Einstein MH, Sahasrabuddhe VV. Cervical cancer prevention and control in women living with human immunodeficiency virus. Cancer Journal for Clinicians. 2021 Nov; 71(6):505-526. doi: 10.3322/caac.21696.
Sahara AL, Ibrahim F, Massi MN, Yasmon A. Association of Chlamydia trachomatis, Mycoplasma spp., Ureaplasma urealyticum and U. parvum with Human Papillomavirus in Patients with Cervical Cancer. In10th International Seminar and 12th Congress of Indonesian Society for Microbiology (ISISM 2019) 2021 Aug 12. Atlantis Press.
Rosalik K, Tarney C, Han J. Human Papilloma Virus Vaccination. Viruses. 2021 Jun; 13(6):1091. doi: 10.3390/v13061091.
Denny L, de Sanjose S, Mutebi M, Anderson BO, Kim J, Jeronimo J, et al. Interventions to close the divide for women with breast and cervical cancer between low-income and middle-income countries and high-income countries. Lancet. 2017 Feb; 389(10071):861-870. doi: 10.1016/S0140-6736(16)31795-0.
Kassie AM, Abate BB, Kassaw MW, Aragie TG, Geleta BA, Shiferaw WS. Impact of knowledge and attitude on the utilization rate of cervical cancer screening tests among Ethiopian women: A systematic review and meta-analysis. PLoS One. 2020 Dec; 15(12):e0239927. doi: 10.1371/journal.pone.0239927.
Olson B, Gribble B, Dias J, Curryer C, Vo K, Kowal P, et al Cervical cancer screening programs and guidelines in low- and middle-income countries. International Journal of Gynaecology and Obstetrics. 2016 Sep; 134(3):239-46. doi: 10.1016/j.ijgo.2016.03.011.
Mezei AK, Armstrong HL, Pedersen HN, Campos NG, Mitchell SM, Sekikubo M, et al. Cost-effectiveness of cervical cancer screening methods in low- and middle-income countries: A systematic review. International Journal of Cancer. 2017 Aug; 141(3):437-446. doi: 10.1002/ijc.30695.
Alshahrani M, Sultan SA. Awareness and Attitude to the Risk of Cervical Cancer and Screening Methods among Women in the Najran Region of Southern Saudi Arabia. doi: 10.21203/rs.3.rs-33070/v1.
Venkatas J, Singh M. Cervical cancer: a meta-analysis, therapy and future of nanomedicine. Ecancermedicalscience. 2020 Sep; 14:1111. doi: 10.3332/ecancer.2020.1111.
Koskela P, Anttila T, Bjørge T, Brunsvig A, Dillner J, Hakama M, et al. Chlamydia trachomatis infection as a risk factor for invasive cervical cancer. International Journal of Cancer. 2000 Jan 1;85(1):35-9. doi: 10.1002/(sici)1097-0215(20000101)85:1<35::aid-ijc6>3.0.co;2-a.
Liu ZC, Liu WD, Liu YH, Ye XH, Chen SD. Multiple Sexual Partners as a Potential Independent Risk Factor for Cervical Cancer: A Meta-analysis of Epidemiological Studies. Asian Pacific Journal of Cancer Prevention. 2015; 16(9):3893-900. doi: 10.7314/apjcp.2015.16.9.3893.
Laan JJ, van Lonkhuijzen LRCW, van Os RM, Tytgat KM, Dávila Fajardo R, Pieters BR, et al. Socioeconomic status as an independent risk factor for severe late bowel toxicity after primary radiotherapy for cervical cancer. Gynecologic Oncology. 2017 Dec; 147(3):684-689. doi: 10.1016/j.ygyno.2017.10.013.
Denny L, Prendiville W. Cancer of the cervix: Early detection and cost-effective solutions. International Journal of Gynaecology and Obstetrics. 2015 Oct; 131 Suppl 1: S28-32. doi: 10.1016/j.ijgo.2015.02.009.
Roura E, Castellsagué X, Pawlita M, Travier N, Waterboer T, Margall N, et al. Smoking as a major risk factor for cervical cancer and pre-cancer: results from the EPIC cohort. International Journal of Cancer. 2014 Jul; 135(2):453-66. doi: 10.1002/ijc.28666.
Poorolajal J, Jenabi E. The association between BMI and cervical cancer risk: a meta-analysis. European Journal of Cancer Prevention. 2016 May; 25(3):232-8. doi: 10.1097/CEJ.0000000000000164.
Momenimovahed Z, Salehiniya H. Incidence, mortality and risk factors of cervical cancer in the world. Biomedical Research and Therapy. 2017 Dec; 4(12):1795-811.
Kashyap N, Krishnan N, Kaur S, Ghai S. Risk Factors of Cervical Cancer: A Case-Control Study. Asia Pacific Journal of Oncology Nursing. 2019 Sep; 6(3):308-314. doi: 10.4103/apjon.apjon_73_18.
Zubair ZA, Masood SO, Parveen A, Ali SI, Syed AA. Prevalence of Knowledge and Awareness Regarding Cervical Cancer among Females Presenting in a Tertiary Care Hospital: A Cross-Sectional Study. Pakistan Journal of Medical and Health Sciences. 2020; 14(2):293-6.
Abbas G, Shah S, Hanif M, Asghar A, Shafique M, Ashraf K. Cancer prevalence, incidence and mortality rates in Pakistan in 2018. Bull Cancer. 2020 Apr; 107(4):517-518. doi: 10.1016/j.bulcan.2019.12.011.
Aliya N, Naeem UR, Saadia Aziz K. Relationship between cervical cancers and tobacco smoking.
Mumtaz A, Saif N, Salahuddin N. Pap Smear Study for Cervical Cancer Screening and its Associated Risk Factors in Positive Cases. Pakistan Postgraduate Medical Journal. 2016 Dec; 27(1):16-20.
Jbeen M, Gul F, Javed N, Mehroz S. Frequency of cervical intraepithelial neoplasia in women attending Liaqat Memorial Hospital Kohat. Khyber Medical University Journal. 2013 Sep; 5:132-6.
Jahan F, Nabi N, Qidwai W, Azam I. Frequency of abnormal pap smears and assessment of risk factors for cervical cancer in an out-patient clinic. Journal of Dow University of Health Sciences. 2008; 2(2):55.
Memon IA. Get your daughters vaccinated before they sign on the dotted line. The Express Tribune Pakistan. 2010 Nov 6.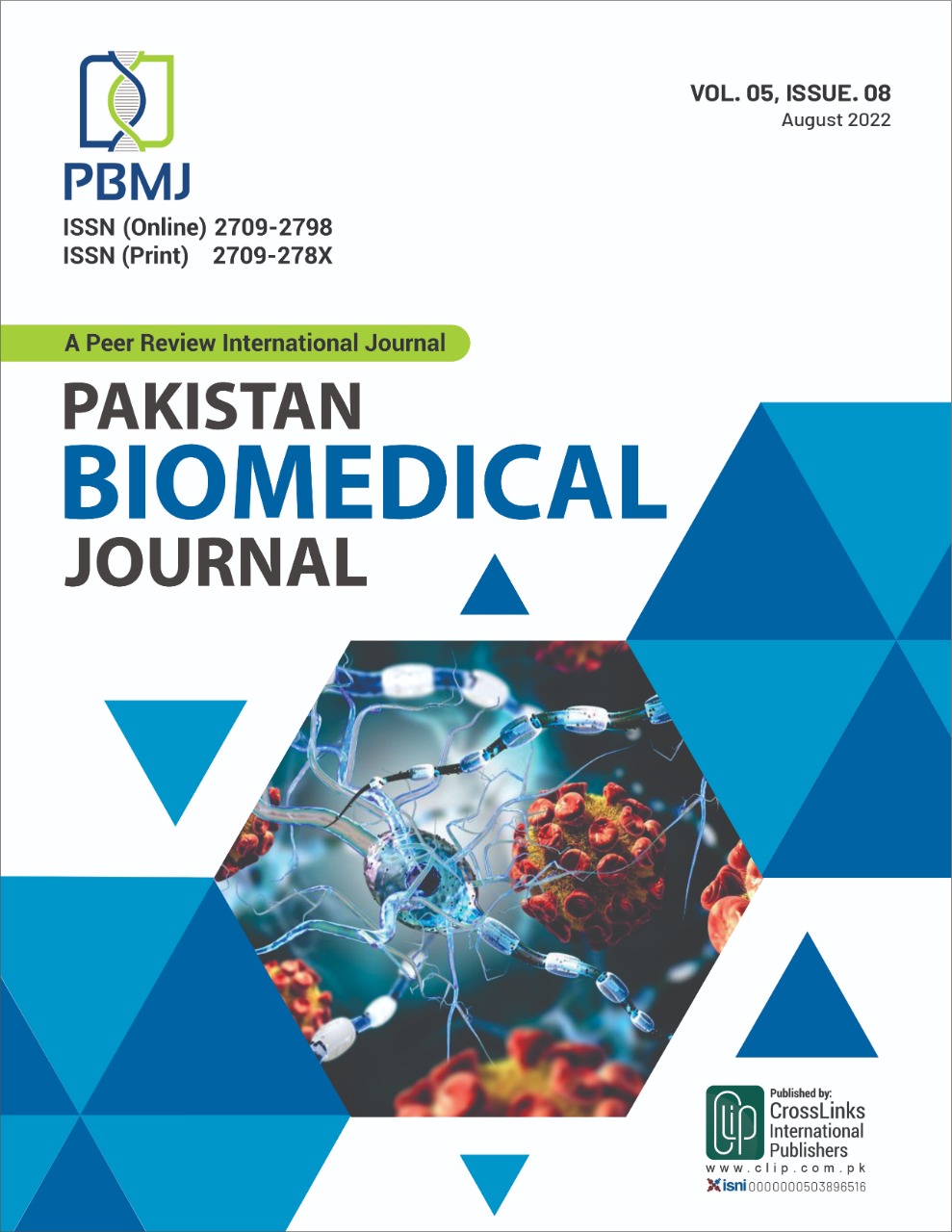 Downloads
CITATION
DOI: 10.54393/pbmj.v5i8.675
How to Cite
Khurshid, Z. ., Ozigi Abdullahi, K. ., Parveen, K. ., & Khan, S. . (2022). Factors Contributing to Cervical Cancer Among Women: A Systematic Review and Meta-Analysis: Cervical Cancer Among Women. Pakistan BioMedical Journal, 5(8), 72–76. https://doi.org/10.54393/pbmj.v5i8.675
Section
Systematic Review
License
Copyright (c) 2022 Pakistan BioMedical Journal
This work is licensed under a Creative Commons Attribution 4.0 International License.
This is an open-access journal and all the published articles / items are distributed under the terms of the Creative Commons Attribution License, which permits unrestricted use, distribution, and reproduction in any medium, provided the original author and source are credited. For comments editor@pakistanbmj.com