Association Between Tea and Coffee Consumption and Symptoms of Iron Deficiency Among University Students
Association of Tea and Coffee Consumption with Iron Deficiency
Keywords:
Tea and Coffee, Excessive Consumption, Dietary Iron Deficiency
Abstract
Excessive consumption of tea and coffee has been linked with dietary iron deficiency in many clinical trials. People who consume tea or coffee with meal are at higher risk of developing dietary iron deficiency. Objective: The aim of this study was to assess the prevalence of iron deficiency in relation with tea or coffee among female university students. Methods: 150 female students at University of Lahore selected randomly. All participants were willing to participate in this survey. Questionnaires (on the base of 25 iron deficiency related question) were used for the collection of data to assess the relation between consumption of tea and iron deficiency. Results: 88 participants reported experiencing headache when not taking tea or coffee for long time. 41 desire to consume it all the time. 49 participants experience fatigue when not consumed tea or coffee. 31 participants consume tea or coffee with meal. 27 participants experience symptoms of anemia. 68 participants consume tea or coffee for mind relaxation. 54 participants take tea or coffee for better sleep. 83 participants consume for weight management. About 91 participants take dietary supplement for iron less than 1-2 times a day. Conclusions: This study shows that all the participants consume tea or coffee on daily basis while majority of them take with meal. The participants revealed to have symptoms of iron deficiency.  Consumption of tea or coffee with meal is one of the reasons of dietary iron deficiency as chelates present in tea and coffee hinders the absorption of iron from food.
References
Garcia-Casal MN, Pasricha SR, Sharma AJ, Peña-Rosas JP. Use and interpretation of hemoglobin concentrations for assessing anemia status in individuals and populations: results from a WHO technical meeting. Annals of the New York Academy of Sciences. 2019 Aug; 1450(1): 5-14. doi: 10.1111/nyas.14090.
Yıldız TK, Yurtay N, Öneç B. Classifying anemia types using artificial learning methods. Engineering Science and Technology, an International Journal. 2021 Feb; 24(1): 50-70. doi: 10.1016/j.jestch.2020.12.003.
Chaparro CM and Suchdev PS. Anemia epidemiology, pathophysiology, and etiology in low and middle-income countries. Annals of the New York Academy of Sciences. 2019 Aug; 1450(1): 15-31. doi: 10.1111/nyas.14092.
Al-Alimi AA, Bashanfer S, Morish MA. Prevalence of iron deficiency anemia among university students in Hodeida Province, Yemen. Anemia. 2018 Apr; 2018: 4157876. doi: 10.1155/2018/4157876.
Mantadakis E, Chatzimichael E, Zikidou P. Iron deficiency anemia in children residing in high and low-income countries: risk factors, prevention, diagnosis and therapy. Mediterranean Journal of Hematology and Infectious Diseases. 2020 Jul; 12(1): e2020041. doi: 10.4084/mjhid.2020.041.
Sundararajan S and Rabe H. Prevention of iron deficiency anemia in infants and toddlers. Pediatric Research. 2021 Jan; 89(1): 63-73. doi: 10.1038/s41390-020-0907-5.
Habib MA, Black K, Soofi SB, Hussain I, Bhatti Z, Bhutta ZA, et al. Prevalence and predictors of iron deficiency anemia in children under five years of age in Pakistan, a secondary analysis of national nutrition survey data 2011–2012. PloS One. 2016 May; 11(5): e0155051. doi: 10.1371/journal.pone.0155051.
Habib MA, Raynes-Greenow C, Soofi SB, Ali N, Nausheen S, Ahmed I, et al. Prevalence and determinants of iron deficiency anemia among non-pregnant women of reproductive age in Pakistan. Asia Pacific Journal of Clinical Nutrition. 2018 Jan; 27(1): 195-203.
Fan FS. Iron deficiency anemia due to excessive green tea drinking. Clinical Case Reports. 2016 Nov; 4(11): 1053. doi: 10.1002/ccr3.707.
Sung ES, Choi CK, Kim NR, Kim SA, Shin MH. Association of coffee and tea with ferritin: data from the Korean National Health and Nutrition Examination Survey (IV and V). Chonnam Medical Journal. 2018 Sep; 54(3): 178-83. doi: 10.4068/cmj.2018.54.3.178.
Islam T, Ahmed I, Ali G, Ahmer Z. Emerging trend of coffee cafe in Pakistan: factors affecting revisit intention. British Food Journal. 2019 Jul; 121(9): 2132-47. doi: 10.1108/BFJ-12-2018-0805.
Naveed S and Hameed A. Consumption of Tea in Professionals and Non-professionals. SOJ Pharmacy & Pharmaceutical Sciences. 2014 Sep; 1(3): 1-4. doi: 10.15226/2374-6866/1/3/00116.
Delimont NM, Haub MD, Lindshield BL. The impact of tannin consumption on iron bioavailability and status: A narrative review. Current Developments in Nutrition. 2017 Feb; 1(2): 1-2. doi: 10.3945/cdn.116.000042.
Mazhar S, Bano M, Azam S, Abbas R. Periodontal Disease and Obesity: A Hospital Based Cross-Sectional Study. Pakistan Oral & Dental Journal. 2018 Nov; 38(3): 353-7.
Vibhute NA, Shah U, Belgaumi U, Kadashetti V, Bommanavar S, Kamate W. Prevalence and awareness of nutritional anemia among female medical students in Karad, Maharashtra, India: A cross-sectional study. Journal of Family Medicine and Primary Care. 2019 Jul; 8(7): 2369. doi: 10.4103/jfmpc.jfmpc_353_19.
Mahmood T, Rehman AU, Tserenpil G, Siddiqui F, Ahmed M, Siraj F, et al. The association between iron-deficiency anemia and adverse pregnancy outcomes: a retrospective report from Pakistan. Cureus. 2019 Oct; 11(10): e5854. doi: 10.7759/cureus.5854.
Côté S, Kraus M, Piff PK, Beermann U, Keltner D. Social class clash: A dyadic model of social affiliation in cross-class and same-class interactions. Rotman School of Management Working Paper. 2014 Oct: 1-69.
Gaeini Z, Malmir H, Mirmiran P, Feizy Z, Azizi F. Snack consumption patterns and their associations with risk of incident metabolic syndrome: Tehran Lipid and Glucose Study. Research Square. 2022 Jun; 9: 1-16. doi: 10.21203/rs.3.rs-1760399/v1.
Mani L, Fatimah-Muis S, Kartini A. The correlation of intake phytate and tannin on serum transferrin receptor and hemoglobin in stunted overweight adolescents. Potravinarstvo. 2019 Jan; 13(1): 870-874. doi: 10.5219/1191.
El-Saidy TM and Amr TE. The modifiable and nonmodifiable risk factors for miscarriage. Egyptian Nursing Journal. 2016 Sep; 13(3): 169. doi: 10.4103/2090-6021.200178.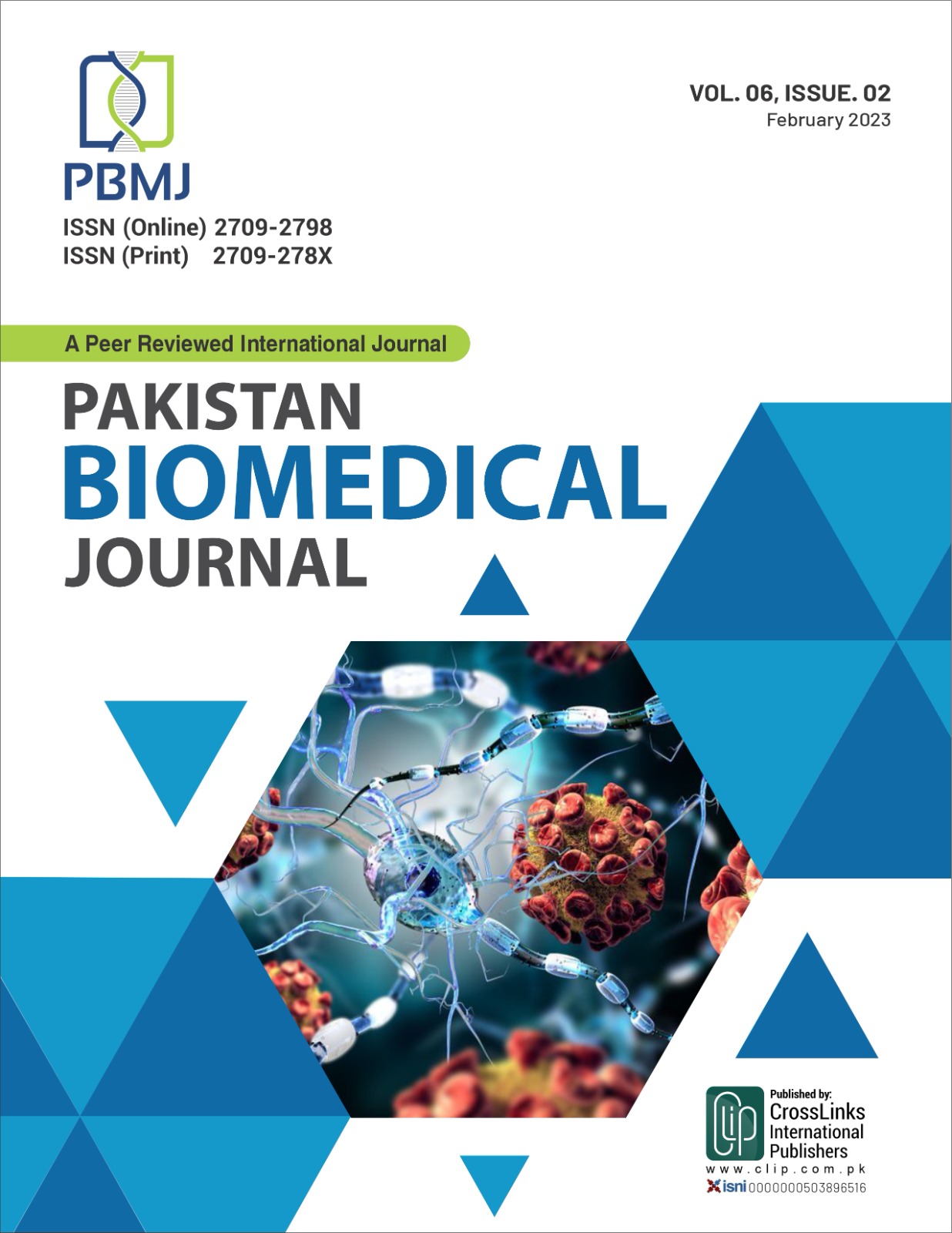 Downloads
How to Cite
Madiha Jaffar, H. ., Rizwan, B. ., Naseem, A. N. ., Asghar, U.- e-H. ., Ghalib, Z. ., Tariq, I. ., Najeeb, G. e R. ., Arshad, T. ., Ahmed, A. ., Munir, M. ., & Azhar, A. . (2023). Association Between Tea and Coffee Consumption and Symptoms of Iron Deficiency Among University Students: Association of Tea and Coffee Consumption with Iron Deficiency. Pakistan BioMedical Journal, 6(02), 02–06. https://doi.org/10.54393/pbmj.v6i02.771
License
Copyright (c) 2023 Pakistan BioMedical Journal
This work is licensed under a Creative Commons Attribution 4.0 International License.
This is an open-access journal and all the published articles / items are distributed under the terms of the Creative Commons Attribution License, which permits unrestricted use, distribution, and reproduction in any medium, provided the original author and source are credited. For comments editor@pakistanbmj.com