Comparison of Routine Physical Therapy with And Without Core-Stability Exercises on Dynamic Sitting Balance and Trunk Control in Sub-Acute Ischemic Stroke Patients
Routine Physical Therapy with and without Core-Stability Exercises
Keywords:
Conventional Therapy, Core Stability, Burg Balance Scale, Trunk Impairment Scale
Abstract
Stroke patients suffer from severe postural instability and likely to have a frequent number of drops and a higher limitation of post-fall activities. Stroke burden is increasing day by day which leads to significant musculoskeletal problems, physical and mechanical issue. Objectives: To compare the effects of routine physical therapy with and without core-stability exercises on trunk control and sitting balance in sub-acute ischemic-stroke patients. Methods: It was a Single blinding Randomized controlled trial. Total 58 patients participated in this study (29 in each group) with 20% drop out from Rabbani Hospital Thokar Lahore setting. In both groups control and experimental groups treatment given for the 45 mints per day in 8 week which includes conventional physical therapy with and without core stability exercises in as well. Exercises performed in sitting position on couch, chair and physio ball. BBS and TIS scale used for this study purpose. Data were collected through standardized questionnaire. Results: Total 15(62.5%) male and 9(37.5%) females in control group while 11(45.8%) males and 13(54.2%) females in experimental groups were included in study. BBS score in treatment groups before and after the treatment in control group is 11.29 while 20.25 in experimental group. TIS score in treatment groups before and after the treatment is 3.13 in control group while 4.88 in experimental group as well. Conclusions: It is concluded that core stability exercise training combined with conventional treatment helps sub-acute post-stroke patients improve their trunk control as well as their dynamic sitting and standing balance, gait, and capacity to do daily living tasks.
References
Sacco RL, Kasner SE, Broderick JP, Caplan LR, Connors J, Culebras A, et al. An updated definition of stroke for the 21st century: a statement for healthcare professionals from the American Heart Association/American Stroke Association. Stroke. 2013 Jul; 44(7):2064-89. doi: 10.1161/STR.0b013e318296aeca.
Hsieh CL, Sheu CF, Hsueh IP, Wang CH. Trunk control as an early predictor of comprehensive activities of daily living function in stroke patients. Stroke. 2002 Nov; 33(11):2626-30. doi: 10.1161/01.str.0000033930.05931.93
Nayak A, Karthikbabu S, Ganesan S, Chakrapani M. Sitting postural control is prerequisite for standing and stepping after stroke: A cross-sectional study. Physiotherapy and Occupational Therapy Journal. 2011; 4(1).
Srivastava A, Taly AB, Gupta A, Murali T. Post-stroke depression: prevalence and relationship with disability in chronic stroke survivors. Annals of Indian Academy and Neurology. 2010 Apr; 13(2):123-7. doi: 10.4103/0972-2327.64643
Feigin VL, Norrving B, George MG, Foltz JL, Roth GA, Mensah GA. Prevention of stroke: a strategic global imperative. Nature Reviews Neurology. 2016 Sep; 12(9):501-12. doi: 10.1038/nrneurol.2016.107
Batchelor FA, Mackintosh SF, Said CM, Hill KD. Falls after stroke. International Journal of Stroke. 2012 Aug; 7(6):482-90. doi: 10.1111/j.1747-4949.2012.00796.x
Elkind MS. Inflammatory mechanisms of stroke. Stroke. 2010 Oct 1;41(10_suppl_1):S3-8. doi: 10.1161/strokeaha.110.594945
Suh JH, Lee EC, Kim JS, Yoon SY. Association between trunk core muscle thickness and functional ability in subacute hemiplegic stroke patients: an exploratory cross-sectional study. Topics in Stroke Rehabilitation. 2022 Apr; 29(3):163-172. doi: 10.1080/10749357.2021.1918840
Bae SH, Lee HG, Kim YE, Kim GY, Jung HW, Kim KY. Effects of Trunk Stabilization Exercises on Different Support Surfaces on the Cross-sectional Area of the Trunk Muscles and Balance Ability. The Journal of Physical Therapy Science. 2013 Jun; 25(6):741-5. doi: 10.1589/jpts.25.741
Gjelsvik BE. Trunk control in stroke. Aspects of measurement, relation to brain lesion, and change after rehabilitation.
Noh HJ, Lee SH, Bang DH. Three-Dimensional Balance Training Using Visual Feedback on Balance and Walking Ability in Subacute Stroke Patients: A Single-Blinded Randomized Controlled Pilot Trial. Journal of Stroke and Cerebrovascular Diseases. 2019 Apr; 28(4):994-1000. doi: 10.1016/j.jstrokecerebrovasdis.2018.12.016
You YY and Chung SH. The effects of gait velocity on the gait characteristics of hemiplegic patients. The Journal of Physical Therapy Science. 2015 Mar; 27(3):921-4. doi: 10.1589/jpts.27.921
Jankovic J. Gait disorders. Neurologic clinics. 2015 Feb; 33(1):249-68.
Schmid AA, Van Puymbroeck M, Altenburger PA, Schalk NL, Dierks TA, Miller KK, et al. Poststroke balance improves with yoga: a pilot study. Stroke. 2012 Sep; 43(9):2402-7. doi: 10.1161/STROKEAHA.112.658211
Karthikbabu S and Verheyden G. Relationship between trunk control, core muscle strength and balance confidence in community-dwelling patients with chronic stroke. Topics in Stroke Rehabilitation. 2021 Mar; 28(2):88-95. doi: 10.1080/10749357.2020.1783896
Tyson SF, Hanley M, Chillala J, Selley AB, Tallis RC. The relationship between balance, disability, and recovery after stroke: predictive validity of the Brunel Balance Assessment. Neurorehabilitation and Neural Repair. 2007 Aug; 21(4):341-6. doi: 10.1177/1545968306296966
Haruyama K, Kawakami M, Otsuka T. Effect of Core Stability Training on Trunk Function, Standing Balance, and Mobility in Stroke Patients. Neurorehabilitation and Neural Repair. 2017 Mar; 31(3):240-249. doi: 10.1177/1545968316675431
Sun X, Gao Q, Dou H, Tang S. Which is better in the rehabilitation of stroke patients, core stability exercises or conventional exercises? The Journal of Physical Therapy Science. 2016 Apr; 28(4):1131-3. doi: 10.1589/jpts.28.1131
Lee MJ and Lee SM. The Effect of Virtual Reality Exercise Program on Sitting Balance Ability of Spinal Cord Injury Patients. Healthcare (Basel). 2021 Feb; 9(2):183. doi: 10.3390/healthcare9020183
Lee JH, Kim SB, Lee KW, Lee SJ, Park H, Kim DW. The effect of a whole-body vibration therapy on the sitting balance of subacute stroke patients: a randomized controlled trial. Topics in Stroke Rehabilitation. 2017 Sep; 24(6):457-462. doi: 10.1080/10749357.2017.1305655
De Luca A, Squeri V, Barone LM, Vernetti Mansin H, Ricci S, Pisu I, et al. Dynamic Stability and Trunk Control Improvements Following Robotic Balance and Core Stability Training in Chronic Stroke Survivors: A Pilot Study. Frontiers in Neurology. 2020 Jun; 11:494. doi: 10.3389/fneur.2020.00494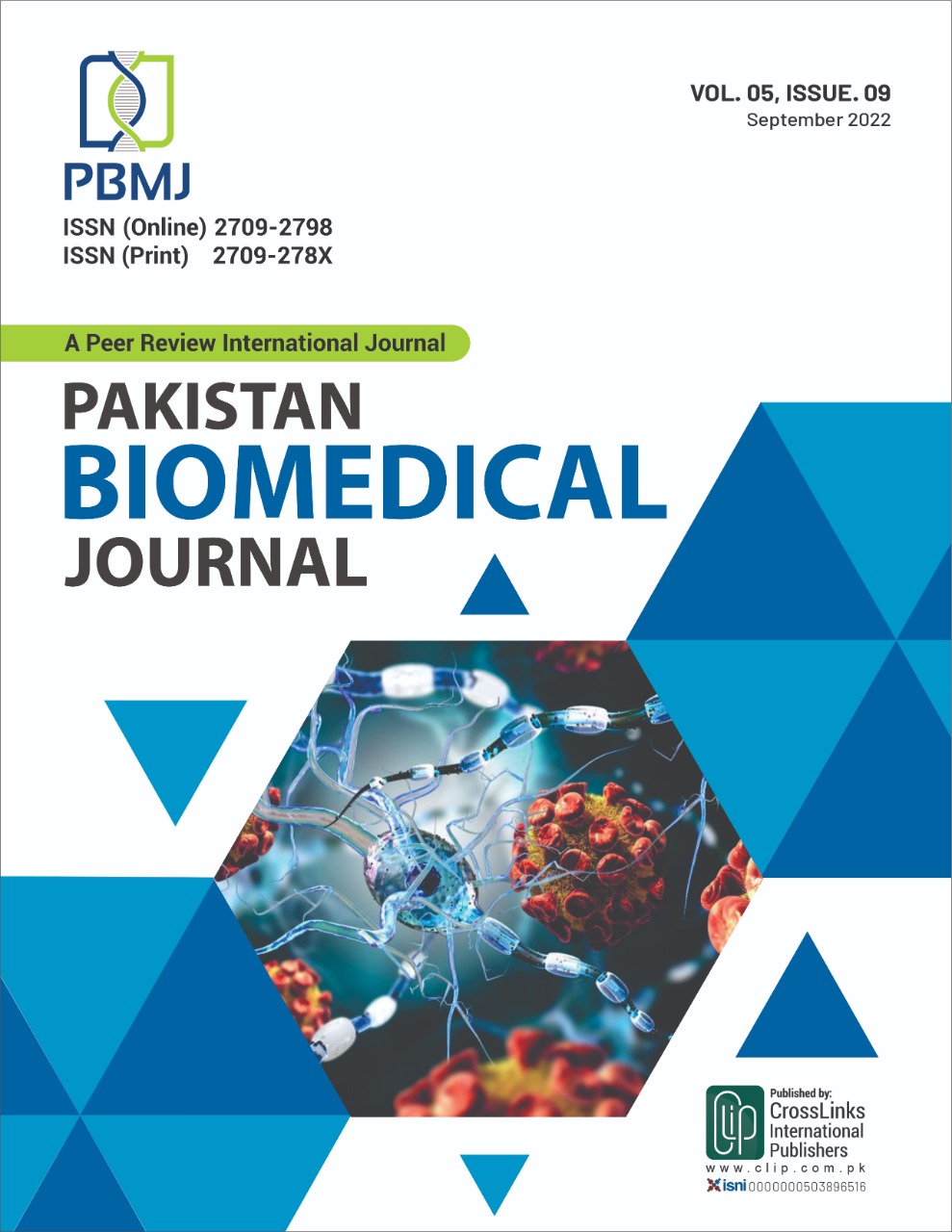 Downloads
How to Cite
Awais, D. ., Batool, S. ., Ahmad, A. ., Ali Aftab, A. ., & Naqvi, R. . (2022). Comparison of Routine Physical Therapy with And Without Core-Stability Exercises on Dynamic Sitting Balance and Trunk Control in Sub-Acute Ischemic Stroke Patients: Routine Physical Therapy with and without Core-Stability Exercises. Pakistan BioMedical Journal, 5(9), 31–35. https://doi.org/10.54393/pbmj.v5i9.796
License
Copyright (c) 2022 Pakistan BioMedical Journal
This work is licensed under a Creative Commons Attribution 4.0 International License.
This is an open-access journal and all the published articles / items are distributed under the terms of the Creative Commons Attribution License, which permits unrestricted use, distribution, and reproduction in any medium, provided the original author and source are credited. For comments editor@pakistanbmj.com