Physicochemical Characteristics, Total Phenolic Content and Free Radical Scavenging Activity of Apple (Malus Domestica) Peel Powder
Physicochemical characteristics of Apple Peel powder
Keywords:
Apple Peel Powder, Nutrients, Phenolic Contents, Free Radical Scavenging Activity
Abstract
Apple peel is considered as a waste product in many fruit industries but it is a noteworthy source of nutrients and phytochemicals, particularly polyphenols which have the ability to scavenge free radicals. Objectives: To study the physicochemical properties of apple (Malus domestica) peel powder, as well as its TPC and free radical scavenging activities. Methods: Proximate analysis of the apple peels powder was carried out. Total polyphenol content of apple peel powder was determined. The total content of phenolic compounds was expressed as gallic acid equivalent, i.e. mg GAE/100g of extract dry weight of sample. Results: The results of physicochemical characteristics moisture (7.65±0.88%), ash (2.50±0.35%), fat (1.18±0.02%), fiber (15.25±1.03%), protein (2.79±0.05%), carbohydrates (71.0±2.30%) and energy were 312±4.70 Kcal/100g. The total phenolic contents in the methanolic extract of apple peel powder were 320±5.4 mg GAE/100g while in H2O extract 201±4.20 mg/100g. The findings of the apple peel powder's methanolic extract's capacity to scavenge free radicals varied from 25.40±1.30—69.2±3.80%, while those of the water extract were 14.30±1.05—45.62±1.90%  and BHT were 17.8±1.15—51.62±2.15%  at concentration 20-100 µg/ml. Conclusions: The outcomes showed that both apple peel powder extracts had promising total polyphenols and have strong free radical scavenging activity. These findings suggest that the apple peel powder act as robust naturally occurring antioxidants and may be employed as a preventative therapy for several oxidative stress-related degenerative disorders.
References
Ani PN and Abel HC. Nutrient, phytochemical, and antinutrient composition of Citrus maxima fruit juice and peel extract. Food Science & Nutrition. 2018 May; 6(3): 653-8. doi: 10.1002/fsn3.604
Saeed MK, Zahra N, Ahmad I, Syed Q. Quality assessment, sensory evaluation, and radical scavenging activity (RSA) of orange (Citrus auranthium) pulp. Bangladesh Journal of Scientific and Industrial Research. 2022 Jun; 57(2): 123-30. doi: 10.3329/bjsir.v57i2.60409
FAO F. Food and agriculture organization of the United Nations. Rome. 2018 Jul.
Akhtar S, Khan FA, Ali J, Javid B. Nutritional composition, sensory evaluation and quality assessment of different brands of commercial tetra pack apple juices available in local market of Peshawar Pakistan. Global Journal of Biotechnology and Biochemistry. 2013; 8(11): 69-73.
Qiang J, Khamis OA, Jiang HJ, Cao ZM, He J, Tao YF, et al. Effects of dietary supplementation with apple peel powder on the growth, blood and liver parameters, and transcriptome of genetically improved farmed tilapia (GIFT, Oreochromis niloticus). PLoS One. 2019 Nov; 14(11). doi: 10.1371/journal.pone.0224995
Raudone L, Raudonis R, Liaudanskas M, Janulis V, Viskelis P. Phenolic antioxidant profiles in the whole fruit, flesh and peel of apple cultivars grown in Lithuania. Scientia horticulturae. 2017 Feb; 216: 186-92. doi: 10.1016/j.scienta.2017.01.005
Kschonsek J, Wolfram T, Stöckl A, Böhm V. Polyphenolic compounds analysis of old and new apple cultivars and contribution of polyphenolic profile to the in vitro antioxidant capacity. Antioxidants. 2018 Jan; 7(1): 20. doi: 10.3390/antiox7010020
Akinyeye RO, Oluwadunsin A, Omoyeni A. Proximate, mineral, anti-nutrients, phyto-chemical screening and amino acid compositions of the leaves of Pterocarpus mildbraedi harms. Electronic Journal of Environmental, Agricultural & Food Chemistry. 2010 Sep; 9(8).
Singleton VL and Rossi JA. Colorimetry of total phenolics with phosphomolybdic-phosphotungstic acid reagents. American journal of Enology and Viticulture. 1965 Jan; 16(3): 144-58.
Brand-Williams W, Cuvelier ME, Berset CL. Use of a free radical method to evaluate antioxidant activity. LWT-Food science and Technology. 1995 Jan; 28(1): 25-30. doi: 10.1016/S0023-6438(95)80008-5
Ou K and Gu L. Absorption and metabolism of proanthocyanidins. Journal of Functional Foods. 2014 Mar; 7: 43-53. doi: 10.1016/j.jff.2013.08.004
Safdar MN, Kausar T, Nadeem M. Comparison of ultrasound and maceration techniques for the extraction of polyphenols from the mango peel. Journal of Food Processing and Preservation. 2017 Aug; 41(4): e13028. doi: 10.1111/jfpp.13028
Henríquez C, Speisky H, Chiffelle I, Valenzuela T, Araya M, Simpson R, et al. Development of an ingredient containing apple peel, as a source of polyphenols and dietary fiber. Journal of Food Science. 2010 Aug; 75(6): H172-81. doi: 10.1111/j.1750-3841.2010.01700.x
Nasir M, Akhtar S, Sharif MK. Effect of moisture and packaging on the shelf life of wheat flour. Internet Journal of Food Safety V. 2004; 4: 1-6.
Nwofia GE, Victoria NN, Blessing KN. Nutritional variation in fruits and seeds of pumpkins (Cucurbita Spp) accessions from Nigeria. Pakistan Journal of Nutrition. 2012 Oct; 11(10): 848-858. doi: 10.3923/pjn.2012.946.956
Preti R and Tarola AM. Study of polyphenols, antioxidant capacity and minerals for the valorisation of ancient apple cultivars from Northeast Italy. European Food Research and Technology. 2021 Jan; 247: 273-83. doi: 10.1007/s00217-020-03624-7
Akpabio UD, Akpakpan AE, Enin GN. Evaluation of proximate compositions and mineral elements in the star apple peel, pulp and seed. Magnesium (Mg). 2012; 6(3.52): 29-49.
Figuerola F, Hurtado ML, Estévez AM, Chiffelle I, Asenjo F. Fibre concentrates from apple pomace and citrus peel as potential fibre sources for food enrichment. Food chemistry. 2005 Jul; 91(3): 395-401. doi: 10.1016/j.foodchem.2004.04.036
Romelle FD, Rani A, Manohar RS. Chemical composition of some selected fruit peels. European Journal of Food Science and Technology. 2016 Sep; 4(4): 12-21.
Hussain M, Maqbool M, Ishtiaq M. Nutritional Evaluation of Some Selected Fruits (Pyrus Malus, Psidium Guajava, Musa Paradisiaca, Citrus Maxima) Available in Local Market of Sargodha City of Pakistan. Transactions in Physical and Biochemical Sciences. 2021; 1(1): 47-56.
El-Messery TM, El-Said MM, Demircan E, Ozçelik B. Microencapsulation of natural polyphenolic compounds extracted from apple peel and its application in yoghurt. Acta Scientiarum Polonorum Technologia Alimentaria. 2019 Mar; 18(1): 25-34. doi: 10.17306/J.AFS.2019.0597
Jakobek L, García-Villalba R, Tomás-Barberán FA. Polyphenolic characterisation of old local apple varieties from Southeastern European region. Journal of food composition and analysis. 2013 Sep; 31(2): 199-211. doi: 10.1016/j.jfca.2013.05.012
Vasile M, Bunea A, Ioan CR, Ioan BC, Socaci S, Viorel M. Phytochemical content and antioxidant activity of Malus domestica Borkh peel extracts. Molecules. 2021 Dec; 26(24). doi: 10.3390/molecules26247636
Khalid MU, Shabbir MA, Mustafa S, Hina S, Quddoos MY, Mahmood S, et al. Effect of Apple peel as an antioxidant on the quality characteristics and oxidative stability of mayonnaise. Applied Food Research. 2021 Dec; 1(2). doi: 10.1016/j.afres.2021.100023
Li H, Subbiah V, Barrow CJ, Dunshea FR, Suleria HA. Phenolic profiling of five different Australian grown apples. Applied Sciences. 2021 Mar; 11(5): 2421. doi: 10.3390/app11052421
Butkeviciute A, Abukauskas V, Janulis V, Kviklys D. Phenolic content and antioxidant activity in apples of the 'Galaval'cultivar grown on 17 different rootstocks. Antioxidants. 2022 Jan; 11(2): 266. doi: 10.3390/antiox11020266
Ahmad I, Khalique A, Shahid MQ, Ahid Rashid A, Faiz F, Ikram MA, et al. Studying the influence of apple peel polyphenol extract fortification on the characteristics of probiotic yoghurt. Plants. 2020 Jan; 9(1). doi: 10.3390/plants9010077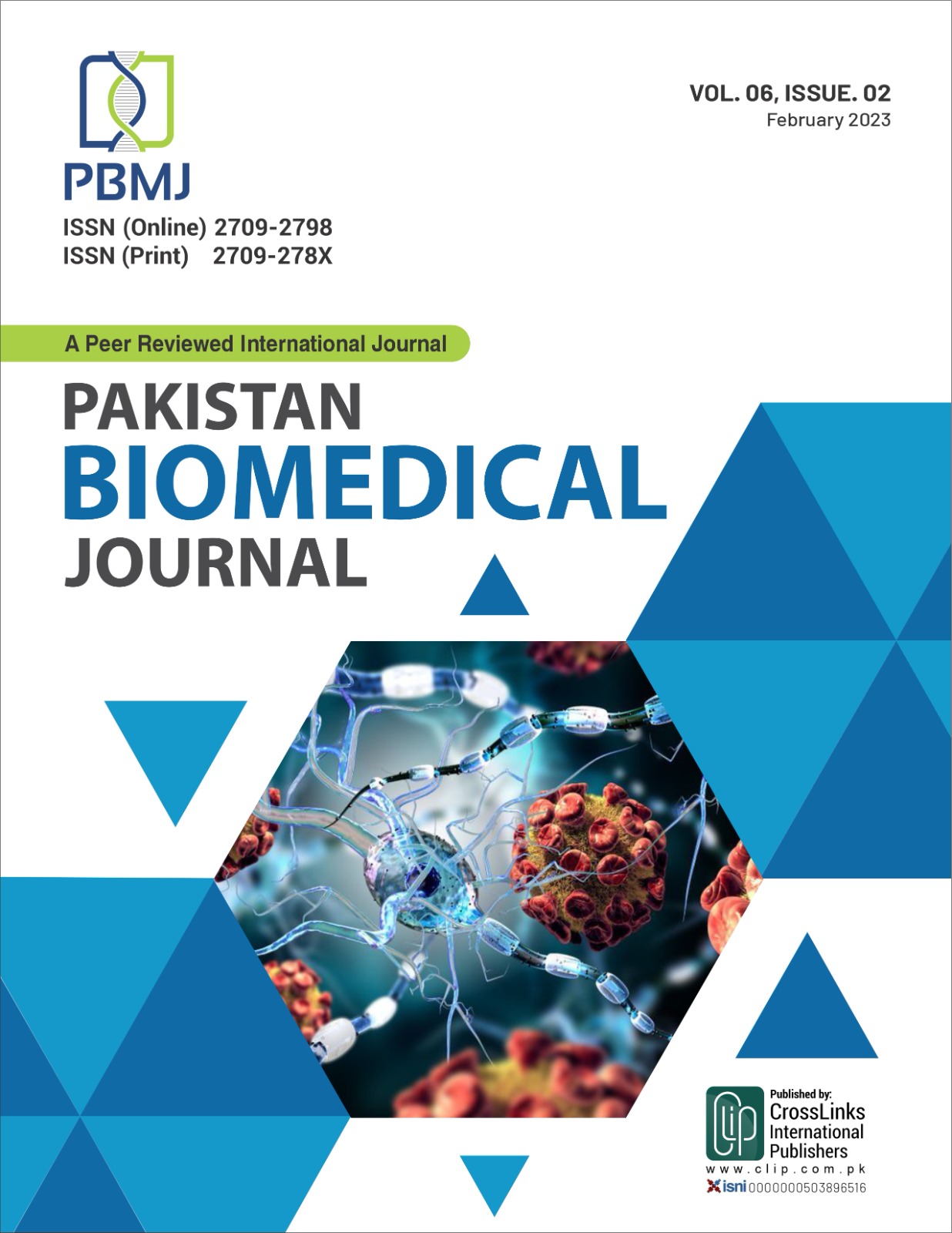 Downloads
How to Cite
Khalid Saeed, M. ., Zahra, N. ., Saeed, A. ., & Syed, Q. . (2023). Physicochemical Characteristics, Total Phenolic Content and Free Radical Scavenging Activity of Apple (Malus Domestica) Peel Powder : Physicochemical characteristics of Apple Peel powder . Pakistan BioMedical Journal, 6(02), 07–11. https://doi.org/10.54393/pbmj.v6i02.847
License
Copyright (c) 2023 Pakistan BioMedical Journal
This work is licensed under a Creative Commons Attribution 4.0 International License.
This is an open-access journal and all the published articles / items are distributed under the terms of the Creative Commons Attribution License, which permits unrestricted use, distribution, and reproduction in any medium, provided the original author and source are credited. For comments editor@pakistanbmj.com