Assessment of Dietary Behavior of Children Aged between 3-12 Years Suffering from Thalassemia Visiting Tertiary Care Hospitals, Lahore
Dietary behavior of Thalassemia children
Abstract
Thalassemia is a hereditary blood disorder passed down through families in which the body makes hemoglobin in an abnormal form. Nutritional deficiencies in thalassemia children results in anemia and other medical complications. Objective:To assess dietary behavior of children aged between 3-12 years suffering from thalassemia.Methods:A cross-sectional study was carried out in the outdoor patient department of thalassemia at Sir Ganga Ram Hospital, Lahore for 4 months.100 patients were selected through non probability sampling technique. Data was tabulated and analyzed by SPSS version 21.0.Results: Thalassemia was more prevalent in the age group of 8-12 years. Nutritional deficiencies in thalassemia patients caused anemia as it was evident from results that 74% of thalassemic children had pale skin. As far as dietary intake was concerned only 4% of thalassemia children were consuming meat and meat products.58% of thalassemia children consumed milk on daily basis.Only 8% took green leafy vegetables on daily basis as it contains high amount of iron.Micro nutrient deficiencies as vitamin A, C were common among thalassemia patients as only 30% were consuming fruits on daily basis.Conclusions:Most of the thalassemiacchildren were found to be malnourished due to inadequate dietary intake. The caregivers and parents should be counseled to create awareness
References
Karimzaei T, Masoudi Q, Shahrakipour M, Navidiyan A, Jamalzae AA, Bamri AZ(2015). Knowledge, attitude and practice of carrier thalassemia marriage volunteer in prevention of major thalassemia. Global journal of health science, 7(5), 364.
Higgs DR, Engel JD, Stamatoyannopoulos G, (2012). Thalassaemia. The Lancet. 28;379(9813):373-83.
Winichakoon P, Tantiworawit A, Rattanathammethee T, Hantrakool S, Chai-Adisaksopha C, Rattarittamrong E, Norasetthada L, Charoenkwan P, (2015). Prevalence and risk factors for complications in patients with nontransfusion dependent alpha-and beta-thalassemia. Anemia.
Maheen H, Malik F, Siddique B, Qidwai A, (2015.) Assessing Parental Knowledge About Thalassemia in a Thalassemia Center of Karachi, Pakistan. Journal of Genetic Counseling. 1;24(6):945-51
Cao A, Galanello R, (2010.) Beta-thalassemia. Genetics in Medicine.12(2):61.
Tubman VN, Fung EB, Vogiatzi M, Thompson AA, Rogers ZR, Neufeld EJ, Kwiatkowski JL, Thalassemia Clinical Research Network, (2015). Guidelines for the standard monitoring of patients with thalassemia: report of the thalassemia longitudinal cohort. Journal of Pediatric Hematology/oncology.37(3):e162.
Thavorncharoensap M, Torcharus K, Nuchprayoon I, Riewpaiboon A, Indaratna K, Ubol BO, (2010) Factors affecting health-related quality of life in Thai children with thalassemia. BMC Hematology. 10(1):1.
Cappellini MD, (2014). Guidelines for the management of transfusion dependent thalassaemia (TDT). Cohen A, Porter J, Taher A, Viprakasit V, editors. Nicosia, Cyprus: Thalassaemia International Federation.
Pouraboli B, Abedi HA, Abbaszadeh A, Kazemi M, (2014).Living in a misty marsh: A qualitative study on the experiences of self-care suffering of patients with thalassemia. Iranian Journal of Nursing and Midwifery Research.19(7 Suppl1):S77.
Aziz K, Sadaf B, Kanwal S, (2012.) Psychosocial problems of Pakistani parents of Thalassemic children: a cross sectional study done in Bahawalpur, Pakistan. BioPsychoSocial Medicine. 6(1):15.
Tanno T, Bhanu NV, Oneal PA, Goh SH, Staker P, Lee YT, Moroney JW, Reed CH, Luban NL, Wang RH, Eling TE, (2007). High levels of GDF15 in thalassemia suppress expression of the iron regulatory protein hepcidin. Nature Medicine. 13(9):1096.
Mahan LK, Raymond JL, (2016). Krause's Food & the Nutrition Care Process-E-Book. Elsevier Health Sciences; 17.
Bekheirnia R, Shamshirsaz AA, Kamgar M, Bouzari N, Erfanzadeh G, Pourzahedgilani N, Tabatabaie SM, Shamshirsaz AA, Kimiagar M, Ezzati F, Larijani B, (2004). Serum zinc and its relation to bone mineral density in β-thalassemic adolescents. Biological Trace Element Research. 1;97(3):215-24.
Sherief LM, Abd El-Salam SM, Kamal NM, Almalky MA, Azab SF, Morsy HM, Gharieb AF, (2014). Nutritional biomarkers in children and adolescents with beta-thalassemia-major: an Egyptian center experience. BioMed Research International. 2014.
Fung EB, Xu Y, Trachtenberg F, Odame I, Kwiatkowski JL, Neufeld EJ, Thompson AA, Boudreaux J, Quinn CT, Vichinsky EP, Thalassemia Clinical Research Network, (2012). Inadequate dietary intake in patients with thalassemia. Journal of the Academy of Nutrition and Dietetics. 1;112(7):980-90.
Tabei SM, Mazloom M, Shahriari M, Zareifar S, Azimi A, Hadaegh A, Karimi M, (2013). Determining and surveying the role of carnitine and folic acid to decrease fatigue in β-thalassemia minor subjects. Pediatric Hematology and Oncology. 1;30(8):742-7.
Elmoneim A, Alhosaini A, Sultan S, Fallatah K, Jabri G, Alhawsawy Z, (2015). Impact of diet modification on serum ferritin level in thalassemia children. Ann Pediatr Child Health.3(2):1055.
Vogiatzi MG, Macklin EA, Trachtenberg FL, Fung EB, Cheung AM, Vichinsky E, Olivieri N, Kirby M, Kwiatkowski JL, Cunningham M, Holm IA, (2009). Differences in the prevalence of growth, endocrine and vitamin D abnormalities among the various thalassaemia syndromes in North America. British Journal of Haematology. 1;146(5):546-56.
Ghone RA, Kumbar KM, Suryakar AN, Katkam RV, Joshi NG, (2008). Oxidative stress and disturbance in antioxidant balance in beta thalassemia major. Indian Journal of Clinical Biochemistry. 1;23(4):337-40.
Almalky MA, Azab SF, Morsy HM, Gharieb AF, (2014). Nutritional Biomarkers in Children and Adolescents with Beta-Thalassemia-Major: An Egyptian Center Experience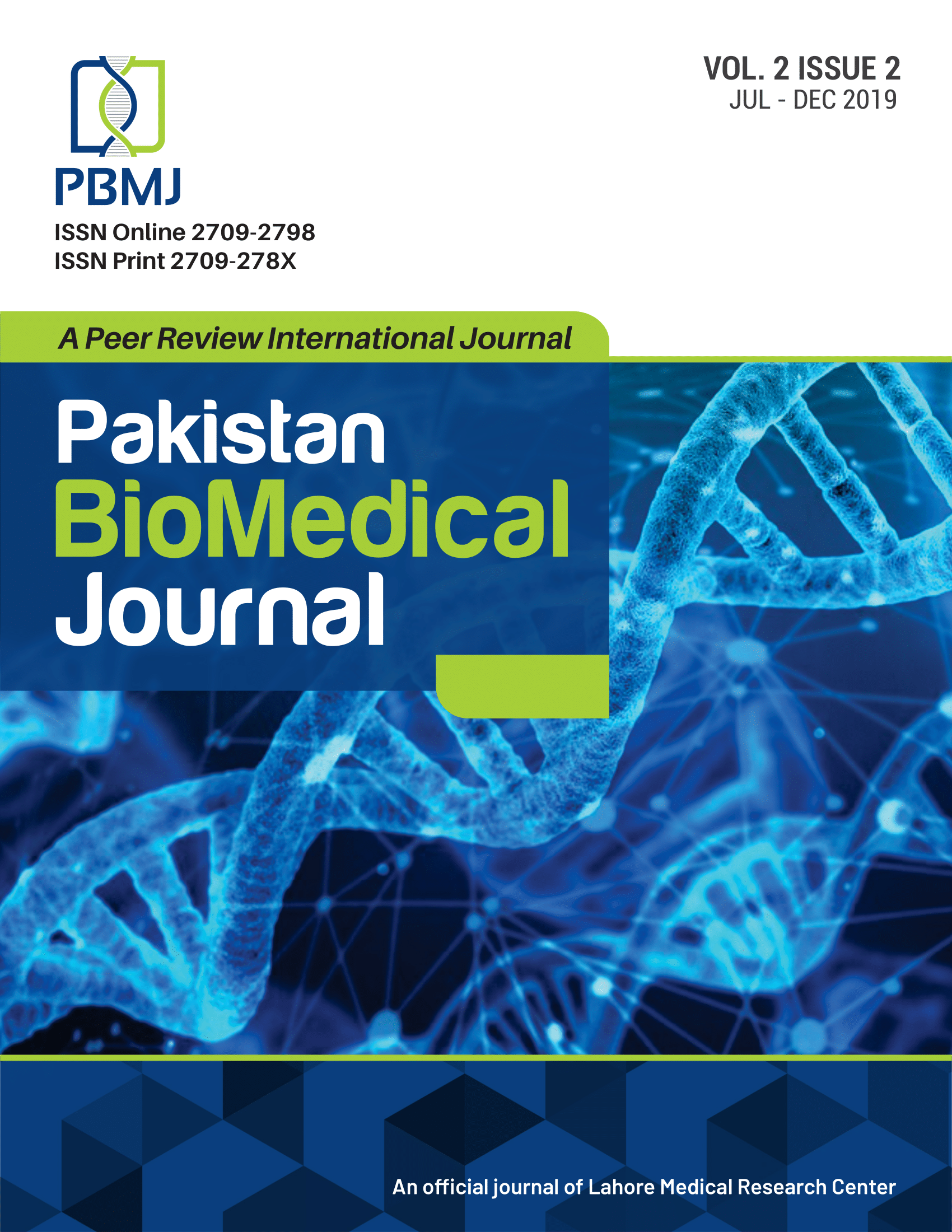 Downloads
CITATION
DOI: 10.52229/pbmj.v2i2.17
How to Cite
Shehryar, M. ., Aslam, M. ., Sohail, N. ., Qadeer, S. ., & Tariq, T. . (2019). Assessment of Dietary Behavior of Children Aged between 3-12 Years Suffering from Thalassemia Visiting Tertiary Care Hospitals, Lahore: Dietary behavior of Thalassemia children. Pakistan BioMedical Journal, 2(2). https://doi.org/10.52229/pbmj.v2i2.17
License
Copyright (c) 2021 Pakistan BioMedical Journal
This work is licensed under a Creative Commons Attribution 4.0 International License.
This is an open-access journal and all the published articles / items are distributed under the terms of the Creative Commons Attribution License, which permits unrestricted use, distribution, and reproduction in any medium, provided the original author and source are credited. For comments editor@pakistanbmj.com