Patterns of Deranged Lipid Profiles in Patients of Chronic Hepatitis C
Deranged lipid profile in hepatitis C patients
Abstract
Liver plays an important role in lipid metabolism and any acute or chronic malfunction of the liver due to viral hepatitis or liver cirrhosis may induce lipid derangements Objective: To determine the patterns of deranged lipid profiles in patients of chronic hepatitis C Methods: It is a prospective, observational study, conducted at Medicine Department, Mayo Hospital Lahore for 6 months i.e.1stJanuary to 30th June 2018.After the ethical approval, 160 diagnosed cases of chronic hepatitis C of ages 18-70 years of either gender were selected by non-probability purposive sampling. Informed written consent was taken. Demographic information such as name, age and gender were recorded. Venous blood samples from patients after 10 to 14 hours of fasting were drawn for lipid profiles and sent to pathology laboratory. All results were expressed as mg/dl. Data were analyzed in SPSS version 22 Results: Out of 160 patients in this study, there were 94 males and 66 females. Total cholesterol was lower in 62.5% patients, normal in 33.75% patients and higher in 3.75% patients. Triglycerides levels were low in 66.25%, normal in 33.125%, and high in 0.625% patients. Low density lipoprotein (LDL) levels were low in 82.5% patients, normal in 10% and raised in 7.5% patients. High density lipoprotein (HDL) levels were low in 95%,normal in 4.375% & high in 0.625% patients Conclusions: Low levels of serum lipids including total cholesterol, triglycerides, LDL and HDL are seen in population suffering from chronic HCV infection.
References
Hepatits C (2015). Available from: http://www.who.int/mediacentre/factsheets/fs164/en/[updated july2015].
Ahmed N, Asgher MM, Qureshi JA (2007). An evidence of high prevalence of hepatitis C virus in Faisalabad Pakistan. Saudi Med J.28: 390-5.
Idrees M, Lal A, Naseem M, Khalid M (2008). High prevalence of hepatitis C virus infection in the largest province of Pakistan. J Dig Dis.9: 95-103.
Chung RT, Baumert TF (2014). Curing chronic hepatitis C-The arc of medical triumph. N Engl J Med.370: 1576-78.
NCEP (2002). Third Report of the National Cholesterol Education Program (NCEP) Expert Panel on Detection, Evaluation, and Treatment of High Blood Cholesterol in Adults (Adult Treatment Panel III) final report. Circulation. 106(25):3143-421.
Nquyen P, Leray V, Diez M, Serisier S, Le Bloc'h J, Siliart B et al. (2008). Liver lipid metabolism. JAnimPhysiolAnimNutr (Berl).92: 272-83.
Bechmann LP, Hannivoort RA, Gerken G, Hotamisligil GS, Trauner M, Canbay A (2012). The interaction of hepatic lipid and glucose metabolism in liver diseases. J Hepatol.,56: 952-64.
Jang ES, Won JE, Jung JI, Lee SH, Kim WJ, Jeong SH (2001). The effect of antiviral therapy on serum cholesterol levels in chronic hepatitis C. Gut Liver.5:356-62.
Hsu CS, Liu CJ, Liu CH, Chen CL, Lai MY, Chen PJ et al. (2008). Metabolic profiles in patients with chronic hepatitis C: a case-control study. Hepatol Int.,2:250-7.
Negro F (2010). Abnormalities of lipid metabolism in hepatitis C virus infection. Gut.59: 1279-87.
Mehboob F, Ranjha FA, Masud S (2007). Changes in serum lipid profile among patients suffering from chronic liver disease. Annals.13: 209-11.
Nashaat EH (2010). Lipid profile among chronic hepatitis C Egyptian patients and its levels pre and post treatment. Nat Sci.8:83-9.
Wannamethee G, Shaper AG, Whincup PH, Walker M (1995). Low total serum cholesterol concentration and mortality in middle aged British men. BMJ.311:409-13.
Koike K (2005). Hepatitis C as a metabolic disease: implication for the pathogenesis of NASH. Hepatol Res.,33: 145-50.
Hofer H, Bankal HC, Wrba F, Steindl-Munda P, Peck-Radosavljevicm, Osterreicher C et al.(2002). Hepatocellular fat accumulation and low serum cholesterol in patients infected with HCV-3a. AM J Gastrenterol.,93: 2880-5.
Moriya K, Shintani Y, Fujie H, Miyoshi H, Tsutsumi T, Yotsuyanagi H et al. (2003). Serum lipid profile with genotype 1b hepatitis C viral infection in Japan. Hepatol Res.,25: 371-6.
Hsu CS, Liu CJ, Liu CH, Chen CL, Lai MY, Chen PJ et al.(2008). Metabolic profile in patients with chronic hepatitis C: a case control study. Hepatol Int.2:250-7.
Dai CY, Chuang WL, Ho CK, Hsieh MY, Huang JF, Lee LP et al.(2008). Associations between hepatitis C viremia and low serum triglyceride and cholesterol levels: a community-based study. J Hepatol.,49: 9-16.
Siagris D, Christofidou M, Theocharas GJ, Pagoni N, Papadimitriou C, Lekkouaet al. (2006). Serum lipid pattern in chronic hepatitis C: histological and virological correlations. JVH.13: 56-61.
Su TC, Lee YT, Cheng TJ, Chien HP, Wang JD (2004). Chronic hepatitis B virus infection and dyslipidemia. J Formos Med Assoc.,103: 286-91.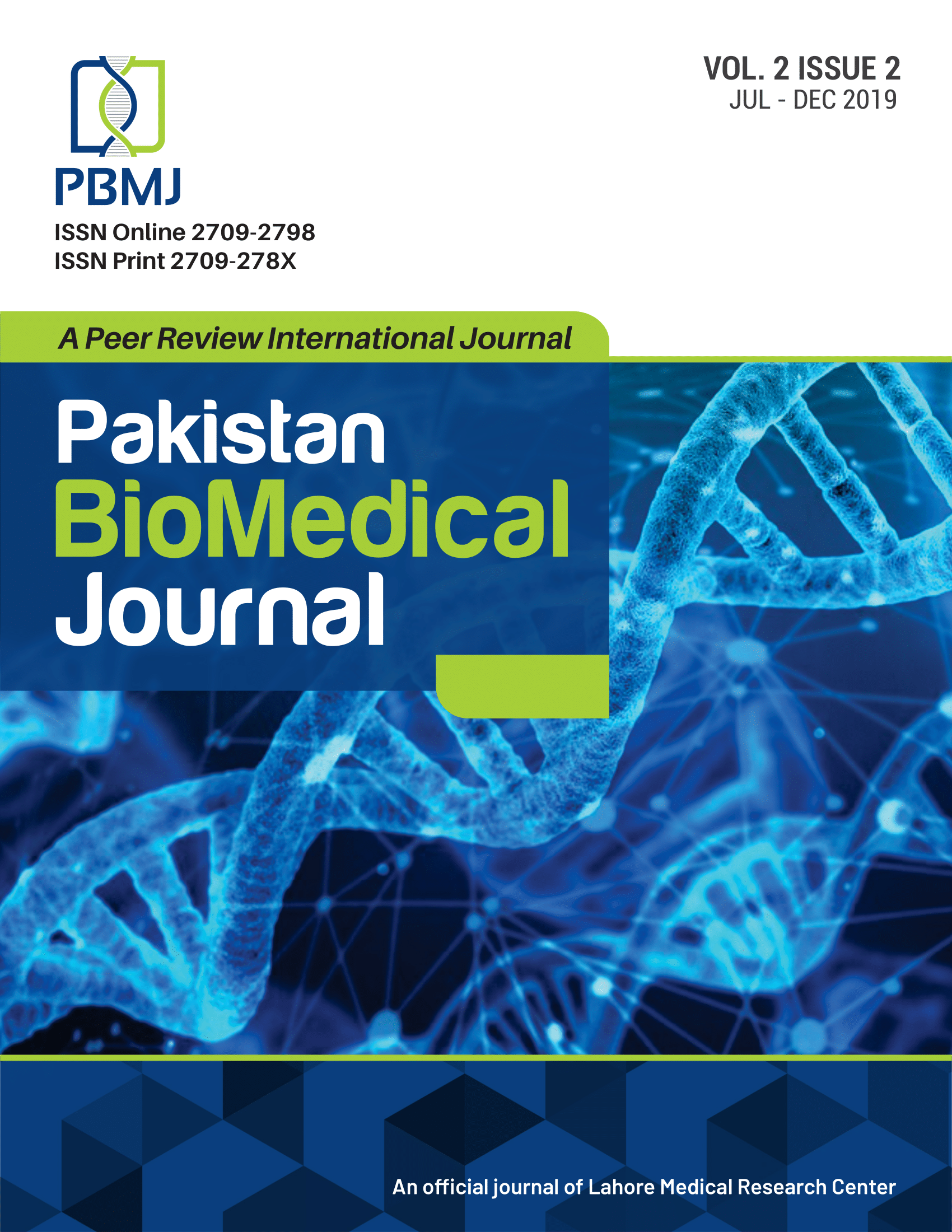 Downloads
CITATION
DOI: 10.52229/pbmj.v2i2.19
How to Cite
Masud, M., Bangash, L. R. ., Mumtaz, S. U., Iqtadar, S. ., Komal, T., Abaidullah, S. ., & Mehboob, K. (2019). Patterns of Deranged Lipid Profiles in Patients of Chronic Hepatitis C: Deranged lipid profile in hepatitis C patients. Pakistan BioMedical Journal, 2(2). https://doi.org/10.52229/pbmj.v2i2.19
License
Copyright (c) 2021 Pakistan BioMedical Journal
This work is licensed under a Creative Commons Attribution 4.0 International License.
This is an open-access journal and all the published articles / items are distributed under the terms of the Creative Commons Attribution License, which permits unrestricted use, distribution, and reproduction in any medium, provided the original author and source are credited. For comments editor@pakistanbmj.com