Hematological, Biochemical and Etiological factors of Chronic Liver Disease in a tertiary care Hospital of Lahore
Abstract
Chronic Liver Disease (CLD) progresses from hepatocyte inflammation to fibrosis, regeneration, cirrhosis and in some cases to Hepatocellular Carcinoma (HCC). In general, the main etiologies of Liver Cirrhosis (LC) are viral infections (hepatitis C and B viruses), chronic alcohol abuse and Non-Alcoholic Fatty Liver Disease (NAFLD), including Non-Alcoholic SteatoHepatitis (NASH). Major complications of CLD are ascites, upper gastrointestinal bleeding, jaundice (acute or chronic) and hepatic encephalopathy. Objectives:This study assesses the etiological factors and complications of CLDin a tertiary care hospital of Lahore,Pakistan. Study Design: Cross-sectional. Methods: Study was carried out in indoor and Accident & Emergency Departments of Mayo Hospital Lahore. 100 clinically diagnosed CLD cases were chosen through "Convenient Sampling" technique during 3 months. Observations:Most common complications of CLD were upper GI variceal Bleeding (48%) & hepatic encephalopathy (34%) and acute or chronic hepatitis (AVH) (33%). Other less common complications observed were hepatorenal syndrome (10%), Spontaneous bacterial peritonitis (15%), Ascites (5%) and HCC (10%).Conclusions:Hepatitis C was found as main etiological factor of CLD. Bleeding andhepatic encephalopathy are the common complications.Awareness programmes regarding CLD and its complications are mandatory in our society to improve human health.
References
Than NN, Tomlinson CL, Haldar D, King AL, Moore D, Newsome PN (2016). Clinical effectiveness of cell therapies in patients with chronic liver disease and acute-on-chronic liver failure: a systematic review protocol. Systematic reviews, 5(1), 100.
Setiawan VW, Stram DO, Porcel J, Lu SC, Le Marchand L, Noureddin M (2016). Prevalence of chronic liver disease and cirrhosis by underlying cause in understudied ethnic groups: the multiethnic cohort. Hepatology, 64(6), 1969-1977.
Parkash O, Hamid S (2016). Next big threat for Pakistan hepatocellular carcinoma (HCC). Journal of Pakistan Medical Association, 66(6), 735.
Ali SA, Donahue RM, Qureshi H, Vermund SH (2009). Hepatitis B and hepatitis C in Pakistan: prevalence and risk factors. International journal of infectious diseases, 13(1), 9-19.
Abbas Z, Shazi L (2015). Pattern and profile of chronic liver disease in acute on chronic liver failure. Hepatology international, 9(3), 366-372.
Saracco GM, Evangelista A, Fagoonee S, Ciccone G, Bugianesi E, Caviglia GP, Abate ML, Rizzetto M, Pellicano R, Smedile A (2016). Etiology of chronic liver diseases in the Northwest of Italy, 1998 through 2014. World Journal of Gastroenterology, 22(36), 8187.
Khan A, Tansel A, White DL, Kayani WT, Bano S, Lindsay J, El-Serag HB, Kanwal F (2016). Efficacy of psychosocial interventions in inducing and maintaining alcohol abstinence in patients with chronic liver disease: a systematic review. Clinical Gastroenterology and Hepatology, 14(2), 191-202.
Dulai PS, Sirlin CB, Loomba R (2016). MRI and MRE for non-invasive quantitative assessment of hepatic steatosis and fibrosis in NAFLD and NASH: Clinical trials to clinical practice. Journal of hepatology, 65(5), 1006-1016.
Seto WK, Yuen MF (2017). Nonalcoholic fatty liver disease in Asia: emerging perspectives. Journal of gastroenterology, 52(2), 164-174.
Millonig G, Reimann FM, Friedrich S, Fonouni H, Mehrabi A, Büchler MW, Seitz HK, Mueller S (2008). Extrahepatic cholestasis increases liver stiffness (FibroScan) irrespective of fibrosis. Hepatology, 48(5), 1718-1723.
García-Compeán D, González-González JA, Lavalle-González FJ, González-Moreno EI, Villarreal-Pérez JZ, Maldonado-Garza HJ (2016). Current concepts in diabetes mellitus and chronic liver disease: clinical outcomes, hepatitis C virus association, and therapy. Digestive diseases and sciences, 61(2), 371-380.
Bischoff A (2011). Etiology of increased liver values from alcohol to hemochromatosis. Many roads lead to cirrhosis. MMW Fortschritte der Medizin, 153(13), 22.
Goltz D, Hittetiya K, Vössing LM, Kirfel J, Spengler U, Fischer HP (2014). α 1-antitrypsin PiMZ heterozygosity has an independent aggravating effect on liver fibrosis in alcoholic liver disease. Virchows Archiv, 465(5), 539-546.
Lin L, Wang D, Ding N, Zheng C (2015). Hepatic Manifestations in Wilson's Disease: Report of 110 Cases. Hepato-gastroenterology, 62(139), 657-660.
Khalaf AR, AL-Myahi MH (2001). Primary ascitic fluid infection in patients with chronic liver diseases. Saudi Journal of Gastroenterology, 7(2), 62.
Khokhar N, Niazi SA (2003). Chronic liver disease related mortality pattern in Northern Pakistan. JCPSP. Journal of the College of Physicians and Surgeons Pakistan, 13(9), 495.
Idrees M, Riazuddin S (2008). Frequency distribution of hepatitis C virus genotypes in different geographical regions of Pakistan and their possible routes of transmission. BMC infectious diseases, 8(1), 69.
Hajarizadeh B, Razavi-Shearer D, Merat S, Alavian SM, Malekzadeh R, Razavi H (2016). Liver disease burden of hepatitis C virus infection in Iran and the potential impact of various treatment strategies on the disease burden. Hepatitis monthly, 16(7).
Bukhtiari N, Hussain T, Iqbal M, Malik AM, Qureshi AH, Hussain A (2003). Hepatitis B and C single and co-infection in chronic liver disease and their effect on the disease pattern. JOURNAL-PAKISTAN MEDICAL ASSOCIATION, 53(4), 136-139.
Rehman AU, Ali F, Ali M, Alam I, Khan AW (2016). Changes in hematological parameters with pegylated interferon in chronic hepatitis C virus infected patients. Asian Pacific Journal of Cancer Prevention, 17(5), 2485-2490.
Qazi AR, Siddiqui FA, Faridi S, Nadeem U, Umer NI, Mohsini ZS, Edhi MM, Khan M (2016). Comparison of awareness about precautions for needle stick injuries: a survey among health care workers at a tertiary care center in Pakistan. Patient safety in surgery, 10(1), 19.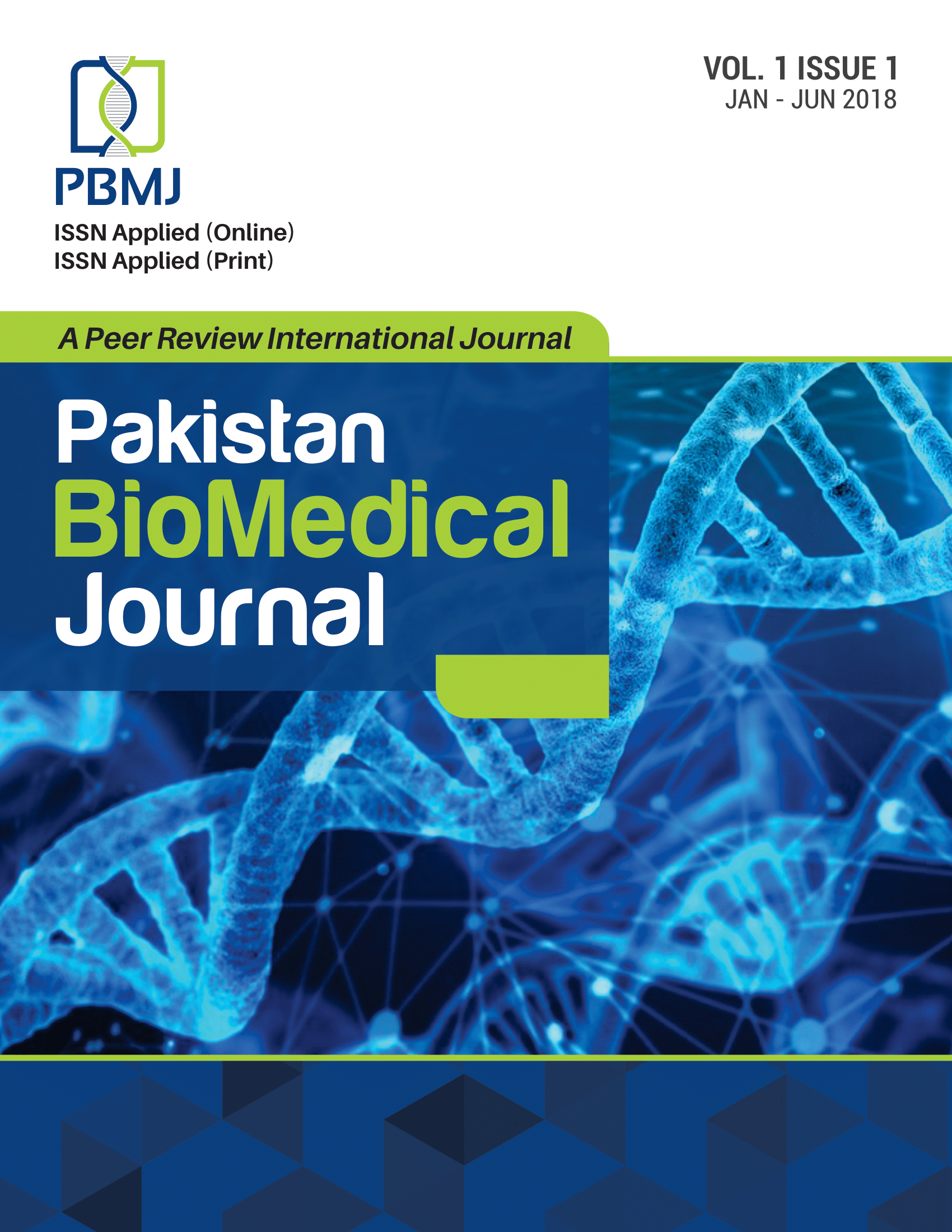 Downloads
CITATION
DOI: 10.52229/pbmj.v1i1.48
How to Cite
Mumtaz, S. U. ., Akbar, A. ., Waseem, H. ., Komal, T., Iqtadar, S. ., & Abaidullah, S. . (2018). Hematological, Biochemical and Etiological factors of Chronic Liver Disease in a tertiary care Hospital of Lahore. Pakistan BioMedical Journal, 1(1). https://doi.org/10.52229/pbmj.v1i1.48
License
Copyright (c) 2021 Pakistan BioMedical Journal
This work is licensed under a Creative Commons Attribution 4.0 International License.
This is an open-access journal and all the published articles / items are distributed under the terms of the Creative Commons Attribution License, which permits unrestricted use, distribution, and reproduction in any medium, provided the original author and source are credited. For comments editor@pakistanbmj.com