Effect of storage on PHYSIO-CHEMICAL EVALUATION OF PEANUT YOGURT
Effect of storage on peanut yogurt
Abstract
ABSTRACT:
Peanuts may be consumed in a variety of processed forms like roasted, raw and processed etc. and represent as a multimillion dollar crop worldwide with many potential dietary benefits as it contains high protein and health effective oils. Objective: The present investigation was planned to evaluate thephysio-chemical properties of peanut milk yogurt by the addition of different concentration of peanut milk (0 %, 10 %, 20 % and 30 %), skimmed milk liquid (60 %, 70 %, 80 %, and 90 %), skimmed milk powder (9 %) and sugar (1 %). Methods:The physico-chemical tests (pH, acidity, moisture, ash, fat, protein, syneresis, and viscosity) were examined after every 5 days of interval for a period of 15 days at 4 ºC. Results:The results of physico-chemical analysis revealed that pH, ash, fat, protein and viscosity decrease during storage period where as acidity, moisture and rate of syneresis increased during storage. Treatment T1 (10 % peanut milk) was comparatively best for manufacturing of peanut milk yogurt followed by T2 (20 % peanut milk + 70 % skimmed milk liquid + 9 % skimmed milk powder + 1 % sugar) while peanut milk yogurt from (30 % peanut milk + 60 % skimmed milk liquid + 9 % skimmed milk powder + 1 % sugar) had the lowest degree of firmness. Conclusions:It was noticed that correlation among fat, total solids and protein contents in peanut milk affect the extent of serum separation and pH of yogurt.The storage had significant effects on all physico-chemical parameters. Treatments had significant effect on all physico-chemical parameters
References
Gandhi, D.N. 2006. Food and industrial microbiology. Microbiology of Fermented Dairy Products. 1-31.
Abu-Jdayil, B. 2003. Modeling the time-dependent rheological behavior of semisolid foodstuffs. Journal of Food Engineering. 57:97-102.
Sahan, N.K., B. Mcleod and A.A. Yasarb. 2008. Physical, chemical and flavour quality of non-fat yogurt as affected by a b-glucan hydrocolloidal composite during storage, Hayalogluc. Journal of Food Hydrocolloids. 22:1291-7.
Ali, A.A. 2011. Isolation and Identification of lactic acid bacteria isolated from traditional drinking yoghurt in Khartoum State, Sudan. Current Research in Bacteriology. 4:16-22.
Schmidt, K.A., T.J. Herald and K.A. Khatib. 2001. Modified wheat starches used a stabilizers in set style yoghurt. Journal of Food Quality. 24:421-34.
Leonora, M., D.L. Francisco and A.V.A. Resurreccion. 2008. Functional Components in Peanuts. Critical Reviews in Food Science and Nutrition. 48:715-46.
Kris-Etherton, P.M.Hecker, K.D.Bonanome, A.Coval, S.M.Binkoski, A.E.Hilpert, K.F.Griel and A.E.Etherton. 2002. Bioactive compounds in foods: Their role in the prevention of cardiovascular disease and cancers. American Journal of Medicine. 113: 71-88.
Griel, A.E., B. Eissenstat, V. Juturu, G. Hsieh and E.P.M. Kris. 2004. Improved diet quality with peanut consumption. Journal of the American College of Nutrition. 23:660-8.
Sunny, R.E.O., E.T. Otulona and B.T. Iwakun. 2004. An evaluation of some quality parameters of laboratory-prepared fermented groundnut milk. Journal of European Food Research Technology. 218: 452-455.
Shah, N. 2003. Yogurt: The Product and its Manufacture. In Encyclopedia of Food Sciences and Nutrition. 6252-9.
Bensmira, M. and B. Jiang. 2012. Rheological characteristics and nutritional aspects of novel peanut-based kefir beverages and whole milk kefir. International Journal of Food Research. 19:647-650.
Deep, N., Yadav, K. Krishan, Singh, N. Subrato, Bhowmik and T. Ramabhau. 2010. Development of peanut milk–based fermented curd. International Journal of Food Science and Technology. 45:2650-2658.
Saleem-ur-Rehman, M.M. Ahmad, A. Almas and N. Bhatti. 2003. Nutritional and Quality Assessment of Peanut Milk Blend. Pakistan Journal of Life and Social Sciences. 1:149-154.
Iranmanesh, M., H. Ezzatpanah, N. Mojgani, M.A.K. Torshizi, M. Aminafshar and M. Maohamadi. 2012. Isolation of Lactic Acid Bacteria from Ewe Milk, Traditional Yoghurt and Sour Buttermilk in Iran. European Journal of Nutrition & Food Safety, 18:79-92.
Meriem, B. and B. Jiang. 2011. Organic Acids Formation during the Production of a Novel Peanut-Milk Kefir Beverage. Journal of Dairy Science. 2:18-22.
Lucey, J.A. 2004. Cultured dairy products: an overview of their gelation and texture properties. International Journal of Dairy Technology. 57:77-84.
Jain, P., D.N. Yadav, H. Rajput and D.K. Bhatt. 2013. Effect of pressure blanching on sensory and proximate composition of peanut milk. Journal of Food Science and Technology. 50:605-608.
Yu, J.M., Ahmenda and I. Goktepe. 2005. Effects of processing methods and extraction solvents on concentration and antioxidant activity of peanut skin phenolics. Journal of Food Chemistry. 90:199-206.
Torre, L., A.Y. Tamime and D.D. Muir. 2003. Rheology and sensory profiling of set-type fermented milks made with different commercial probiotic and yoghurt starter culture. International Journal of Dairy Technology. 56:163-170.
Marzeih, M. and M.T. Mazaheri. 2008. Effect of some stabilizers on the physiochemical and sensory properties of soy yoghurt. Journal of Food Science and Technology. 4:140-145.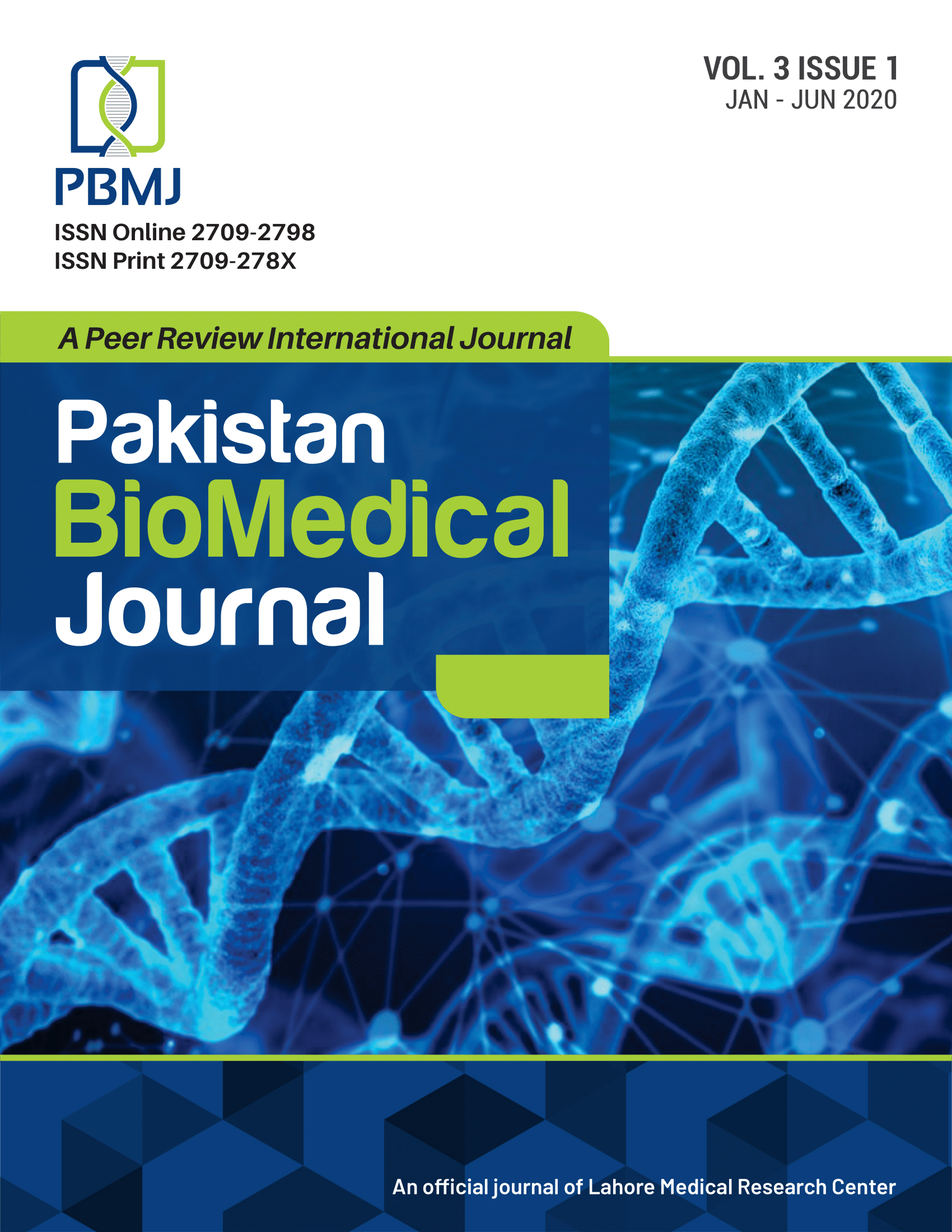 Downloads
CITATION
DOI: 10.52229/pbmj.v3i1.3
How to Cite
Abbas, N., Sharmeen, Z., Bashir, S., Khalid, S., Arshad, M., & Mazhar, Z. (2020). Effect of storage on PHYSIO-CHEMICAL EVALUATION OF PEANUT YOGURT: Effect of storage on peanut yogurt. Pakistan BioMedical Journal, 3(1). https://doi.org/10.52229/pbmj.v3i1.3
License
Copyright (c) 2021 Pakistan BioMedical Journal
This work is licensed under a Creative Commons Attribution 4.0 International License.
This is an open-access journal and all the published articles / items are distributed under the terms of the Creative Commons Attribution License, which permits unrestricted use, distribution, and reproduction in any medium, provided the original author and source are credited. For comments editor@pakistanbmj.com