Undernutrition with Special Reference to Iron-deficiency Anemia in Reproductive Age Group Females in Pakistan
Iron-deficiency Anemia in Reproductive Age group Females
Keywords:
Anemia, Undernutrition, Iron Deficiency, Reproductive Age, Females
Abstract
Undernutrition, especially micronutrient deficiency is one of the major but least addressed Global health issues. Globally 22% of maternal deaths and 24% of perinatal deaths account for Iron deficiency Anemia. One-fifth of females in Pakistan are suffering from anemia. It accounts for 19.3% of births of newborns that are small for their gestational age and 25% of babies born with low birth weight in Pakistan. Reproductive age group females' especially pregnant females of the underprivileged rural populations are more prone to develop iron deficiency due to increased physiological requirements or administration of substances acting as inhibitors. But increased usage of substances that act as adjutants can fulfill the physiological requirements of pregnancy. This review aims to explain the roles of different Nutraceuticals in the prevention of iron deficiency anemia, especially in reproductive age group pregnant females.
References
Kassie Tesema A, Liyew AM, Alem AZ, Yeshaw Y, Tesema GA and Teshale AB. Spatial distribution and determinants of undernutrition among reproductive age women of Ethiopia: A multilevel analysis. PLoS One. 2021;16(9):e0257664. doi: 10.1371/journal.pone.0257664.
Mtumwa AH, Paul E and Vuai SA. Determinants of undernutrition among women of reproductive age in Tanzania mainland. South African Journal of Clinical Nutrition. 2016;29(2):75-81.
Hazarika J, Saikia I and Hazarika PJ. Risk factors of undernutrition among women in the reproductive age group of India: evidence from NFHS-3. Am Eur J Sci Res. 2012;7(1):05-11. DOI: 10.5829/idosi.aejsr.2012.7.1.6185.
Pasricha SR. Anemia: a comprehensive global estimate. Blood. 2014;123(5):611-2. doi: 10.1182/blood-2013-12-543405.
Simera I, Moher D, Hirst A, Hoey J, Schulz KF and Altman DG. Transparent and accurate reporting increases reliability, utility, and impact of your research: reporting guidelines and the EQUATOR Network. BMC medicine. 2010;8(1):1-6. doi.org/10.1186/1741-7015-8-24.
Rohner F, Tschannen AB, Northrop-Clewes C, Kouassi-Gohou V, Bosso PE and Mascie-Taylor CN. Comparison of a possession score and a poverty index in predicting anaemia and undernutrition in pre-school children and women of reproductive age in rural and urban Cote d'Ivoire. Public Health Nutrition. 2012;15(9):1620-9. doi: 10.1017/S1368980012002819.
Burgess A. Undernutrition in Adults and Children: causes, consequences and what we can do. South Sudan Medical Journal. 2008;1(2):18-22.
Rahman MS, Mushfiquee M, Masud MS and Howlader T. Association between malnutrition and anemia in under-five children and women of reproductive age: Evidence from Bangladesh Demographic and Health Survey 2011. PloS one. 2019;14(7):e0219170. doi: 10.1371/journal.pone.0219170.
Wirth JP, Rajabov T, Petry N, Woodruff BA, Shafique NB and Mustafa R et al. Micronutrient deficiencies, over-and undernutrition, and their contribution to anemia in Azerbaijani preschool children and non-pregnant women of reproductive age. Nutrients. 2018;10(10):1483. doi: 10.3390/nu10101483.
Jones AD, Mundo-Rosas V, Cantoral A and Levy TS. Household food insecurity in Mexico is associated with the co-occurrence of overweight and anemia among women of reproductive age, but not female adolescents. Matern Child Nutr. 2017;13(4):e12396. doi: 10.1111/mcn.12396.
Habib MA, Raynes-Greenow C, Soofi SB, Ali N, Nausheen S and Ahmed I et al. Prevalence and determinants of iron deficiency anemia among non-pregnant women of reproductive age in Pakistan. Asia Pacific journal of clinical nutrition. 2018;27(1):195-203.
Mawani M, Ali SA, Bano G and Ali SA. Iron deficiency anemia among women of reproductive age, an important public health problem: situation analysis. Reproductive System & Sexual Disorders: Current Research. 2016;5(3):1. DOI: 10.4172/2161-038X.1000187.
Goddard AF, James MW, McIntyre AS and Scott BB. Guidelines for the management of iron deficiency anaemia. Gut. 2011;60(10):1309-16. doi:10.1136/gut.2010.228874.
Cappellini MD and Motta I. Anemia in clinical practice—definition and classification: does hemoglobin change with aging?. InSeminars in hematology. 2015;52(4):261-269. WB Saunders. doi: 10.1053/j.seminhematol.2015.07.006.
Freeman AM, Rai M and Morando DW. Anemia screening. 2018.
Soundarya N and Suganthi P. A review on anaemia–types, causes, symptoms and their treatments. Journal of science and technology investigation. 2017;1(1).
Afnan S, Mohamed H, Mosay T, Hesham A, Ahmed A and Hawra A et al. Anemia: its prevalence, causes, and management. Egyptian Journal of Hospital Medicine. 2018; 70 (10): 1877-1879.
Bhardwaj A, Kumar D, Raina SK, Bansal P, Bhushan S and Chander V. Rapid assessment for coexistence of vitamin B12 and iron deficiency anemia among adolescent males and females in Northern Himalayan state of India. Anemia. 2013;2013. doi: 10.1155/2013/959605.
Wang M. Iron deficiency and other types of anemia in infants and children. American family physician. 2016;93(4):270-8.
Saxena R, Chamoli S and Batra M. Clinical Evaluation of Different Types of Anemia. World. 2018 Jan;2(1):26-30.
Longo DL and Camaschella C. Iron-deficiency anemia. N Engl J Med. 2015;372(19):1832-43. DOI: 10.1056/NEJMra1401038.
Miller JL. Iron deficiency anemia: a common and curable disease. Cold Spring Harbor perspectives in medicine. 2013;3(7):a011866.
Auerbach M and Adamson JW. How we diagnose and treat iron deficiency anemia. American journal of hematology. 2016;91(1):31-8. doi: 10.1002/ajh.24201.
Means RT. Iron deficiency anemia. Hematology. 2013;18(5):305-6. doi: 10.1179/1024533213Z.000000000197.
Gholamreza Noorazar S, Ranjbar F, Nemati N, Yasamineh N and Kalejahi P. Relationship between severity of depression symptoms and iron deficiency anemia in women with major depressive disorder. Journal of Research in Clinical Medicine. 2015;3(4):219-24. doi: 10.15171/jarcm.2015.034.
Abu-Ouf NM and Jan MM. The impact of maternal iron deficiency and iron deficiency anemia on child's health. Saudi medical journal. 2015;36(2):146. doi: 10.15537/smj.2015.2.10289.
Adelman S, Gilligan DO, Konde-Lule J and Alderman H. School feeding reduces anemia prevalence in adolescent girls and other vulnerable household members in a cluster randomized controlled trial in Uganda. The Journal of nutrition. 2019;149(4):659-66. doi: 10.1093/jn/nxy305.
Liu K and Kaffes AJ. Iron deficiency anaemia: a review of diagnosis, investigation and management. European journal of gastroenterology & hepatology. 2012;24(2):109-16. doi: 10.1097/MEG.0b013e32834f3140.
Donnelly LF, Grzeszczuk R, Guimaraes CV, Zhang W and Bisset III GS. Using a natural language processing and machine learning algorithm program to analyze inter-radiologist report style variation and compare variation between radiologists when using highly structured versus more free text reporting. Current Problems in Diagnostic Radiology. 2019;48(6):524-30. doi: 10.1067/j.cpradiol.2018.09.005.
Cappellini MD, Musallam KM and Taher AT. Iron deficiency anaemia revisited. Journal of internal medicine. 2020;287(2):153-70. doi: 10.1111/joim.13004.
De Falco L, Sanchez M, Silvestri L, Kannengiesser C, Muckenthaler MU and Iolascon A et al. Iron refractory iron deficiency anemia. haematologica. 2013;98(6):845. doi: 10.3324/haematol.2012.075515.
Lopez A, Cacoub P, Macdougall IC and Peyrin-Biroulet L. Iron deficiency anaemia. The Lancet. 2016;387(10021):907-16. doi: 10.1016/S0140-6736(15)60865-0.
Lee JO, Lee JH, Ahn S, Kim JW, Chang H and Kim YJ et al. Prevalence and risk factors for iron deficiency anemia in the Korean population: results of the fifth Korea National Health and Nutrition Examination Survey. Journal of Korean medical science. 2014;29(2):224-9. DOI: 10.3346/jkms.2014.29.2.224.
Makhoul Z, Taren D, Duncan B, Pandey P, Thomson C and Winzerling J et al. Risk factors associated with anemia, iron deficiency and iron deficiency anemia in rural Nepali pregnant women. Southeast Asian Journal of Tropical Medicineand Public Health. 2012;43(3):735.
da Costa AG, Vargas S, Clode N and Graça LM. Prevalence and risk factors for iron deficiency anemia and iron depletion during pregnancy: A prospective study. Acta medica portuguesa. 2016;29(9):514-8. doi: 10.20344/amp.6808.
Rahman Km, Ali Km, Vijayalakshmi S, Ramkumar S and Hashmi G. Prevalence of Iron Deficiency Anaemia and its Associated Factors among Reproductive Age Women in a Rural Area of Karaikal, Puducherry, India. Journal of Clinical & Diagnostic Research. 2019;13(3).
Engle-Stone R, Nankap M, Ndjebayi AO, Erhardt JG and Brown KH. Plasma ferritin and soluble transferrin receptor concentrations and body iron stores identify similar risk factors for iron deficiency but result in different estimates of the national prevalence of iron deficiency and iron-deficiency anemia among women and children in Cameroon. The Journal of nutrition. 2013;143(3):369-77. doi: 10.3945/jn.112.167775.
Sedlander E, Rimal RN, Talegawkar SA, Yilma H and Munar W. The RANI Project: A socio-normative intervention to reduce anemia in Odisha, India: A formative research protocol. Gates open research. 2018;2(1):1-15. doi: 10.12688/gatesopenres.12808.2.
Rizwan A, Khan QJ, Ullah A, Wasim M, Ramzan S and Hussain S et al. Iron deficiency anemia in reproductive age women: A survey study of district Bahawalpur, Punjab, Pakistan. Pakistan Journal of Pharmaceutical Sciences. 2019;32(3).
Api O, Breyman C, Çetiner M, Demir C and Ecder T. Diagnosis and treatment of iron deficiency anemia during pregnancy and the postpartum period: Iron deficiency anemia working group consensus report. Turkish journal of obstetrics and gynecology. 2015;12(3):173. doi: 10.4274/tjod.01700.
Enrera JA, Abdelrahman EA and Abrar RA. Iron deficiency anemia among pregnant women in Hail Kingdom of Saudi Arabia. IOSR Journal of Nursing and Health Science. 2015;4(2):74-80. DOI: 10.9790/0837-04217480.
Nazar H and Usmanghani K. An integrated approach to iron deficiency anemia. InNutritional Deficiency. 2016. doi: 10.5772/63932.
43. Aho, J.M. et al., Tube Thoracostomy: A Structured Review of Case Reports and a Standardized Format for Reporting Complications. World journal of surgery. 2015. 39(11):2691-2706. doi: 10.1007/s00268-015-3158-6
Cook JD. Diagnosis and management of iron-deficiency anaemia. Best Practice & Research Clinical Haematology. 2005;18(2):319-32. doi: 10.1016/j.beha.2004.08.022.
Percy L, Mansour D and Fraser I. Iron deficiency and iron deficiency anaemia in women. Best practice & research Clinical obstetrics & gynaecology. 2017;40:55-67.. doi: 10.1016/j.bpobgyn.2016.09.007.
Sun J, Zhang L, Cui J, Li S, Lu H and Zhang Y et al. Effect of dietary intervention treatment on children with iron deficiency anemia in China: a meta-analysis. Lipids in health and disease. 2018;17(1):1-6. doi: 10.1186/s12944-018-0749-x.
Aspuru K, Villa C, Bermejo F, Herrero P and López SG. Optimal management of iron deficiency anemia due to poor dietary intake. International journal of general medicine. 2011;4:741. doi: 10.2147/IJGM.S17788.
Healthy Life style. Pregnancy week by week. 2020.
Shubham K, Anukiruthika T, Dutta S, Kashyap AV, Moses JA and Anandharamakrishnan C. Iron deficiency anemia: A comprehensive review on iron absorption, bioavailability and emerging food fortification approaches. Trends in Food Science & Technology. 2020;99:58-75. doi: 10.1016/j.tifs.2020.02.021.
Roy A and Dwivedi M. Dhatrilauha: Right choice for iron deficiency anemia in pregnancy. Ayu. 2014;35(3):283. doi: 10.4103/0974-8520.153745.
Mazhar M, Faizi S, Gul A, Kabir N and Simjee SU. Effects of naturally occurring flavonoids on ferroportin expression in the spleen in iron deficiency anemia in vivo. RSC advances. 2017;7(38):23238-45. DOI: 10.1039/C7RA02138K.
Kulkarni R, Deshpande A, Saxena K, Varma M and Sinha AR. Ginger supplementary therapy for iron absorption in iron deficiency anemia. 2012;11(1):78-80.
Ding L, Xu L, Jin Y, Wei Y, Pan Y and Sattar S et al. Efficacy of SXN in the treatment of iron deficiency anemia: A phase IV clinical trial. Evidence-Based Complementary and Alternative Medicine. 2019;2019. doi: 10.1155/2019/8796234.
Jimenez K, Kulnigg-Dabsch S and Gasche C. Management of Iron Deficiency Anemia. Gastroenterol Hepatol (N Y). 2015;11(4):241-50.
Liberal Â, Pinela J, Vívar-Quintana AM, Ferreira ICFR and Barros L. Fighting Iron-Deficiency Anemia: Innovations in Food Fortificants and Biofortification Strategies. Foods. 2020;9(12):1871. doi: 10.3390/foods9121871.
Pasricha SR, Drakesmith H, Black J, Hipgrave D and Biggs BA. Control of iron deficiency anemia in low-and middle-income countries. Blood, The Journal of the American Society of Hematology. 2013;121(14):2607-17. doi: 10.1182/blood-2012-09-453522.
Kishore S, Singh M, Jain B, Verma N, Gawande K and Kishore S et al. A study to assess prevalence of anaemia among beneficiaries of Anaemia Mukt Bharat Campaign in Uttarakhand. Journal of Family Medicine and Primary Care. 2020;9(3):1691. doi: 10.4103/jfmpc.jfmpc_941_19.
Yilma H, Sedlander E, Rimal RN, Pant I, Munjral A and Mohanty S. The reduction in anemia through normative innovations (RANI) project: study protocol for a cluster randomized controlled trial in Odisha, India. BMC Public Health. 2020;20(1):1-3. doi: 10.1186/s12889-020-8271-2.
Singh KN and Bhargava J. Severe Anemia in Critically Ill Obstetric Patients. InPrinciples of Critical Care in Obstetrics 2016:139-144. doi: 10.1007/978-81-322-2686-4_15.
Sadeghian M, Fatourechi A, Lesanpezeshki M and Ahmadnezhad E. Prevalence of anemia and correlated factors in the reproductive age women in rural areas of tabas. J Family Reprod Health. 2013;7(3):139-44.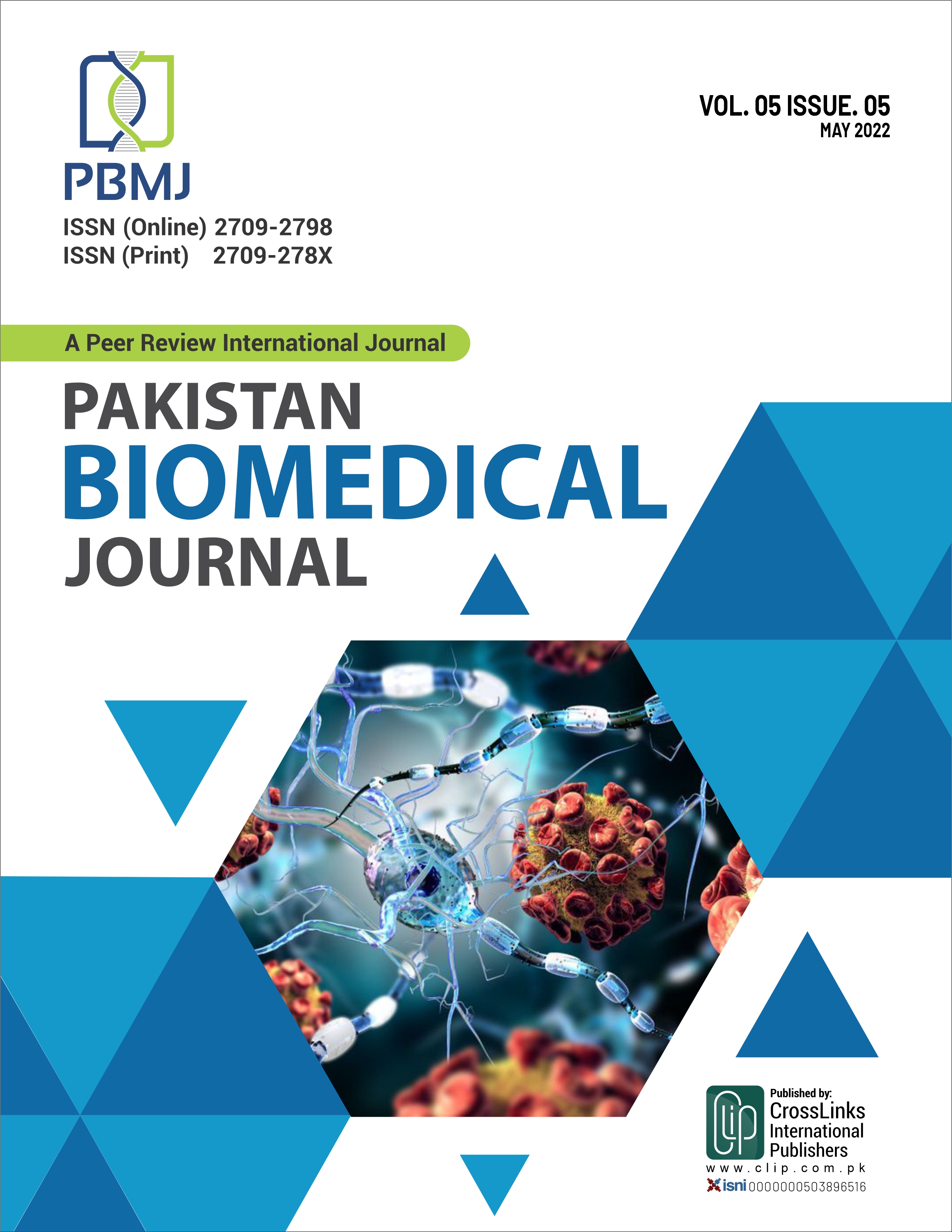 Downloads
How to Cite
Shahadat Khan, R. ., Bader Ul Ain, H. ., Tufail, T., Imran, M. ., Imran, S. ., Siddique khan, S. ., Siddique, R. ., Rasool, F. ., Ahmad, S. ., & Rehman, H.-U. (2022). Undernutrition with Special Reference to Iron-deficiency Anemia in Reproductive Age Group Females in Pakistan: Iron-deficiency Anemia in Reproductive Age group Females. Pakistan BioMedical Journal, 5(5), 21–28. https://doi.org/10.54393/pbmj.v5i5.412
License
Copyright (c) 2022 Pakistan BioMedical Journal
This work is licensed under a Creative Commons Attribution 4.0 International License.
This is an open-access journal and all the published articles / items are distributed under the terms of the Creative Commons Attribution License, which permits unrestricted use, distribution, and reproduction in any medium, provided the original author and source are credited. For comments editor@pakistanbmj.com