Knowledge, Attitude and Practices about Vitamin D among Females suffering from vitamin D deficiency
Vitamin D among Females suffering from vitamin D deficiency
Keywords:
Knowledge, Attitude, Vitamin D, Females, Deficiency, Foods
Abstract
Vitamin D is essential for supporting women's health throughout their lifespan. A fundamental function of Vitamin D is to regulate the metabolism and absorption of our bone health. Vitamin D deficiency can occur in young women, especially those who are pregnant, and the risk of this increases with age. Objective: To highlight the growing preponderance, attitude and beliefs of women regarding Vitamin D. Methods: At the Jinnah Hospital in Lahore a comparative cross-sectional study was conducted. A non-probability convenient sampling strategy was used to select 100 ladies. A pre-tested questionnaire was used to evaluate the participants. The data were analyzed using SPSS version 20.0. All females aged between 20 to 90 years suffering from Vitamin D deficiency admitted in Jinnah Hospital, Lahore were included. Results: Out of 100 patients 56 of them answered that they were consuming vitamin D supplements <1- 2 times in a month, 33 of them said 2-3 times in a month while the remaining 11 said 4-6 times in a month. Conclusions: Women were greatly affected by the it's deficiency. Vitamin D deficiency was more prevalent in early ages as in the older age. The women significantly lacked knowledge about the foods to be consumed and the right nutrition intake for Vitamin d deficiency
References
Prentice A. Vitamin D deficiency: a global perspective. Nutrition reviews. 2008 Oct 1;66(suppl_2): S153-64. doi.org/10.1111/j.1753-4887.2008. 00100.x
Holick MF, Chen TC. Vitamin D deficiency: a worldwide problem with health consequences. The American journal of clinical nutrition. 2008 Apr 1;87(4):1080S-6S. doi.org/10.1093/ajcn/87.4.1080S
Zemb P, Bergman P, Camargo CA, Cavalier E, Cormier C, Courbebaisse M, et al. Vitamin D deficiency and the COVID-19 pandemic. J Glob Antimicrob Resist. 2020 Sep 1; 22: 133-4. doi.org/10.1016/j.jgar.2020.05.006
Lips P DT, Oleksik A, Black D, Cummings S, Cox D, Nickelsen T. A global study of vitamin D status and parathyroid function in postmenopausal women with osteoporosis: baseline data from the multiple outcomes of raloxifene evaluation clinical trial. The Journal of Clinical Endocrinology & Metabolism 2001 Mar; 86(3): 1212. doi.org/10.1210/jcem.86.3.7327
Anagnostis P, Karras S, Goulis DG. Vitamin D in human reproduction: a narrative review. International journal of clinical practice 2013 Mar; 67(3): 225-35. doi.org/10.1111/ijcp.12031
Lips P. Vitamin D deficiency and secondary hyperparathyroidism in the elderly: consequences for bone loss and fractures and therapeutic implications. Endocrine reviews 2001 Aug; 22(4): 477-501. doi.org/10.1210/edrv.22.4.0437
Baker S, Devine A, Miller M, Dare J. A multiliteracies approach to adolescent nutrition education. Asia Pac Food Nutr Collab Behav Nutr Newsletter 2017 May; 4 (1): 1-2.
Health NIf, Excellence C. Vitamin D: supplement use in specific population groups: National Institute for Health and Care Excellence NICE. 2017; 2 (1): 3-7.
Holick MF. Resurrection of vitamin D deficiency and rickets. The Journal of clinical investigation 2006 Aug; 116(8): 62-72. doi.org/10.1172/JCI29449
Bischoff-Ferrari HA, Willett WC, Wong JB, Stuck AE, Staehelin HB, Orav EJ, et al. Prevention of nonvertebral fractures with oral vitamin D and dose dependency: a meta-analysis of randomized controlled trials. Archives of internal medicine 2009 Mar; 169(6): 551-61. doi.org/10.1001/archinternmed.2008.600
Holick MF. The vitamin D deficiency pandemic: a forgotten hormone important for health. Public health reviews 2010 Jun; 32(1): 267-83. doi.org/10.1007/BF03391602
Ahmed F, Khosravi-Boroujeni H, Khan MR, Roy AK, Raqib R. Prevalence and Predictors of Vitamin D Deficiency and Insufficiency among Pregnant Rural Women in Bangladesh. Nutrients. 2021 Feb;13(2):449. doi.org/10.3390/nu13020449
Elsammak MY, Al-Wossaibi AA, Al-Howeish A, Alsaeed J. High prevalence of vitamin D deficiency in the sunny Eastern region of Saudi Arabia: a hospital-based study. East Mediterr Health J. 2011 Apr;17(4):317-22. doi.org/10.26719/2011.17.4.317
Moy FM, Hoe VC, Hairi NN, Vethakkan SR, Bulgiba A. Vitamin D deficiency and depression among women from an urban community in a tropical country. Public health nutrition 2017 Jul; 20(10): 44-50. doi.org/10.1017/S1368980016000811
O'Connor C, Glatt D, White L, Revuelta Iniesta R. Knowledge, attitudes and perceptions towards vitamin D in a UK adult population: a cross-sectional study. International journal of environmental research and public health 2018 Nov; 15(11): 23- 87. doi.org/10.3390/ijerph15112387
Shamsi U, Azam I, Shamsi A, Shamsi D, Callen D. Frequency and determinants of vitamin D deficiency among premenopausal and postmenopausal women in Karachi Pakistan. BMC women's health 2021 Dec; 21(1): 1-8. doi.org/10.1186/s12905-021-01339-9
Mustafa G, Asadi MA, Iqbal I, Bashir N. Low vitamin D status in nursing Pakistani mothers in an environment of ample sunshine: a cross-sectional study. BMC pregnancy and childbirth 2018 Dec; 18(1): 1-7. doi.org/10.1186/s12884-018-2062-0
Özdemir AA, Gündemir YE, Küçük M, Sarıcı DY, Elgörmüş Y, Çağ Y, et al. Vitamin D deficiency in pregnant women and their infants. Journal of clinical research in pediatric endocrinology 2018 Mar; 10(1): 40-44. doi.org/10.4274/jcrpe.4706
Jarvis G, Geraghty S. Importance of vitamin D during the antenatal period for maternal well-being. British Journal of Midwifery 2020 Jun; 28(6): 8-253. doi.org/10.12968/bjom.2020.28.6.353
Tariq A, Khan SR, Basharat A. Assessment of knowledge, attitudes and practice towards Vitamin D among university students in Pakistan. BMC public health 2020 Dec; 20(1): 1-10. doi.org/10.1186/s12889-020-8453-y
Haq F, Khan R, Mustehsan ZH. Assessment of knowledge, attitude and practices regarding vitamin D among students of Saidu medical college, Swat. Pakistan Journal of Public Health 2017 Jun; 7(1): 1-4. doi.org/10.32413/pjph. v7i1.17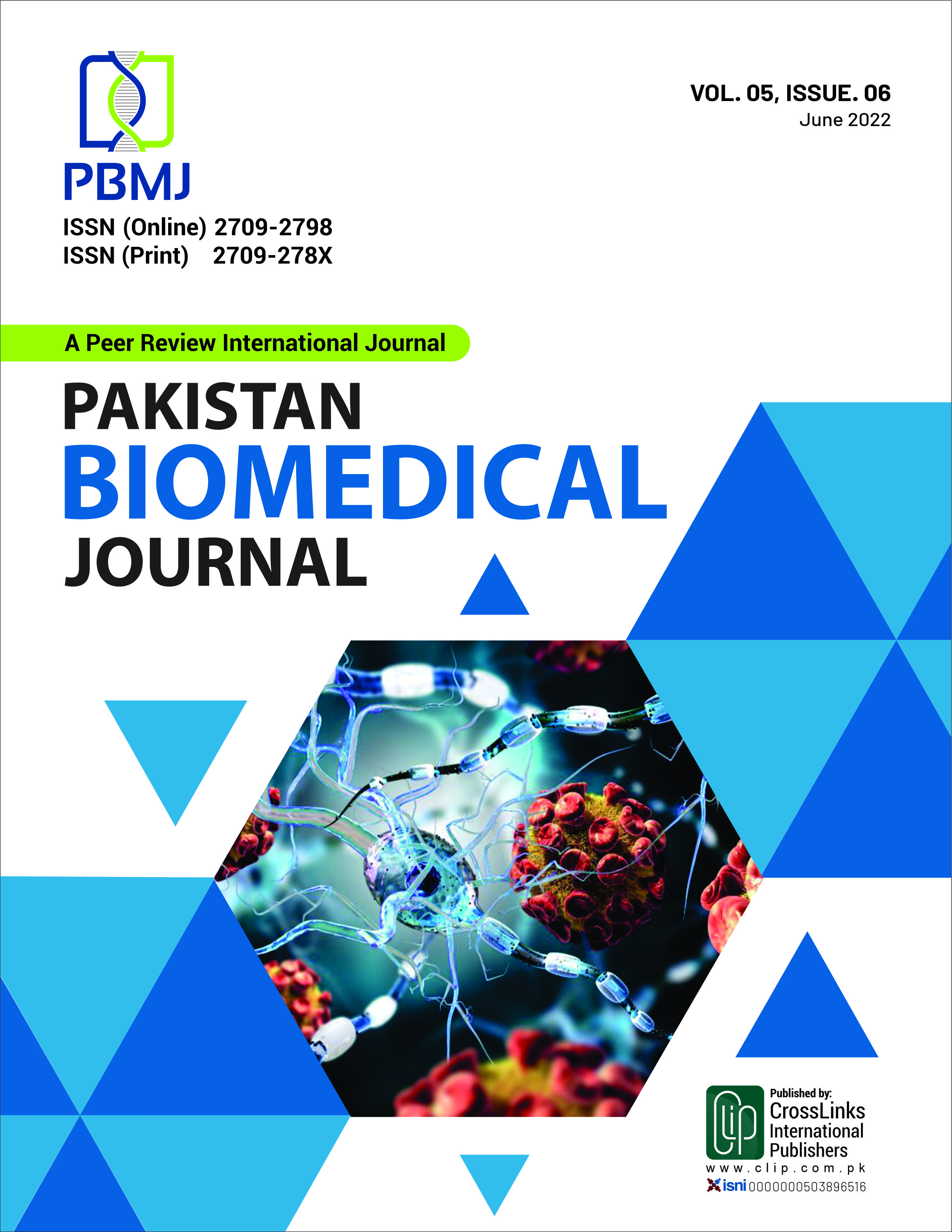 Downloads
CITATION
DOI: 10.54393/pbmj.v5i6.508
How to Cite
Zulfiqar, M. ., Mariam, R. ., Waseem, B. ., Zafar, A., Sheraz, F. ., Fatima, A. ., & Arshad, M. . (2022). Knowledge, Attitude and Practices about Vitamin D among Females suffering from vitamin D deficiency : Vitamin D among Females suffering from vitamin D deficiency. Pakistan BioMedical Journal, 5(6), 93–96. https://doi.org/10.54393/pbmj.v5i6.508
License
Copyright (c) 2022 Pakistan BioMedical Journal
This work is licensed under a Creative Commons Attribution 4.0 International License.
This is an open-access journal and all the published articles / items are distributed under the terms of the Creative Commons Attribution License, which permits unrestricted use, distribution, and reproduction in any medium, provided the original author and source are credited. For comments editor@pakistanbmj.com