Assessment Of Knowledge, Attitudes, And Practices on Healthy Dietary Practices Among Sports Students
Assessment of Knowledge, Attitudes, and Practices among Sports Students
Keywords:
Knowledge, Attitude, Dietary Practices, Sports Student, BMI, Dietary Consumption
Abstract
Adequate food is the most important requisite for growth; while it is important throughout the children, it is more crucial during the early years of life when rapid growth occurs. Thus, dietary intake, nutritional status, emotional maturity, and physical fitness are major determinants of physical performance. Objective: To assess the Knowledge, Attitude, and Practices of healthy dietary practices among sports students. Methods: A cross-sectional study was conducted among 100 sports students from the University of Lahore sports complex teams using a non-probability convenient sampling technique. Structured questionnaire surveys were personally given to them to collect the data related to their knowledge, attitude, and practices. Data were analyzed with the help of SPSS version 24.0. Results: According to our results, 75.2% of the participants had good knowledge about healthy dietary choices, 64.4% of them had a good attitude towards opting for the right meal, while the practices of the participants were relatively low as about 57.4% of them were practicing their knowledge. Conclusions: It was determined that the majority of the sports students had adequate healthy dietary knowledge and healthy eating attitude, but there were inadequate healthy dietary practices among sports students. Most of them had normal healthy BMI, including both gender, but there were inadequate nutritional practices among sports students. Most students were eating out, taking unhealthy snacks, carbonated beverages and caffeine. Moreover, the consumption of water among the students was also affected.
References
Alghadir AH, Gabr SA, Iqbal ZA, Al-Eisa E. Association of physical activity, vitamin E levels, and total antioxidant capacity with academic performance and executive functions of adolescents. BMC Pediatrics. 2019 May; 19(1):156. doi: 10.1186/s12887-019-1528-1
Hodder RK, Stacey FG, O'Brien KM, Wyse RJ, Clinton-McHarg T, Tzelepis F, et al. Interventions for increasing fruit and vegetable consumption in children aged five years and under. Cochrane Database of Systematic Reviews. 2018 Jan; 1(1):CD008552. doi: 10.1002/14651858.CD008552.pub4
Jenner SL, Trakman G, Coutts A, Kempton T, Ryan S, Forsyth A, et al. Dietary intake of professional Australian football athletes surrounding body composition assessment. Journal of the International Society of Sports Nutrition. 2018 Sep; 15(1):43. doi: 10.1186/s12970-018-0248-5
Langford R, Bonell C, Komro K, Murphy S, Magnus D, Waters E, et al. The Health Promoting Schools Framework: Known Unknowns and an Agenda for Future Research. Health Education and Behavior. 2017 Jun; 44(3):463-475. doi: 10.1177/1090198116673800
Murimi MW, Kanyi M, Mupfudze T, Amin MR, Mbogori T, Aldubayan K. Factors Influencing Efficacy of Nutrition Education Interventions: A Systematic Review. Journal of Nutrition Education and Behavior. 2017 Feb; 49(2):142-165.e1. doi: 10.1016/j.jneb.2016.09.003
Ueda Y, Sawamoto M, Kobayashi T, Myojin C, Sakamoto C, Hayami N, et al. Nutrition education programme changes food intake and baseball performance in high-school students. Health Education Journal. 2021 Jun; 80(4):387-400. doi: 10.1177%2F0017896920974061
Zhou WJ, Xu XL, Li G, Sharma M, Qie YL, Zhao Y. Effectiveness of a school-based nutrition and food safety education program among primary and junior high school students in Chongqing, China. Global Health Promotion. 2016 Mar; 23(1):37-49. doi: 10.1177/1757975914552914
Saribay AK and Kirbas S. Determination of Nutrition Knowledge of Adolescents Engaged in Sports. Universal journal of educational research. 2019; 7(1):40-7.
Lentjes MAH. The balance between food and dietary supplements in the general population. Proceedings of the Nutrition Society. 2019 Feb; 78(1):97-109. doi: 10.1017/S0029665118002525
Adegboye ARA, Ojo O, Begum G. The Use of Dietary Supplements Among African and Caribbean Women Living in the UK: A Cross-Sectional Study. Nutrients. 2020 Mar; 12(3):847. doi: 10.3390/nu12030847
Baker B, Probert B, Pomeroy D, Carins J, Tooley K. Prevalence and Predictors of Dietary and Nutritional Supplement Use in the Australian Army: A Cross-Sectional Survey. Nutrients. 2019 Jun; 11(7):1462. doi: 10.3390/nu11071462
Gong W, Liu A, Yao Y, Ma Y, Ding C, Song C, et al. Nutrient Supplement Use among the Chinese Population: A Cross-Sectional Study of the 2010⁻2012 China Nutrition and Health Surveillance. Nutrients. 2018 Nov; 10(11):1733. doi: 10.3390/nu10111733
Barchitta M, Maugeri A, Magnano San Lio R, Favara G, La Mastra C, La Rosa MC, et al. Dietary Folate Intake and Folic Acid Supplements among Pregnant Women from Southern Italy: Evidence from the "Mamma & Bambino" Cohort. International Journal of Environmental Research and Public Health. 2020 Jan; 17(2):638. doi: 10.3390/ijerph17020638
Barnes LAJ, Barclay L, McCaffery K, Aslani P. Complementary medicine products: Information sources, perceived benefits and maternal health literacy. Women Birth. 2019 Dec; 32(6):493-520. doi: 10.1016/j.wombi.2018.11.015
Knapik JJ, Steelman RA, Hoedebecke SS, Austin KG, Farina EK, Lieberman HR. Prevalence of Dietary Supplement Use by Athletes: Systematic Review and Meta-Analysis. Sports Medicine. 2016 Jan; 46(1):103-123. doi: 10.1007/s40279-015-0387-7
Hassan MR, Ghazi HF, Umar NS, Masri N, Jamil SM, Isa ZM, et al. Knowledge, attitude and practice of healthy eating and associated factors among university students in Selangor, Malaysia. Pakistan Journal of Nutrition. 2015 Dec; 14(12):892.
Nazni P and Vimala S. Nutrition knowledge, attitude and practice of college sportsmen. Asian Journal of Sports Medicine. 2010 Jun; 1(2):93-100. doi: 10.5812/asjsm.34866
Bassi S, Bahl D, Harrell MB, Jain N, Kandasamy A, Salunke SR, et al. Knowledge, attitude, and behaviours on diet, physical activity, and tobacco use among school students: A cross-sectional study in two Indian states. F1000Research. 2021 Jul; 10:544. doi: 10.12688/f1000research.51136.2
Jeinie MHB, Guad RM, Hetherington MM, Gan SH, Aung YN, Seng WY, et al. Comparison of Nutritional Knowledge, Attitudes and Practices between Urban and Rural Secondary School Students: A Cross-Sectional Study in Sabah, East Malaysia. Foods. 2021 Aug; 10(9):2037. doi: 10.3390/foods10092037
Ghosh S, Kabir MR, Alam MR, Chowdhury AI, Al Mamun MA. Balanced diet related knowledge, attitude and practices (KAP) among adolescent school girls in Noakhali district, Bangladesh: a cross sectional study. International Journal of Adolescent Medicine and Health. 2020 Sep. doi: 10.1515/ijamh-2020-0106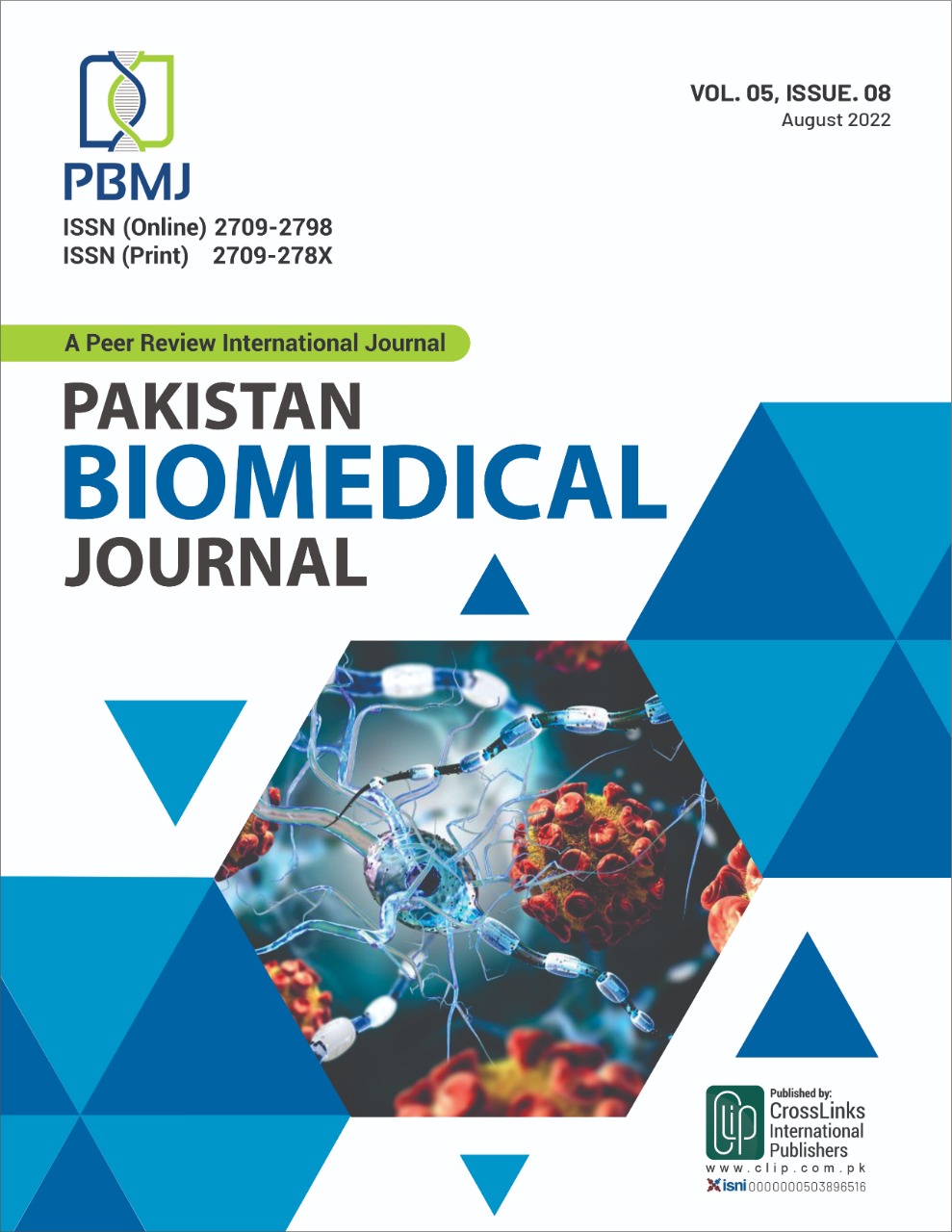 Downloads
How to Cite
Shakeel, H. ., Noreen, S., Rizwan, B. ., Basharat, S. ., Arif, U. ., Mahmood, I. ., Shahid, S. ., Khan, A. ., Shah, T. ., & Fatima Gillani, S. N. . (2022). Assessment Of Knowledge, Attitudes, And Practices on Healthy Dietary Practices Among Sports Students: Assessment of Knowledge, Attitudes, and Practices among Sports Students. Pakistan BioMedical Journal, 5(8), 12–16. https://doi.org/10.54393/pbmj.v5i8.707
License
Copyright (c) 2022 Pakistan BioMedical Journal
This work is licensed under a Creative Commons Attribution 4.0 International License.
This is an open-access journal and all the published articles / items are distributed under the terms of the Creative Commons Attribution License, which permits unrestricted use, distribution, and reproduction in any medium, provided the original author and source are credited. For comments editor@pakistanbmj.com