Comparison of the Antibacterial Activities of Different Antibiotics Against Clinical Isolates
Antibiotic Resistance Patterns
Keywords:
sensitivity, resistance, antibiotics, evolution, Bacterial isolates
Abstract
Antibiotic resistance is the capacity of certain strains of bacteria to develop a tolerance to specific antibiotics to which they were once sensitive Objective: To evaluate the antibiotic resistance by measuring the zone of inhibition in terms of sensitivity S, and resistance R. Methods: A total of 1000 clinical isolates collected from different samples were obtained. Antibacterial activities were evaluated by performing antibiotic susceptibility pattern of all clinical isolates against 20 commercial antibiotic discs (Oxicillin, Gatifloxacin, Ampicillin, Levofloxacin, Meteronidazole, Ofloxacin, Tazocin, Cefotaxime, Ciprofloxacin, Augmintin, Vancomycin, Linezolid, Fusidic Acid, Nalidixic Acid, Erythromycin, Klaricid, Amoxicillin, Gentamycin, Norfloxacin And Vibramycin) by using Kirby-Bauer disc diffusion method. Results: A total of 1000 clinical isolates had been identified where Staphylococcus Aureus showed the highest prevalence 410(41.0%), next to Pseudomonas species 144(14.4%), Escherichia coli 131(13.1%), Enterobacter 64(6.4%) and Klebsiella species 31(3.1%). Vancomycin and Tazocin showed highest sensitivity percentage (77.9%) and (75.1%) for most of the clinical isolates, next to Meteronidazole (71.2%), Klaricid (58.0%), and Fusidic Acid (52.0%), Vibramycin (42.0%), Ciprofloxacin (38.4%), and Ofloxacin (35.7%). Conclusions: It is needed to maintain the appropriate antibiotic usage, prescription by evaluating the antibiotic susceptibility pattern and proper hand washing recommended.
References
Andersson DI, Hughes D. Antibiotic resistance and its cost: is it possible to reverse resistance? Nature Reviews Microbiology, 2010, 8(4): 260.
Acar J, Davies J, Buckley M. Antibiotic resistance: an ecological perspective on an old problem. American Society for Microbiology, 2009. https://www.ncbi.nlm.nih.gov/books/NBK559361/
Baddour MM, Abuelkheir MM, Fatani AJ. Trends in antibiotic susceptibility patterns and epidemiology of MRSA isolates from several hospitals in Riyadh, Saudi Arabia. Annals of Clinical Microbiology and Antimicrobials, 2006, 5(1): 30. doi: 10.1186/1476-0711-5-30
Bashir S, Sarwar Y, Ali A, Mohsin M, Saeed MA, Tariq A, Haque A. Multiple drug resistance patterns in various phylogenetic groups of uropathogenic E. coli isolated from Faisalabad region of Pakistan. Brazilian Journal of Microbiology, 2011, 42(4): 1278-1283. doi: 10.1590/S1517-83822011000400005
Kilonzo-Nthenge A, Rotich E, Godwin S, Nahashon S, Chen F. Prevalence and antimicrobial resistance of Cronobacter sakazakii isolated from domestic kitchens in middle Tennessee, United States. Journal of food protection, 2012, 75(8): 1512-1517.
Schito GC. Is antimicrobial resistance also subject to globalization? Clinical Microbiology and Infection, 2002, 8(s3): 1-8. doi.org/10.1046/j.1469-0691.8.s.3.1.x
Hawser SP, Bouchillon SK, Hoban DJ, Badal RE, Hsueh P-R, Paterson D. Emergence of high levels of extended-spectrum-β-lactamase-producing gram-negative bacilli in the Asia-Pacific region: data from the Study for Monitoring Antimicrobial Resistance Trends (SMART) program, 2007. Antimicrobial agents and chemotherapy, 2009, 53(8): 3280-3284. doi.org/10.1128/AAC.00426-09
Teillant A, Gandra S, Barter D, Morgan DJ, Laxminarayan R. Potential burden of antibiotic resistance on surgery and cancer chemotherapy antibiotic prophylaxis in the USA: a literature review and modelling study. The Lancet infectious diseases, 2015, 15(12): 1429-1437.doi: 10.1016/S1473-3099(15)00270-4
Khan HA, Ahmad A, Mehboob R. Nosocomial infections and their control strategies. Asian Pacific Journal of Tropical Biomedicine, 2015, 5(7): 509-514. doi.org/10.1016/j.apjtb.2015.05.001
Mehta A, Rosenthal V, Mehta Y, Chakravarthy M, Todi S, Sen N, Sahu S, Gopinath R, Rodrigues C, Kapoor P. Device-associated nosocomial infection rates in intensive care units of seven Indian cities. Findings of the International Nosocomial Infection Control Consortium (INICC). Journal of Hospital Infection, 2007, 67(2): 168-174. doi: 10.1016/j.jhin.2007.07.008
Khan RA, Rahman AU, Ahmad A, Jaseem M, Jabbar A, Khan SA, Iqbal A, Ahmad N, Wadood A, Rahman TU. Prevalence and antibiotic susceptibility profile of methicillin-resistant Staphylococcus aureus (MRSA) isolated from different clinical samples in district Peshawar. J Appl Environ Biol Sci, 2014, 4(8S): 40-46. doi.org/10.4081/mr.2012.e20
Baddour MM, Abuelkheir MM, Fatani AJ. Trends in antibiotic susceptibility patterns and epidemiology of MRSA isolates from several hospitals in Riyadh, Saudi Arabia. Annals of Clinical Microbiology and Antimicrobials, 2006, 5(1): 30.
Rangaiahagari A, Uwizeyimana J, Nyirabanzi J, Ngoga E, Wane J. Antibiotic sensitivity patterns of Enterobacteriaceae isolated at king Faisal hospital, Kigali-a three years study, 2013, https://tspace.library.utoronto.ca/handle/1807/41177.
Bengalorkar GM, Kumar T. Culture and sensitivity pattern of micro-organism isolated from diabetic foot infections in a tertiary care hospital. Int J Cur Biomed Phar Res, 2011, 1(2): 34-40.
Ceccherini F, Falciani C, Onori M, Scali S, Pollini S, Rossolini GM, Bracci L, Pini A. Antimicrobial activity of levofloxacin–M33 peptide conjugation or combination. Med Chem Comm , 2016, 7(2): 258-262. doi: 10.1039/C5MD00392J
Khan NW, Hassan F, Naqvi BS, Hasan SMF. Antimicrobial activity of Erythromycin and Clarithromycin against clinical isolates of Escherichia coli, Staphylococcus aureus, Klebsiella and Proteus by disc diffusion method. Pak J Pharm Sci, 24(1): 25-29.
Saghir S, Faiz M, Saleem M, Younus A, Aziz H. Characterization and anti-microbial susceptibility of gram-negative bacteria isolated from bloodstream infections of cancer patients on chemotherapy in Pakistan. Indian Journal of Medical Microbiology, 2009, 27(4): 341.
Sood S, Gupta R. Antibiotic resistance pattern of community acquired uropathogens at a tertiary care hospital in Jaipur, Rajasthan. Indian journal of community medicine: official publication of Indian Association of Preventive & Social Medicine, 2012, 37(1): 39. doi: 10.4103/0970-0218.94023
Vlahović-Palčevski V, Francetić I, Palčevski G, Novak S, Abram M, Bergman U. Antimicrobial use at a university hospital: appropriate or misused? A qualitative study. International journal of clinical pharmacology and therapeutics, 2007, 45(3): 169-174. doi: 10.1097/00000441-197805000-00005
Onwubiko NE, Sadiq NM. Antibiotic sensitivity pattern of Staphylococcus aureus from clinical isolates in a tertiary health institution in Kano, Northwestern Nigeria. Pan African Medical Journal, 2011, 8(1). doi: 10.4314/pamj.v8i1.71050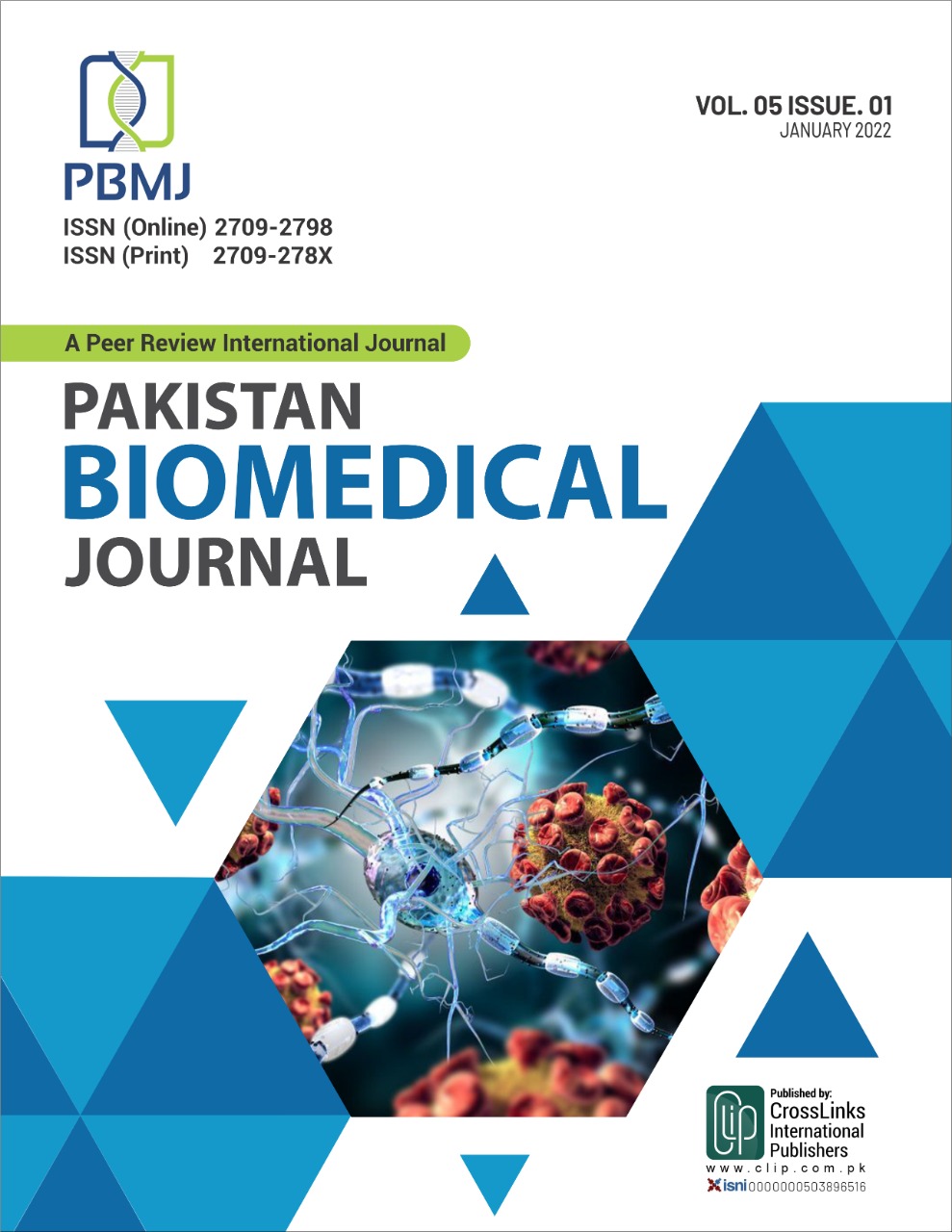 Downloads
CITATION
DOI: 10.54393/pbmj.v5i1.250
How to Cite
Abbas, A. ., Hasnain, A. ., Malik, S., Siddiqui, M. F. ., & Chaudhry, S. . (2022). Comparison of the Antibacterial Activities of Different Antibiotics Against Clinical Isolates: Antibiotic Resistance Patterns. Pakistan BioMedical Journal, 5(1), 49–53. https://doi.org/10.54393/pbmj.v5i1.250
License
Copyright (c) 2021 Pakistan BioMedical Journal
This work is licensed under a Creative Commons Attribution 4.0 International License.
This is an open-access journal and all the published articles / items are distributed under the terms of the Creative Commons Attribution License, which permits unrestricted use, distribution, and reproduction in any medium, provided the original author and source are credited. For comments editor@pakistanbmj.com