Assessment Of Dietary Practices Among Post Covid-19 Patients
Dietary Practices Among Post Covid-19 Patients
Keywords:
Post Covid-19 nutrition, nutritional guidelines, Covid-19, appetite, dehydration
Abstract
Nutritional guidelines for post covid-19 nutrition in both male and female for different age group, in relation to their lifestyle and attitude on covid-19. Objective: To learn about the nutritional behaviors of people who got infected with covid-19. To assess the nutritional intake of people after recovery with covid-19. To assess the relationship of good nutrition and fast recovery Post covid-19. Methods: A cross sectional study was carried out through an online survey on WhatsApp. 100 participants; both male and female were selected through non-probability convenient technique. Participants were assessed through questionnaire. Individuals above 18 years who have been recovered from COVID-19 were the part of this study. Results: Out of 100 participants, 33 had increased appetite, 23 had suppressed appetite and 44 had healthy appetite. 49% participants had infusion of healthy fats, 45 participants were not taking any supplements during their recovery, 62 participants were dehydrated. Fruits and vegetables consumption among participants on daily basis was 39% and their dairy and dairy products consumption was 75%. Conclusions: Appropriate and healthy eating habits have been found to be advantageous in recovering from COVID-19 and in individuals who have recovered from COVID-19.
References
Gemelli Against COVID-19 Post-Acute Care Study Group. Post-COVID-19 global health strategies: the need for an interdisciplinary approach. Aging - Clinical and Experimental Research. 2020 Aug; 32(8):1613-1620. doi: 10.1007/s40520-020-01616-x.
Knight DRT, Munipalli B, Logvinov II, Halkar MG, Mitri G, Dabrh AMA, et al. Perception, Prevalence, and Prediction of Severe Infection and Post-Acute Sequelae of COVID-19. North American journal of medical sciences. 2022 Apr; 363(4):295-304. doi: 10.1016/j.amjms.2022.01.002.
Barazzoni R, Bischoff SC, Breda J, Wickramasinghe K, Krznaric Z, Nitzan D, et al. endorsed by the ESPEN Council. ESPEN expert statements and practical guidance for nutritional management of individuals with SARS-CoV-2 infection. Clinical nutrition research. 2020 Jun; 39(6):1631-1638. doi: 10.1016/j.clnu.2020.03.022.
Fernández-Quintela A, Milton-Laskibar I, Trepiana J, Gómez-Zorita S, Kajarabille N, Léniz A, et al. Key Aspects in Nutritional Management of COVID-19 Patients. Journal of clinical medicine .2020 Aug; 9(8):2589. doi: 10.3390/jcm9082589.
Raveendran AV and Misra A. Post COVID-19 Syndrome ("Long COVID") and Diabetes: Challenges in Diagnosis and Management. Diabetology & metabolic syndrome. 2021 Oct; 15(5):102235. doi: 10.1016/j.dsx.2021.102235.
Klein H, Asseo K, Karni N, Benjamini Y, Nir-Paz R, Muszkat M, Israel S, et al. Onset, duration, and persistence of taste and smell changes and other COVID-19 symptoms: longitudinal study in Israeli patients. Med Rxiv. 2020 Jan.
Song WJ, Hui CKM, Hull JH, Birring SS, McGarvey L, Mazzone SB, et al. Confronting COVID-19-associated cough and the post-COVID syndrome: role of viral neurotropism, neuroinflammation, and neuroimmune responses. The Lancet. Respiratory medicine. 2021 May; 9(5):533-544. doi: 10.1016/S2213-2600(21)00125-9.
Arkin N, Krishnan K, Chang MG, Bittner EA. Nutrition in critically ill patients with COVID-19: Challenges and special considerations. Clinical nutrition research. 2020 Jul; 39(7):2327-2328. doi: 10.1016/j.clnu.2020.05.007.
Zaher S. Nutrition and the gut microbiome during critical illness: A new insight of nutritional therapy. The Saudi Journal of Gastroenterology. 2020 Nov; 26(6):290–8. doi: 10.4103/sjg.SJG_352_20.
Gangitano E, Tozzi R, Gandini O, Watanabe M, Basciani S, Mariani S, et al. Ketogenic Diet as a Preventive and Supportive Care for COVID-19 Patients. Nutrients. 2021 Mar; 13(3):1004. doi: 10.3390/nu13031004.
Richardson S, Hirsch JS, Narasimhan M, Crawford JM, McGinn T, Davidson KW; the Northwell Presenting Characteristics, Comorbidities, and Outcomes Among 5700 Patients Hospitalized with COVID-19 in the New York City Area. Journal of the American Medical Association. 2020 May; 323(20):2052-2059. doi: 10.1001/jama.2020.6775.
Blay-Palmer A, Carey R, Valette E, Sanderson MR. Post COVID 19 and food pathways to sustainable transformation. Agriculture and Human Values. 2020; 37(3):517-519. doi: 10.1007/s10460-020-10051-7.
Rabail R, Saleem J, Tanveer Z, Patching SG, Khalid AR, Sultan MT, et al. Nutritional and lifestyle changes required for minimizing the recovery period in home quarantined COVID-19 patients of Punjab, Pakistan. Food Science and Nutrition. 2021 Jul; 9(9):5036-5059. doi: 10.1002/fsn3.2458.
Bouadma L, Lescure FX, Lucet JC, Yazdanpanah Y, Timsit JF. Severe SARS-CoV-2 infections: practical considerations and management strategy for intensivists. Intensive care medicine. 2020 Apr; 46(4):579-582. doi: 10.1007/s00134-020-05967-x.
Wierdsma NJ, Kruizenga HM, Konings LA, Krebbers D, Jorissen JR, Joosten MI, et al. Poor nutritional status, risk of sarcopenia and nutrition related complaints are prevalent in COVID-19 patients during and after hospital admission. Clinical nutrition ESPEN 2021 Jun; 43:369-376. doi: 10.1016/j.clnesp.2021.03.021.
Levy D, Giannini M, Oulehri W, Riou M, Marcot C, Pizzimenti M, et al. Long Term Follow-Up of Sarcopenia and Malnutrition after Hospitalization for COVID-19 in Conventional or Intensive Care Units. Nutrients. 2022 Feb; 14(4):912. doi: 10.3390/nu14040912.
Pechlivanidou E, Vlachakis D, Tsarouhas K, Panidis D, Tsitsimpikou C, Darviri C, et al. The prognostic role of micronutrient status and supplements in COVID-19 outcomes: A systematic review. Food and Chemical Toxicology. 2022 Feb; 162:112901. doi: 10.1016/j.fct.2022.112901.
Al-Kuraishy HM, Al-Gareeb AI, El-Saber Batiha G. The possible role of ursolic acid in Covid-19: A real game changer. Clinical nutrition ESPEN. 2022 Feb; 47:414-417. doi: 10.1016/j.clnesp.2021.12.030.
Chavda VP, Patel AB, Vihol D, Vaghasiya DD, Ahmed KM, Trivedi KU, et al. Herbal Remedies, Nutraceuticals, and Dietary Supplements for COVID-19 Management: An Update. Clinical Complementary Medicine and Pharmacology. 2022 Feb; 100021.
Moscatelli F, Sessa F, Valenzano A, Polito R, Monda V, Cibelli G, et al. COVID-19: Role of Nutrition and Supplementation. Nutrients. 2021 Mar; 13(3):976. doi: 10.3390/nu13030976.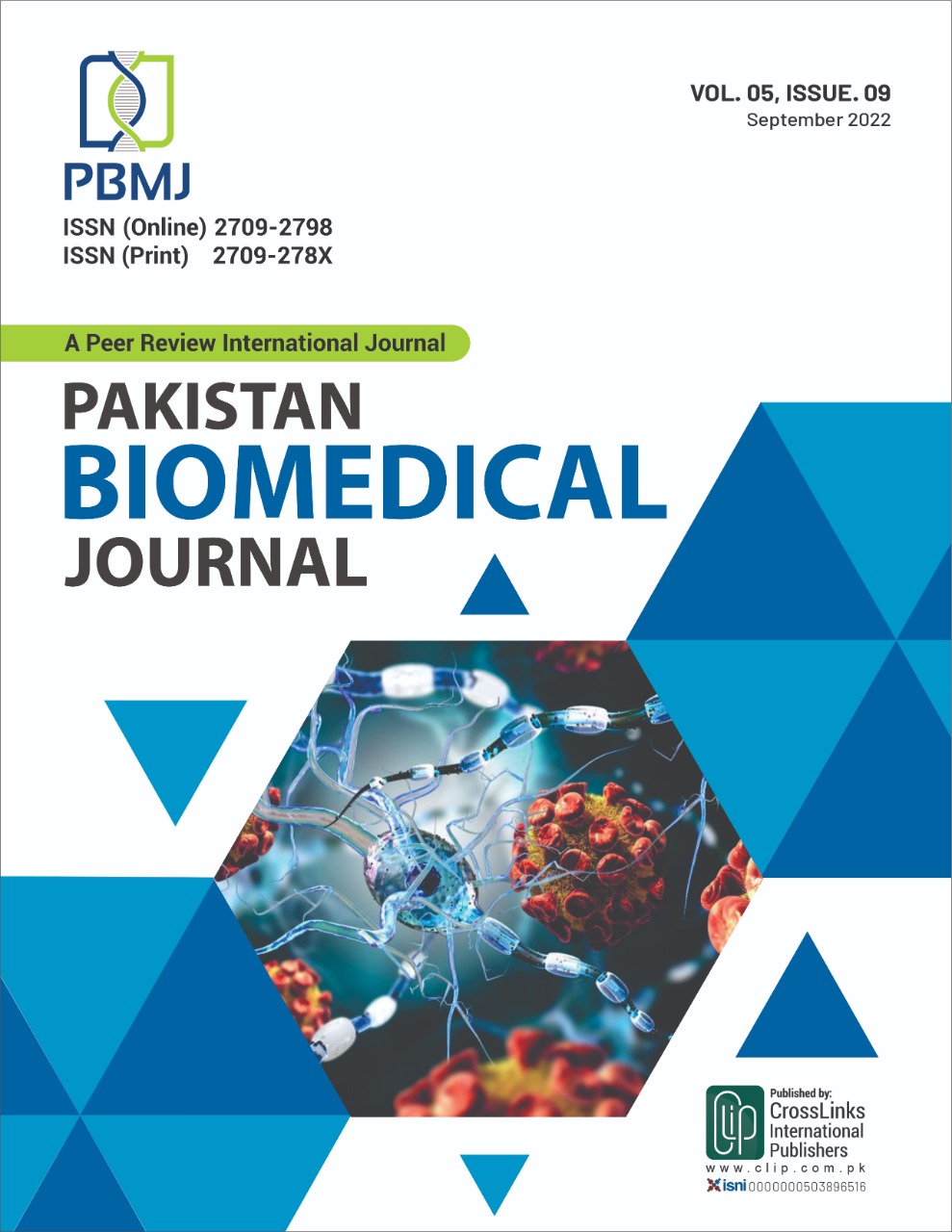 Downloads
How to Cite
Sheraz, F. ., Nisar, T. ., Amjad, A. ., Zafar, A. ., Mariam, R. ., Zulfiqar, M. ., Waseem, B. ., & Aslam, A. . (2022). Assessment Of Dietary Practices Among Post Covid-19 Patients: Dietary Practices Among Post Covid-19 Patients. Pakistan BioMedical Journal, 5(9), 21–25. https://doi.org/10.54393/pbmj.v5i9.785
License
Copyright (c) 2022 Pakistan BioMedical Journal
This work is licensed under a Creative Commons Attribution 4.0 International License.
This is an open-access journal and all the published articles / items are distributed under the terms of the Creative Commons Attribution License, which permits unrestricted use, distribution, and reproduction in any medium, provided the original author and source are credited. For comments editor@pakistanbmj.com