Breastfeeding Practices During Covid-19
Breastfeeding Practices during Covid-19
Keywords:
Covid-19, mothers to infant, lactation, breastfeeding, feeding practices, guidelines
Abstract
The covid-19 has disrupted all parts of life especially maternal-child relationship. Many lactating women were quarantined in covid-19 which has affected nourishment of their infant. Breastfeeding has innumerable benefits for both mother and infants as it provides them protection. The Maternal-child relationship is drastically affected if an infant is separated from its mother. It greatly affects lactation, which acts as a shield against infectious diseases. It is approved by all the international agencies and government bodies to promote breastfeeding including the neonates of infected mothers. It is suggested to adopt proper hand and respiratory hygiene measures to prevent transmission from mother to infant. Although many studies and literature reviews have confirmed that there are no direct transmission cases related to coronavirus during breastfeeding. However, WHO, UNICEF, and many other organizations suggested to adopt some hygiene-specific guidelines while practicing lactation. These include wearing a mask, washing hands, and disinfecting surfaces. As we are in the middle of this pandemic and new information is being gathered by scientists, it is hoped that they will also support promoting breastfeeding. As its advantages outweigh the risks of COVID-19. The main aim of this review is to promote early initiation and exclusive breastfeeding during COVID-19.
References
Reynard S, Journeaux A, Gloaguen E, Schaeffer J, Varet H, Pietrosemoli N, et al. Immune parameters and outcomes during Ebola virus disease. JCI Insight. 2019 Jan; 4(1): e125106. doi: 10.1172/jci.insight.125106.
Xu Z, Shi L, Wang Y, Zhang J, Huang L, Zhang C, et al. Pathological findings of COVID-19 associated with acute respiratory distress syndrome. The Lancet. Respiratory medicine. 2020 Apr; 8(4):420-422. doi: 10.1016/S2213-2600(20)30076-X.
Tan L, Wang Q, Zhang D, Ding J, Huang Q, et al. Lymphopenia predicts disease severity of COVID-19: a descriptive and predictive study. Signal Transduction and Targeted Therapy. 2020 Mar; 5(1):33. doi: 10.1038/s41392-020-0148-4.
Wen W, Su W, Tang H, Le W, Zhang X, Zheng Y, et al. Immune cell profiling of COVID-19 patients in the recovery stage by single-cell sequencing. Cell discovery. 2020 May; 6(1):1-8.
Ahmed W, Angel N, Edson J, Bibby K, Bivins A, O'Brien JW, et al. First confirmed detection of SARS-CoV-2 in untreated wastewater in Australia: A proof of concept for the wastewater surveillance of COVID-19 in the community. Science of the Total Environment. 2020 Aug; 728:138764. doi: 10.1016/j.scitotenv.2020.138764.
Cao X. COVID-19: immunopathology and its implications for therapy. Nature reviews. Immunology. 2020 May; 20(5):269-270. doi: 10.1038/s41577-020-0308-3.
Pereira A, Cruz-Melguizo S, Adrien M, Fuentes L, Marin E, Forti A, et al. Breastfeeding mothers with COVID-19 infection: a case series. International breastfeeding journal. 2020 Aug;15(1):69. doi: 10.1186/s13006-020-00314-8.
Karade S, Vishal AK, Sen S, Bewal N, Gupta RM. Probable vertical transmission of severe acute respiratory syndrome coronavirus 2 infection from mother to neonate. Medical Journal Armed Forces India. 2021 Jul; 77(Suppl 2): S490-S493. doi: 10.1016/j.mjafi.2020.11.026.
Lubbe W, Botha E, Niela-Vilen H, Reimers P. Breastfeeding during the COVID-19 pandemic - a literature review for clinical practice. International breastfeeding journal. 2020 Sep;15(1):82. doi: 10.1186/s13006-020-00319-3.
Florea RM and Sultana CM. COVID-19 and breastfeeding: can SARS-CoV-2 be spread through lactation? Discoveries (Craiova). 2021 Jun; 9(2):e132. doi: 10.15190/d.2021.11.
Victora CG, Bahl R, Barros AJ, França GV, Horton S, Krasevec J, et al. Lancet Breastfeeding Series Group. Breastfeeding in the 21st century: epidemiology, mechanisms, and lifelong effect. Lancet. 2016 Jan; 387(10017):475-90. doi: 10.1016/S0140-6736(15)01024-7.
Eidelman AI. Breastfeeding and the use of human milk: an analysis of the American Academy of Pediatrics 2012 Breastfeeding Policy Statement. International breastfeeding journal. 2012 Oct; 7(5):323-4. doi: 10.1089/bfm.2012.0067.
Hanson LA. Breastfeeding provides passive and likely long-lasting active immunity. American College of Allergy, Asthma and Immunology. 1998 Dec; 81(6):523-33; quiz 533-4, 537. doi: 10.1016/S1081-1206(10)62704-4.
Hamosh M. Bioactive factors in human milk. Pediatric Clinics of North America. 2001 Feb; 48(1):69-86. doi: 10.1016/s0031-3955(05)70286-8.
Coppa GV, Gabrielli O, Zampini L, Galeazzi T, Ficcadenti A, et al. Oligosaccharides in 4 different milk groups, Bifidobacteria, and Ruminococcus obeum. Journal of Pediatric Gastroenterology and Nutrition. 2011 Jul; 53(1):80-7. doi: 10.1097/MPG.0b013e3182073103.
Morrow AL, Ruiz-Palacios GM, Altaye M, Jiang X, Guerrero ML, Meinzen-Derr JK, et al. Human milk oligosaccharides are associated with protection against diarrhea in breast-fed infants. American journal of pediatrics. 2004 Sep; 145(3):297-303. doi: 10.1016/j.jpeds.2004.04.054.
Williams JE, Price WJ, Shafii B, Yahvah KM, Bode L, McGuire MA, et al. Relationships Among Microbial Communities, Maternal Cells, Oligosaccharides, and Macronutrients in Human Milk. Journal of Human Lactation. 2017 Aug; 33(3):540-551. doi: 10.1177/0890334417709433.
World Health Organization. Home care for patients with suspected novel coronavirus (nCoV) infection presenting with mild symptoms and management of contacts: Interim guidance, January 2020.
Moro GE and Bertino E. Breastfeeding, Human Milk Collection and Containers, and Human Milk Banking: Hot Topics During the COVID-19 Pandemic. Journal of Human Lactation. 2020 Nov; 36(4):604-608. doi: 10.1177/0890334420934391.
Marinelli KA and Lawrence RM. Safe Handling of Containers of Expressed Human Milk in all Settings During the SARS-CoV-2 (COVID-19) Pandemic. Journal of Human Lactation. 2020 Aug; 36(3):498-501. doi: 10.1177/0890334420919083.
UNICEF. Breastfeeding safely during the COVID-19 pandemic. How to nourish your child following the current expert guidance. 2020 Sep.
Zhu H, Wang L, Fang C, Peng S, Zhang L, Chang G, et al. Clinical analysis of 10 neonates born to mothers with 2019-nCoV pneumonia. Translational pediatrics. 2020 Feb; 9(1):51-60. doi: 10.21037/tp.2020.02.06.
Chen H, Guo J, Wang C, Luo F, Yu X, Zhang W, et al. Clinical characteristics and intrauterine vertical transmission potential of COVID-19 infection in nine pregnant women: a retrospective review of medical records. Lancet. 2020 Mar; 395(10226):809-815. doi: 10.1016/S0140-6736(20)30360-3.
Ortiz EI, Herrera E, De La Torre A. Coronavirus (COVID 19) Infection in Pregnancy. Colombia médica. 2020 Jun; 51(2): e4271. doi: 10.25100/cm. v51i2.4271.
Carvalho WB, Gibelli MABC, Krebs VLJ, Calil VMLT, Johnston C. Expert recommendations for the care of newborns of mothers with COVID-19. Clinics (Sao Paulo). 2020;75: e1932. doi: 10.6061/clinics/2020/e1932.
Dimopoulou D, Triantafyllidou P, Daskalaki A, Syridou G, Papaevangelou V. Breastfeeding during the novel coronavirus (COVID-19) pandemic: guidelines and challenges. Journal of Maternal-Fetal and Neonatal Medicine. 2022 Oct; 35(19):3776-3782. doi: 10.1080/14767058.2020.1838481.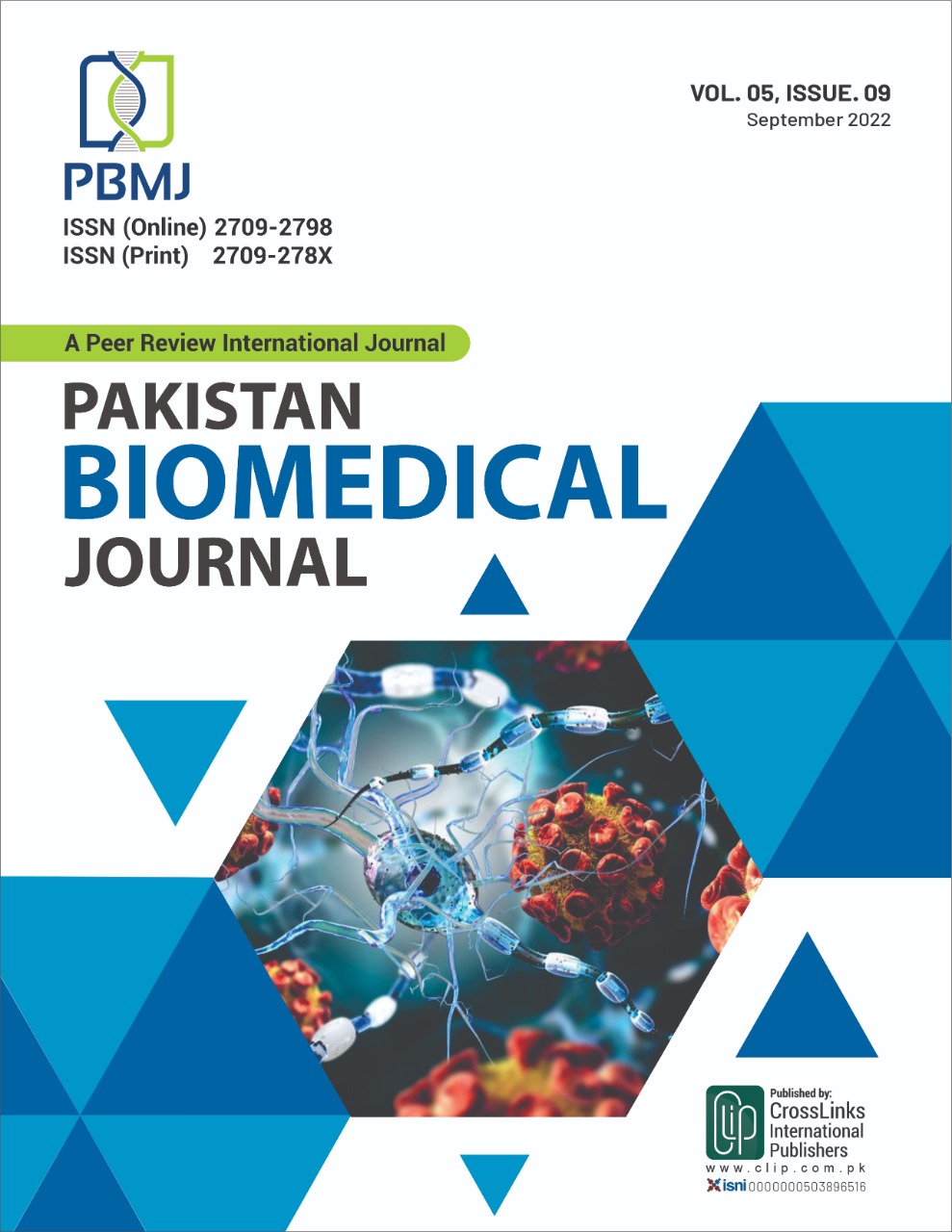 Downloads
CITATION
DOI: 10.54393/pbmj.v5i9.795
How to Cite
Nisar, T. ., Sheraz, F. ., Ammar Bin Zia, S. ., Ishaq, S. ., Faraz, D. ., Ahmed, E. ., Khan, D., & Amjad, W. . (2022). Breastfeeding Practices During Covid-19: Breastfeeding Practices during Covid-19. Pakistan BioMedical Journal, 5(9), 16–20. https://doi.org/10.54393/pbmj.v5i9.795
License
Copyright (c) 2022 Pakistan BioMedical Journal
This work is licensed under a Creative Commons Attribution 4.0 International License.
This is an open-access journal and all the published articles / items are distributed under the terms of the Creative Commons Attribution License, which permits unrestricted use, distribution, and reproduction in any medium, provided the original author and source are credited. For comments editor@pakistanbmj.com