Standard of Living of HIV Positive Individuals Visiting HIV Clinic Services Hospital, Lahore
Abstract
HIV is caused by the Human Immunodeficiency Virus and leads to immunosuppression, thus making an individual easily susceptible to infections.This research was conducted in the HIV Clinic at Services Hospital Lahore to assess the living standards of HIV-positive patients visiting HIV Clinic. Therefore, the main objective of this study was to assess the standard of life in HIV-positive patients visiting the HIV Clinic of Services Hospital Lahore.Methods: It was a case-series study, conducted in the HIV clinic at Services Hospital Lahore. Data was collected from patients suffering from HIV-AIDS with the help of structured questionnaires. SPSS 23 software was used to enter, compile, and analyze the data.Results: Result of this study showed that 50% of patients visiting HIV clinic Services Hospital Lahore are in the age group of 31-45 years. Male and married patients are predominant. The questionnaire had 35 questions which are transformed into 11 dimensions. Cronbach's α co-efficient were calculated for all multi-item scales and four out of eight scale.Cronbach's α for perceived health is 0.72, physical functioning is 0.79, health distress is 0.78, and cognitive function is 0.70. The total mean summary scores were also calculated. The dimensions affecting physical and mental health were added together under the summary score of physical and mental health. The added mean summary score ± SD for mental health is 55.4±11.8 and for physical health is 41.5±11.3.Conclusions: The data indicates that patients with HIV/AIDS have an overall high standard of living. The stigma is that the patients consider themselves a bit exclusive, as AIDS is considered taboo in the Pakistani Muslim community. The research shows that patients with AIDS have excellent mental health, but their physical health is a bit worse depending on the burden of disease (virus). Thus, a conclusion can be made that HIV affects a person's physical health more than their mental health.
References
Patel, P., Rose, C. E., Collins, P. Y., Nuche-Berenguer, B., Sahasrabuddhe, V. V., Peprah, E., Levitt, N. S. (2018). Noncommunicable diseases among HIV-infected persons in low-income and middle-income countries: a systematic review and meta-analysis. AIDS (London, England), 32(Suppl 1), S5. doi: 10.1097/QAD.0000000000001888
Group, D. C. o. A. E. o. A.-H. d. S. (2010). Factors associated with specific causes of death amongst HIV-positive individuals in the D: A: D Study. Aids, 24(10), 1537-1548. doi: 10.1097/QAD.0b013e32833a0918
Palios, J., Kadoglou, N. P., & Lampropoulos, S. (2011). The pathophysiology of HIV-/HAART-related metabolic syndrome leading to cardiovascular disorders: the emerging role of adipokines. Experimental Diabetes Research, 2012. https://doi.org/10.1155/2012/103063
Neufeldt, C. J., Cortese, M., Acosta, E. G., & Bartenschlager, R. (2018). Rewiring cellular networks by members of the Flaviviridae family. Nature Reviews Microbiology, 16(3), 125-142. doi:10.1038/nrmicro.2017.170
Emerson, B., Plough, K., Pangloli, A., Haq, S., Serinaldi, D., & Bannister, E. (2013). Detection of acute HIV-1 infections utilizing NAAT technology in Dallas, Texas. Journal of Clinical Virology, 58, e48-e53. DOI: 10.1016/j.jcv.2013.08.005
Andersson, G. Z., Reinius, M., Eriksson, L. E., Svedhem, V., Esfahani, F. M., Deuba, K., Ekström, A. M. (2020). Stigma reduction interventions in people living with HIV to improve health-related quality of life. The Lancet HIV, 7(2), e129-e140. doi: 10.1016/S2352-3018(19)30343-1.
Dutra, B. S., Lédo, A. P., Lins-Kusterer, L., Luz, E., Prieto, I. R., & Brites, C. (2019). Changes health-related quality of life in HIV-infected patients following initiation of antiretroviral therapy: a longitudinal study. Brazilian Journal of Infectious Diseases, 23, 211-217. https://doi.org/10.1016/j.bjid.2019.06.005
Moro, A. L. D. (2018). Fatores de risco para falha virológica primária em pacientes com HIV e genotipagem pré-TARV: um estudo de corte retrospectivo.http://hdl.handle.net/10183/188749
Strathdee, S. A., Martin, N. K., Pitpitan, E. V., Stockman, J. K., & Smith, D. M. (2021). What the HIV pandemic experience can teach the United States about the COVID-19 response. Journal of acquired immune deficiency syndromes (1999), 86(1), 1. DOI10.1097/qai.0000000000002520.
Oster, A. M., Switzer, W. M., Hernandez, A. L., Saduvala, N., Wertheim, J. O., Nwangwu-Ike, N.,. Hall, H. I. (2017). Increasing HIV-1 subtype diversity in seven states, United States, 2006–2013. Annals of epidemiology, 27(4), 244-251. e241. https://doi.org/10.1016/j.annepidem.2017.02.002
Becasen, J. S., Denard, C. L., Mullins, M. M., Higa, D. H., & Sipe, T. A. (2019). Estimating the prevalence of HIV and sexual behaviors among the US transgender population: a systematic review and meta-analysis, 2006–2017. American journal of public health, 109(1), e1-e8. doi/full/10.2105/AJPH.2018.304727
Ramachandran, S., Thai, H., Forbi, J. C., Galang, R. R., Dimitrova, Z., Xia, G.-l., Gentry, J. (2018). A large HCV transmission network enabled a fast-growing HIV outbreak in rural Indiana, 2015. EBioMedicine, 37, 374-381. https://doi.org/10.1016/j.ebiom.2018.10.007
Bala, R., & Yadav, C. (2019). Targeted Intervention with Female Sex Workers: Role of Punjab State AIDS Control Society and National AIDS Control Organization. International Journal of Research in Social Sciences, 9(1), 2.
Ali, A., Ali, N. S., Nasir, U., Aadil, M., Waqas, N., Zil-E-Ali, A., Anjum, I. (2018). Comparison of knowledge and attitudes of medical and dental students towards HIV/AIDS in Pakistan. Cureus, 10(4). DOI: 10.7759/cureus.2426
Khan, R., & Bilal, A. (2019). Knowledge about HIV and Discriminatory Attitudes toward People Living with HIV in Pakistan. Pakistan Journal of Public Health, 9(1), 37-41. DOI:https://doi.org/10.32413/pjph.v9i1.237
Hipolito, R. L., Oliveira, D. C. d., Costa, T. L. d., Marques, S. C., Pereira, E. R., & Gomes, A. M. T. (2017). Quality of life of people living with HIV/AIDS: temporal, socio-demographic and perceived health relationship1. Revista latino-americana de enfermagem, 25. DOI:10.1590/1518-8345.1258.2874
Ghiasvand, H., Waye, K. M., Noroozi, M., Harouni, G. G., Armoon, B., & Bayani, A. (2019). Clinical determinants associated with quality of life for people who live with HIV/AIDS: A Meta-analysis. BMC health services research, 19(1),https://doi.org/10.1186/s12913-019-4659-z
Cotto, B., Natarajanseenivasan, K., & Langford, D. (2019). HIV-1 infection alters energy metabolism in the brain: contributions to HIV-associated neurocognitive disorders. Progress in neurobiology, 181, 101616. https://doi.org/10.1016/j.pneurobio.2019.101616
Cho, H., Iribarren, S., & Schnall, R. (2017). Technology-mediated interventions and quality of life for persons living with HIV/AIDS. Applied clinical informatics, 8(02), 348-368. DOI: 10.4338/ACI-2016-10-R-0175
Kreuzer, K.-A., & Rockstroh, J. (1997). Pathogenesis and pathophysiology of anemia in HIV infection. Annals of hematology, 75(5), 179-187.https://link.springer.com/article/10.1007/s002770050340
Pelchen-Matthews, A., Ryom, L., Borges, Á. H., Edwards, S., Duvivier, C., Stephan, C., Weber, J. (2018). Aging and the evolution of comorbidities among HIV-positive individuals in a European cohort. Aids, 32(16), 2405-2416. doi: 10.1097/QAD.0000000000001967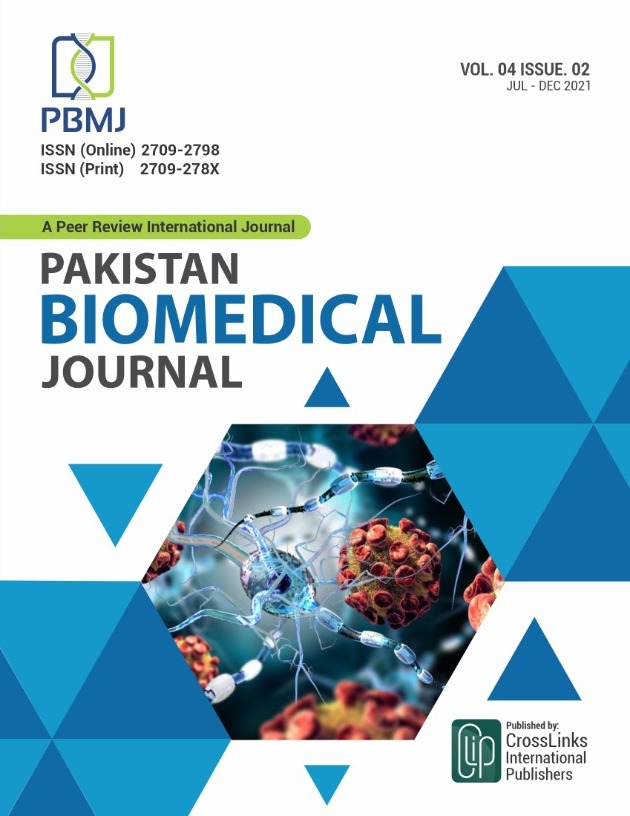 Downloads
CITATION
DOI: 10.54393/pbmj.v4i2.120
How to Cite
Rehman, A., R. Khan, M. ., Sarwar, Z., Noreen, S. ., Aftab, T. ., M. Azeem, G. ., Bin Abdul Malik, M. H. ., Kanwal, R. ., & Sadiqa, A. . (2021). Standard of Living of HIV Positive Individuals Visiting HIV Clinic Services Hospital, Lahore. Pakistan BioMedical Journal, 4(2), 193–198. https://doi.org/10.54393/pbmj.v4i2.120
License
Copyright (c) 2021 Pakistan BioMedical Journal
This work is licensed under a Creative Commons Attribution 4.0 International License.
This is an open-access journal and all the published articles / items are distributed under the terms of the Creative Commons Attribution License, which permits unrestricted use, distribution, and reproduction in any medium, provided the original author and source are credited. For comments editor@pakistanbmj.com