Determinants Of Gastroesophageal Reflux Disease in Patients Visiting Tertiary Care Hospitals, Lahore
Determinants of Gastroesophageal Reflux Disease in Patients
Keywords:
GERD, heartburn, obesity, low quality of life, education program, awareness.
Abstract
Gastroesophageal reflux disease is a persistent and widespread condition that affects people of all ages. It has multiple symptoms and has a remarkable effect on the lifestyle and work performance of the person. Objective: To assess the determinants of GERD in patients visiting tertiary care hospitals, Lahore. Methods: A cross-sectional study was conducted at The University of Lahore Teaching Hospital and Jinnah Hospital Lahore for 6 months. Non-probability convenient sampling technique was used to record data of 100 participants by utilizing a validated questionnaire. Results: The results revealed that 40% of males and 60% of females participated in the study. Their BMI showed that 44% of participants were overweight and 18% were obese. 61% of the participants developed GERD complications. Analysis of the questionnaire revealed that 66% of the participants had a basic knowledge of GERD. An important determinant identified was the sedentary lifestyle of 70% of the participants. Conclusion: The study concluded that GERD is found to be more prevalent in patients having obesity, diabetes, hypertension, heart disease, and kidney disease. It deduced that modifiable risk factors can determine the progression of the disease. In this regard, awareness and public health education campaigns would play a promising role in the reduction of disease.
References
Scarpellini E, Ang D, Pauwels A, De Santis A, Vanuytsel T, Tack J. Management of refractory typical GERD symptoms. Nature Reviews Gastroenterology and Hepatology. 2016 May; 13(5):281-94. doi: 10.1038/nrgastro.2016.50
Stachler MD, Taylor-Weiner A, Peng S, McKenna A, Agoston AT, Odze RD, et al. Paired exome analysis of Barrett's esophagus and adenocarcinoma. Nature Genetics. 2015 Sep; 47(9):1047-55. doi: 10.1038/ng.3343
Katzka DA and Kahrilas PJ. Advances in the diagnosis and management of gastroesophageal reflux disease. BMJ. 2020 Nov; 371:m3786. doi: 10.1136/bmj.m3786
Gyawali CP, Kahrilas PJ, Savarino E, Zerbib F, Mion F, Smout AJPM, et al. Modern diagnosis of GERD: the Lyon Consensus. Gut. 2018 Jul; 67(7):1351-1362. doi: 10.1136/gutjnl-2017-314722
Roman S, Gyawali CP, Savarino E, Yadlapati R, Zerbib F, Wu J, et al. Ambulatory reflux monitoring for diagnosis of gastro-esophageal reflux disease: Update of the Porto consensus and recommendations from an international consensus group. Neurogastroenterology and Motility. 2017 Oct; 29(10):1-15. doi: 10.1111/nmo.13067
Ospanov O, Maleckas A, Orekeshova A. Gastric greater curvature plication combined with Nissen fundoplication in the treatment of gastroesophageal reflux disease and obesity. Medicina. 2016; 52(5):283-290. doi: 10.1016/j.medici.2016.08.001
Newberry C and Lynch K. The role of diet in the development and management of gastroesophageal reflux disease: why we feel the burn. Journal of Thoracic Disease. 2019 Aug; 11(Suppl 12):S1594-S1601. doi: 10.21037/jtd.2019.06.42
Morozov S, Isakov V, Konovalova M. Fiber-enriched diet helps to control symptoms and improves esophageal motility in patients with non-erosive gastroesophageal reflux disease. World Journal of Gastroenterology. 2018 Jun; 24(21):2291-2299. doi: 10.3748/wjg.v24.i21.2291
Yousaf A, Hagen R, Mitchell M, Ghareeb E, Fang W, Correa R, et al. The effect of a low-nickel diet and nickel sensitization on gastroesophageal reflux disease: A pilot study. Indian Journal of Gastroenterology. 2021 Apr; 40(2):137-143. doi: 10.1007/s12664-020-01090-3
Al-Zahrani MS, Alhassani AA, Zawawi KH. Clinical manifestations of gastrointestinal diseases in the oral cavity. Saudi Dental Journal. 2021 Dec; 33(8):835-841. doi: 10.1016/j.sdentj.2021.09.017
Tsai YC, Cheng LH, Liu YW, Jeng OJ, Lee YK. Gerobiotics: probiotics targeting fundamental aging processes. Bioscience of Microbiota Food and Health. 2021; 40(1):1-11. doi: 10.12938/bmfh.2020-026
Shruthi D. Medicinal uses of banana (Musa paradisiaca). Drug invention today. 2019 Jan; 12(1).
Dağlı Ü and Kalkan İH. The role of lifestyle changes in gastroesophageal reflux diseases treatment. Turkish Journal of Gastroenterology. 2017 Dec; 28(Suppl 1):S33-S37. doi: 10.5152/tjg.2017.10
Andrian S and Stoleriu S. Effect of Sports and Energy Drinks on Dental Hard Tissues. InSports and Energy Drinks 2019 Jan 1 (pp. 339-397). Woodhead Publishing. doi: 10.1016/b978-0-12-815851-7.00011-5
Ahmadnezhad M, Asadi Z, Miri HH, Ebrahimi-Mamaghani M, Ghayour-Mobarhan M, Ferns GA. Validation of a short semi-quantitative food frequency questionnaire for adults: a pilot study. Journal of Nutritional Sciences and Dietetics. 2017 Jun; 49-55.
Clarrett DM and Hachem C. Gastroesophageal Reflux Disease (GERD). Missouri Medicine. 2018 Jun; 115(3):214-218
Gu L, Chen B, Du N, Fu R, Huang X, Mao F, et al. Relationship Between Bariatric Surgery and Gastroesophageal Reflux Disease: a Systematic Review and Meta-analysis. Obesity Surgery. 2019 Dec; 29(12):4105-4113. doi: 10.1007/s11695-019-04218-3
Taraszewska A. Risk factors for gastroesophageal reflux disease symptoms related to lifestyle and diet. Roczniki Panstwowego Zakladu Higieny. 2021; 72(1):21-28. doi: 10.32394/rpzh.2021.0145
Sanders ME, Merenstein D, Merrifield CA, Hutkins R. Probiotics for human use. Nutrition bulletin. 2018 Sep; 43(3):212-25. doi: 10.1111/nbu.12334
Fernandesa CG, Sonawaneb SK, SS A. Cereal based functional beverages: A review. Journal of Microbiology, Biotechnology and Food Sciences. 2021 Jan; 2021:914-9. doi: 10.15414/jmbfs.2018-19.8.3.914-919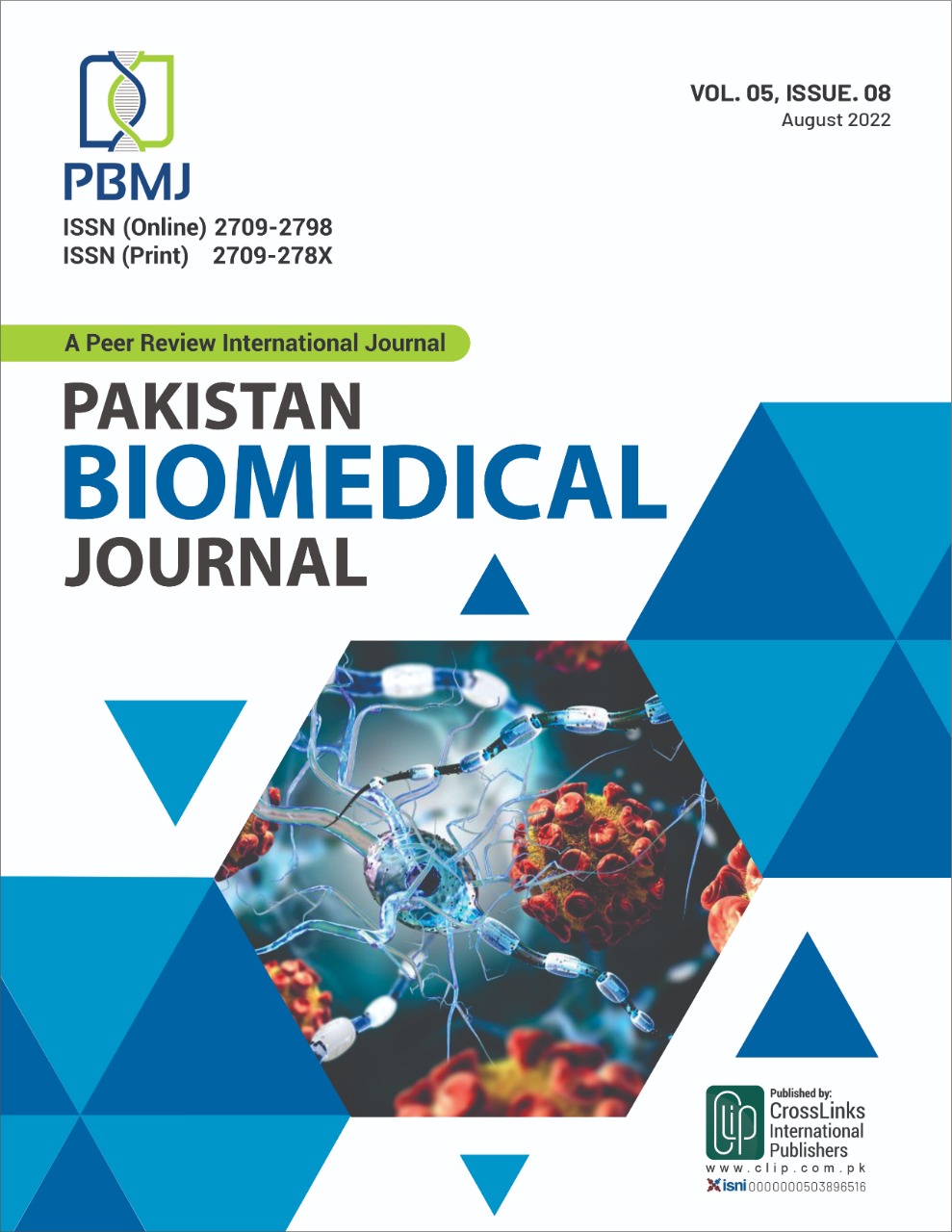 Downloads
How to Cite
Nafees, A. ., Noreen, S., Farooq, S. ., Ikraam, A. ., Fatima, T. ., Wasim, A. ., Karamat, K. ., Nazeer, Z. ., Sarfaraz, M. ., & Naveed, H. . (2022). Determinants Of Gastroesophageal Reflux Disease in Patients Visiting Tertiary Care Hospitals, Lahore: Determinants of Gastroesophageal Reflux Disease in Patients. Pakistan BioMedical Journal, 5(8), 17–21. https://doi.org/10.54393/pbmj.v5i8.709
License
Copyright (c) 2022 Pakistan BioMedical Journal
This work is licensed under a Creative Commons Attribution 4.0 International License.
This is an open-access journal and all the published articles / items are distributed under the terms of the Creative Commons Attribution License, which permits unrestricted use, distribution, and reproduction in any medium, provided the original author and source are credited. For comments editor@pakistanbmj.com