Practice and Application of Knowledge by Nutrition Students In Pakistan
Knowledge by Nutrition Students
Keywords:
Practice, Application, Nutrition, Knowledge, Gender, Barriers
Abstract
Nutritional knowledge and awareness regarding prevention and cure of diseases has helped in establishing the field of nutrition globally. More students are now enrolling in nutrition as a college major. In case of nutrition undergrads, it is safe to say that they have most extensive knowledge of food and healthy dietary habits. Objective: The aim of this study is to assess whether the nutrition students applying their knowledge in their daily lives or not. Also to identify the barrier faced by students in the application of knowledge.Methods: A cross-sectional study was performed at University of Lahore where 100 students of diet & nutrition were selected by using convenience sampling technique. Adults of both genders above age 18 of semester 7th, 8th, and 9th were included. A questionnaire of 28 questions was assembled having total score of 56. Scores above 28 were considered good and below 28 were considered poor. To calculate frequency of sample, SPSS version 2021 was used. Results: Out of 100 participants, majority were females (88%). The mean weight and height of students were 59.41 + 10.74kg and 162.78 + 7.49cm, respectively. 28 questions were devised for the assessment of nutritional knowledge application in daily routine of our participants. Questions were divided into 3 categories. Likert-type scaling method was used to score participants. Total score was set 56 and cut-off score was set greater than equal to 28. It was seen that most of our participants scored more than 28. The mean score was 36.9, inferring that they were applying their knowledge in their daily lives. Conclusion: Our study concluded that almost all our participants studying Diet and Nutritional Sciences had proper knowledge of nutrition and most of them are practicing this knowledge in their daily lives. Only 13% of the students were unable to do so because of unhealthy choices given by authorities such as hostel and university's cafes and their own preferences etc. We also witnessed that despite their understanding, some of the participants did not consume the necessary required daily amounts of nutrients due to their preference for fast food over fruits and vegetables.
References
Toole A, Kuchler F. Improving health through nutrition research: an overview of the US nutrition research system. 2015
https://doi.org/10.2139/ssrn.2678015
Lawrence K, Pelly F, Rocks T. Nutrition knowledge of dietetic undergraduate students: An exploratory study. Nutrition & Dietetics. 2016 Jul;73(3):260-7.
https://doi.org/10.1111/1747-0080.12232
Begum S, Alam I, Jan AU, Khan MI. The Changing Face of Nutrition and Dietetics Education in Pakistan: What Can We Learn from Brazil? A Scoping Review. Canadian Journal of Clinical Nutrition. 2019 Jun 30;7(2):79-112.
https://doi.org/10.14206/canad.j.clin.nutr.2019.02.06
Abraham S, Noriega BR, Shin JY. College students eating habits and knowledge of nutritional requirements. Journal of Nutrition and Human Health. 2018;2(1).
https://doi.org/10.35841/nutrition-human-health.2.1.13-17
Brown ON, O'Connor LE, Savaiano D. Mobile MyPlate: a pilot study using text messaging to provide nutrition education and promote better dietary choices in college students. Journal of American College Health. 2014 Jul 4;62(5):320-7.
https://doi.org/10.1080/07448481.2014.899233
Ahmad MN. The changing face of nutrition and dietetics in Jordan. European Scientific Journal. 2014 Nov 1;10(33).
Patten EV, Sauer K. The framework and future opportunities for leadership in clinical dietetics. Journal of the Academy of Nutrition and Dietetics. 2018 Nov 1;118(11):2017-21.
https://doi.org/10.1016/j.jand.2017.06.363
Sogari G, Velez-Argumedo C, Gómez MI, Mora C. College students and eating habits: A study using an ecological model for healthy behavior. Nutrients. 2018 Dec;10(12):1823.
https://doi.org/10.3390/nu10121823
Bapat S, Asawa K, Bhat N, Tak M, Gupta VV, Chaturvedi P, Daryani H, Shinde K. Assessment of dental nutrition knowledge among nutrition/dietetics students. Journal of clinical and diagnostic research: JCDR. 2016 Nov;10(11):ZC37.
https://doi.org/10.7860/JCDR/2016/20851.8889
Boyee JK. Practice and Application of Knowledge by Nutrition Students. 2011
https://doi.org/10.1016/j.jada.2011.06.056
Perlstein R, McCoombe S, Shaw C, Nowson C. Medical students' perceptions regarding the importance of nutritional knowledge and their confidence in providing competent nutrition practice. Public Health. 2016 Nov 1;140:27-34.
https://doi.org/10.1016/j.puhe.2016.08.019
Chepulis LM, Mearns GJ. Evaluation of the nutritional knowledge of undergraduate nursing students. Journal of Nursing Education. 2015 Sep 1;54(9):S103-6.
https://doi.org/10.3928/01484834-20150814-19
Joshi S, Kushwaha A. Assessment of Direct and Indirect Factors Affecting the Nutrition Status of Hostel Girls in Pantnagar (India). Int. J. Curr. Microbiol. App. Sci. 2019;8(8):1034-44.
https://doi.org/10.20546/ijcmas.2019.808.120
Hilger J, Loerbroks A, Diehl K. Eating behaviour of university students in Germany: Dietary intake, barriers to healthy eating and changes in eating behaviour since the time of matriculation. Appetite. 2017 Feb 1;109:100-7
https://doi.org/10.1016/j.appet.2016.11.016
El Ansari W, Suominen S, Samara A. Eating habits and dietary intake: is adherence to dietary guidelines associated with importance of healthy eating among undergraduate university students in Finland?. Central European journal of public health. 2015 Dec 30;23(4):306-13
https://doi.org/10.21101/cejph.a4195
Sajwani RA, Shoukat S, Raza R, Shiekh MM, Rashid Q, Siddique MS, Panju S, Raza H, Chaudhry S, Kadir MM. Knowledge and practice of healthy lifestyle and dietary habits in medical and non-medical students of Karachi, Pakistan. Journal of the Pakistan Medical Association. 2009;59(9):650.
Jawed S, Tariq S, Jamil Z, Ali R, Rehman R. Life Style Practices And Health Risk Behaviors Of Medical Students: A Cross Sectional Study. Journal of Bahria University Medical and Dental College. 2018;8(4):231-5.
https://doi.org/10.51985/JBUMDC2018072
Nasir JA, Tahir MH. Factors affecting nutritional attitudes among university adults. Pakistan Journal of Commerce and Social Sciences (PJCSS). 2017;11(2):644-52
Ali A, Al-Siyabi MS, Waly MI, Kilani HA. Assessment of nutritional knowledge, dietary habits and nutrient intake of university student athletes. Pakistan Journal of Nutrition. 2015 May 1;14(5):293.
https://doi.org/10.3923/pjn.2015.293.299
Ross AM, Melzer T. Beliefs as barriers to healthy eating and physical activity. Australian Journal of Psychology. 2016 Dec 1;68(4):251-60.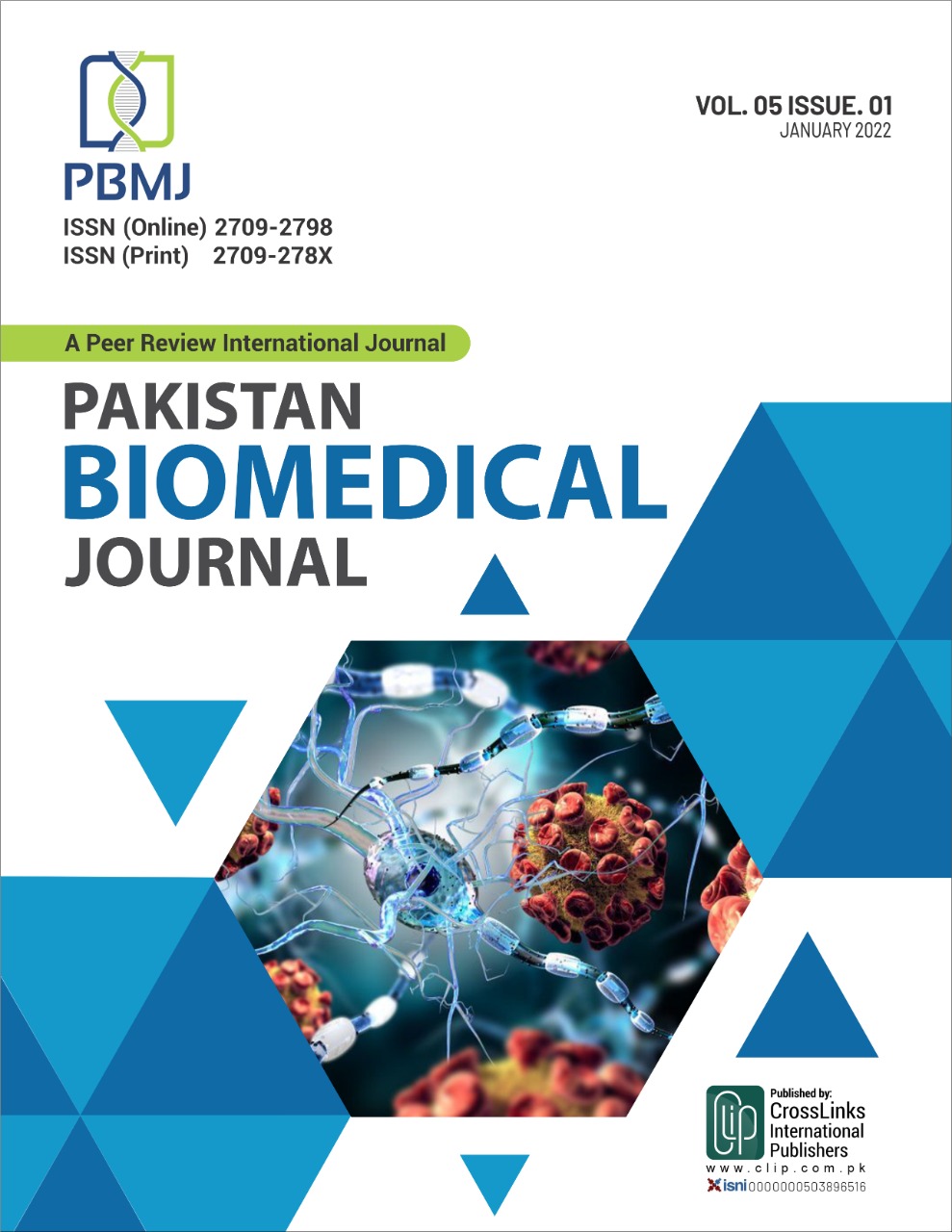 Downloads
CITATION
DOI: 10.54393/pbmj.v5i1.127
How to Cite
Aslam, M., Arshad, S. ., Meer, F. ., Azhar, S. ., Saleem, A. ., Toor, J. ., Abdullah, M. ., Rafay, M. A. ., & Rehman, U. U. . (2022). Practice and Application of Knowledge by Nutrition Students In Pakistan: Knowledge by Nutrition Students. Pakistan BioMedical Journal, 5(1), 73–78. https://doi.org/10.54393/pbmj.v5i1.127
License
Copyright (c) 2021 Pakistan BioMedical Journal
This work is licensed under a Creative Commons Attribution 4.0 International License.
This is an open-access journal and all the published articles / items are distributed under the terms of the Creative Commons Attribution License, which permits unrestricted use, distribution, and reproduction in any medium, provided the original author and source are credited. For comments editor@pakistanbmj.com