Anatomical Sites OF Superficial Basal Cell Cancers Demonstrate Higher Rates of Mixed Histology
Anatomical Sites of Superficial Basal Cell Cancers
Keywords:
Basal Cell Cancer, Histology, Carcinoma, Peshawar, Immunocompromised
Abstract
Historically, "aggressive" histologic subsets (HSs) of basal cell carcinoma (BCC) seem to be more likely to statistically exhibit Subclinical extension and require more phases during Mohs micrographic surgery (MMS) and consequently larger margins upon excision. The "Mohs Suitable Use Criteria (MAUC)" for the most appropriate therapy of superficial basal cell carcinoma. Objective: To evaluate if aggressive subtypes of superficial Basal Cell Carcinoma are common among healthy, immunocompromised patients and high-risk anatomical sites. Methods: The study was carried out in Khyber Teaching Hospital Peshawar, from November 2021-march to 2022, A total of 100 Mohs surgeries on superficial basal cell carcinoma were performed. Under light microscope slides were examined for any pattern of histology besides superficial basal cell carcinoma for statistical analysis MAU anatomical site healthy individuals and immunocompromised patients were grouped accordingly Results:  Among health and immunocompromised individuals' zone H and zone L were significantly increased in mixed histology. While in healthy individuals' the association between L Zone and M zone was incredibly significant but in immunocompromised was not significant Conclusions: The mixed histology of SBCC was higher in the head and neck region. Researchers say that the MAUC scoring technique for SBCC is supported by a high incidence in SBCC of the head and neck.
References
Hoorens I, Vossaert K, Ongenae K, Brochez L. Is early detection of basal cell carcinoma worthwhile? Systematic review based on the WHO criteria for screening. Br J Dermatol. 2016 Jun;174(6):1258-65. doi: 10.1111/bjd.14477.
Christenson LJ, Borrowman TA, Vachon CM, Tollefson MM, Otley CC, Weaver AL et al. Incidence of basal cell and squamous cell carcinomas in a population younger than 40 years. JAMA. 2005 Aug 10;294(6):681-90. doi: 10.1001/jama.294.6.681.
Muthanna F, Karuppannan M, Abdulrahman E, Uitrakul S, Rasool BA, Mohammed AH. Prevalence and Associated Factors of Anemia among Breast Cancer Patients Undergoing Chemotherapy: A Prospective Study. Advances in Pharmacological and Pharmaceutical Sciences. 2022 Apr 14;2022. doi.org/10.1155/2022/7611733.
Betti R, Radaelli G, Bombonato C, Crosti C, Cerri A, Menni S. Anatomic location of Basal cell carcinomas may favor certain histologic subtypes. J Cutan Med Surg. 2010 Nov-Dec;14(6):298-302. doi: 10.2310/7750.2010.09081.
Arif S, Zia T, Qayyum Z, Mustafa G, Ateeq M, Farhad S et al. Prevalence and Risk Factors of Covid-19 Mortality and its Impact on Social Life of Pakistani Population. Pakistan Journal of Medical & Health Sciences. 2022 Apr 27;16(03):800-.doi.org/10.53350/pjmhs22163800.
Telfer NR, Colver GB, Morton CA; British Association of Dermatologists. Guidelines for the management of basal cell carcinoma. Br J Dermatol. 2008 Jul;159(1):35-48. doi: 10.1111/j.1365-2133.2008.08666.x.
Mosterd K, Arits AH, Thissen MR, Kelleners-Smeets NW. Histology-based treatment of basal cell carcinoma. Acta Derm Venereol. 2009;89(5):454-8. doi: 10.2340/00015555-0710.
Arif S, Zia T, Mustafa G, Qayyum Z, Ateeq M, Faiz MJ et al. Knowledge, Attitude and Practices of Medical Students Regarding Covid-19, Pakistan. Pakistan Journal of Medical & Health Sciences. 2022 Apr 27;16(03):783-.doi.org/10.53350/pjmhs22163783.
Kauvar AN, Cronin T Jr, Roenigk R, Hruza G, Bennett R; American Society for Dermatologic Surgery. Consensus for nonmelanoma skin cancer treatment: basal cell carcinoma, including a cost analysis of treatment methods. Dermatol Surg. 2015 May;41(5):550-71. doi: 10.1097/DSS.0000000000000296.
Scrivener Y, Grosshans E, Cribier B. Variations of basal cell carcinomas according to gender, age, location and histopathological subtype. Br J Dermatol. 2002 Jul;147(1):41-7. doi: 10.1046/j.1365-2133.2002.04804.x.
Muzic JG, Schmitt AR, Wright AC, Alniemi DT, Zubair AS, Olazagasti Lourido JM et al. Incidence and Trends of Basal Cell Carcinoma and Cutaneous Squamous Cell Carcinoma: A Population-Based Study in Olmsted County, Minnesota, 2000 to 2010. Mayo Clin Proc. 2017 Jun;92(6):890-898. doi: 10.1016/j.mayocp.2017.02.015.
Kimyai-Asadi A, Alam M, Goldberg LH, Peterson SR, Silapunt S, Jih MH. Efficacy of narrow-margin excision of well-demarcated primary facial basal cell carcinomas. J Am Acad Dermatol. 2005 Sep;53(3):464-8. doi: 10.1016/j.jaad.2005.03.038.
Mina MA, Picariello A, Fewkes JL. Superficial basal cell carcinomas of the head and neck. Dermatol Surg. 2013 Jul;39(7):1003-8. doi: 10.1111/dsu.12178.
Kwasniak LA, Garcia‐Zuazaga J. Basal cell carcinoma: evidence‐based medicine and review of treatment modalities. International Journal of Dermatology. 2011 Jun;50(6):645-58. doi.org/10.1111/j.1365-4632.2010.04826.x.
Stanoszek LM, Wang GY, Harms PW. Histologic Mimics of Basal Cell Carcinoma. Arch Pathol Lab Med. 2017 Nov;141(11):1490-1502. doi: 10.5858/arpa.2017-0222-RA.
Betti R, Radaelli G, Mussino F, Menni S, Crosti C. Anatomic location and histopathologic subtype of basal cell carcinomas in adults younger than 40 or 90 and older: any difference? Dermatol Surg. 2009 Feb;35(2):201-6. doi: 10.1111/j.1524-4725.2008.34410.x.
Gupta A, Veness M, De'Ambrosis B, Selva D, Huilgol SC. Management of squamous cell and basal cell carcinomas of the head and neck with perineural invasion. Australas J Dermatol. 2016 Feb;57(1):3-13. doi: 10.1111/ajd.12314.
Mosterd K, Thissen MR, van Marion AM, Nelemans PJ, Lohman BG, Steijlen PM et al. Correlation between histologic findings on punch biopsy specimens and subsequent excision specimens in recurrent basal cell carcinoma. J Am Acad Dermatol. 2011 Feb;64(2):323-7. doi: 10.1016/j.jaad.2010.06.001.
Muthanna FM, Hassan BA, Karuppannan M, Mohammed AH. Evaluation of the impact of anaemia on quality of life among breast cancer patients undergoing chemotherapy in Malaysia. Journal of Pharmaceutical Health Services Research. 2021 Jun;12(2):310-2. doi.org/10.1093/jphsr/rmaa033.
Ghanadan A, Abbasi A, Rabet M, Abdollahi P, Abbasi M. Characteristics of Mixed Type Basal Cell Carcinoma in Comparison to Other BCC Subtypes. Indian J Dermatol. 2014 Jan;59(1):56-9. doi: 10.4103/0019-5154.123496.
Bartoš V, Kullová M. Basal cell carcinoma of the skin with mixed histomorphology: a comparative study. Cesk Patol. 2016 Fall;52(4):222-226.
Muthanna FMS, Karuppannan M, Hassan BAR, Mohammed AH. Impact of fatigue on quality of life among breast cancer patients receiving chemotherapy. Osong Public Health Res Perspect. 2021 Apr;12(2):115-125. doi: 10.24171/j.phrp.2021.12.2.09.
Peris K, Fargnoli MC, Garbe C, Kaufmann R, Bastholt L, Seguin NB et al. Diagnosis and treatment of basal cell carcinoma: European consensus-based interdisciplinary guidelines. Eur J Cancer. 2019 Sep;118:10-34. doi: 10.1016/j.ejca.2019.06.003.
Kuzmina N, Talme T, Lapins J, Emtestam L. Non-invasive preoperative assessment of basal cell carcinoma of nodular and superficial types. Skin Res Technol. 2005 Aug;11(3):196-200. doi: 10.1111/j.1600-0846.2005.00120.x.
Goh BK, Ang P, Wu YJ, Goh CL. Characteristics of basal cell carcinoma amongst Asians in Singapore and a comparison between completely and incompletely excised tumors. Int J Dermatol. 2006 May;45(5):561-4. doi: 10.1111/j.1365-4632.2004.02515.x.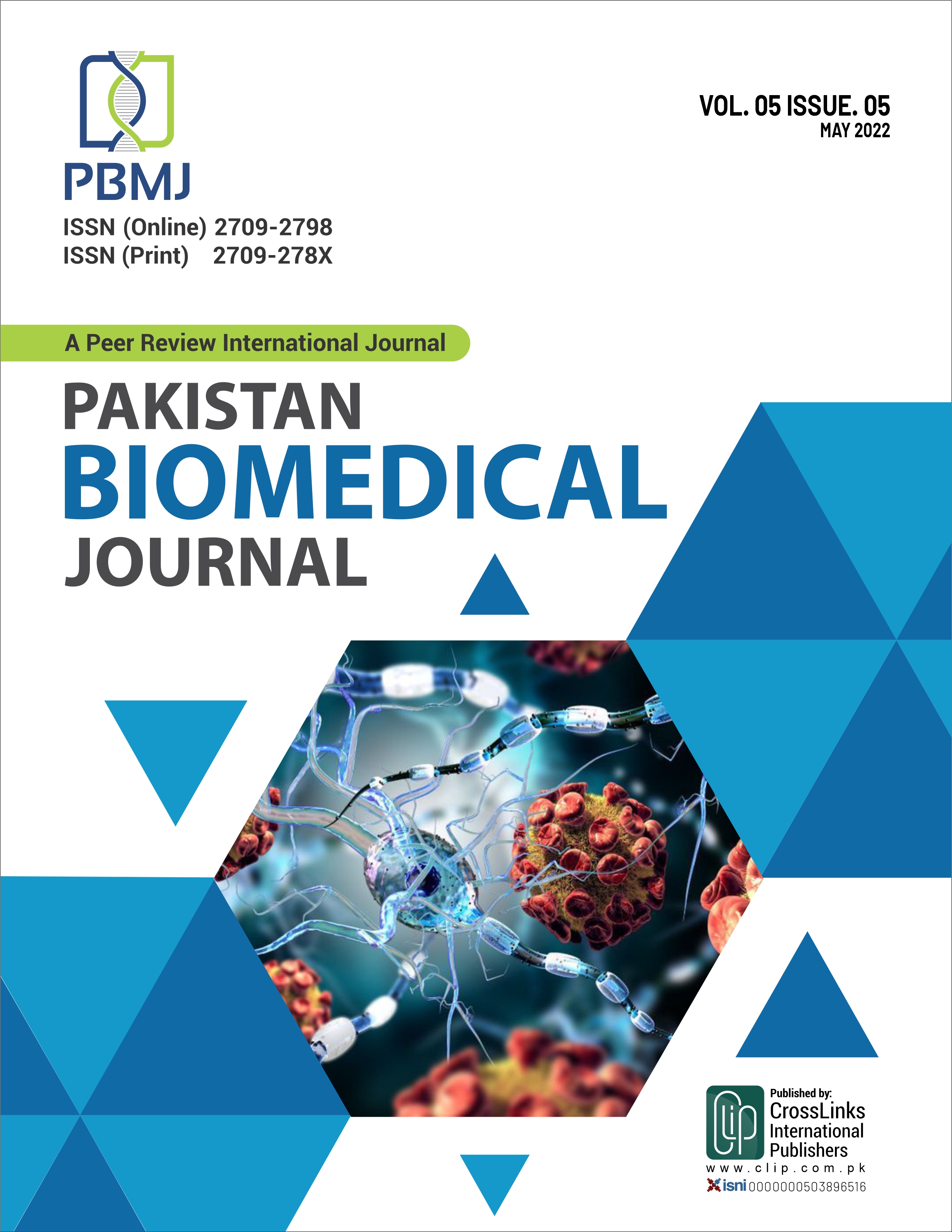 Downloads
How to Cite
Sarfaraz Khan, Z. ., Muhammad, A. ., Ataullah, M. ., Saba Shah, S. G. ., Naushin, T. ., Mir, H. ., Naeem, N. ., Ahmad, Z. ., Abbas Bangash, S. ., & Ullah, I. (2022). Anatomical Sites OF Superficial Basal Cell Cancers Demonstrate Higher Rates of Mixed Histology: Anatomical Sites of Superficial Basal Cell Cancers. Pakistan BioMedical Journal, 5(5), 44–48. https://doi.org/10.54393/pbmj.v5i5.451
License
Copyright (c) 2022 Pakistan BioMedical Journal
This work is licensed under a Creative Commons Attribution 4.0 International License.
This is an open-access journal and all the published articles / items are distributed under the terms of the Creative Commons Attribution License, which permits unrestricted use, distribution, and reproduction in any medium, provided the original author and source are credited. For comments editor@pakistanbmj.com