A Survey to Assess Knowledge of Antenatal Care among Rural Women of Gujrat, Pakistan
Knowledge of Antenatal Care among Rural Women
Abstract
Introduction:Antenatal care is the daily health management of healthy pregnant women with few symptoms, orderly diagnosis of diseases or difficulties connected to obstetrics, and contributing to lifestyle, pregnancy, antenatal care, and safe delivery of child.
Objective:To assess the knowledgeof antenatal Care among Pregnant women of Rural Population
Material and Methods:The study was conducted at rural areas of Gujrat city for the periodof 6 months, fromJanuary 2021 to June 2021. The data was collected through Questionnaire which was piloted tested and validated by Cronbach. A sample of 100 was taken following inclusion criteria of pregnant women to assess knowledge from rural under developed areas of Gujrat, Pakistan.
Results:A total of 100 participants were included in which common agegroups were 26-32 having 37%. The Profession and literacy status was evaluated and found 73% Housewives and 59% Illiterate. Results also shows the Responses about their knowledge clearly showing that 59% pregnant women do not visit and unaware of number of visits in Maternity Clinics. 40 % of the women were unaware about Blood Pressure maintenance in Antenatal care.52% women did not know about blood and urine tests performed during pregnancy. Pregnant women who was unaware of vaccination during antenatal care was 54% and 59% do not acknowledge about using of Multi vitamins during this period of pregnancy.
Conclusion:In conclusion rural population had little of Antenatal care, maternal issues, nutritional supplements, investigation tests, and vaccinations practices. The primary reason for this was lack of awareness about proper health care services in rural areas. The secondary reason was family/husband restraints and impediments for not seeking antenatal care.
References
Abosse, Z., Woldie, M., & Ololo, S. (2010). Factors influencing antenatal care service utilization in hadiya zone. Ethiopian Journal of Health Sciences, 20(2).
Agus, Y., & Horiuchi, S. (2012). Factors influencing the use of antenatal care in rural West Sumatra, Indonesia. BMC pregnancy and childbirth, 12(1), 1-8.
Ali, S. A., Ali, S. A., Feroz, A., Saleem, S., Fatmai, Z., & Kadir, M. M. (2020). Factors affecting the utilization of antenatal care among married women of reproductive age in the rural Thatta, Pakistan: findings from a community-based case-control study. BMC pregnancy and childbirth, 20(1), 1-12.
Carroli, G., Villar, J., Piaggio, G., Khan-Neelofur, D., Gülmezoglu, M., Mugford, M., . . . Group, W. A. C. T. R. (2001). WHO systematic review of randomised controlled trials of routine antenatal care. The Lancet, 357(9268), 1565-1570.
Catling, C. J., Medley, N., Foureur, M., Ryan, C., Leap, N., Teate, A., & Homer, C. S. (2015). Group versus conventional antenatal care for women. Cochrane database of systematic reviews(2).
Collin, S. M., Anwar, I., & Ronsmans, C. (2007). A decade of inequality in maternity care: antenatal care, professional attendance at delivery, and caesarean section in Bangladesh (1991–2004). International journal for equity in health, 6(1), 1-9.
Doku, D. T., & Neupane, S. (2017). Survival analysis of the association between antenatal care attendance and neonatal mortality in 57 low-and middle-income countries. International journal of epidemiology, 46(5), 1668-1677.
Dowswell, T., Carroli, G., Duley, L., Gates, S., Gülmezoglu, A. M., Khan‐Neelofur, D., & Piaggio, G. (2015). Alternative versus standard packages of antenatal care for low‐risk pregnancy. Cochrane database of systematic reviews(7).
Duflo, E. (2012). Women empowerment and economic development. Journal of Economic literature, 50(4), 1051-1079.
Fagbamigbe, A. F., & Idemudia, E. S. (2015). Barriers to antenatal care use in Nigeria: evidences from non-users and implications for maternal health programming. BMC pregnancy and childbirth, 15(1), 1-10.
Gatrell, A. C., & Elliott, S. J. (2014). Geographies of health: An introduction: John Wiley & Sons.
Ghaffar, A., Pongpanich, S., Chapman, R. S., Panza, A., Mureed, S., & Ghaffar, N. (2012). Provision and utilization of routine antenatal care in rural Balochistan Province, Pakistan: a survey of knowledge, attitudes, and practices of pregnant women. Journal of Applied Medical Sciences, 1(1), 93-24.
Hodin, S. M., Caglia, J. M., Baye, M., Bewa, J., Waiswa, P., & Langer, A. (2016). From MDGs to SDGs: implications for maternal newborn health in Africa. African journal of reproductive health, 20(3), 26-28.
Ikhtiyarova, G., Aslonova, M., Khafizova, D., Karimovna, K. F., & Nigora, A. (2019). Criteria For prediction of complications in pregnant women with antenatal fetal death. European Journal of Research P, 101, 109.
Lincetto, O., Mothebesoane-Anoh, S., Gomez, P., & Munjanja, S. (2006). Antenatal care. Opportunities for Africa's newborns: Practical data, policy and programmatic support for newborn care in Africa, 55-62.
Nisar, Y. B., Aurangzeb, B., Dibley, M. J., & Alam, A. (2016). Qualitative exploration of facilitating factors and barriers to use of antenatal care services by pregnant women in urban and rural settings in Pakistan. BMC pregnancy and childbirth, 16(1), 1-9.
Organization, W. H. (2016). WHO recommendations on antenatal care for a positive pregnancy experience: World Health Organization.
Rizvi, A., Bhatti, Z., Das, J. K., & Bhutta, Z. A. (2015). Pakistan and the Millennium Development Goals for Maternal and Child Health: progress and the way forward. Paediatrics and international child health, 35(4), 287-297.
Sengupta, P., Benjamin, A. I., & Babu, B. V. (2017). Status of Maternal and Child Health Services Amongst Migrants in Ludhiana Slums-How Far from the MDG Targets. International Journal of Community Medicine and Public Health, 4(4), 1188-1194.
Shoukat, M., Khurmi, M. S., & Faheem, M. U. (2015). Child health status in Pakistan. Student Journal of Ayub Medical College, 1(1).
Tekelab, T., Chojenta, C., Smith, R., & Loxton, D. (2019). Factors affecting utilization of antenatal care in Ethiopia: a systematic review and meta-analysis. PloS one, 14(4), e0214848.
Tsakiridis, I., Bousi, V., Dagklis, T., Sardeli, C., Nikolopoulou, V., & Papazisis, G. (2019). Epidemiology of antenatal depression among women with high-risk pregnancies due to obstetric complications: a scoping review. Archives of gynecology and obstetrics, 300(4), 849-859.
Villar, J., Carroli, G., Khan‐Neelofur, D., Piaggio, G. G., & Gülmezoglu, A. M. (2001). Patterns of routine antenatal care for low‐risk pregnancy. Cochrane database of systematic reviews(4).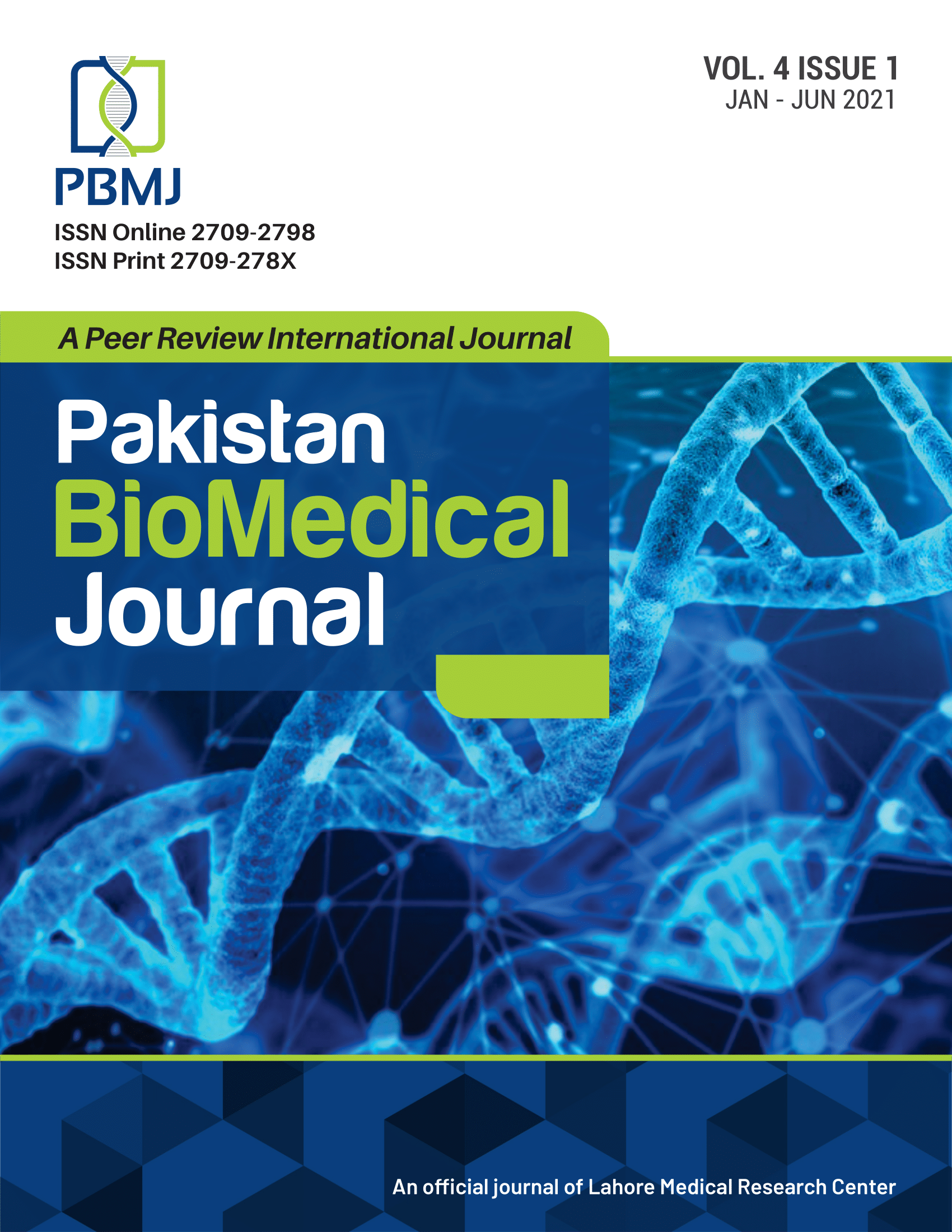 Downloads
CITATION
DOI: 10.54393/pbmj.v4i1.83
How to Cite
John, A. ., Faridi, T. A. ., Noor, S. ., Iqbal, N. ., Muhammad, A. N. ., & John, N. . (2021). A Survey to Assess Knowledge of Antenatal Care among Rural Women of Gujrat, Pakistan: Knowledge of Antenatal Care among Rural Women. Pakistan BioMedical Journal, 4(1). https://doi.org/10.54393/pbmj.v4i1.83
License
Copyright (c) 2021 Pakistan BioMedical Journal
This work is licensed under a Creative Commons Attribution 4.0 International License.
This is an open-access journal and all the published articles / items are distributed under the terms of the Creative Commons Attribution License, which permits unrestricted use, distribution, and reproduction in any medium, provided the original author and source are credited. For comments editor@pakistanbmj.com