Assessment of Lifestyle and Dietary Habits and its Effect on Psychological Health Among University Students
Effects of Lifestyle and Dietary Habits among University Students
Keywords:
Lifestyle, Physical Activity, Psychological health, Dietary Habits, Undergraduate Students
Abstract
Admission to the university is a new stage in a student's life that is typically related with freedom, jovial activities, and lifestyle changes and behavior entailing eating habits. Objective: To look into university students' lifestyles and significant dietary habits. Methods: A Cross-Sectional study was conducted at the University of Lahore for a 4-month duration with a sample size of 100 students by using Global sleep assessment questionnaire (GSAQ) and Kessler Psychological Distress Scale (K10). Results: Analysis of the students' dietary habits held between 50-day scholars and 50 hostelites, revealed the adoption of several undesired dietary habits. 10% of hostelites are underweight while in comparison percentage of day scholar is 5% less, 34% are normal, 7% overweight and 4% are obese in contrast of hostelites whose percentages are 32%, 5% and 3% respectively. The percentage of daily meal consumption is higher that of hostelites. 28℅ of day scholars were having snacks while 29℅ of hostelites were having snacks. Conclusions: This study revealed the challenges that university students experience in maintaining a healthy lifestyle nutritionally, especially when they live in hostels.
References
Pullman AW, Masters RC, Zalot LC, Carde LE, Saraiva MM, Dam YY, et al. Effect of the transition from high school to university on anthropometric and lifestyle variables in males. Applied Physiology, Nutrition, and Metabolism. 2009 Apr; 34(2): 162-71. doi: 10.1139/H09-007.
Irwin JD. The prevalence of physical activity maintenance in a sample of university students: A longitudinal study. Journal of American College Health. 2007 Jan; 56(1): 37-42. doi: 10.3200/JACH.56.1.37-42.
Steptoe A and Wardle J. Health behavior, risk awareness and emotional well-being in students from Eastern Europe and Western Europe. Social Science & Medicine. 2001 Dec; 53(12): 1621-30. doi: 10.1016/S0277-9536(00)00446-9.
Algahtani FD. Healthy Lifestyle among Ha'il University Students, Saudi Arabia. International Journal of Pharmaceutical Research & Allied Sciences. 2020 Jan; 9(1): 160-7.
Saleem S, Mahmood Z. Mental health problems in university students: A prevalence study. FWU Journal of Social Sciences. 2013 Dec; 7(2): 124-130.
Lee RL and Loke AJ. Health‐promoting behaviors and psychosocial well‐being of university students in Hong Kong. Public Health Nursing. 2005 May; 22(3): 209-20. doi: 10.1111/j.0737-1209.2005.220304.x.
Laska MN, Pasch KE, Lust K, Story M, Ehlinger E. Latent class analysis of lifestyle characteristics and health risk behaviors among college youth. Prevention Science. 2009 Dec; 10(4): 376-86. doi: 10.1007/s11121-009-0140-2.
Jorgensen RS and Maisto SA. Alcohol consumption and prehypertension: an investigation of university youth. Behavioral Medicine. 2008 Apr; 34(1): 21-8. doi: 10.3200/BMED.34.1.21-28.
Desai MN, Miller WC, Staples B, Bravender T. Risk factors associated with overweight and obesity in college students. Journal of American College Health. 2008 Jul; 57(1): 109-14. doi: 10.3200/JACH.57.1.109-114.
Pender NJ, Barkauskas VH, Hayman L, Rice VH, Anderson ET. Health promotion and disease prevention: toward excellence in nursing practice and education. Nursing Outlook. 1992 May; 40(3): 106-2.
Sayed SA. A cross-sectional study on eating habits and food related beliefs and knowledge in university students of Karachi, Pakistan. Pakistan Journal of Public Health. 2012 Jun; 2(2): 36-40.
Sadia A, Strodl E, Khawaja NG, Kausar R, Cooper MJ. Understanding eating and drinking behaviors in Pakistani university students: a conceptual model through qualitative enquiry. Appetite. 2021 Jun; 161: 105133. doi: 10.1016/j.appet.2021.105133.
Nisar N, Qadri MH, Fatima K, Perveen S. Dietary habits and life style among the students of a private medical university Karachi. Journal of Pakistan Medical Association. 2008 Dec; 58(12): 687-90.
Dayi A, Acikgoz A, Guvendi G, Bayrak L, Ersoy B, Gur C, et al. Determination of factors affecting physical activity status of university students on a health sciences campus. Medical Science Monitor: International Medical Journal of Experimental and Clinical Research. 2017 Jan; 23: 325-34. doi: 10.12659/MSM.899816.
Sirang Z, Bashir HH, Jalil B, Khan SH, Hussain SA, Baig A, et al. Weight patterns and perceptions among female university students of Karachi: a cross sectional study. BMC Public Health. 2013 Dec; 13(1): 1-8. doi: 10.1186/1471-2458-13-230.
Ozdogan Y, Ozcelik AO, Surucuoglu MS. The breakfast habits of female university students. Pakistan Journal of Nutrition. 2010 Sep; 9(9): 882-6. doi: 10.3923/pjn.2010.882.886.
Mithra P, Unnikrishnan B, Thapar R, Kumar N, Hegde S, Mangaldas Kamat A, Kulkarni V, Holla R, Darshan BB, Tanuj K, Guddattu V. Snacking behaviour and its determinants among college-going students in Coastal South India. Journal of Nutrition and Metabolism. 2018 Oct; 2018: 6785741. doi: 10.1155/2018/6785741.
Stachyshyn S, Ali A, Wham C, Knightbridge-Eager T, Rutherfurd-Markwick K. Caffeine Consumption Habits of New Zealand Tertiary Students. Nutrients. 2021 May; 13(5): 1493. doi: 10.3390/nu13051493.
Travé TD. Intake of milk and dairy products in a college population. Nutricion Hospitalaria. 2008 Mar; 23(2): 89-94. doi: 10.3305/nh.2014.30.4.7664.
Goon S, Bipasha MS, Islam MS. Fast food consumption and obesity risk among university students of Bangladesh. European Journal of Preventive Medicine. 2014 Nov; 2(6): 99-104. doi: 10.11648/j.ejpm.20140206.14.
Çiçek G. Quality of Life and Physical Activity among University Students. Universal Journal of Educational Research. 2018 Jun; 6(6): 1141-8. doi: 10.13189/ujer.2018.060602.
Assaad S, Costanian C, Haddad G, Tannous F. Sleep patterns and disorders among university students in Lebanon. Journal of Research in Health Sciences. 2014 Dec; 14(3): 198-204. doi: 10.1016/j.sleep.2013.11.689.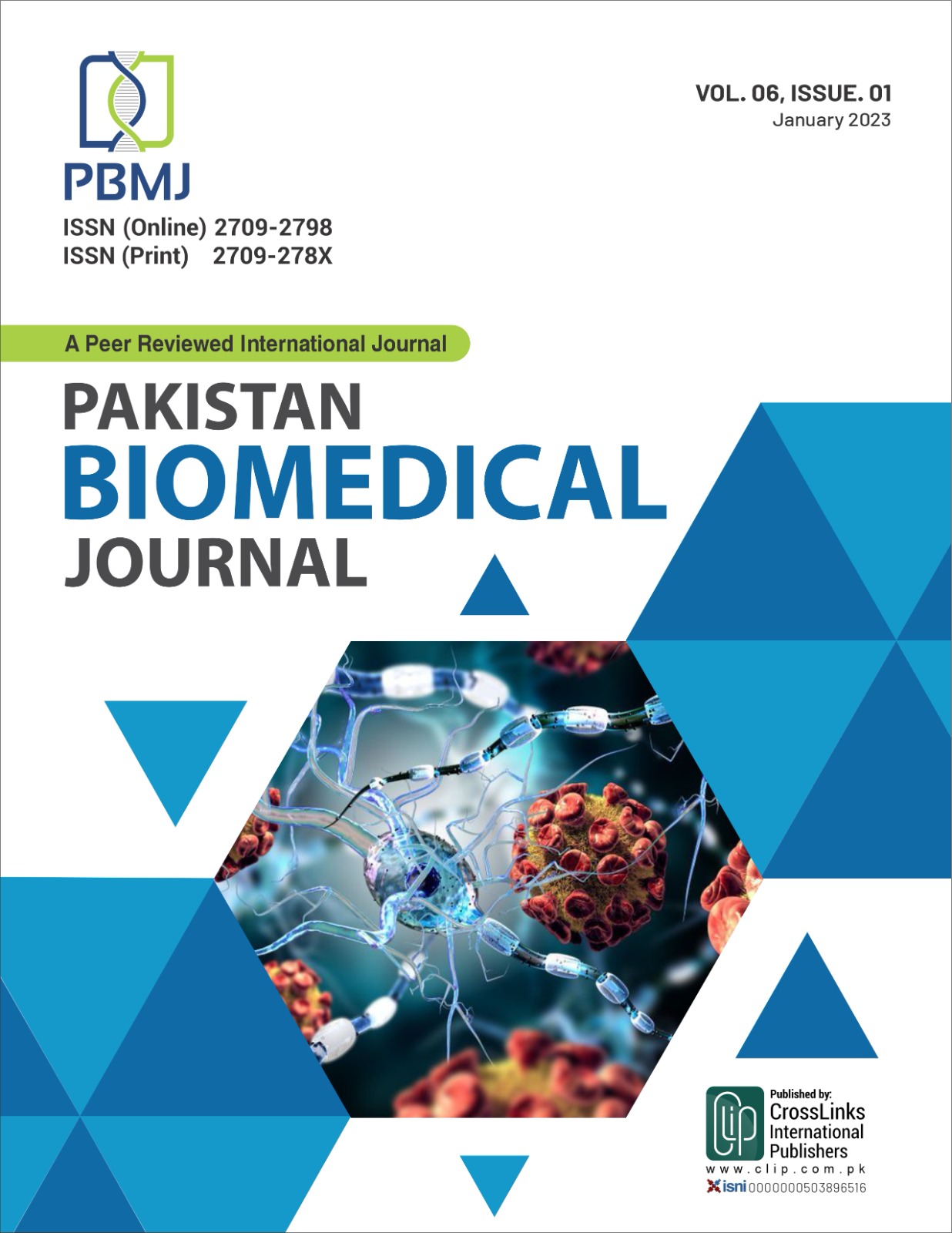 Downloads
CITATION
DOI: 10.54393/pbmj.v6i01.838
How to Cite
Zaheer, M. ., Kamran, H. ., Hareem, M. ., Babar, N. ., Ijaz, M. ., & Abdul-Rauf, M. . (2023). Assessment of Lifestyle and Dietary Habits and its Effect on Psychological Health Among University Students: Effects of Lifestyle and Dietary Habits among University Students. Pakistan BioMedical Journal, 6(01), 02–08. https://doi.org/10.54393/pbmj.v6i01.838
License
Copyright (c) 2023 Pakistan BioMedical Journal
This work is licensed under a Creative Commons Attribution 4.0 International License.
This is an open-access journal and all the published articles / items are distributed under the terms of the Creative Commons Attribution License, which permits unrestricted use, distribution, and reproduction in any medium, provided the original author and source are credited. For comments editor@pakistanbmj.com